See What's Possible When It's Made Possible by Hosts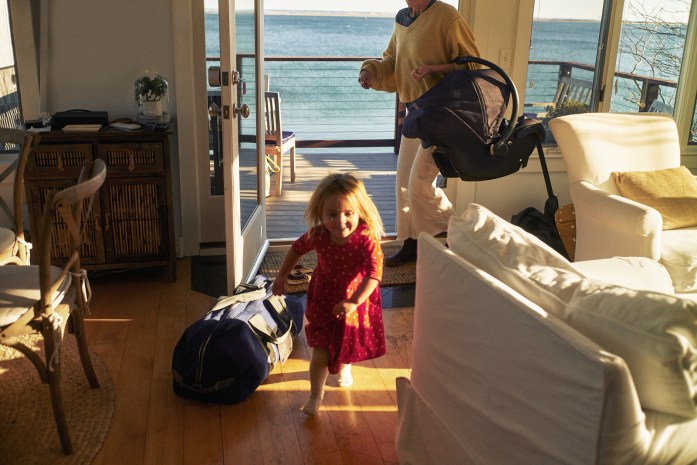 Across Australia Airbnb is launching a new campaign called Made Possible by Hosts. The aim is to educate people on the magical experiences that hosts bring to guests. To do this, we created a series of videos using real photographs from guests staying in the homes of Airbnb hosts around the world. These videos connect with the sense of nostalgia we all feel about trips we took with people we care about, and the prospect of taking those trips again.
Let's take a look at the lives of some of the individuals who make it all possible.
"Sweet Child O' Mine"
Guests Anne & Family, Hosted by Geanelle
A change of scenery can offer a great many things, but perhaps most importantly, it can offer respite from the ordinary and the everyday – especially during a challenging year.
Photographer Anne took a trip to the Australian coast recently with her mother and sister in pursuit of just that.
"Staying in an Airbnb instantly brings a unique, one-of-a-kind element to a trip," she said as she reflected on their beach house stay in Peterborough. "You have access to views, spaces and tips that only a handful of others have previously experienced, so you're immediately somewhere interesting. You're given the key to imagine what your own life might be like if you really lived there."
Superhost Geanelle couldn't agree more. "Our house has amazing views, an ever changing landscape and stunning sunsets, directly opposite the iconic Bay of Martyrs," she said. "We really thought we had something to share so we opened up our beach house for guests to enjoy it as much as we do. It's an honor to play a role in the memories they make here."
"I Will Always Love You"
Guests Carol, Friends & Miso the Dog, Hosted by Jacopo
Road trips can be a reminder of the importance of seeing beauty in not just the destination, but in the journey itself. For our four-legged friends, they can also be an opportunity to tag along.
Two-year-old Golden Retriever and fetch aficionado Miso got to do just that when photographer Carol asked his owners to accompany her on a trip to the rolling hills of northern Italy.
"I find an Airbnb is absolutely perfect for just being with the people you love and feeling at home, but with the excitement of a foreign environment just outside the door and local perspective on the area from your host," Carol said. "We all have such busy lives, so it's a luxury to spend idle time together, reminiscing, telling stories, teasing and just being."
Superhost Jacopo understands the importance of making room for everyone – pets included – so at his stone house in Parma, Italy all are welcome. The olive grove and orchard at the edge of his property feel tailor-made for dogs like Miso who are happiest on a long walk. "I became an Airbnb host to share the story of my home and farm with people from all over the world," he said. "It's an ancient house surrounded by a colorful garden where you can spend time surrounded by nature." And if you're Miso, your favorite humans, too.
"Landslide"
Guests Cole & Family, Hosted by François & Ashley
Photographer Cole set out for the New England coast with his wife and two young daughters – it was their first as a family of four. Superhosts François and Ashley (a father-daughter duo themselves) in Narragansett, Rhode Island knew just how to set the stage for a memorable stay at their cozy cottage. The family then visited host Rob's seaside apartment in Provincetown, Massachusetts.
A father of daughters, too – four, in fact – François considers hosting both a humble and a powerful way to make an impact on others. "I started hosting after finishing a home renovation that was initially supposed to be a fix and flip," he said. "I fell in love with the place, decided to give it a try on Airbnb, and I haven't looked back since. To do it all with my daughter, Ashley, is a gift."
"Forever Young"
Guests Adraint & Friends, Hosted by Cynthia
Sometimes all you need is a weekend away with friends to remind you who you are, how you got here and who helped shape you along the way – especially when you can't be with those people every day.
Photographer Adraint learned to appreciate the little things after taking a guys' trip to a riverfront lodge along the Blanco River in Wimberley, Texas with his college friends – one last adventure before they went their separate ways after graduation. Said Adraint: "We used to travel together often, and after this trip, I realized that things stay the same just as much as they change. Although we've moved on to new adventures in life, we're still the same goofy guys we've always been."
Bed & breakfast owner and Superhost Cynthia knows all about how going the extra mile can make all the difference to guests and help them have an experience that extends well past their stay. "Providing a memorable place our guests love and want to come back to is how our guests know we take hosting them to heart. As an Airbnb host, I want to provide that five-star worthy place for people to stay. Delivering extra wood or homemade cookies, doing whatever it takes to make guests happy – that's why I love hosting."
These community stories are part of an ongoing series of short videos that will be released over the coming months. To our guests and hosts that made them possible: thanks for all you do. We wouldn't be who we are without you.