Meet the Indian recipients of Airbnb's $10M USD OMG! Fund
Key Takeaways
Recipients from 20 countries have been chosen to bring their ideas to life with $100,000.
Creations will be guest-ready by summer 2023, and will be a part of Airbnb's OMG! Category.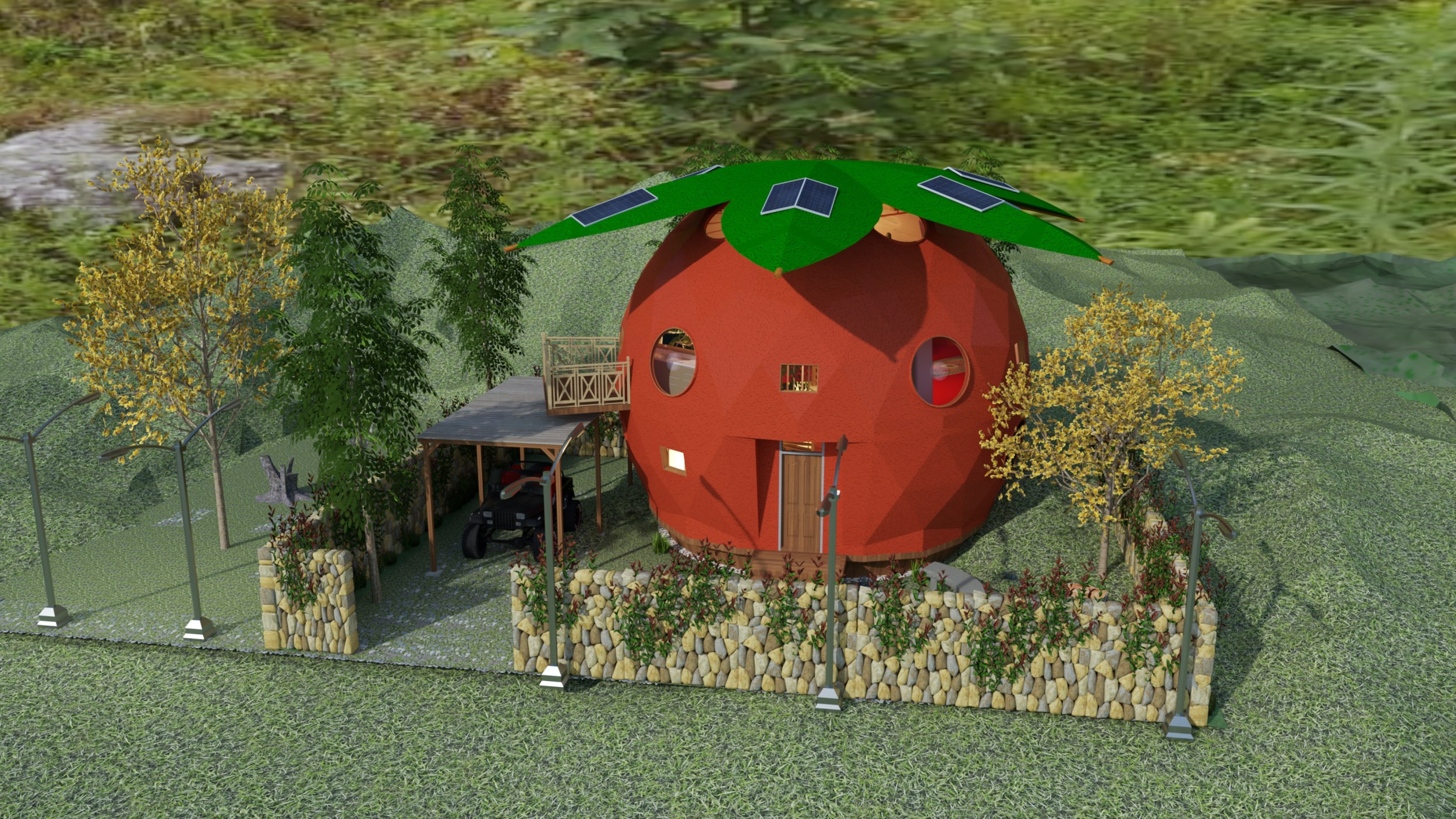 Key Takeaways
Recipients from 20 countries have been chosen to bring their ideas to life with $100,000.
Creations will be guest-ready by summer 2023, and will be a part of Airbnb's OMG! Category.
From tens of thousands of entries from around the world, 100 aspiring designers, architects, DIYers and makers hailing from more than 20 countries/regions have been chosen to bring their crazy space ideas to life as part of the $10,000,000 OMG! Fund.
The winning ideas stood out for their unique and inspiring design, sustainable consideration, and novel ways of offering immersive guest experiences. Recipients will each receive up to $100,000 USD to make their fantastical creations possible, and over the course of the next ten months, will design, construct and outfit their spaces to be guest-ready by summer 2023 – when you may find them available as part of Airbnb's OMG! Category.
Selected by the OMG! Fund judging panel, including design and style icon Iris Apfel, architectural expert Koichi Takada, Airbnb Superhost Kristie Wolfe, and Airbnb VP of Experiential Bruce Vaughn, these elaborate ideas are expected to make the OMG! Category of homes 100 times more extraordinary once they're made bookable on the platform.
From a sprout house farm stay in the Western Ghats of Maharashtra, a mischievous mango mansion near Madurai in Tamil Nadu, to a sustainable and habitable giant molar tooth, the successful India applicants expand the idea of what an Airbnb stay can be.
The OMG! Fund recipients have an opportunity to experience the powerful economic benefits of Hosting on Airbnb – and many are already familiar, as over 50 percent are already Hosts. In India, in the past two years alone, from 2019 to 2021, nights booked at unique properties have increased by over 30 percent. With more guests booking unique stays, Hosts are also earning real income, with unique listings collectively earning nearly INR 250 million in India just in 2021.
The tens of thousands of entries drew inspiration from the depths of the sea to sci-fi novels, but certain natural elements and architectural features proved popular:
400 ideas offered spectacular stargazing experiences
961 ideas marched to the beat of their own drum, incorporating music in some way
777 juicy designs were inspired by fruit
680 ideas were wine-inspired
7,931 entrants proposed using solar panels for sustainable energy
High in the sky, 1,214 ideas involved treehouses and 389 featured suspended structures
509 mushroom-inspired listings were ready to sprout from the earth
Meet the five Indian OMG! recipients who made it to the top 100 list:
Himalayan Fruit Shaped Bedrooms created by Arun M.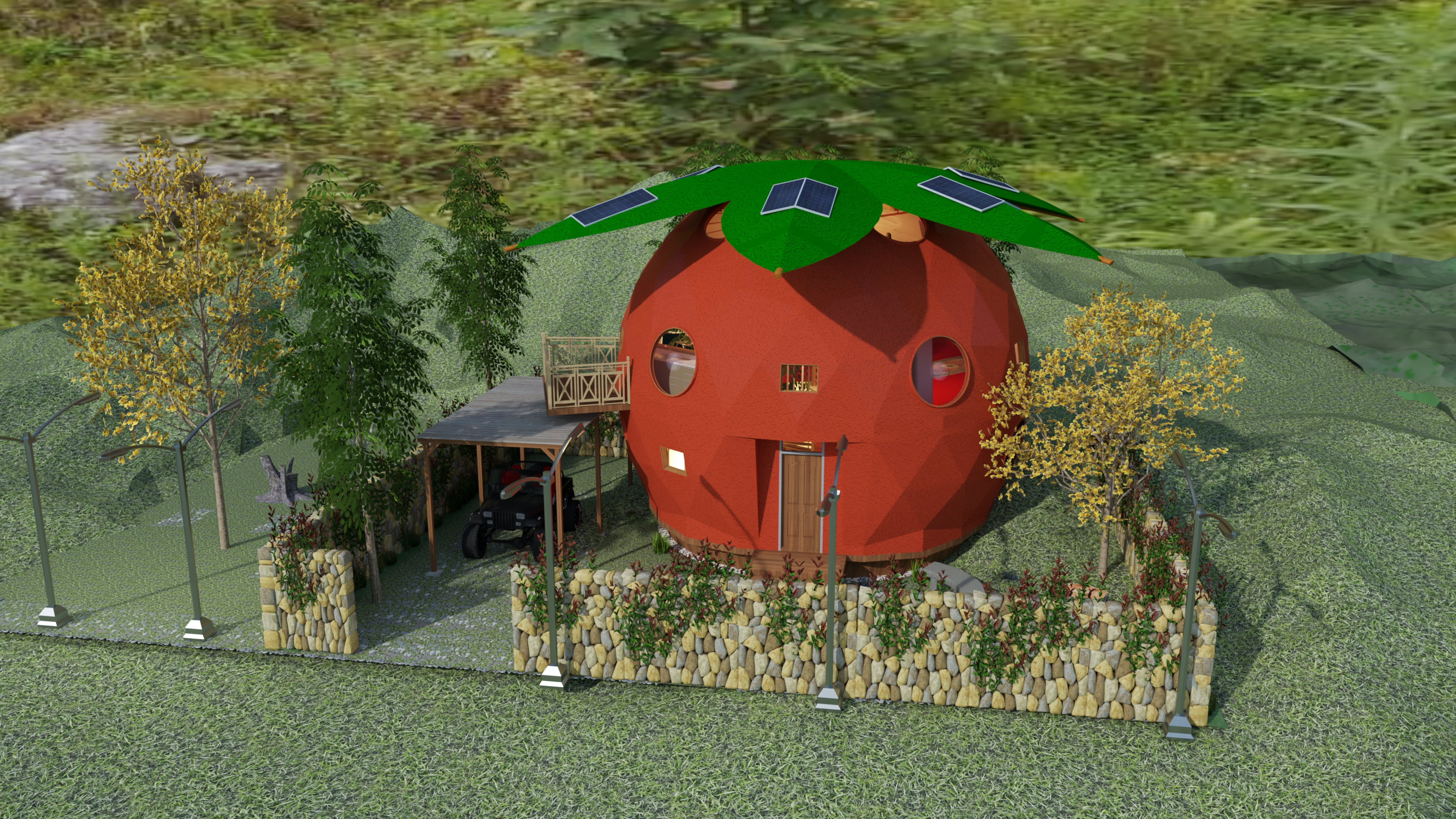 Imagine staying in a Kafal (Myrica esculenta) shaped bedroom located at a height of 6900 ft from sea level, in a quaint little village called Makkumath in the Himalayan state of Uttarakhand.
This home will have a 'bunch' of Kafal shaped valley view rooms, joined by a leaf solar bridge on top. Each room will be painted in a unique shade from green to dark maroon, to represent the varying shades of the local fruit. The rooms will have mud flooring, reflecting the local tradition to maintain natural cooling. All the bedrooms will come with a verandah that will merge into the endless views of the nearby forest.
Talking about the inspiration for this idea, OMG! Fund recipient Arun said, "The idea of this space is to give a tribute to the mysterious and sustainable life and culture of the Himalayas. I have really fond childhood memories of visiting our family home in Uttarakhand, and eating Kafal fruit during the summers. This project for me is a way to rebuild that childhood home. It would be a home to all those who yearn to return to the lap of nature."
Sustainable and Habitable Giant Molar Tooth created by Pewly D.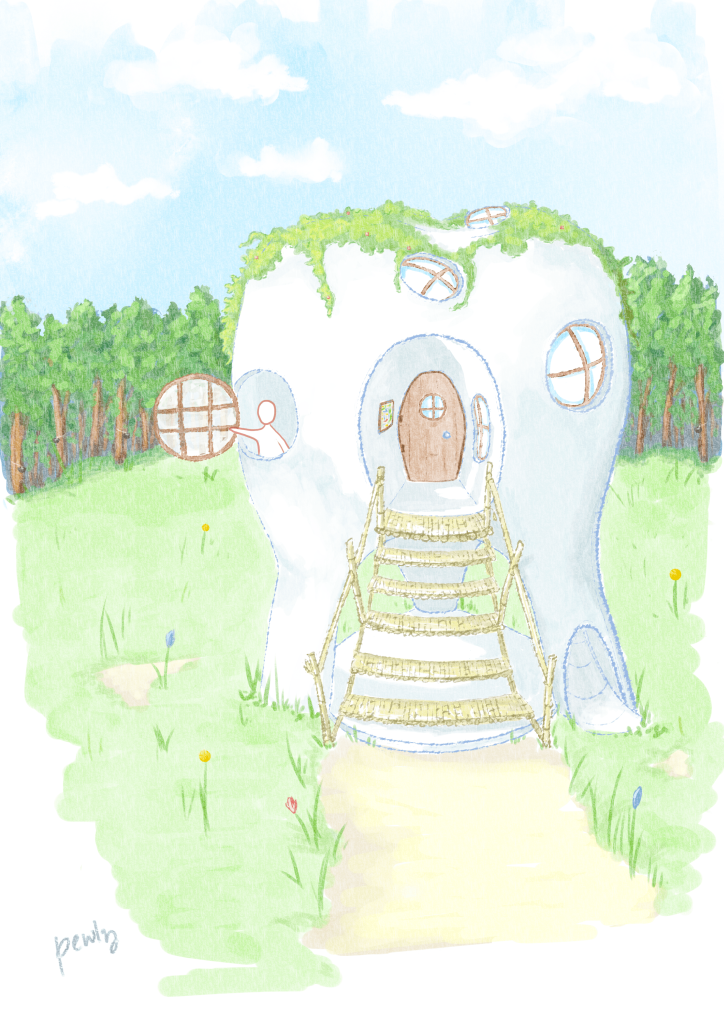 Located in a small forest in the heart of Tripura, this Molar residence will look like a real tooth. Designed with organic shapes, and locally sourced sustainable materials, it will feel as if you're living within a carved tooth.
"I'm a nature inspired architect and children's book author, who's always aspired to bridge the gap between architecture in fantasy worlds and real life. My proposed project is a sustainable and habitable giant molar tooth, located in a private woodland in Northeast India. It was first conceptualized in a fantasy book I authored about teeth dwelling beings and I'm excited about turning this idea into an actual living space for Airbnb guests," said Pewly. 
Sprout House Farm Stay created by Milind S.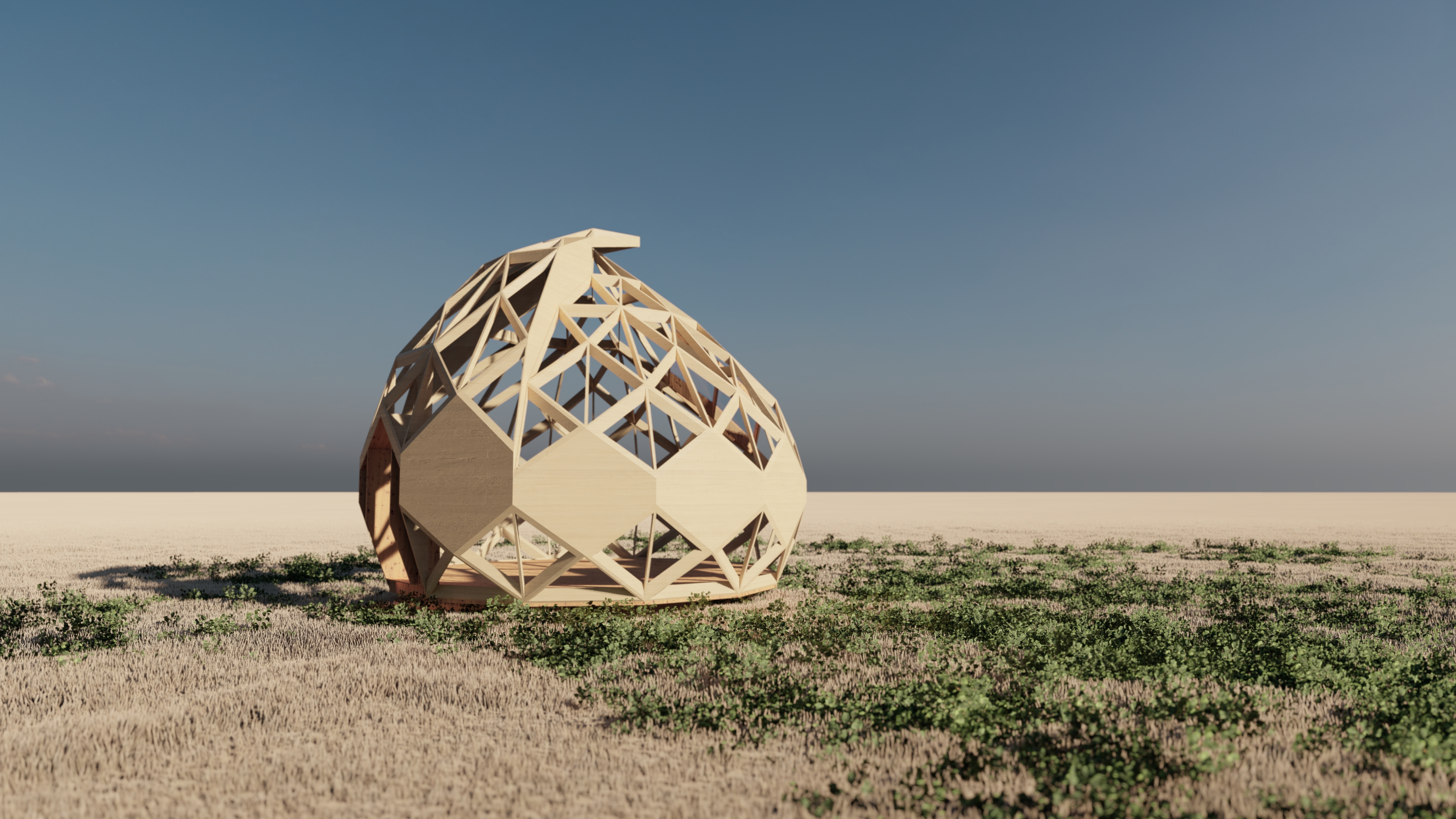 The Sprout House will be an organic living experience that goes beyond just providing a good stay and food. It is about embracing the basics – going back to the roots, to grow and thrive in the lap of nature. The Sprout House will be built at the banks of Krishna river, next to a thriving biodiversity spot of Maharashtra, located at a drivable distance from Pune. At the Sprout House, guests will wake up every day to the wonderful sights and sounds of nature and enjoy a peaceful getaway. The organic stay is quite fittingly inspired by sprout – in both its spirit and shape.
Milind S, the brainchild behind the Sprout House Farm Stay said, "Sprout House is more than just a place to stay and eat. It's about living in nature and getting back to the basics. The goal is to get more farmers to use organic farming methods, consider operating a farm-stay as one of their other consistent revenue streams, and get more people to live an organic lifestyle."
Mischievous Mango Mansion created by Rajan E.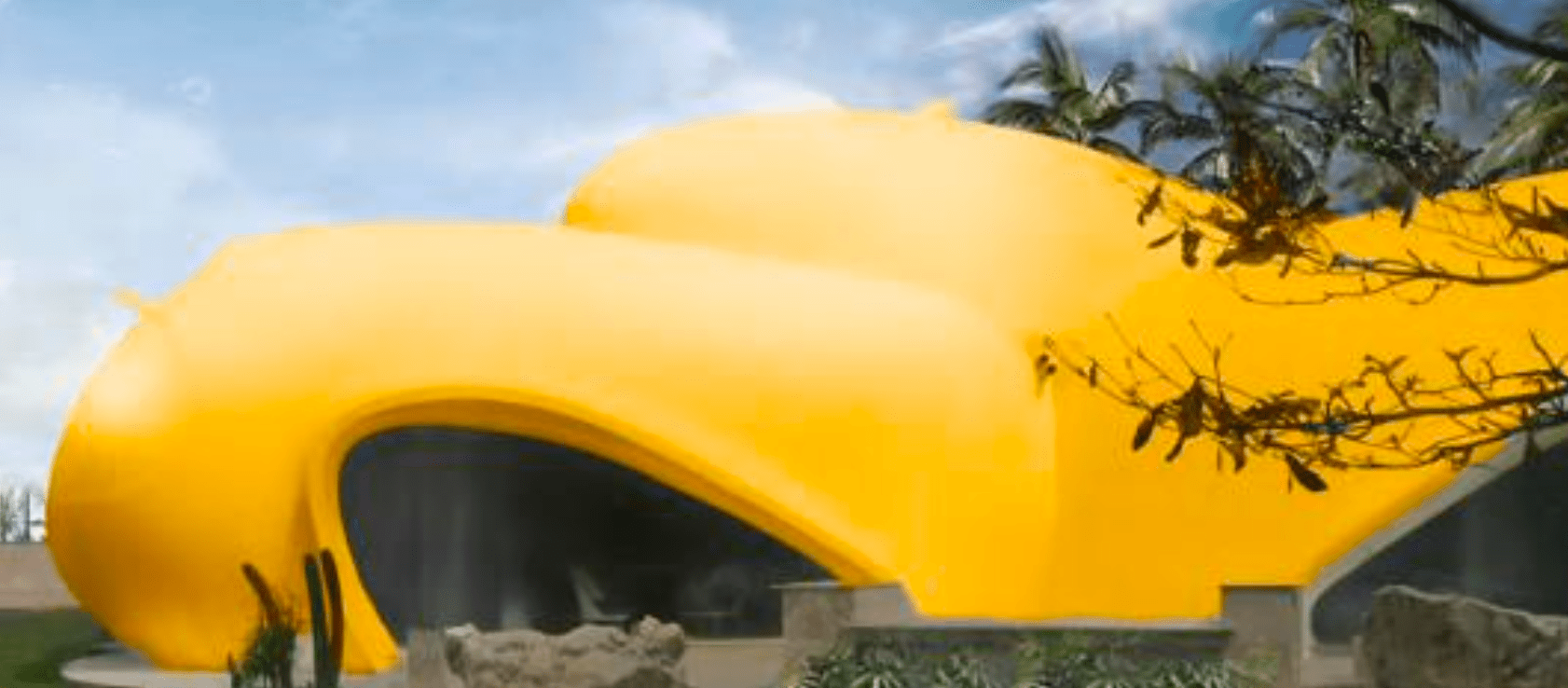 The mango mansion will be located in the southern part of India in Natham near Madurai Tamil Nadu. The mansion will be surrounded by beautiful mango trees consisting of various mango types native to India. The mango mansion will be unique with its mango shaped mansion from top view and front view illustrating the different mango size and shapes for style.
Invisible Farmhouse at a Mango Orchard created by Ankur A.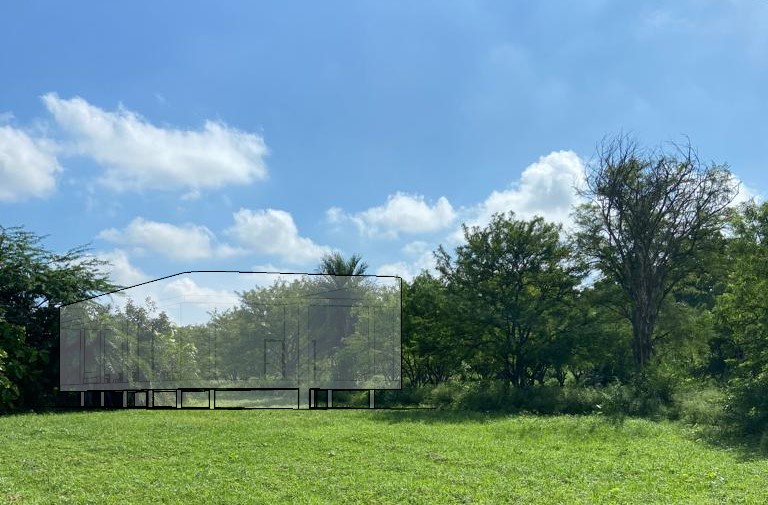 How about staying at an 'Invisible' farmhouse with fields on one side and an orchard on the other, located in an ancestral farm in Gabhana, Aligarh, close to Delhi. The idea is to cover the external walls of the house with seamless reflective glass and metal to reflect the branches, leaves, and the sky and therefore completely camouflage the presence of the house.
"The inspiration for the idea came after visiting my friend's family in Gabhana, Aligarh, who have been remarkable custodians of these Mango orchards for generations. The invisible house will be a place that encourages reconciling with nature by completely dissolving within the orchard. This is a design for people who like to escape from the hustle and bustle of urban life", said Ankur.
Here is the full list of the 100 OMG! Fund recipients:
23m Tower with 360 Degree, 40 Mile Views
Matthew G., United Kingdom
A-Frame on Top of a Norman House Surrounded by Nature
Anne T., France
Acorn Library With Treehouse Outdoor Acorn Bath
Peter C., United Kingdom
Adobe Fossilized Dinosaur Skull in Desert
Haylee M., United States
Ancestral Lava Cave in a Volcano
Fernando B., Chile
Atomic Oasis in the Chihuahuan Desert
Cari B., United States
Bauhaus Bao House in the LA Mountains
Rei W., United States
Big Foot's Cabin: Big Everything, Big Fun
Alexis D., United States
Board Game Haven in Huge Stacked Dice
Olivia S., United States
Building That Blossoms Like a Flower
Pol G., Ireland
Bunch of Bedrooms in the Shape of Himalayan Fruit
Arun M., India
Bush Plane in Alaska Ghost Town
Lisa B., United States
Cactus Cabin With Natural Hot Springs
Alie L., United States
Campsite With Caves as Rooms Built Into the Earth
Joanne C., Taiwan
Coconut Drifting in the Sea
Muhammad-Hakim A., Malaysia
Concrete Shelled Dome, Sustainable Off-Grid in Joshua Tree
Michael O.l, United States
Contemporary Pyramid in Epic Pine Forest
Jose L., Mexico
Cozy Giant Teapot and Cup Studio
Martinique B., United Kingdom
"Crash Landed" Retro Luxury Airliner Fuselage and Cockpit
Jennifer C., United States
Desert Flower Opening to Star-Filled Sky – Abraham V., South Africa
DJ Booth Tower Mini Duplex
Jérémie, M., Thailand
Dome-House Floating in a Koi Fish Pond
Iacopo T., Japan
Dragon Egg in the Forest
Martí­n J., Argentina
Dragons Den Cave: Life-Sized Dragon Statue Atop Entrance
Julia N., United States
Eco Pyramid Bedroom Set at the Belly Button of the Land
Dominic H., Portugal
Eco-Igloo
Catherine W., Australia
Fallen Wine Bottle With a "Wine" Pool
Martino M., Portugal
Floating Avocado in an Avocado Farm
Ignacio M., Chile
Floating Terrarium in the City
Mia P., United Kingdom
Full Airplane House in Wonder Valley
Richard C., United States
Galactic Glacier
Laura N., United States
Geodesic Planetarium and Observatory Dome
Nick M., United States
Ghost Town Gondola Town at 12,000 Feet
Ben C., United States
Giant Camera Atop a Georgia Mountain
Matthew F., United States
Giant Clog-Cabin in a Dutch Open Field
Jantine D., Netherlands
Giant Coyote Head Casita on the Rim of the Rio Grande
Johnny D., United States
Giant Fallen Redwood Tree in the Forest
Frank C., United States
Giant Flower Pot on a Farm in Small Town Idaho
Whitney H., United States
Giant Mirrored Disco Ball Glamping House on Wheels
Jeffrey H., United States
Giant Pig in Meadow at Pig Sanctuary
Tracey S., United States
Giant Pony Pad in the New Forest National Park
Jordan C., United Kingdom
Giant Red Mushroom, Cozy House in a Forest
David A., Mexico
Giant Tortoise Glass Shell for Stargazing
Reeyna D., United States
Giant Vintage TV Perched Next to a Lake
Melissa W., Canada
Grass-Roofed, Glass-Fronted Forest Adventure House
Kate C., Canada
Habitable Human Size Skep (Beehive)
Pam W., United States
Hansel and Gretel's Chocolate House
Maria D., Argentina
Il Pino, the Pine-Shaped Cabin in the Alps
Luca B., Italy
Invisible Farmhouse in a Mango Orchard
Ankur A., India
Jungle Eco Tree House With a Leaf Petal Shape
Elisa O., Mexico
Kangaroom – Floating Pod Style
Matt D., Australia
Kiwi Bird Nest With a Chicken-Eye View
Jacqueline Y., New Zealand
Land-Locked Cargo Ship House in Veracruz
Álvaro M., Mexico
Helicopter on Ten Wooded Acres With a Creek
Emily L., United States
Lighthouse in the Ocean Outside a Swedish Summer Island
Martin R., Sweden
Livable Giant Coconut Made From Mud and Coconut Coir in the Tropical Region of Chiang Mai
Abhi A., Thailand
Livable Giant Fallen Tree in the Woods
J.R. S., United States
Livable Giant Fossilized Snail in the Desert
Diego Z., Mexico
Liveable Giant Mushroom Spaceship in the Middle of the Jungle
Pablo C., Mexico
Livable Giant Troll Nestled in the Woods
Victoria G., United States
Livable Pop-Art Painting-Inspired Stay in Llano Desert
Jesse Y., United States
Luxury Live-In Bear With Epic Woodland Views
Bianca C., United States
"Mind the Gap" – An Up-Cycled London Underground Tube Carriage
Eloise S., United Kingdom
Mischievous Mango Mansion
Rajan E., India
Modern African Earth Retreat in the Bush
Juane V., South Africa
Modern Cereal Lover's Paradise
Trey P., United States
Monocoque Cabin, Organic Architecture at Peace With its Rural Site
Peter M., United Kingdom
Mushroom Mansion: A Farm to Nightstand B&B
Lenée G., United States
Orion Constellation: 10 Elevated Rooms in Oaxaca
Edmundo M., Mexico
Ozark Glass Dome Planetarium Treehouse
Natalie J., United States
Portable Cheese Wedge-Shaped Cabins in Wisconsin
Etienne W., United States
Redwood Stump Tiny House in the Forest
Melanie S., United States
Rock Candyland Cottages
Justin M., United States
Salt Cave and Forest Dwelling With Glass Bottle
Liezel M., South Africa
Sculpture in the Woods
Julio V., Mexico
Solve a Mystery in a Restored 40s Railcar
Winston W., United States
Space Treehouse: A Futuristic Home for Sustainable Living
Daniel T., United States
Spend a Night With Your Honey… and Some Honey Bees
Jacob K., United States
Sprout House – The Incredible Farm Stay!
Milind S., India
Stargazing Sphere Suspended in the Rocks
Orien R., United States
Stargazing Stone Igloos
Jaco B., South Africa
Starhouse on Top of a Cliff
Andres C., Mexico
Stay in a Volcano On the Big Island of Hawaii
Cassandra R., United States
Sustainable and Habitable Giant Molar Tooth, Deep Within a Tropical Forest
Pewly D., India
Sustainable Beehive House in the Rainforest
Esteban A., Costa Rica
Sustainable Rammed Earth Desert Shelter Engaged Into the Landscape
Jonathan R., United States
The Big Smoking Volcano and the Sky-Perched Nest
Fabian C., Mexico
The First Bubble House in Mars: A Space Experience
Jorge B., Spain
The Golden Egg
Jennifer W., Ireland
The Nuthouse: Suspended, Hanging Giant Acorn Back in the Woods
Ty G., United States
The Ultimate Music Lover's Hideaway
Madeleine T., United Kingdom
Tire-Shaped House Made of Junkyard Tires
Kimberly S., United States
Titan II Missile on Former USAF Base
GT H., United States
"Top Secret" Underground Atlas Missile Base, Abandoned by the Air Force
Matthew F., United States
Luxury Bubble On Top Of A Mountain
Timothy H., Australia
Two Wooden Round Nests, Surrounded by Dreamy Blue Gardens
Nicolette T., United Kingdom
Ultimate Airbnb on Plane at an Airfield
Mary C., Australia
US-Skoolie as Mobile Airbnb in Germany
Marcus H., Germany
Viking Ship in the Northwoods of Minnesota
Elena M., United States
What It Feels Like to Live on Cloud 9
Tia B., United States
Interested in becoming an OMG! Host? Learn more at airbnb.com/host/homes.