Airbnb research shows Kiwis are set to live anywhere
Key Takeaways
Airbnb unveils over 50 new product features to support the future of work and travel
YouGov Survey findings show 41 percent of New Zealanders would like to live somewhere different from where their workplace is located, while 1 in 7 want to rent out their homes full time to enable them to travel
Globally, 20 percent of Airbnb's business is stays of one month or longer, with Guests this year spending more on longer stays than at any other point in Airbnb's history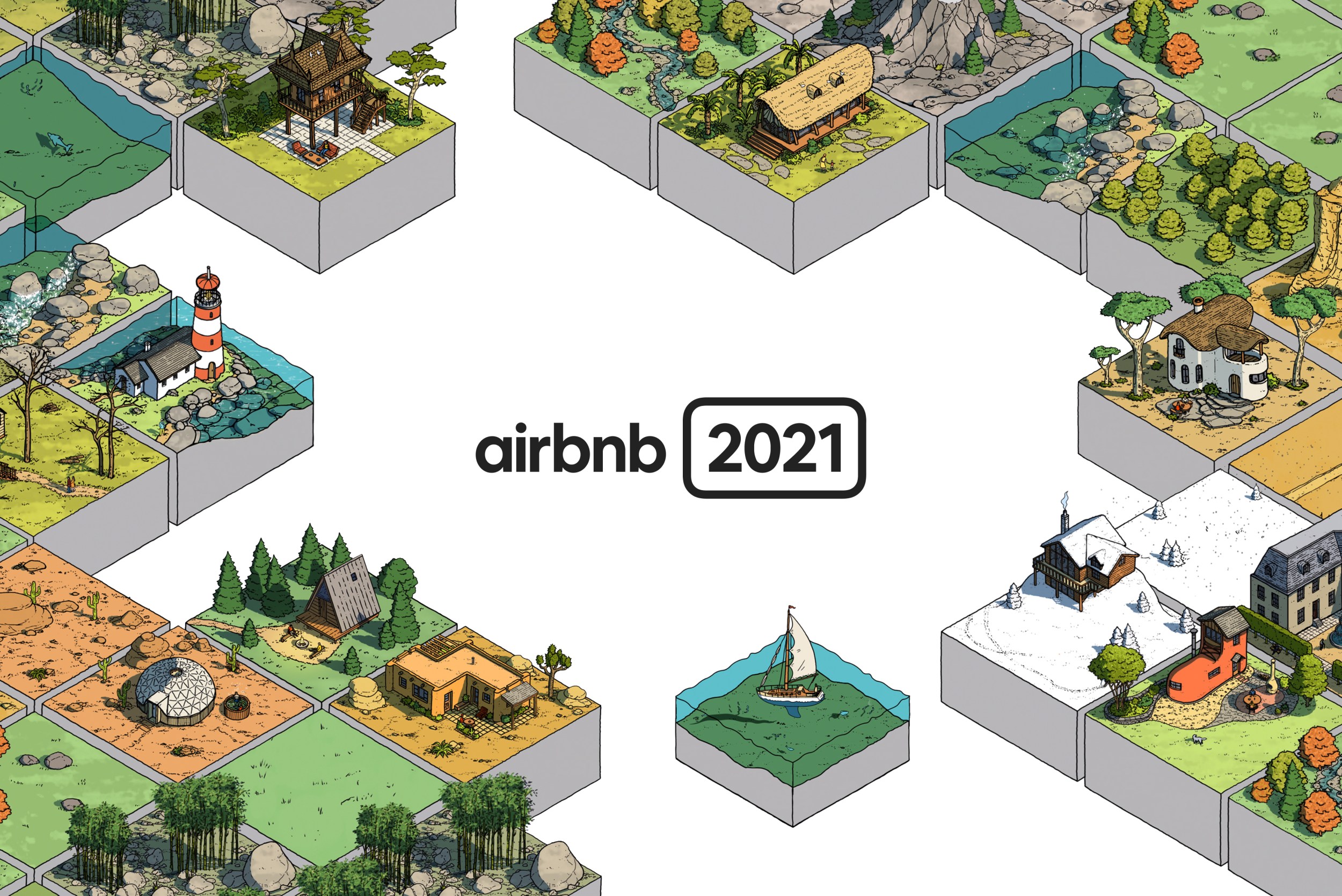 Key Takeaways
Airbnb unveils over 50 new product features to support the future of work and travel
YouGov Survey findings show 41 percent of New Zealanders would like to live somewhere different from where their workplace is located, while 1 in 7 want to rent out their homes full time to enable them to travel
Globally, 20 percent of Airbnb's business is stays of one month or longer, with Guests this year spending more on longer stays than at any other point in Airbnb's history
The way New Zealanders travel, work, and live may be undergoing the biggest revolution ever, after the COVID-19 pandemic untethered millions of people from the need to work in specific places, and even at specific times.
New research commissioned by Airbnb demonstrates this dramatic shift, showing that because of business tools like Zoom, many people can now work from anywhere, travel any time, and stay for longer, making it possible to work from any home—and ultimately, to live anywhere.
To support Hosts and Guests through these changes to the way we live and work, Airbnb is also unveiling 50+ upgrades and innovations across the platform's entire service to support this travel revolution.
"For Airbnb, 2021 has been a year of relentless innovation to refine our core service," said Brian Chesky, CEO and Co-Founder of Airbnb. "This year we've delivered more than 150 upgrades and innovations. Our design-driven approach means that we're constantly improving our service to adapt to this changing world. For the first time ever, millions of people can now travel anytime, anywhere, for any length, and even live anywhere on Airbnb. This is a travel revolution."
Survey reveals attitudes to travel
YouGov research commissioned by Airbnb found 41 percent of New Zealanders would like to live somewhere different from where their current workplace is located, preferring to travel there only occasionally. Almost half (48 percent) of Kiwis said they now have more flexibility to travel wherever they want, with 60 percent saying post-pandemic, they'll be travelling less for work and more for leisure than they did before.
Almost 1 in 3 Kiwis (27 percent) say they're considering renting out their home to travel in the near future, with 1 in 7 (14 percent) saying they would do it full-time.
When asked about the ways they might live, work, and travel in the post-pandemic future, taking more domestic trips emerged as the most popular selection (47 percent), ahead of taking 3 or 4-day weekend trips (38 percent) and embarking on more international getaways (30 percent).
When planning a trip, New Zealanders ranked price, flexibility and a special experience as their top three most important considerations.
Kiwis are also embracing hosting as a means of generating income and helping to funnel much needed tourism dollars into their local communities. According to internal Airbnb data, new Kiwi Hosts who started listing their homes since the start of the pandemic in March, 2020, have collectively earned more than USD $29.9 million / NZD $42 million or an average of more than USD $5,700/ NZD $8,000, while almost 40 percent of all Hosts in New Zealand (38 percent) have coveted Superhost status.
"When travel returns, Kiwis are set to embrace new ways of living, working and travelling," said Susan Wheeldon, Airbnb's Country Manager for New Zealand and Australia. "From farm stays to yurts, beach shacks and tiny homes, Airbnb Hosts offer up authentic experiences that help guests experience their community in a genuine and connected way – something we know New Zealanders are seeking as they make the most of added flexibility and the ability to live anywhere."
We're seeing the travel revolution emerge globally on Airbnb
Globally, people are increasingly living on Airbnb, and the ways guests are using our platform as parts of the world begin to emerge from the pandemic support these findings.
20 percent of our business is stays of one month or longer. Guests this year are spending more on these longer stays now than at any point in Airbnb history.
In 200 destinations around the world, people already are living on Airbnb:

30 percent of guest nights in these places have been for long-term stays (28 days or longer).

In the past year, more than 100,000 guests globally have stayed continuously on Airbnb for at least three months.
People also are traveling at any time:
Nearly half (45 percent) of nights booked on Airbnb are for at least one week
Families are traveling during the week. Globally, they're showing the most growth in stays on Monday and Tuesday nights.
As for what travelers are looking for now, it's wifi and workspaces, in keeping with the shift toward remote work, along with kitchens, in keeping with living anywhere. But one must-have amenity stands above the rest: Everyone, from travelers generally, to families, to longer-stay remote-workers, wants to be able to bring their pets along.
Globally, the most searched-for amenities in recent months were: 1) pets-allowed, 2) pools, 3) wifi, 4) kitchens and 5) free parking.
AirCover – Top-to-bottom protection. Free for every Host. Only on Airbnb.
Translation Engine – The most advanced translation technology ever offered to our community.
Accessibility Review – Every accessibility feature is reviewed for 100% accuracy.
I'm (even more) Flexible – Search for more unique homes up to 12 months in advance.
Verified Wifi – Our new speed test tool verifies the speed of the wifi in a listing.
Smarter Trips Tab – A redesigned Trips tab with all your must-have travel details.
Ask a Superhost Expansion – Connects new Hosts to a Superhost in their area for 1:1 help.
…and 46 more upgrades.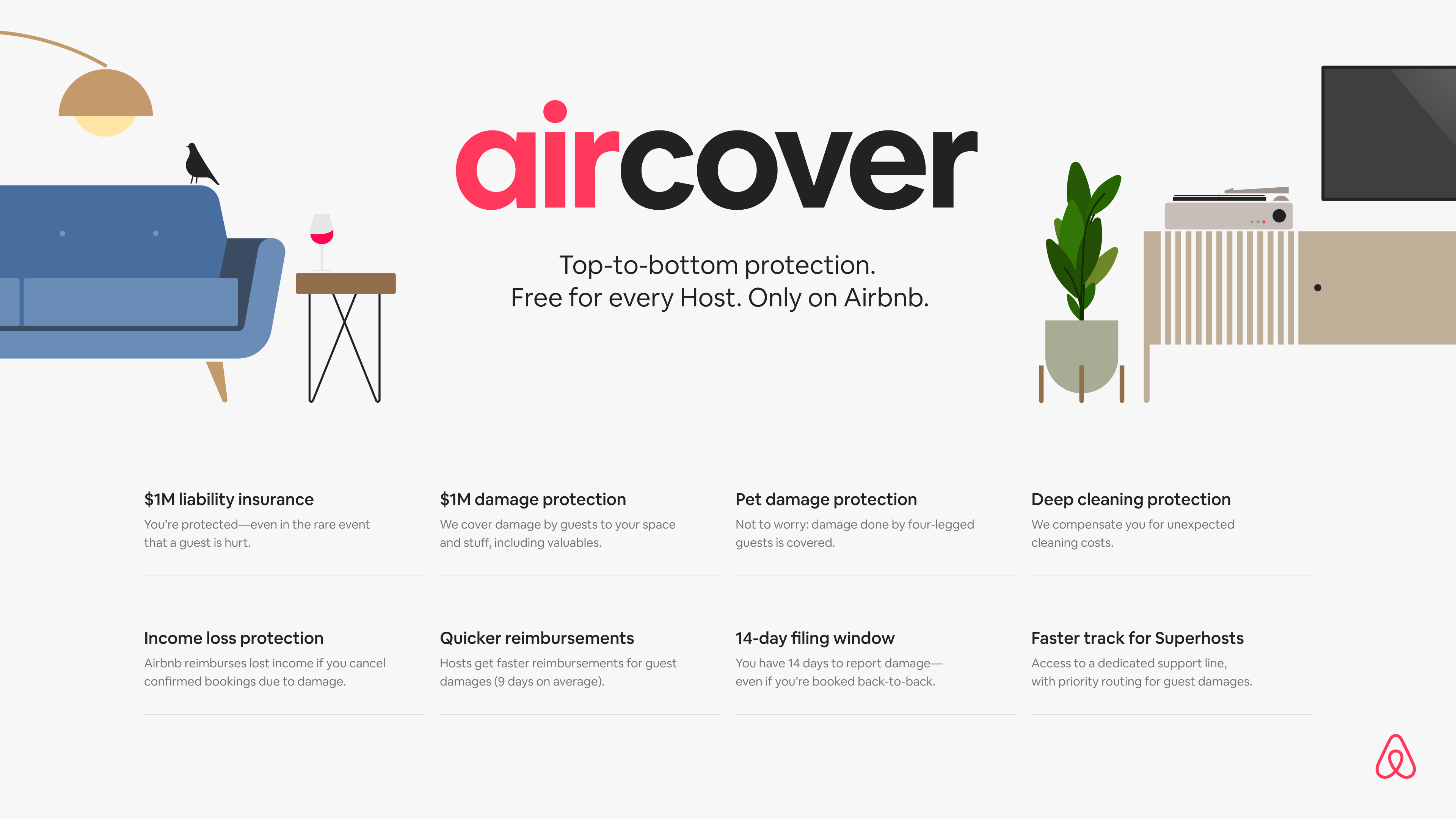 AirCover
More guests than ever before are choosing to stay in an Airbnb, which is leading to more people wanting to host to take advantage of this growing opportunity. To offer even more reassurance to our existing four million Hosts, and make it even easier for new Hosts to take that first big step, today we are introducing AirCover.
Only Airbnb gives you AirCover, which provides top-to-bottom protection for every Airbnb Host with $1 million in damage protection and $1 million in liability coverage. AirCover also includes income loss protection, pet damage protection, deep cleaning protection, and more.
Airbnb pioneered Host protection a decade ago with the industry-first Host Guarantee. After ten years of learning from our Hosts, we've reimagined the program, expanding protections and creating faster payouts.
AirCover is always included and always free for all new and existing Hosts. With AirCover, Hosts receive:
$1M damage protection
$1M liability insurance
Income loss protection
Pet damage protection
Deep cleaning protection
14-day filing window
Quicker reimbursements
Faster track for Superhosts
Translation Engine
As cross border travel returns, Airbnb's new Translation Engine will provide a seamless experience for our Hosts and guests in over 60 languages. Translation Engine removes the need for click to translate buttons by automatically translating listing descriptions and reviews. Based on results from a study across our top ten languages we commissioned by a top machine translation evaluation company, Translation Engine improves the quality of more than 99% of Airbnb listings. Translation Engine uses millions of Airbnb data points to improve translations, so it will get even smarter over time as it learns from new content that's submitted.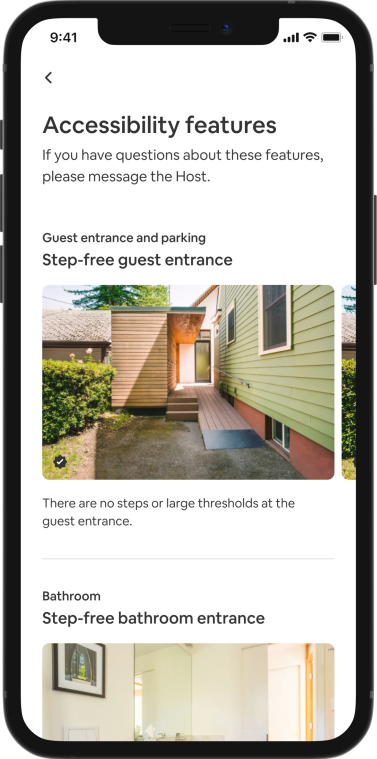 Accessibility Review
We've developed an industry-leading approach to review the accuracy of features that make Airbnb homes more accessible for our disability community. Hosts simply submit photos of their accessibility features, which are then manually reviewed by a specialized team of Airbnb agents. To date, Airbnb agents have reviewed and confirmed the accuracy of 100,000 accessibility features in 25,000 homes around the world.
Verified Wifi
Fast and reliable wifi is more critical than ever before. In fact, this year guests on Airbnb have used the wifi filter more than 288 million times. Hosts can test their listing's internet connection from the Airbnb app and have their wifi speed verified. With this upgrade, you can be confident that you won't miss a Zoom or a favorite streaming show from your Airbnb.
I'm (even more) Flexible
Earlier this year, we introduced I'm Flexible, a whole new way to search on Airbnb when you are flexible about where or when you are traveling. Since then, guests have used I'm Flexible more than 500 million times. Due to the popularity of this feature, today we are making it even more flexible by expanding the date range you can search to 12 months out (from six). We are also expanding I'm Flexible to include four new categories of unique stays: off the grid, ski-in/ski-out, luxe, and offbeat homes.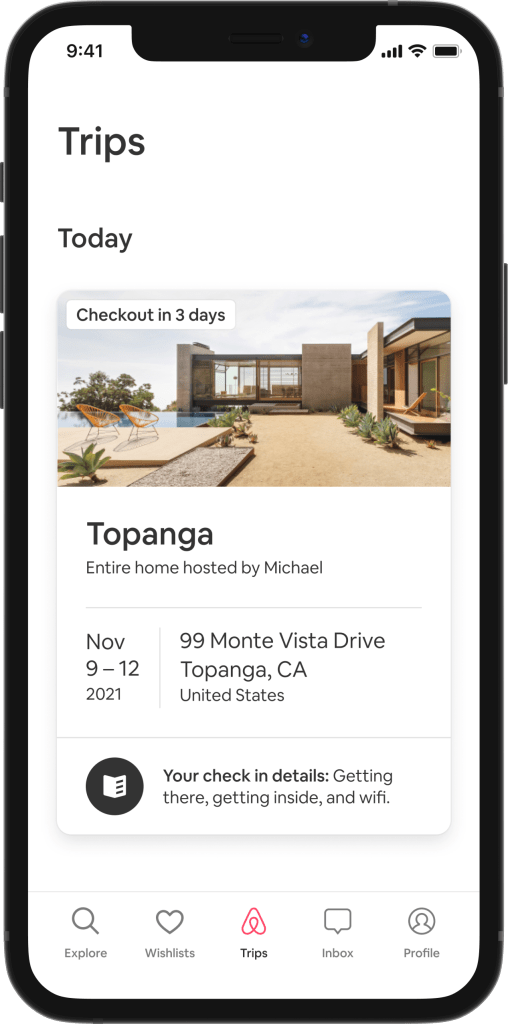 Smarter Trips Tab
We've redesigned the Trips tab to house all your must-have travel info in one convenient place. The smarter, more intuitive tab now features a handy countdown to your arrival, check-in details, current and upcoming reservations, and personalized Experiences suggestions. Spend less time planning, and more time enjoying the destination.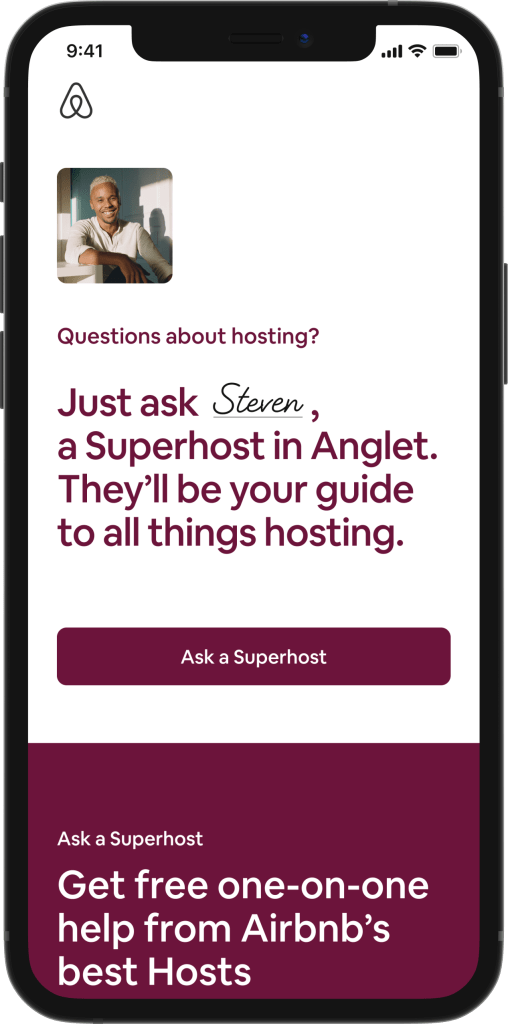 Ask a Superhost Expansion
Ask a Superhost matches anyone interested in hosting with one of our most experienced Hosts for one-on-one advice. Since launch, more than 60,000 prospective Hosts have used Ask a Superhost. Today, we're expanding Ask a Superhost to over 30 languages in 196 countries. Prospective Hosts can now be paired with Superhosts based on their location, language, and listing. As an added benefit, Superhosts can provide tips for completing a listing page and are there for you through your first booking.
AirCover, Accessibility Review, Verified Wifi, I'm (even more) Flexible, and Ask a Superhost Expansion are all available to everyone today. Translation Engine and Smarter Trips Tab will launch before the end of this year.