Community Street Library built by Hobart Home Sharing Club
Airbnb Hobart Home Sharing Club has taken part in the Street Library Movement and have made a community contribution to the Lenah Park Community Centre, park near Lenah Valley Primary School. If you take a stroll on Creek Road, you will find a colourful box with beautiful and inspiring painted images of family, children reading and books. The box is a free resource for local families and visitors with kids. Inside the box, you will find books on literature, education, culture, fantasy and history.
This exciting Street Library initiative was lead by a member of the Home Sharing Club, Peter Lutz, who worked with Hobart City Council with permission to build the community resource and worked with the school to create a project for the kids, where they'll have a connection to the broader community.
Peter, who also chose the Lenah Valley Community Hall and is passionate about reading and kids literacy said:"It involves students, teachers and the Principal, giving them all ownership of the project and as an encouragement to read and share.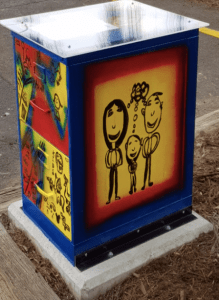 "I wanted to give something back to the community and set an example to motivate other members of the Host Club in being active and creative.
"In our digital time and age, I think it's very important, especially for young people to get involved in literature, and through the design of this box add some fun to reading and exchange."