Interior Stylist Steve Cordony's Top Tips to Style Your Home this Easter
Key Takeaways
As the Easter season fast approaches, Airbnb has teamed up with interior stylist Steve Cordony to share his ultimate tips to style your Airbnb for the occasion
Key Takeaways
As the Easter season fast approaches, Airbnb has teamed up with interior stylist Steve Cordony to share his ultimate tips to style your Airbnb for the occasion
To celebrate Steve Cordony's idyllic Rosedale Farm estate being available on Airbnb, Steve has shared his top styling tips, to make your home or Airbnb a standout.
Festive Easter Finishes
To set the ultimate Easter tablescape, I love a crisp palette of green, white and soft yellow, mixed with earthy neutrals. This for me says Easter and using seasonal floral and foliage such as Easter daisy, sunflowers and garden roses mixed in with fresh herbs and lush green foliage creates an interesting and organic centrepiece. From there, I like to accent with metallic materials, a mix of cut crystal and contemporary glassware, crisp white dinnerware, and for a bit of fun, the whitest eggs I can find.
Warm & Welcoming
Warm and welcoming spaces are extremely important when opening your doors to guests. Scenting for me is one of the main touch-points within an interior space to make it feel homely. My favourite way to scent is to use scented candles in the hallway, lounge room and bathroom. Scents such as fig, vetiver or tuberose, are perfect for these spaces. I also love more earthy scents, for places such as bedrooms, the kitchen and laundry, including incense, sage and palo santo. Using details in the kitchen and bathroom make it feel like you're at home by using lots of different styling textures and materials, such as rustic chopping boards leaning on the kitchen bench, and a jute area rug behind the sink, and metallic accents with hardware and lighting, creating a layered kitchen interior.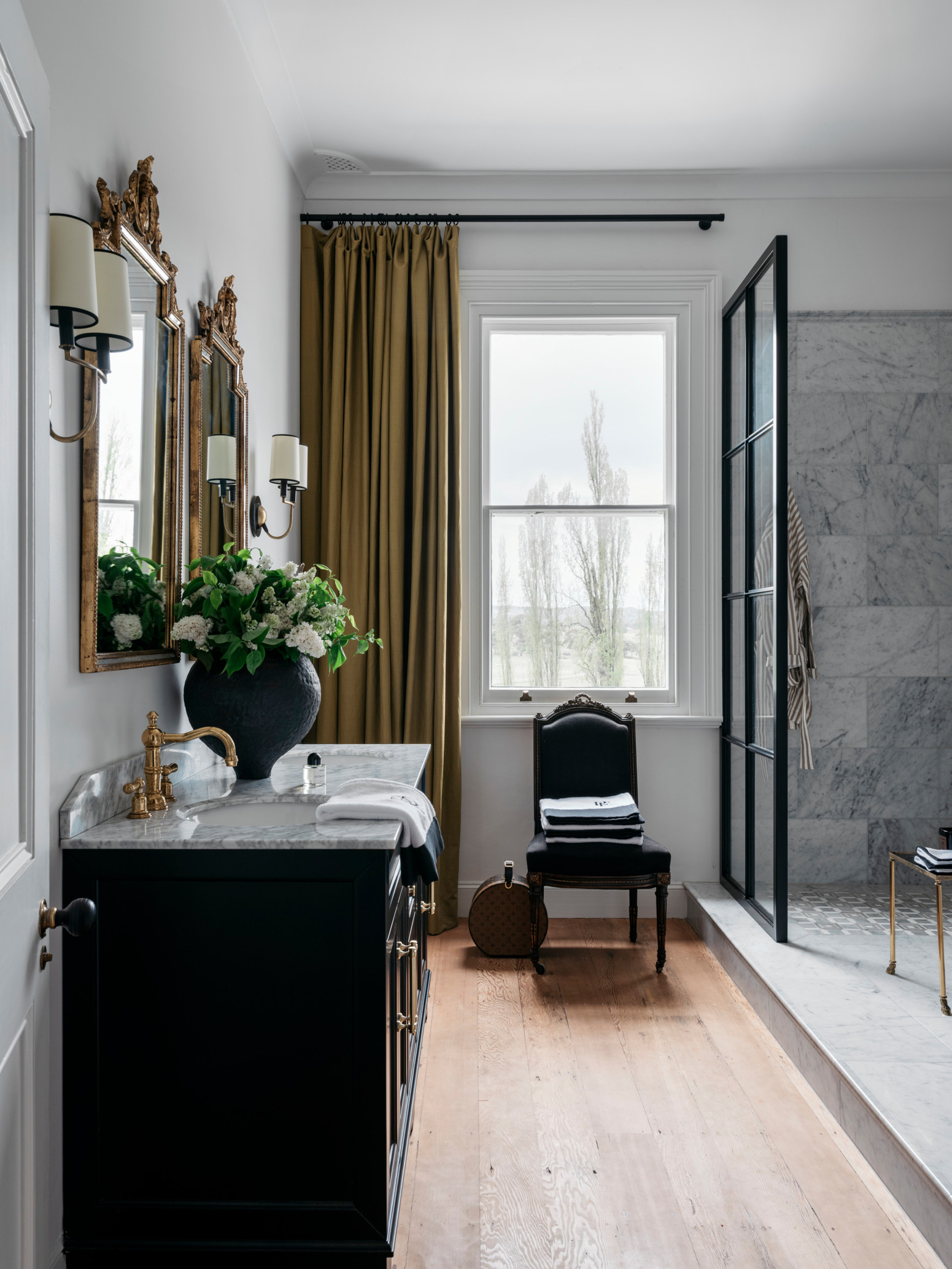 Personal Touches
I think personal touches are really important to make each space a reflection of your character. I love to incorporate coffee table books and find objects from travels to make the space feel more personal and add an eclectic flare.
Don't Forget the Essentials
When hosting guests, essential items are necessary. I think having some form of food for guests as they arrive is a nice touch to set the tone of the overall stay. When arriving at Rosedale Farm, we are presenting a cheese board featuring local produce, as well as different preserves, sourced and made from the property. We also have locally sourced breakfast including granola, seasonal fruit, artisan bread along with accompaniments. We also have a well stocked tea and coffee station, as well as champagne and Maybe Sammy cocktails. I also love to have plenty of blankets in the cupboards and a selection of games to encourage connection.
A Touch of Luxury
Investing in quality linen and bath towels makes a world of difference to the guests' experiences. To bring a touch of luxury into any bedroom or bathroom space, I like to replicate elements that I enjoy when travelling so this includes beautiful bed linen, with great pillows and duvet inserts and crisp white towels.
Create a Colour Palette
Whenever I'm creating an interior and looking to curate a colour palette, I always start with the heritage and architecture of the space. When styling Rosedale Farm, I went for a very neutral colour palette, overlayed with many different textures and materials including terracotta, linen, French oak, marble, boucle, bass, and bronze. From there I've accented with subtle hints of colour within the artwork and styling objects and accessories.