Midtown Hobart Merchant walk
MidTown Hobart neighbourhood, also known as  Hobart's "Hip Hood" is a revitalised area of Hobart. A group of hosts got together for an Airbnb merchant walk featuring 12 new local businesses popping up in the area.
Small business owner, Katinka Challen of Lily & Dot, said  "It was great to meet local hosts on the Airbnb MidTown merchant walk and introduce them to old and new small business owners in our growing precinct."
The walk started with a complimentary coffee at one of Hobart's longest-running café, Island Espresso, which has been around for 18 years!  Although its been recognised for it's delicious coffee and cakes, it's sunny courtyard completed with couches and a cosy loft is perfect for families or groups all year long.
From there, the walk promoted MidTown's strip of hidden gems, to name a few, a national award-winning Aveda salon, a hipster barber, a brand new sake bar (Bar Wa Izakaya) and ended at Hobart's craft brewery Shambles, which was voted to be the next place for a home sharing club meetup.
"The best thing about the walk is that you had got a shop for just about anyone within two blocks of midtown" said Katinka.  
Not only are merchant walks a great way to meet other hosts in the community, it's a great opportunity to encourage business owners to explain the stories behind their shops in a growing precinct that values community and homes sharing. For instance, Island Espresso has been situated in a heritage building which serves as one of Hobart's oldest structures, dating back to 1814.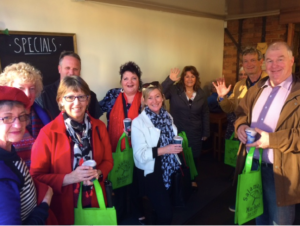 Dr Louise Grimmer, Retail Researcher, Tasmanian School of Business and Economics, University of Tasmania said: Through our research we've found that many Airbnb operators are more scattered than "traditional" hotel accommodation properties and are often located in "non-tourist" areas outside the central business districts. This means there is a real opportunity for small businesses on the city fringes, as well as in urban, rural and coastal regions, to take advantage of increasing visitor numbers.
"More visitors can now stay in out-of-the-way locations that previously did not offer accommodation and they can discover more local small businesses which have previously relied solely on trade from the locals."
To see the full itinerary of Hobart's first MidTown Merchant Walk, click here.