For artists and musicians who spend many months of the year on the road, being able to experience the comforts of home while travelling is a welcome addition to what is often a busy and gruelling schedule.
Whether it's just a room for a few nights or an entire home to set up camp in for the week, having somewhere to relax, recharge, create, or simply be inspired is a travel essential.
For homegrown Aussie singer-songwriter and producer Hayden James and his artist wife Jennifer Lia, who spend most of their year on tour, staying in an Airbnb is part of a growing trend of "creative getaways". In fact, Hayden wrote his latest single Just Friends while staying in Airbnb host Diego's home in New York's West Village.
"Being able to mix it up and change your environment really helps with the creative process, and it's just fun being able to experience something new. New York has always been a special place to be creative. It's not only the people you work with but the city itself is so unique. My wife and I have stayed in quite a few Airbnb homes around the world but the one that stands out for us is in the West Village, New York. We would find ourselves on the rooftop garden of the building, working and chatting with the backdrop of the Financial District, East Village and Midtown."

Hayden James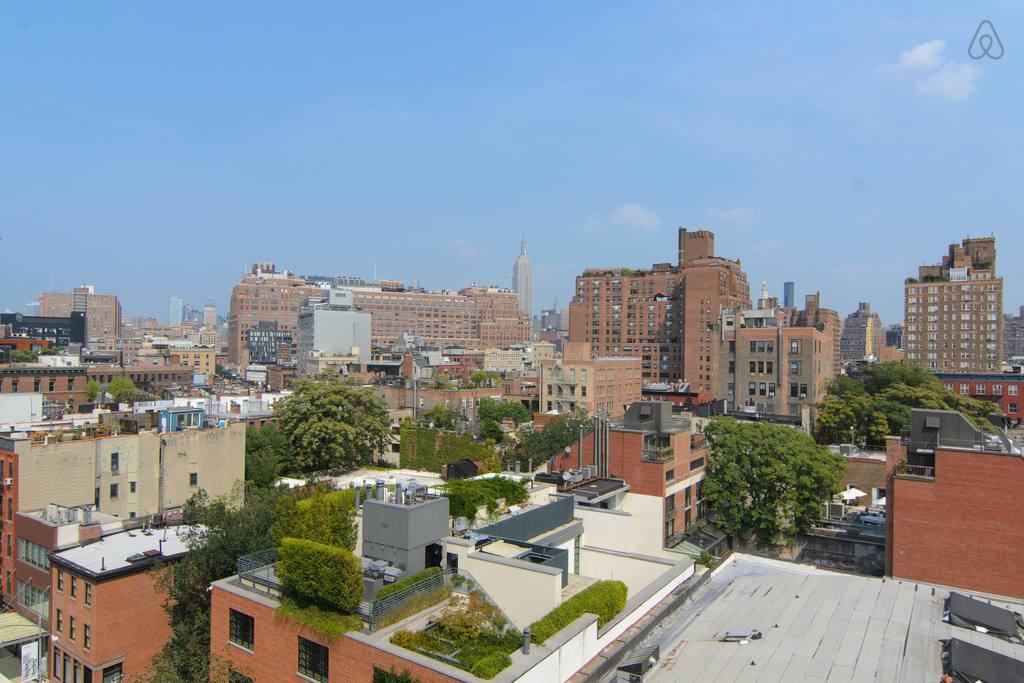 Embracing the nomadic adventures of touring with Hayden, Jennifer has found her own inspiration for her art through travel.
"There are so many options with Airbnb and the working environment always has a huge impact and the inspiration I can draw from that. I usually work on the floor, so wherever I am, I'll clear a space, set up a drop sheet and go for it," Jennifer says.
"It's important for us to feel at home and create a familiar space to work in because we spend over half the year away from our actual home in Sydney. We generally prefer Airbnb if we're staying for more than a few days. You can really unpack, do your laundry, find your local coffee place, and feel at home. I love it when hosts leave tips like nearby restaurant or cafe recommendations, it's a much more personal experience."
For Airbnb host Diego, who hosted Hayden and Jennifer in his New York home last year, sharing his home on Airbnb has been a way of not only earning a little extra cash, but offers something even more valuable – human connections and personal interactions.
"What was initially a way to offset rental costs when travelling while starting a social impact start-up, has become a great way to make and to host amazing new and interesting friends. The stories, the thank you's and the countless positive interactions – being an Airbnb host has been a tremendous source of joy for me," Diego says.
So as seasoned Airbnb guests, what are Hayden and Jennifer's tips for choosing the perfect home on Airbnb?
"My advice is always check if there is a lift. We once got to our quaint historic flat in Barcelona with all of Hayden's equipment to find it was a five storey spiral walk up. It was beautiful once we got up there, but we've definitely learned to check that," Jennifer says. Despite this small hiccup, they would still definitely recommend it to their friends.
"Not only do we use Airbnb for the two of us, we sometimes recruit a few friends and make a holiday out of it. We've booked and stayed in Airbnb homes on the coast of Sardinia, Italy, in the arts district of Santa Fe, New Mexico and we have a stay coming up on the northern coast of Spain this summer with friends," Hayden adds.
Please note this is a personal guest recommendation of a host listing on the Airbnb platform. It is intended to illustrate and inspire as a taster of one of the many thousands of listings on the Airbnb platform and illustrate the unique personal experience of this alternative type of travel accommodation. Airbnb does not recommend or endorse listings on the Airbnb platform.