Airbnb reveals the trendy cities for Brits to work in right now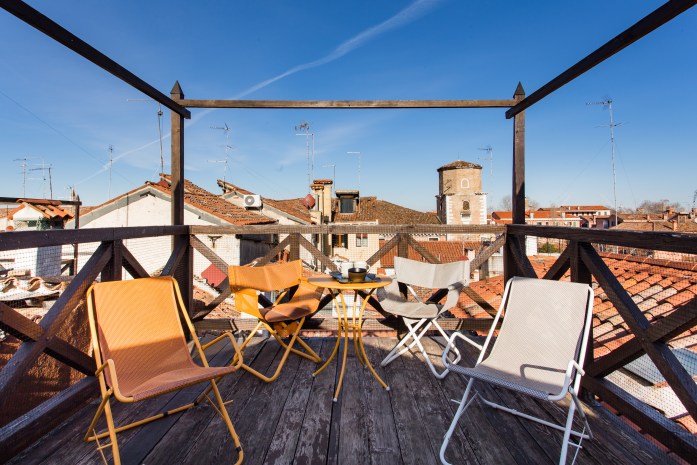 Colombia's booming capital Bogotá tops the list of out of office locations that we're jetting off to.
Whilst the likes of Paris, New York and Berlin have traditionally captured our imagination as desirable places to work outside of London, it's smaller European cities and countries further afield that are experiencing an influx of UK professionals booking a stay.
Bogotá tops the list as the fastest-rising city to work in, experiencing a huge 196% year-over-year increase in Britons booking a business stay according to new booking data from Airbnb for Work.* While an 11-hour commute might not be everyone's cup of tea, it seems more of us are jetting off on longer trips with Lima and San Jose also making an appearance on the list.
While Europe still plays home to many of our professional pursuits, Airbnb for Work cites a surprising variety of cities are experiencing an influx of business bookings, from sunny tourist hotspots like Venice and Marbella to historical cities such as Istanbul and Krakow.
---
Airbnb for Work reveals the top 12 cities for Brits working abroad*: 
Bogotá, Colombia – 196%
İstanbul, Turkey – 193% 
Bratislava, Slovakia – 187% 
Málaga, Spain – 174% 
Lima, Peru – 168% 
Marbella, Spain – 162% 
Nuremberg, Germany – 160% 
Venice, Italy – 160% 
San Jose, United States – 159% 
Antibes, France – 155% 
Krakow, Poland – 153% 
Miami, United States  – 151% 
*Based on an increase in UK business travel bookings year-on-year from October 1, 2018 to October 1, 2019 compared to the previous 12 months (October 1, 2017 to October 1, 2018)
---
As remote working and flexible hours become increasingly common in today's workforce, there have never been more opportunities to work abroad and experience all that a work trip has to offer.
With almost 60% of all business bookings extending into the weekend, Airbnb for Work shares its insight into these top 12 trending cities and some inspiration on properties available to work, stay and play in each.
---
Bogotá
Sculptural apartment in Bogotá
Bogotá is fast becoming one of Latin America's most lively and popular cities to live and visit. Bursting with an array of events, ranging from travel to design and fashion, there is always something new to learn and discover when extending a work trip, as well as free art and architecture all around.
As well as being able to sample some of the best coffee, you can feast on a variety of restaurants and cuisines, whilst discovering some of the best views there are to see.
---
Istanbul
Istanbul has been a prime travel destination for professionals, sitting between two continents. As well as being the perfect place for work travel, it is a hub for some of the most flavourful food, and diversity – just walk the streets and you'll understand!
Istanbul has the perfect mix of rustic, with historical sites across the city, and modernity, with some of the best skyscrapers. Or maybe you'll find yourself relaxing at a Roman Turkish bath!
---
Bratislava 
Contemporary, Open-Concept Getaway
Quaint, colourful and full of art, Bratislava is the perfect place to wander and relax. With plenty of museums, galleries, beautiful gardens and streets, you'll feel like you've stumbled upon a 'hidden gem'. Compact and easily accessible, you won't have to worry about where you're going. Home to tech talent and a number of startups, it's also a great place to learn something new.
---
Málaga
Central Apartment View in Malaga
This vibrant city is booming with history and culture, and has a perfect climate all year round making it an attractive destination for a work trip. Public transport is plentiful but as everything is so close by, a cycle or a walk is a peaceful alternative. There has also been a growth of co-working spaces, and high-speed internet, making it attractive to anyone visiting for work, especially as it has become a leading centre for conventions and activities.
---
Lima
Stylish and fully equipped flat decorated by a Peruvian artist
Lima has the perfect combination between a busy city life, a peaceful beach, culture, food and shopping – there is an endless amount to see and do. Picturesque, chic and full of beautiful architecture, find yourself wandering for hours and exploring what's to love about the capital of Lima. Home to an annual venture capital conference, find yourself connecting with local startups, international and local investors.
---
Marbella
Beachfront Condo with Two Outdoor Pools
If enjoying 320 days of sunlight a year wasn't enough to draw you to Marbella, how about the beaches, the pretty streets or the surrounding mountain range? Bursting with museums and galleries, and plentiful options to study and learn, Marbella is no longer just  a getaway destination. 
---
Nuremberg
Settled neatly in the heart of Europe, Nuremberg is very aware of its accessibility for international companies as a communal meeting space for employees over the world. Therefore, budget has gone into creating office spaces that are adaptable and comfortable, for businesses coming and going as they pass through the city. Working hours are generally 8.30am – 4.30pm in Germany, giving you a full evening to explore the rich history embedded into the walls of Nuremberg.
---
Venice
Venice is one of the biggest tourist spots in Italy, also making it one of the most accessible, with the rest of Europe easily at your fingertips should you need to take a trip for an overseas meeting. With the infamous 117 canals that weave throughout the city, Venice is encapsulated in water. Water is known for its relaxing qualities; focussing on the movement and sound of water can help with concentration, making Venice the perfect working environment for productivity. 
---
San Jose
Guest Unit Adjoining Mediterranean Mansion
Home to 6,600 technology companies and the Tech Museum of Innovation, San Jose is a hub of activity for people in the tech world. A sprawling metro area that is defined by its tech campuses and high-rises in the business district, San Jose is buzzing with tech-heads looking to create the next best app. With Google and Apple headquarters a stone's throw away, it's hard not to be infected by the innovative spirit of San Jose. 
---
Antibes
Known for its million-pound yachts, beaches and extravagant holidays, it is often forgotten that Antibes is a working city with a multitude of innovative companies. Ranked the best city out of 100,000 for running a business, Antibes is a fierce competitor in the business world. What better way to be inspired to work than having the Sophia Antipolis technopole (which comprises 1,400 companies and 35,000 employees) a 15 minute drive away, and the luxurious seaside on your doorstep to unwind beside after a long day. 
---
Krakow
Amazing and Extremely Central Flat
When the office isn't giving you enough inspiration, The Medieval Old Town of Krakow is a UNESCO World Heritage site and is full of cafes that offer a peaceful working environment. Inspiration can come in many forms in Krakow, whether that be the ancient architecture or delving into the legends of the city, with one stating that Krakow is protected by a mighty and fearsome dragon. It's hard not to get your head down when a dragon is looming over, watching your every email.
---
Miami
Downtown & Bay View in the heart of Miami
Dubbed "The Magic City," Miami is one of the most vibrant metro areas in the U.S., and it's well on its way to becoming one of the largest international business hubs in the world. If you're looking for a city that takes its work-life balance seriously, Miami is a front-runner. Recently ranked among the best for work-life balance, it's not unheard of to finish a day of work with a dip in the ocean or a trip to one of the many galleries or art centres that line the city.
---
About Airbnb for Work
'Airbnb for Business' launched in 2014 to make it easier to travel for work without sacrificing the comforts of home. Now branded as 'Airbnb for Work,' more than 500,000 companies around the world are directly engaged with Airbnb to help manage their travel. In addition to business travel, Airbnb offers other unique attributes — like Experiences for team building, unique spaces for meetings and offsites, and long-term stays for relocations — to help companies with recruitment, retention, alignment, engagement, productivity, and satisfaction.
---
The Airbnb Press Room is aimed at journalists. All Homes and Experiences referenced on the Airbnb Press Room are intended purely to inspire and illustrate. Airbnb does not recommend or endorse specific Home listings or any other Homes or Experiences on the Airbnb platform.