Hosts and guests using the platform boosted the Scottish economy by £483 million last year
Top destinations include Elgin, Perth, and Fort William
Experiences are now open for people in Scotland to sign up to share their interests, hobbies, and passions with visitors from around the world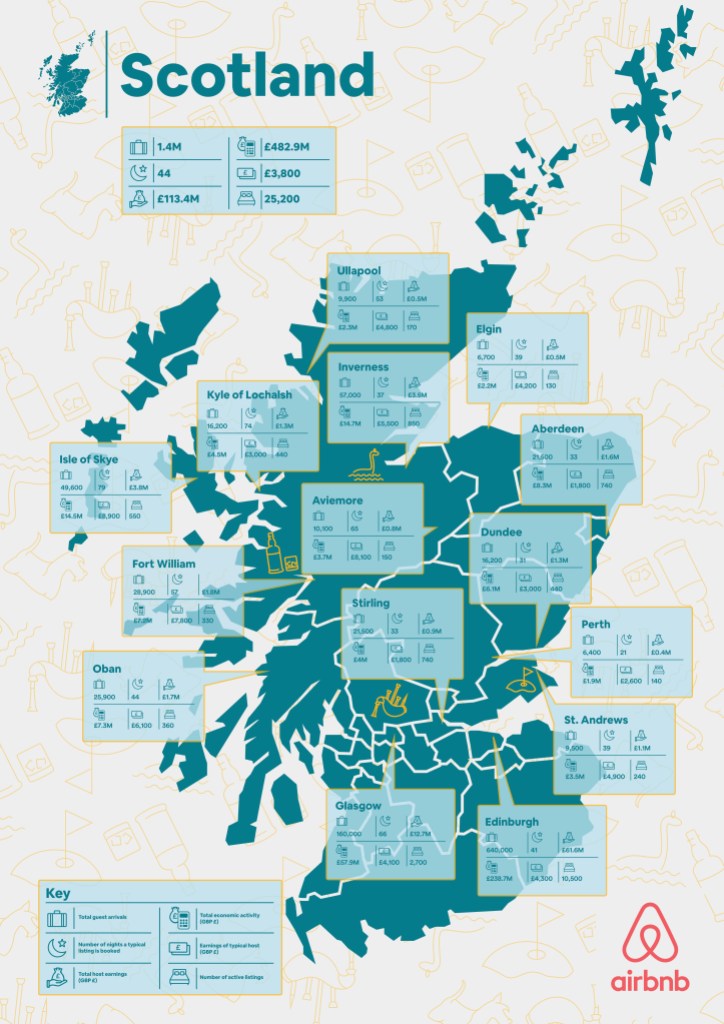 New data unveiled by Airbnb has revealed that hosts and guests using Airbnb generated £482.9 million of economic activity in 2017 in Scotland alone.
The breakdown reveals that Scottish hosts have earned £113.4 million, with 1.4 million people using the Airbnb platform to visit Scotland. But where are people going and where has the money been spent?
Top destinations on the platform range from Oban to Ullapool, where visitors from across the world stayed with Scottish families to experience Scotland like a local. Amongst the figures revealed today include guest arrivals, typical host income, typical number of nights hosted per listing, total economic activity and total numbers of active listings, for each featured region.
Some of the highlights from the data show that the Airbnb community is:
Helping residents to earn a bit of extra money during world-class events
This year Scotland plays host to The Open, golf's oldest major championship, which is held in Carnoustie this July. Hosts in nearby towns such as Dundee open their doors to fans and benefit from their visit: with 440 active listings and typical host earnings of £3,000 a year, Dundee hosts can benefit from Scotland's proud sporting heritage.
Championing every part of Scotland
Scotland is a country full of hidden gems, and hosts on Airbnb are acting as ambassadors for neighbourhoods as far as Ullapool and beyond. From eco-tents to private cottages, listings on Airbnb have brought £2.3 million of activity to the economy in Ullapool and introduced visitors from around the world to the wonders of sites like Loch Broom.
Accommodating and dispersing visitors during busy tourist periods
Many visitors are surprised to find that St Andrews is only a small town, whose population easily doubles during term time at its world-renowned university. Things become even busier when families and friends descend to watch students graduate in June. The Airbnb community – with 240 listings across town – helps St Andrews accommodate some of these visitors, bringing typical earnings of £4,900 to local hosts.
Bringing benefits to whisky's heartland
Speyside is famous for its whisky, with a range of major distilleries to explore—but where to stay after a day of tastings and tartan? Over ten-thousand visitors passing through Aviemore chose to stay with local hosts, enjoying cosy apartments and comfortable homes in the midst of the Cairngorm National Park, with a typical Aviemore listing booked for 65 nights a year and the local economy enjoying £3.7 million of economic activity as a result.
Expanding Experiences to all of Scotland
And it's not just homes that visitors can now share with locals, as Airbnb has announced that Experiences will be available across the whole of Scotland, following a successful launch in Edinburgh with Visit Scotland earlier this year.
Airbnb Experiences allow people to share their interests, hobbies, and passions with visitors as bookable activities providing visitors with the opportunity to see the true character of the local area through the eyes of the people who live there. From a food tour around the independent restaurants of Glasgow, to learning to photograph sunsets from an old hill fort above the Beauly Firth, guests can now share in the full experience of Scotland.
Scotland has long been one of the most vibrant and enticing countries for visitors from across the world, and we're proud of the community of hosts who are helping to spread the benefits of guests to neighbourhoods across the country. This data shows that its not only the most enduringly popular tourist destinations that are thriving, but also that guests on Airbnb are keen to travel the less trodden path and meet real Scottish families. We hope with the expansion of Experiences across Scotland that more people from all corners of the country will be able to connect with travellers from near and far.
Natasha Mytton Mills, UK Policy Manager
NOTES TO EDITORS
Top 15 Scottish locations featured:
All homes and experiences in this press release are intended purely to inspire and illustrate. Airbnb does not recommend or endorse these listings or any other homes and experiences on the platform.