Listings on Airbnb inspired by the colour of the year
Key Takeaways
A round-up of homes on Airbnb inspired by 2022's Colour of the Year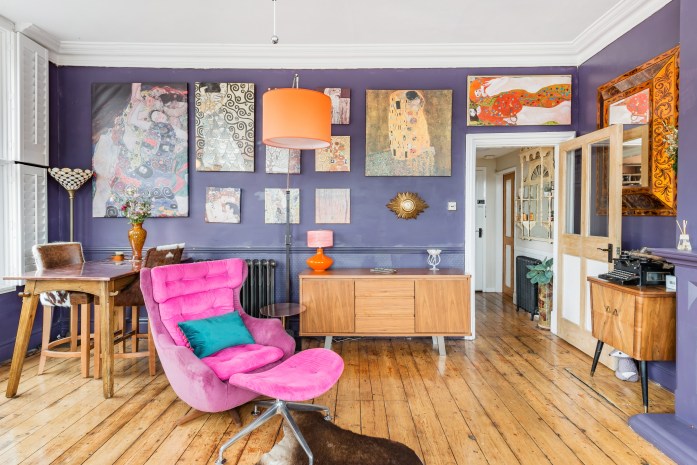 Key Takeaways
A round-up of homes on Airbnb inspired by 2022's Colour of the Year
Optimistic, brave and creative, 2022's colour of the year is the perfect shade to revitalise any room or space. This blue colour infused with violet red undertones will not only become a must on the catwalks this year, but also in everyday life and around the home.
Some trendy Hosts on Airbnb have already started to use this vibrant colour in their listings, to help their guests channel innovation, confidence and positivity during their remote working days, holidays or chilled moments.Below you will find some listings inspired by the colour of the year – available on Airbnb.
Boho apartment with hill views in Shropshire, United Kingdom
Art enthusiasts will consider this Georgian apartment with creative rooms as simply heaven. The interiors characterised by mid-century details, such as tables, high ceilings and shutters, make this listing a true piece of art.
Chic stay in Avignon, Provence, France
Situated in the charming medieval and historical village of Noves, this listing is an ideal setting for guests to enjoy Provence's winter light. The listings' renewed interior offers a calm and comfortable feeling so guests can relax after visiting every corner of the destination.
Charming villa for a zen stay in Bali, Indonesia
This impressive villa, distinguished by its exotic look and feel, is located in the middle of nature, which is perfect for a zen experience. Complete with all the modern comforts, this home is embellished with local art pieces, colourful rooms and picturesque gardens. Guests who stay here will be able to fully connect with the destination's culture.
Starry Desert Retreat in La Quinta, California, United States
Counting stars at night, spending unique moments around the fireplace or just relaxing with serene mountian's views, these are some of the things that guests can do during their stay at this impressive house in the desert – complete with violet touches. A true oasis with all the comforts.
Parisian style stay in La Garenne-Colombes, France
Relaxing in the small flowery garden to climbing the vintage spiral staircase, guests will enjoy la vie in the purest French style. Marvel at the eclectic styles and colours of the many pieces of artwork and furniture in this vast Parisian house.
A creative loft stay in Seville, Spain
Vibrant colours, open spaces and original details, this loft has been created for the most inspiring stay. This listing has two bedrooms, one fully equipped kitchen integrated in the living room and two cosy interior terraces perfect for relaxing moments.
Majestic Georgian Flat in Edinburgh, United Kingdom
Mauve, violet and purple shades are the tonic of this elegant apartment in the historical centre of Edinburgh. The large rooms, high ceilings and high quality furniture will ensure a comfortable and relaxing experience under the dim light from their chandeliers.
Anyone can start their Hosting journey at: airbnb.co.uk/host/homes