John Lewis Edinburgh has teamed up with community driven hospitality company Airbnb, to launch a series of 'The Perfect Host' Masterclasses this October. The classes aim to equip the public with a range of tools, tips and hacks for preparing their spare room for guests staying over the holiday season.
As Scotland continues to thrive as a destination on Airbnb, with 21,900 active listings and guests using Airbnb spending over £1 million per day in local communities in Scotland – more people are turning their attentions to the guest room.
The 'Perfect Host' Masterclasses will be delivered by John Lewis Home Design Advisors and a Superhost on Airbnb, who have pooled their expertise to provide advice and top tips for transforming a spare room, to ensure it's ready for guests this festive season. Designed with a guest's comfort and a host's convenience in mind, the masterclasses will serve as a useful guide for anyone looking to improve a guest room, whether to make extra money by home hosting, or simply give family and friends an extra special stay.
The Masterclasses will take place at John Lewis Edinburgh on the below dates;
Thursday, 26 October, 6pm – 7pm

Saturday, 28 October, 2pm – 3pm

Sunday, 29 October, 11am – 12pm
Last year, Airbnb reported a 104% inbound guest growth rate in Scotland, with hosts in Scotland welcoming over 1,000,000 guests into their homes. On average, the typical Scottish host earned around £3,600 per year and hosted for 38 nights with the vast majority of hosts (76 percent) renting out their primary home. This continued growth in popularity shows that more people than ever are choosing to transform their guest room and share their space with visitors to boost their cash flow .
John Lewis Edinburgh and Airbnb's 'Perfect Host' Masterclasses will run through everything a host needs, from the essential products required to get a guest room set up, to those top tips and hacks for getting a room guest-ready in just an hour. For those who have friends and family coming to stay to take in the Christmas markets and festive fun of the capital city, the Masterclasses will offer advice for adding that extra warm welcome and home comfort during their stay.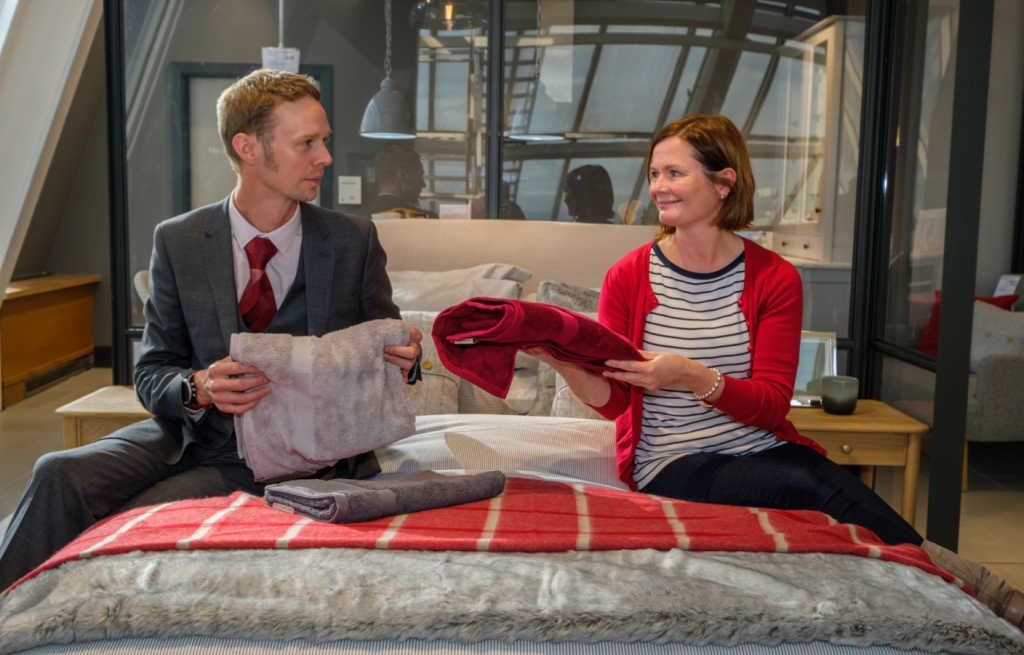 "We're increasingly seeing the importance of the guest bedroom amongst our customers. Whether transforming a spare room for a listing on Airbnb, or simply welcoming family and friends, the Masterclasses will offer advice on how to get started, from the essential products to tips for making a bed quickly and neatly. We hope it leaves our customers feeling inspired and set for the festive season's influx of visitors."
Toby Durant, Home Design Advisor at John Lewis Edinburgh
"As a superhost on Airbnb, it's important to make your guests feel as welcome and comfortable as you can from the moment they arrive. I live in a quiet residential neighbourhood to the West of the City Centre, so I love that my guests have the opportunity to discover and explore a neighbourhood outside of the tourist attractions in the City Centre. Whether it's tips for furnishing your guest room or how best to represent your town or city, these masterclasses will offer really helpful advice for anyone welcoming guests over the festive season."
Susan Knight, Airbnb Superhost from Edinburgh

The 'Perfect Host' Masterclasses are held in the Home Design Studio on Level 1 and are free to attend. To book a place, call the John Lewis Home Design team on 0131 525 8468 and sign up to a date and time that best suits.