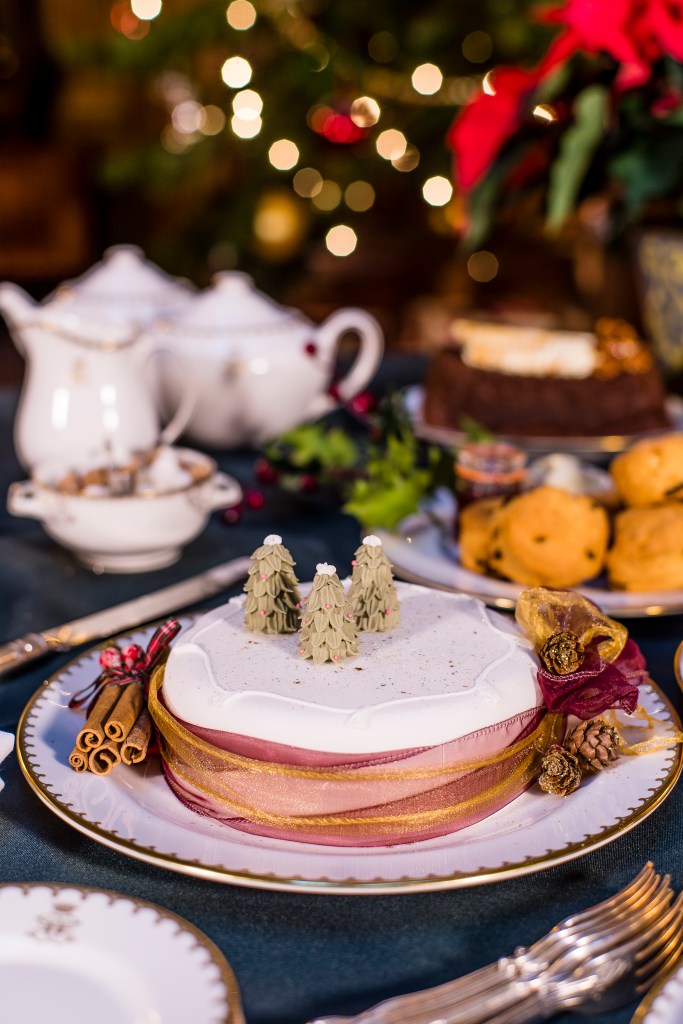 There is no clear history to the Christmas cake, it seems quite similar to the Christmas pudding and, like the pudding, can hold its own for a good number of days. It is always there to welcome any teatime guests.
It has a lengthy ingredient list and when it is offered at teatime someone likes the icing, another does not like the marzipan (me), but I love the inside stickiness of the fruit cake part.
This is the chef Paul's recipe, whereas I might add some prunes or figs as well.
I also make it a week or two before I need it and keep it moist with a regular supply of brandy. You need to pierce the bottom of the cake with a skewer and carefully pour over 3–4 tablespoons and repeat every four or five days. Wrap it in baking paper and cling film and store it in an airtight tin at the back of the pantry.
PREPARATION TIME: 3 days
COOKING TIME: 4 hours minimum (maybe 5)
SERVES: 8-12
---
INGREDIENTS
350g (12oz) currants
225g (8oz) sultanas
225g (8oz) raisins
75g (3oz) glacé cherries, chopped
4 tbsp brandy, plus extra for keeping it moist
250g (9oz) plain flour
Pinch of salt
Pinch of grated nutmeg
Pinch of mixed spice
250g (9oz) soft brown sugar
250g (9oz) unsalted butter
4 eggs, beaten
50g (2oz) almonds
75g (3oz) candied peel
Zest of 1 lemon
Zest of 1 large orange
2 tbsp black treacle
---
METHOD
§ The day before baking, mix all the fruits with the brandy in a bowl, cover and leave overnight to absorb the liquid.
§ The next day, preheat the oven to 140°C/275°F/Gas mark 1 and grease and line a 17cm (7 inch) cake tin.
§ Sift the flour, salt and spices in a large mixing bowl, making sure you aerate the flour well.
§ In a separate bowl, whisk the sugar and butter together until pale-looking. Now add your beaten eggs to that mixture slowly, one at a time, and keep whisking so as not to curdle.
§ Now gently fold in the mixed spiced flour. Take your time and don't knock out the air from the flour. Finally, add the brandy-soaked fruits, nuts, peel, zest and treacle. Keep folding (do not beat).
§ Now transfer the batter to the cake tin and place in the oven to bake. Do not feel the need to check on this cake for the first 4 hours – it takes a long time but is well worth the wait.
§ When cooked (a skewer inserted into the centre should come out cleanly), leave the cake in the tin for a good 30–40 minutes before turning out onto a wired rack. When cold, turn it over and make a few little holes evenly over the base with a skewer and drip more alcohol into your cake. Repeat at intervals as Christmas nears, always carefully rewrapping the cake in baking paper and keeping it airtight afterwards.
§ Now you can ice and dress your cake, either with fondant icing or Royal icing, but start with a base layer of marzipan.