Meet Kamie, a senior who hosts on Airbnb
As a platform, Airbnb provides opportunities for people around the globe to come together. For one host, Kamie, a retired pensioner living in London, the platform represents so much more.
Kamie is originally from Guyana but moved to London in 1969. She has lived in Ealing for the past 30 years and in her present home for the past 10, where she has welcomed guests as a host since 2015. As a retiree, Kamie now spends her days gardening, baking and taking care of her parents — aged 91 and 94 — while hosting on Airbnb.
Airbnb is a blessing.
Kamie is grateful for the impact hosting on Airbnb has on her day-to-day life, by saying, "for me it's the positivity of Airbnb that enables me to share my home. Hosting on Airbnb is a blessing because it helps me in so many ways. I wouldn't be able to use my car as much, I would have had to eventually sell it. But now I can go where I want to go."  
While hosting on Airbnb has had a positive impact on Kamie's life, she explains how sharing her experiences with her family has impacted them as well.
"Since I started hosting, a few of my family members have also started using Airbnb. My nephew in California joined after listening to my positive experiences. And hosting helped him and his wife pay for their wedding. My daughter and her friends now stay in Airbnb listings when they travel as well because it's a different way to see the places they go, a different experience."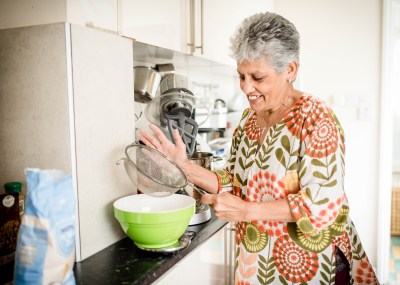 She's lived the guest experience.
When Kamie's sister-in-law visited London from America, the pair decided to head out and experience the English countryside so they took a trip to Bath. After hosting for two years, Kamie decided to give the guest experience a try.
"On our trip to Bath, we met a lovely couple and they were ever so nice. We were the third guests into their place and once I told them I was a host, we just got to chatting like old friends. In the review, my hosts said it was like he had two aunts visiting which made me smile."
Enjoy the company.
Kamie explained how hosting on Airbnb filled a different sort of need in her life and the way in which guests and hosts help one another:
"It's amazing, the different types of people I get to meet and interact with through hosting. Hosting on Airbnb is a lifesaver because a lot of people need company and people to talk to. Whether you're a guest or a host, making connections is important and I find that hosting on Airbnb has really fulfilled that in my life. I always have something exciting going on."
When a guest arrived on her doorstep with five suitcases, Kamie had no idea she was on the verge of forming a friendship with her latest arrival. Divya booked Kamie's listing while she looked for a more permanent place to live but received a little more in exchange as well.

"Divya came to London to take a job and since staying with me, she's moved to a place of her own in Canary Wharf but we see each other often. We'll get together and have dinner or go out in London for a market night. It's lovely because Airbnb gave us that opportunity to connect."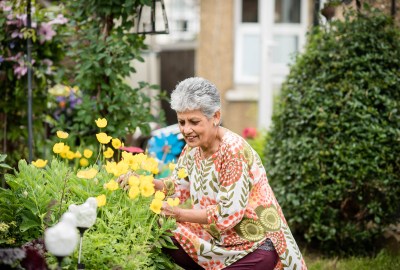 The lovely gardens.
Kamie takes great pride in her garden and draws inspiration from a well-known one in London.
"One of my favorite places in London is Kew Gardens. I've been a member now for over two years so I do offer to take guests with me if they are interested in going. It's one of my favourite places in London. I love being in the open and enjoying the plants and flowers. It's refreshing because every time you go from one week to the next, it's different. I'm always taking pictures and thinking about what I want to do in my garden when I go."
Kamie closed by saying, "I tell people the door is only closed because it's England and it's cold! I close my doors but it doesn't mean I close you out. It's about the people for me and I'll keep my doors open to anyone, you never know who will teach you something new."