OH, WE DO LIKE TO AIRBN-BE BESIDE THE SEASIDE!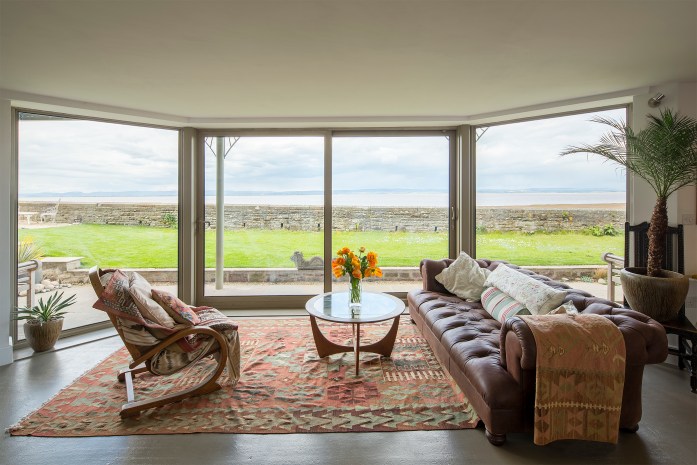 Sandgate in Kent is named the top trending UK seaside destination for Brits this summer 
List also includes northern seaside resorts such as Seaburn, Salt-burn-by-the-Sea and Hornsea
Prospective Hosts in these areas can learn more about how much they could earn through Airbnb's What's My Place Worth tool
As schools break for the summer, Airbnb has revealed the top ten trending British seaside destinations in the UK, with Sandgate in Kent topping the list after seeing the biggest rise in Brits searching for homes on the platform. Other destinations piquing the interest of Brits this summer include northern seaside resorts such as Seaburn, Salt-burn-by-the-Sea and Hornsea.
Hot on the heels of a heatwave, and with many people around the UK opting for a holiday closer to home this summer, the nostalgic and simple pleasures of the Great British seaside holiday, including fish and chips, rock-pooling and ice-creams, are making a comeback.
Airbnb's top ten trending UK seaside destinations for summer 2021*
Sandgate, Kent
Ingoldmells, Lincolnshire
Sandilands, Lincolnshire
Seaburn, County Durham
Portishead, Somerset
Watchet, Somerset
Saltburn-by-the-Sea, North Yorkshire
Hornsea, East Yorkshire
Cleveleys, Lancashire
Walton-on-the-Naze, Essex
The list reveals the current trending hotspots this summer for families, friends and solo travellers alike.
Whether holidaymakers are after a modern seafront home with panoramic coastal views or would prefer to opt for a quaint cottage that's just a stone's throw away from the shore, there's something for everyone to plan the ultimate summer staycation.
On the whole, Brits have readily embraced domestic holidays again in 2021, with nearby travel making up 82% of nights booked in the UK in 2021.**
To inspire travellers on their next adventure, please find a wishlist of homes available at these destinations here.
"Hornsea is a lovely, friendly town that makes its visitors welcome. Through hosting on Airbnb, I've met people from all over the UK, and from many other countries too, with all of them leaving a favourable impression. It's a hidden gem on the coast: not a resort, but a town that happens to be beside the sea."

Sue Fraser, Airbnb Super Host from Hornsea
"There's nothing quite like the smell of fish and chips and the sound of seagulls to transport you straight into holiday mode, and this past year has seen a real resurgence of the great British seaside holiday. And it's not just the familiar summer stalwarts that are feeling the love; this hotlist shows that Brits are exploring lesser-known destinations and favouring well-loved gems as a means of escape this summer.

"We encourage anyone who is thinking about hosting to try it and take advantage of the upcoming travel surge – it not only boosts earnings but also helps towards reigniting local economies. If you can't beach 'em, join 'em!"

Amanda Cupples, General Manager for Northern Europe at Airbnb
Beyond providing British holidaymakers the opportunity to discover lesser known and trending destinations across the country this summer, Hosts on Airbnb are creating valuable income streams for themselves and their communities. Last summer, Hosts in the UK earned more than £225 million with the average Host pocketing nearly £1,000***, and prospective Hosts in the UK can learn more about how much they could earn by sharing their space on Airbnb through the What's My Place Worth tool.**** The interactive tool computes the estimated income based on geography, type of listing, and also uses prior Airbnb booking data in the area. For more information, visit Airbnb.com/host. 
---
All homes in this press release are intended purely to inspire and illustrate. Airbnb does not recommend or endorse these listings or any other homes on the platform.
This press release encourages safe and responsible travel. Local and international travel requirements, as well as health guidelines, continue to change quickly. Check local restrictions at home and in your destination before booking a trip on Airbnb.
*According to Airbnb data for Yo2Y growth for searches made by UK users between May 1 – June 23 for stays between July and September 2021. Guest origin is self reported.
** According to Airbnb's Report on Travel and Living, May 2021
***Total and median UK host earnings for June 1 2020 – August 31 2020, converted from USD on 9 March 2021
**** The What's My Place Worth tool computes the estimated income through inputs for geography, type of listing and space and factors in prior Airbnb booking data in the area. We make a few simple assumptions and calculations to determine your earnings:
If you have an entire place, we assume you can host four guests. If you're listing a private room, we count that as two guests, and for a shared room, just one guest. You can change your selections in the drop-down menu any time.
We take the median nightly price (before expenses, fees and taxes) based on booking data in your area from the last 12 months.
We then multiply that price by the total number of occupied nights to get the monthly earnings estimate. To estimate the number of nights that you might host, we look at how often others in your area are hosting.
Keep in mind, these are just estimates. How much you actually earn depends on a number of other factors such as your availability, price, acceptance and cancellation rates, any legal restrictions, and demand in your area.
ABOUT AIRBNB
Airbnb was born in 2007 when two Hosts welcomed three guests to their San Francisco home, and has since grown to 4 million Hosts who have welcomed more than 900 million guest arrivals in almost every country across the globe. Every day, Hosts offer one-of-a-kind stays and unique Experiences that make it possible for guests to experience the world in a more authentic, connected way.