Team GB's Sky Brown to Host Airbnb Online Experience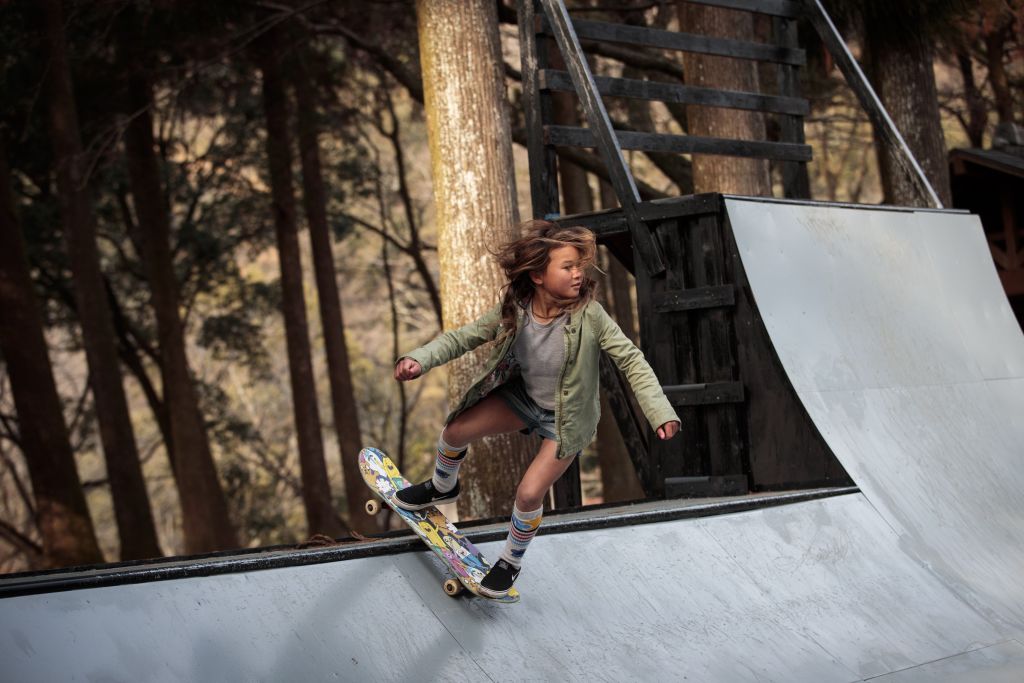 Sky Brown, who will become Britain's youngest summer Olympian when she competes in Tokyo later this month, will host an exclusive Airbnb Online Experience following the games as part of a curated programme of over 200 Olympian and Paralympian Online Experiences from Airbnb, the International Olympic Committee (IOC) and the International Paralympic Committee (IPC).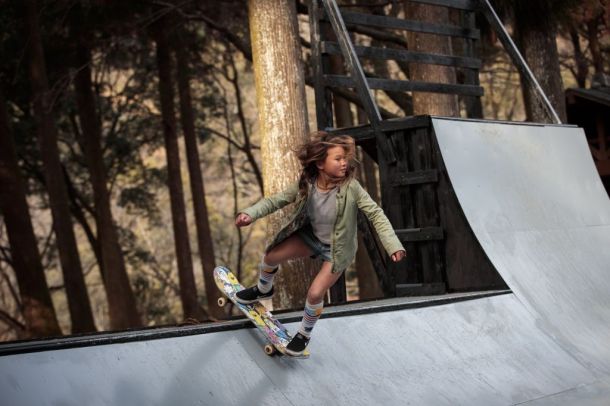 At 13 years old, Sky will make history competing in skateboarding's Olympic debut. And using the Airbnb platform, Sky is connecting with young people to inspire them to follow their dreams. Taking place at 5pm BST on 19 August, Sky will share her skateboarding journey and host an interactive Q&A during the Airbnb Online Experience. Sky is donating 100% of the proceeds to Skateistan, a charity which runs programmes within a number of skate schools for kids, combining life-skills with fun, freedom and creativity.
Sky's Online Experience is part of a wider programme which aims to bring people closer than ever to the magic of Tokyo 2020. Hosted by both competing and retired sporting heroes, these one-of-a-kind experiences allow athletes to share their passion with guests who can connect with them directly during the Olympic and Paralympic Games.
Hosts of the Online Experiences include John John Florence, Pita Taufatofua, Sky Brown, Jonny Brownlee, Hannah Mills, Clarisse Agbegnenou, Alice Dearing, Katie Zaferes, Ibrahim Al Hussein, Jonnie Peacock, Hunter Woodhall and Tara Davis and Bassa and Mickaël Mawem, meaning guests can connect with a variety of athletes before or after they compete in Tokyo 2020. Guests will also be able to relive a personal Olympic or Paralympic story directly with living legends such as Scottie Pippen, Larry Bird, Brandi Chastain, Michael Johnson, Chris Waddell and Benoit Huot or even step virtually inside Olympic venues live from Tokyo*, hosted by past medallists and insiders.
"With spectatorship looking different this year, audiences are searching for new ways to support Olympians and Paralympians during Tokyo 2020. Airbnb is all about creating unique experiences that connect people, and Olympian and Paralympian Online Experiences allow fans to feel closer to their heroes than ever before. These interactive activities will provide an intimate window into the Games, all made possible by the 200+ athletes joining our Hosting community this summer."

Catherine Powell, Airbnb Global Head of Hosting
Among the 30+ international teams represented through Olympian and Paralympian Online Experiences, are 10 IOC Refugee Olympic Team, Refugee Paralympic Team and Scholarship Holder Hosts, including Chef de Mission for the IOC Refugee Olympic Team, Tegla Loroupe and swimmer Yusra Mardini. By Hosting Online Experiences on Airbnb, athletes are given the chance to earn money by sharing their skills and passion for sport with the world, and a number of the refugee athletes are leveraging the opportunity by hosting interactive activities, and sharing their journeys from Survive and Thrive with Asif Sultani to Daring to Dream with Ibrahim Al Hussein to workout classes with Ehsan Naghibzadeh.
"As international fans around the world won't be able to experience the thrill of the Olympic Games in Tokyo, we wanted to create a unique alternative to bring together athletes and fans while keeping the same sense of discovery and exclusivity."

"Against this backdrop, the Olympian and Paralympian experiences platform is a fantastic opportunity for athletes to build a personal relationship with their fanbase and feel their support, while the platform will also bring the incredible Olympic spirit to people across the globe. As part of our effort to empower athletes at all stages of their career, the positive response to the past year's activities has indeed confirmed that offering athletes the possibility to host such experiences presents them with new life-changing opportunities." 

Kaveh Mehrabi, Director of the Athletes' Department at the IOC
"When the Games in Tokyo were postponed last year Airbnb excelled themselves. The creation of the Olympic and Paralympic Online Experiences platform allowed many Para athletes to not only share their passions with people all over the world but also provided them with a valuable income stream in the absence of competition. Now the most important Paralympic Games in history are upon us and I'm thrilled to see so many Para athletes on the Airbnb Experiences platform, not least the amazing athletes of our Refugee Paralympic Team. I would encourage people to grab this rare opportunity to view the Games up close and personal with the stars of the show."

IPC President Andrew Parsons
Highlights of the programme include:
Basketball with Scottie Pippen, Larry Bird and Patrick Ewing
Each of these NBA legends have two major things in common. The first is that they all earned a gold medal while competing on the U.S. men's Olympic Basketball Team at the Olympic Games Barcelona 1992. The second is that all three are now Hosts on Airbnb. Scottie invites guests to join him the day before the Men's gold medal game to get a glimpse behind the scenes in Tokyo*. While Larry will sit down with guests for a chat on all things Olympics, basketball and culture. And with Patrick, guests will take a trip down memory lane to what it was like competing on the 1992 U.S. men's Olympic Basketball Team.
Redefining Resilience with Yusra Mardini
Yusra Mardini, Syria-born Olympic swimmer and UNHCR goodwill ambassador, will share an open dialogue with guests about her fascinating journey to the Tokyo 2020 Olympic Games as part of the IOC Refugee Olympic Team. In this Experience, she will share lessons that span far and wide: lessons on resilience, the power of understanding and embracing one's own identity, what it means to be a young female refugee athlete, and ultimately, the impact her and her teammates can have on global perceptions of refugees.
Chasing Dreams with Olympic Skateboarder, Sky Brown
Just after Sky returns from Tokyo 2020, she will host an Online Experiences perfect for families, she will speak about working towards and achieving her dreams at an early age, what it was like to go to Tokyo and represent Team GB, what the sport of skateboarding and other sports in her life mean to her as well as taking questions from her guests.
Tokyo Forecast with John John Florence
Two-time world surfing champion John John Florence is inviting guests to join a conversation with him and his good friend Pat O'Connell before he travels to compete in the Tokyo Games. From how he has been training to how it feels to be representing surfing and Team USA, guests will get to know this rising star through his stories, life lessons and answers to their questions on mind, body and surf.
Don't Freak Out with Jonnie Peacock
Through this experience, guests can get to know two-time Paralympic Champion, Jonnie Peacock, on his return from competing in Tokyo 2020. He'll share stories, show medals and the petal from the London 2012 Paralympic flame, and answer questions about himself and his life as an athlete.
An Olympian's Journey: A Gold Medal March
The iconic Brandi Chastain of the 1996 women's US soccer team will share her journey of winning in front of her home country with a legendary team. Guests will also see how the spirit of the Olympics goes beyond patriotism and into the motto of the Olympic Games: Citius Altius Fortius (Faster Higher Stronger) and what can happen for and to the world as it experiences each kick off.
Insiders Take on the 2020 Games
Hosted by Pita Taufatofua, Olympian in summer and winter sports, Tongan flagbearer and UNICEF ambassador heading to his third Olympic Games, this experience promises plenty of surprises as guests are given access to people, places and stories that few have ever seen.
Behind the Curtain of the Opening Ceremony*:
Hosted by Takayuki Hioki (Tokyo 2020, Ceremonies Executive Producer), guests can hear directly from the mastermind behind the opening ceremony, who will give guests insight into what it took to formulate the ideas, how the process works from concept to reality, what the execution entailed and all the magical stories collected along the way!
LIve at the Olympics with Nastia Liukin*
Hosted live from Japan, guests will be transported to the Ariake Gymnastics Center on the eve of the most important night of an Olympian's career – the All Around Finals at the Olympic Games. Hosted by five-time Olympic medalist Nastia Liukin, guests will learn all about the sport; from the various events and how Nadia trained for each one, to learning about the scoring system so they are fully prepared for the Women's All-Around Finals the next day.
Journey to Tokyo with Hunter and Tara
The powerhouse track-and-field couple, Hunter Woodhall and Tara Davis, will take guests on their journey to Tokyo 2020 and give exclusive insight into one of their biggest years yet. From Hunter leaving the NCAA to turning pro, to preparing for the Paralympic Trials and Games, and Tara's preparation in Texas for the Olympic Trials and Games, 2021 has been a time of adventure and growth and they will share all that they have learned along the way.
World-class hospitality of Japan
In addition to the Olympian and Paralympian Online Experiences and as a way to celebrate Tokyo 2020, local hosts in Japan will offer guests a way to travel and explore the cultures and traditions of the country from their living rooms. Local hosts will lead a package of unique online activities like Secrets of Japanese Whiskey and a Cute Cartoon Bento Making class. Other ways to virtually transport to Japan will include forest bathing in Kyoto, Samurai training and a Complete Guide to Geisha Culture.
People from around the world unable to travel to the upcoming Olympic and Paralympic Games in Tokyo will still get to experience gold-medal hospitality from local Games volunteers in Tokyo firsthand, thanks to these Online Experiences on Airbnb. From hidden spots in Saitama, to an introduction to the Fukushima Azuma Stadium paired with a calligraphy class, guests will uniquely experience cities across Japan that are hosting the Games this year.
For more information on the Olympic and Paralympic Online Experiences or to view the full lineup, visit airbnb.com/olympics. For fans that miss the chance to book these experiences, there will be more athlete-hosted experiences available year round. Additionally, Olympic and Paralympic athletes who are interested in sharing their passions with guests to earn supplemental income can learn more and sign up to become a Host here. 
---
*In-venue Online Experiences will be open to guests booking from the United States only
This press release encourages safe and responsible travel. Local and international travel requirements, as well as health guidelines, continue to change quickly. Check local restrictions at home and in your destination before booking a trip on Airbnb.
About Airbnb
Airbnb was born in 2007 when two Hosts welcomed three guests to their San Francisco home, and has since grown to 4 million Hosts who have welcomed more than 900 million guest arrivals in almost every country across the globe. Every day, Hosts offer one-of-a-kind stays and unique Experiences that make it possible for guests to experience the world in a more authentic, connected way.