Meet the chef shaking up the Osaka dining scene with his vegan creations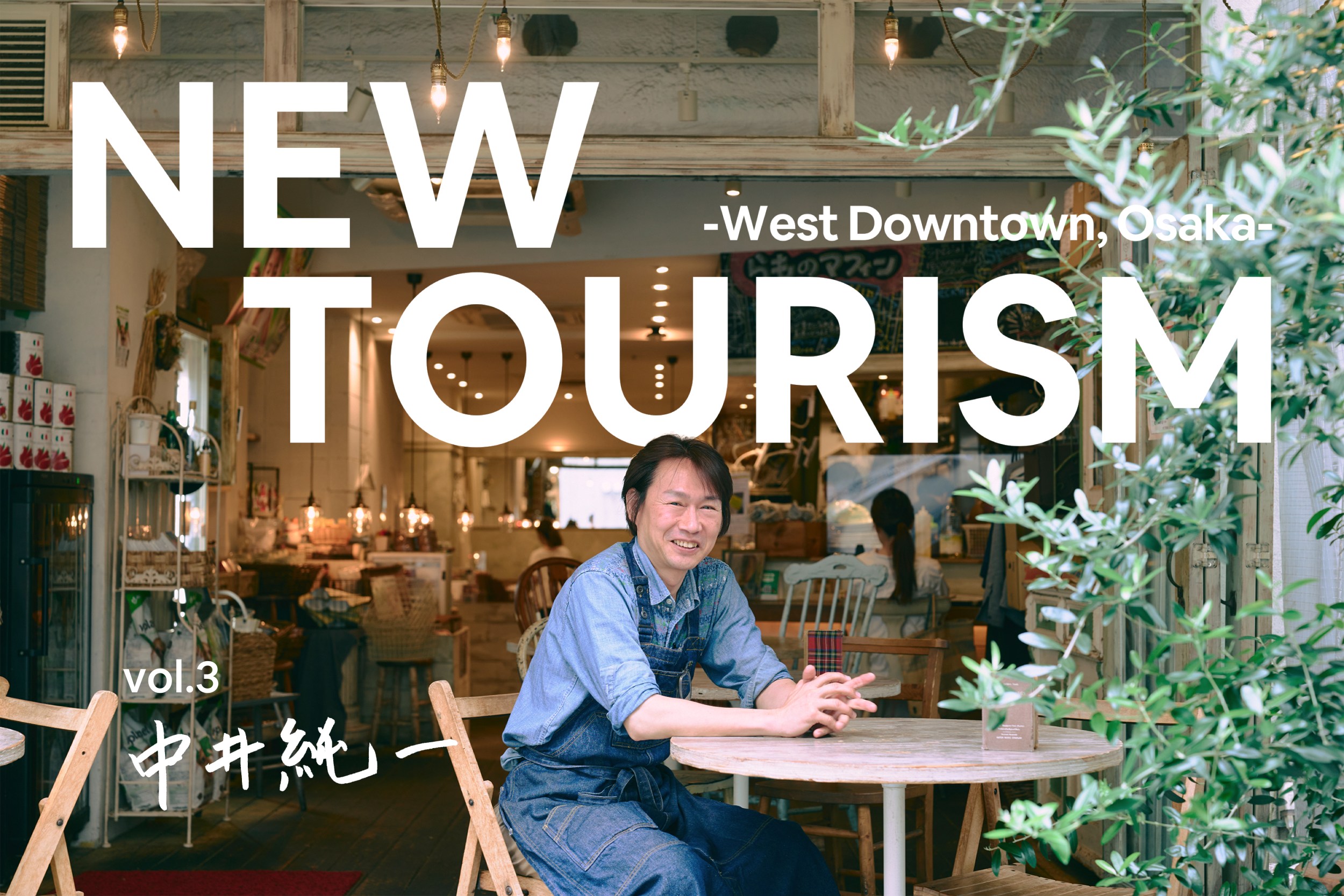 Junichi Nakai/ Representative of Machi no Akari Inc., Owner of Paprika Shokudo Vegan
Paprika Shokudo is a café and restaurant focusing on vegan and organic food. Their dishes are so delicious that it is hard to believe they contain no meat, fish, dairy products, or eggs. Both Osaka locals, who are known to be foodies, and visitors from abroad are delighted by Paprika Shokudo's innovative dishes.
We spent time with the restaurant's owner, Junichi Nakai, to find out the story behind these vegan meals that are not only healthy but also delicious, as well as his latest adventure – a new restaurant with a gluten-free reinvention of a Japanese classic.
Cooking with a new perspective
Sometimes just one event can flip your perspective in life. This was the experience for Nakai, who runs Paprika Shokudo: until he opened the restaurant, he actually loved 'junk' and convenience store food.
"I've worked in restaurants all my life, but I'd never really cared about what I ate. But one day it caught up with me during a medical check-up. I had never been sick before, so I was really surprised. From there, I began to rethink what I eat and the food I serve to my customers."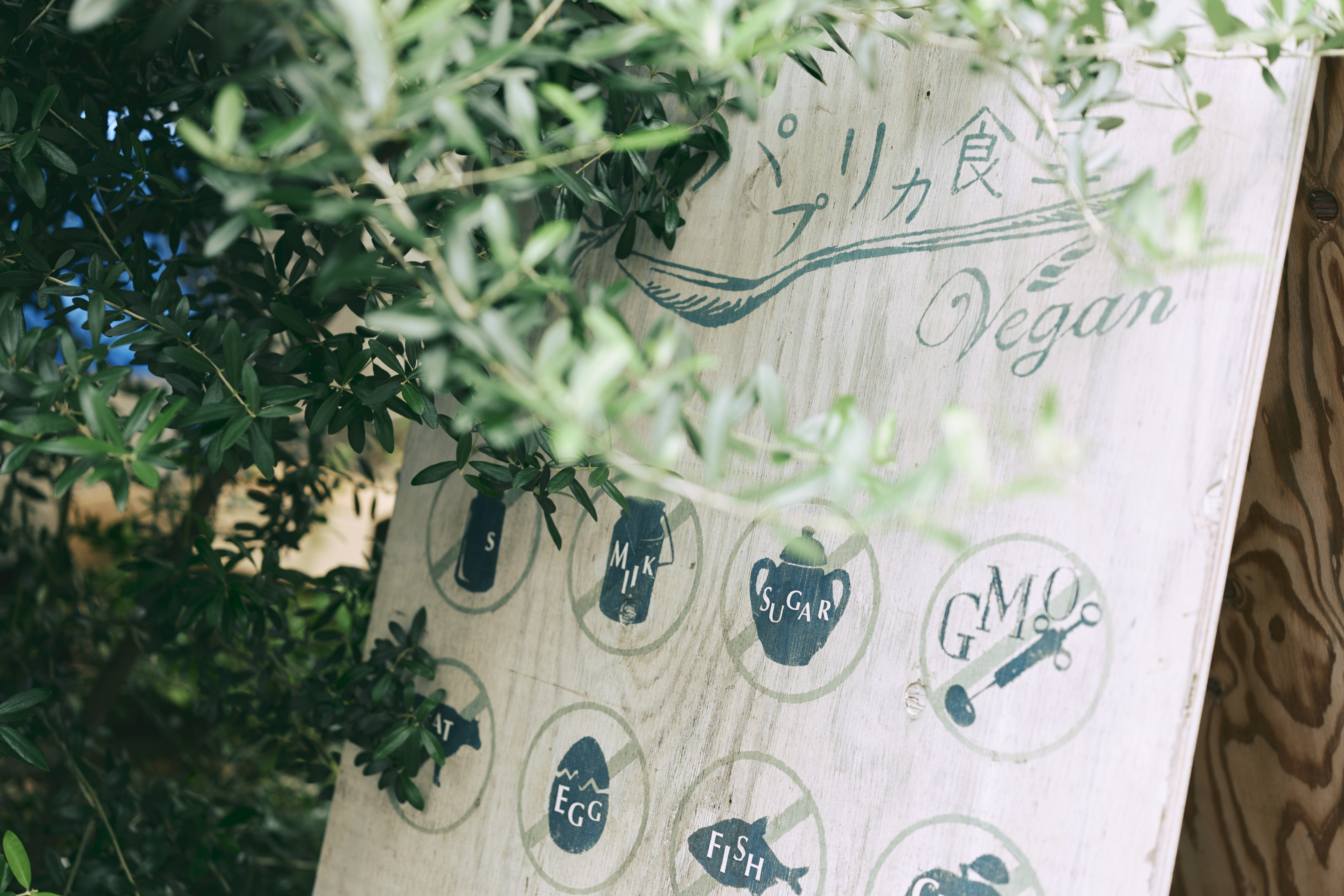 What exactly is a healthy diet? To find the answer to this question, the restaurateur read many books on health and nutrition. After extensive research, he concluded that a vegan diet that did not include animal products was the best suited to the health outcomes he had in mind.
"At the time, I didn't know anything about veganism, so I went to a lot of different restaurants. Particularly interesting for me was the grilled soybean meat, in which soybeans are processed into a meat-like texture," he explains. "No matter how many times I ate it, the quality was such that it seemed like real meat."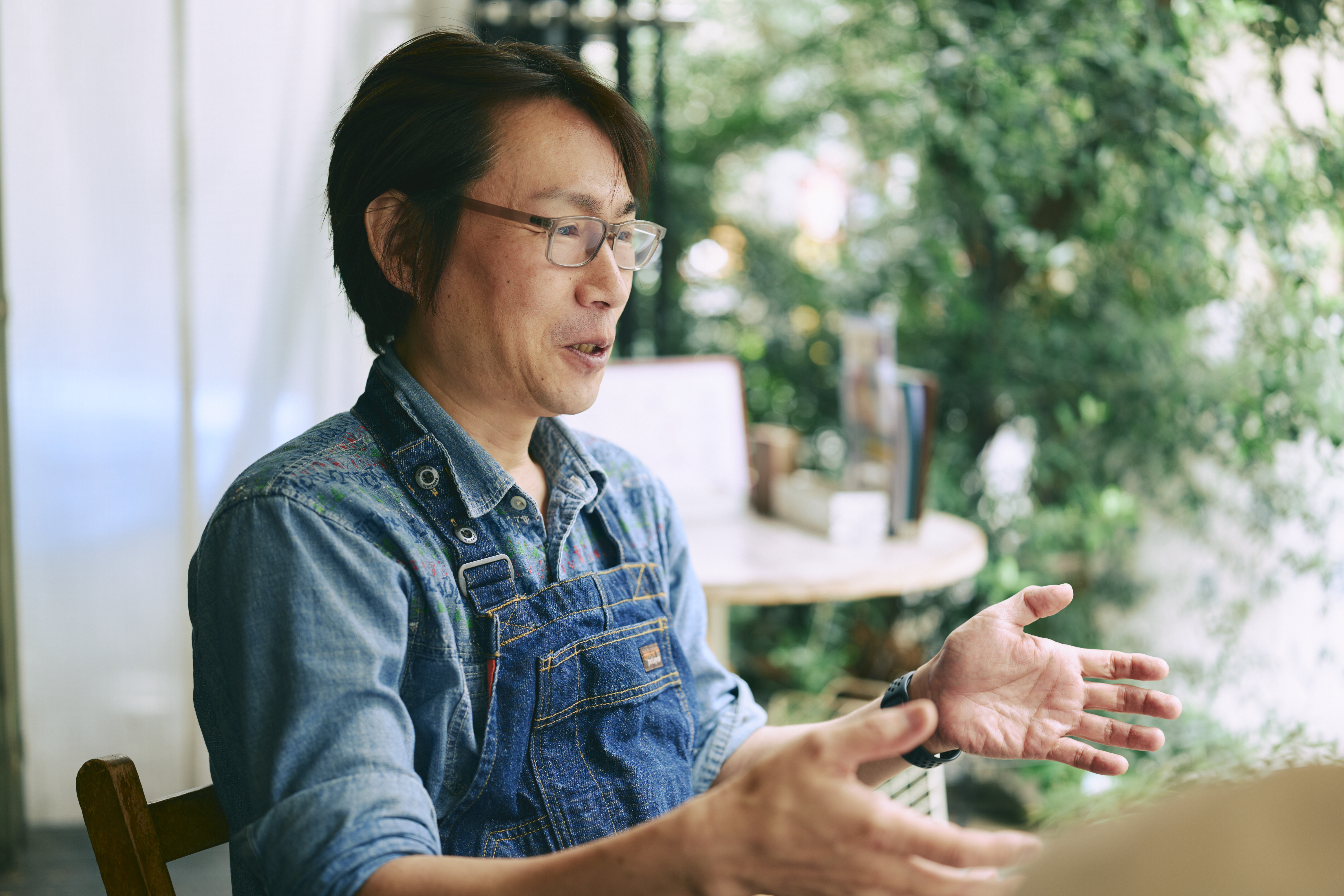 Nakai was impressed by how delicious the grilled soy meat was. "Eating only raw vegetables and fruits every day is challenging, but I was sure that everyone can continue eating this soy meat without issues." Fascinated by the possibilities of vegan cuisine, he opened Paprika Shokudo in 2014.
A vegan diet, which is usually composed mainly of vegetables and beans, tends to be healthy and lower in calories and fat. Although he initially came to this lifestyle for health reasons, he also came to realize that "just by changing what we eat, we might be able to solve the world's environmental problems", as protecting animals helps protect ecosystems and reduce the large amount of greenhouse gasses produced by the livestock industry.
This is a challenge in Osaka, where there are still very few vegan-friendly restaurants. In the beginning, people asked Nakai, "What is a vegan?", or "don't you serve any meat?" However, almost a decade on, the restaurant is now a place where people from all stages in life can enjoy a meal, including international tourists, who account for about half of the customers, health-conscious Japanese people, those with allergies to dairy products, and younger generations concerned about environmental issues.
"I'm delighted to be able to cater to everyone, vegans and non-vegans alike," the owner tells us, and he thinks of the offering at Paprika Shokudo as "barrier-free food", that has broad appeal even to those not used to plant-based cuisine.
When healthy, tasty and vegan go hand-in-hand
"Sometimes people think vegan food is lacking in flavor, but that's not true. I want customers to experience the same delicious surprise I did the first time I ate grilled soy meat myself," says Nakai. For example, the cheese in the cheese hamburger is made with a base of mochi and soy milk, and combined with the soy meat hamburger to create a juicy flavor that is truly exquisite.
Another feature of the menu is that it is based on the ideas of macrobiotics (mostly whole grains, fruit and vegetables) and raw food ('enzyme nutrition').
Speaking about his dishes, Nakai says: "Not only are they free of animal products, they are also free of processed foods, refined white sugar, and chemical seasoning.
Paprika Shokudo's natural food, which includes additive-free seasonings and naturally grown and organically grown vegetables, was born out of my own health problems and my desire to make sure that everyone can eat food that is as safe and delicious as possible."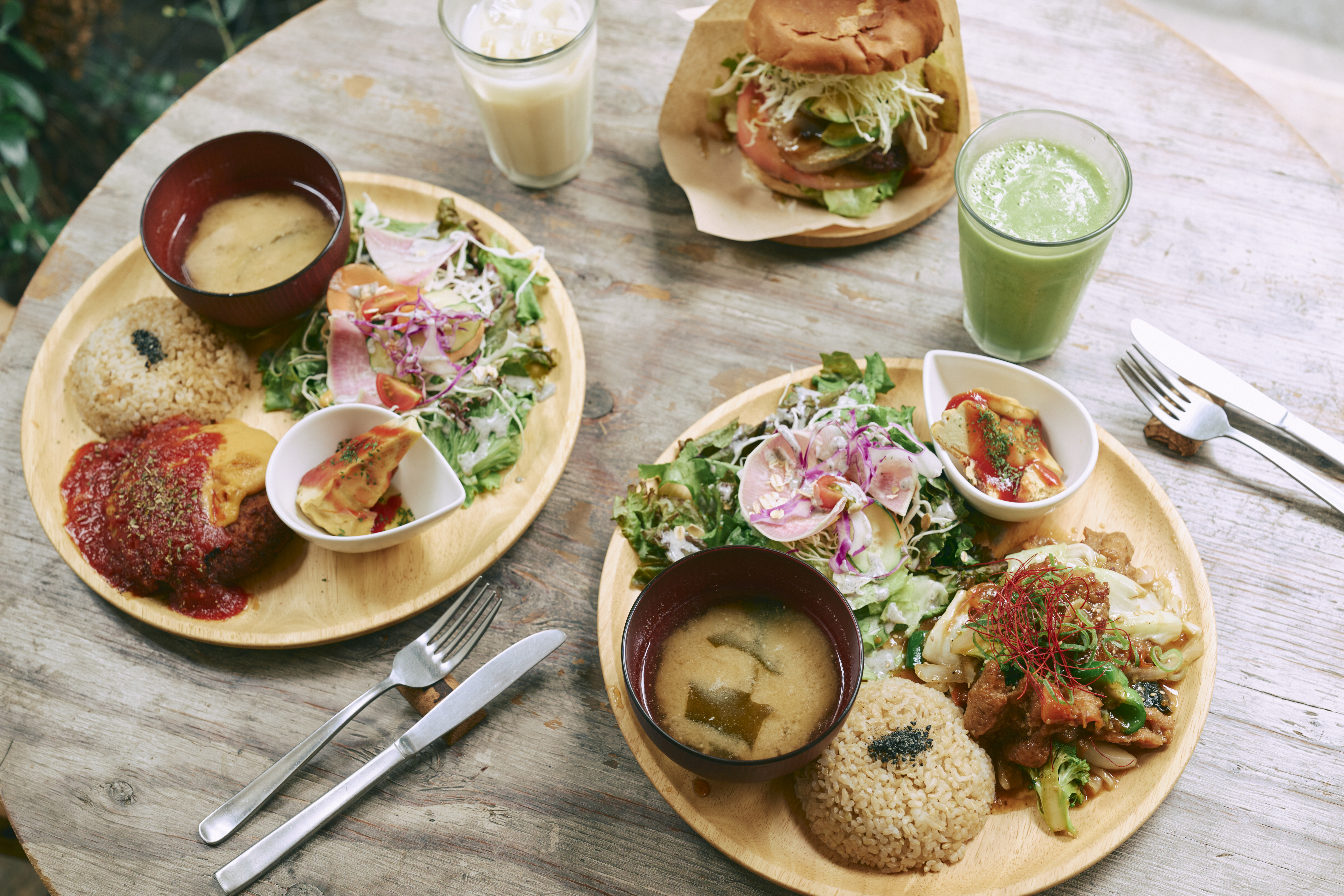 The vegetables used at the restaurant are mostly from farms in the Osaka area. "Vegetables grown with care have a completely different taste because of the thought that goes into them. They also go well with carefully handmade sauces and dressings, such as soy milk-based mayonnaise, the restaurateur tells us.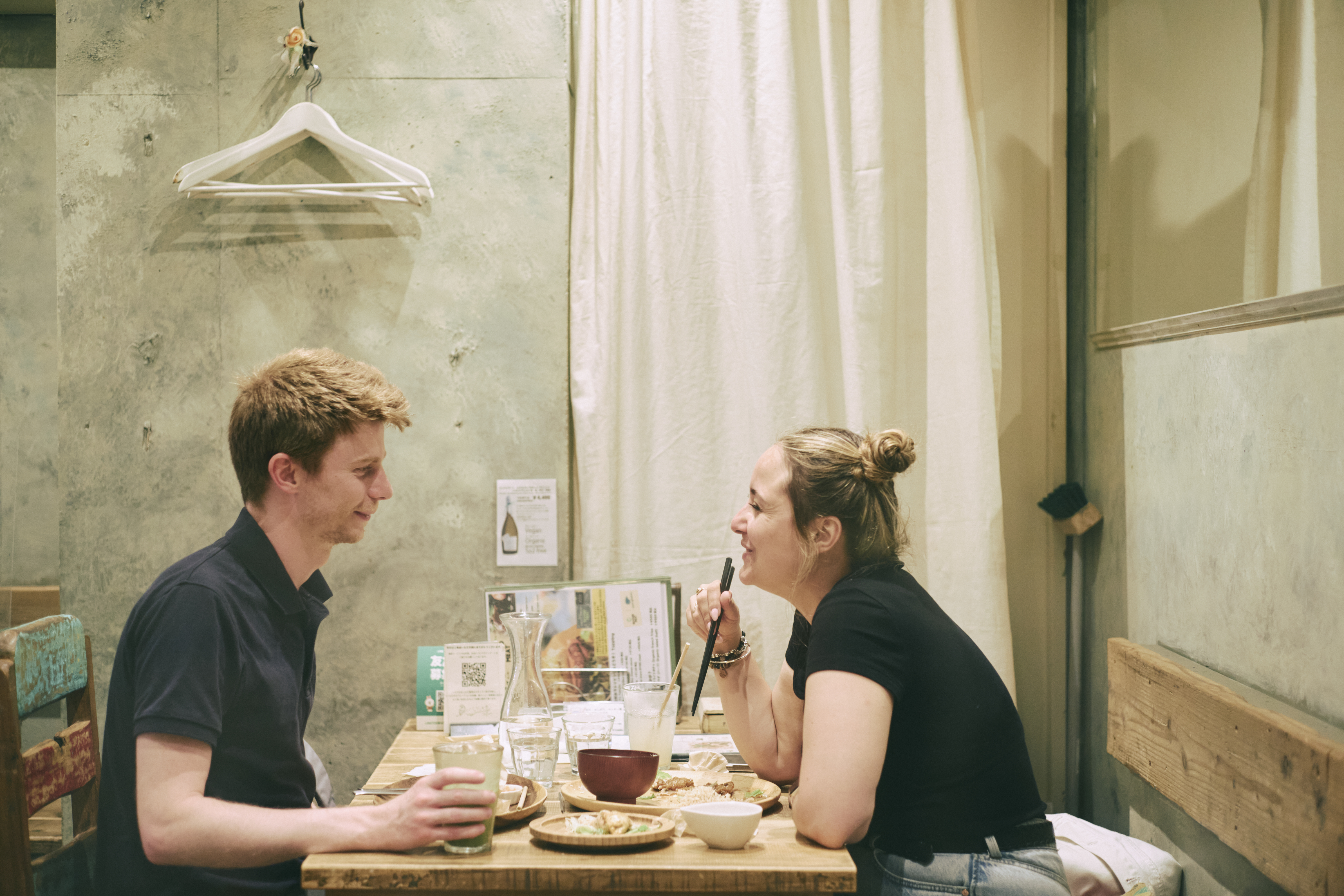 We tried for ourselves and found that the vegetable-based dishes were delicious and filling. You might wonder, 'Is this really a vegan menu?' as the flavor is so rich. Once you try it, you will be hooked, and it may change how you think about plant-based food forever.
Products that make vegan cooking easy
When visiting Paprika Shokudo, you might be surprised to find a well-stocked merchandise section. "We wanted people to enjoy our vegan menus at home," Nakai tells us, explaining an idea that came to him after the COVID-19 pandemic. The selection is just like that of a small supermarket, and even if you are not a vegan, you can enjoy just stopping by.
"I think it is important to choose what you eat because what we eat is so important. I think it would be difficult to suddenly give up meat, but I think it's okay to think more casually about it. I think the accumulation of such daily choices will produce good results for both the body and the environment. We are currently developing original gluten-free and vegan dressings and other products that we can sell here," he says, eager to offer more food options in addition to in-store dining.
During the COVID-19 pandemic, Nakai also took on the challenge of developing a vegan-friendly soy sauce ramen called 'Green Noodle'. In keeping with his goal of creating a "barrier-free diet," this instant soy sauce ramen was created in a way that is easy for non-vegans to enjoy.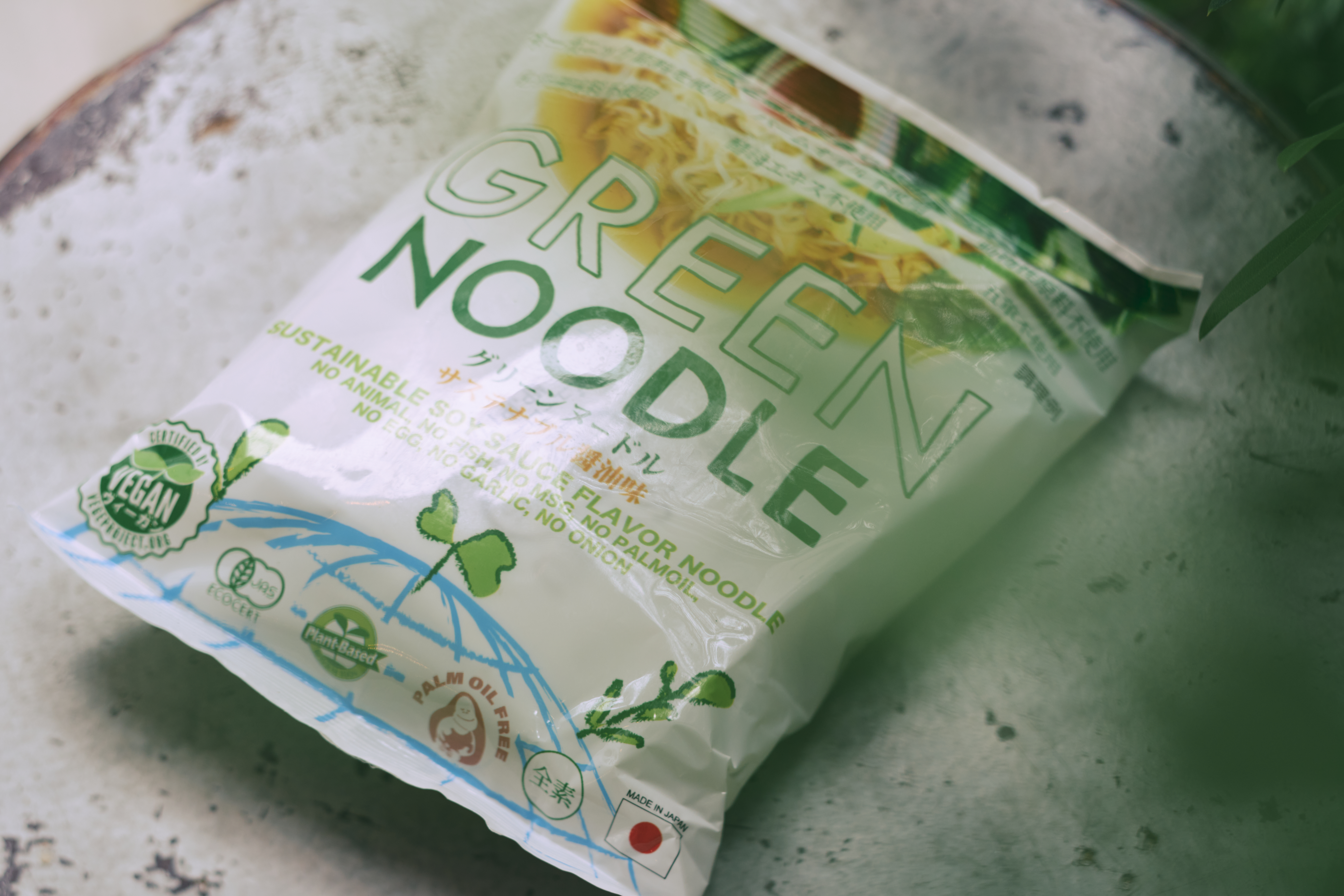 "There are not many vegan ramen dishes available, so I started thinking about making my own five years ago. To raise funds, I also tried crowdfunding, and the amount of support exceeded my goal," the innovative entrepreneur tells us.
"It took about a year to finally commercialize the product. However, sales were not as strong as expected, perhaps because the noodles were slightly more expensive than ordinary instant noodles. I regretted that I had not thought about business properly. There were other difficulties in selling the product, such as the need to produce large quantities at a time, but it was a good experience for me to be able to explore a new food option through a familiar instant noodle product."
In Osaka, where there are not many vegan restaurants yet, Nakai continues to boldly take on the challenge. Thanks to these efforts, the number of customers has now even reached slightly higher than before the COVID-19 pandemic. The restaurant also seems to be steadily evolving as a flagship of the vegan world in Osaka, with students who worked part-time at the restaurant starting vegan-related businesses. This is further impressed by Shinsekai Paprika Shokudo, a second restaurant opened in summer 2023 in the Shinsekai area.
A new gluten-free address in Shinsekai
"Until now, Paprika Shokudo has not had a gluten-free menu, and we have had a hard time dealing with it," Nakai says. "But Osaka is all about konamon (beloved local foods made of flour), isn't it?", Nakai says, explaining the motivation behind opening his new restaurant, "Walking around Shinsekai, a sightseeing area, you will see many takoyaki restaurants, okonomiyaki restaurants, and kushikatsu (skewered pork cutlet) shops. In a place like that, I thought it would be a great opportunity for people who are cutting back on wheat to enjoy Osaka's local food in a vegan and gluten-free way."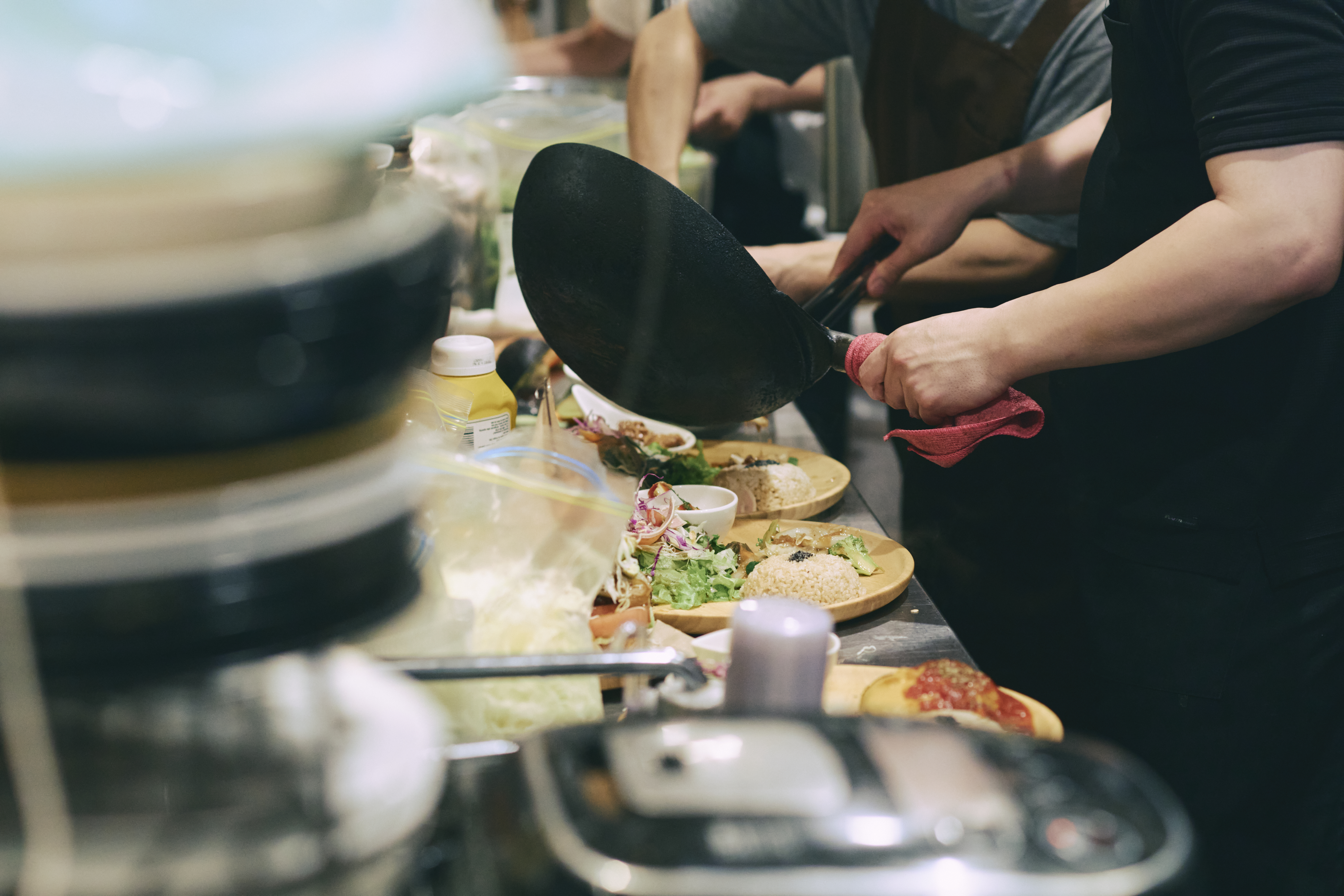 At the time of the interview, the second restaurant was not yet open. Although details were not available as the concept is still in the planning stage, it is said to be a casual izakaya (informal bar-restaurant) that will mainly serve kushikatsu (skewers) and konamon made with rice flour instead of wheat flour, as well as other local foods such as doteyaki (normally beef sinew stewed in miso and mirin).
"I would like to see more vegan restaurants in Osaka, a city full of diversity," he says, "and I want overseas tourists to enjoy eating safely."
Shinmachi, the location of the first restaurant, has a moderate balance of business and residential areas, and Shinsekai is a bustling tourist area. Operating from two distinct venues, each with its unique character, the restaurant is sure to succeed in its mission to provide delectable vegan dishes that will bring smiles to everyone's faces.
Profile
Born in Sakai City, Osaka. Since graduating from high school, he has been in the food and beverage industry. The name of the company he represents, Machi no Akari, comes from the name of the bar he kept for 15 years. He opened Paprika Shokudo in 2014 and Shinsekai Paprika Shokudo in summer 2023. In addition to vegan and gluten-free menus, he is also working on developing vegan sauces and dressings.