It's new, yet nostalgic. That duality is why Namba is so loved
Tadashi Senda, Chairman of the Board of the Osaka Shopping Streets Association
Chairman of the Board of the Osaka Shopping Streets Association. Representative Director of the Executive Committee of the Osaka Revitalization Project. Representative Director of Senda-Glass Tableware Co., Ltd. Tadashi Senda is a man of many titles.
"Every day is so tiring…It's true..!"
Even as he said these words, he was happy to agree to an interview.
He's been doing business here for 40 years. Even now, at over 70 years of age, he is still busy working for Namba and Osaka, even on weekends and holidays.
So, what drives Senda? What makes him tick?
We asked Senda, who has witnessed the many changes undergone in Namba, about the charm of Namba, Osaka.
"It wasn't possible to keep the status quo. We wouldn't survive."
Let's go back about 40 years. Around the time when Senda started his business, Sennichimae Doguyasuji Shopping Street was a completely different place than it is today.
"Each morning when I opened the store, there would already be a line of customers waiting. Customers from Kyushu and Shikoku regions would take the night train here to buy cooking tools. And they all paid with cash. By noon, the cash register would be overflowing with bills. It was a great time. That kept me going to work hard every day. And I remember I would go out for drinks in the evenings."
At that time, there weren't many shopping streets that could provide the tools restaurant operators would need. That's why, everyday, people from the food and beverage industry from all over Western Japan would take buses and trains and gather at Sennichimae Doguyasuji Shopping Street.
"Wasn't it great to be so prosperous?" we asked, but he brushed the question aside with a smile.
"Business can change quickly. What's thriving now may change in a flash. That's why I said, 'Things can't stay as they are'. First of all, I decided to change things by starting with myself and this store."
True to his word, Senda's store was the first in the area to open on Sundays. In addition, by being the one of the first stores to introduce "customer cards", he was able to tailor customer service to the needs of each individual. This is what we now call CRM (Customer Relationship Management), which has been in place for more than a quarter of a century.
In addition to the glassware, pottery is also displayed in his "Senda-Glass Tableware" store. This was added in direct response to customers' requests that pottery also be sold in the store.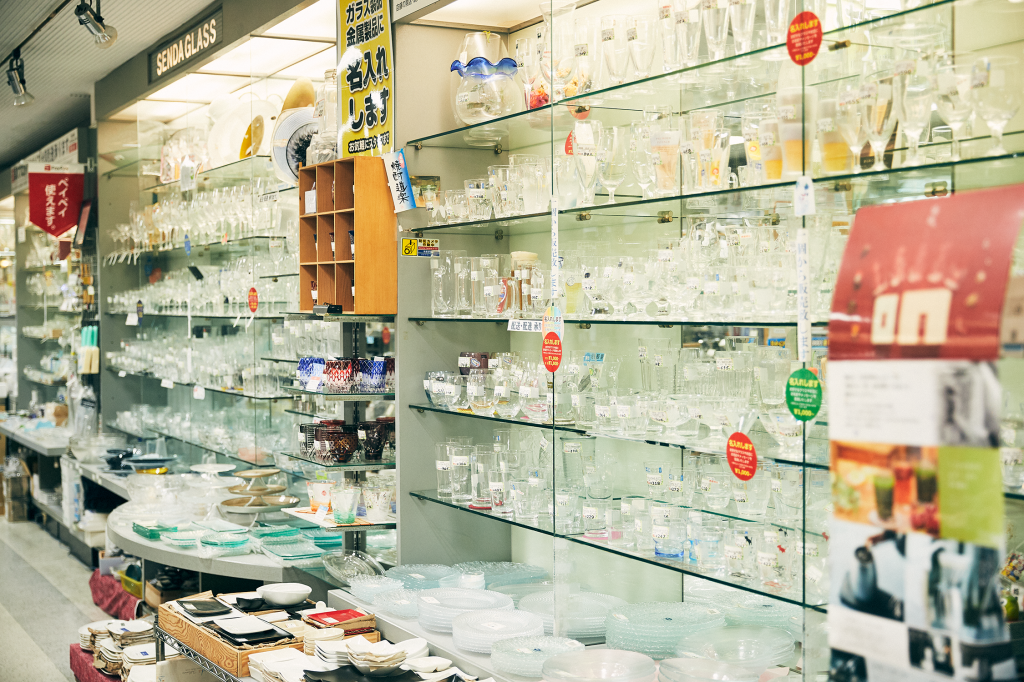 And from this point on, Senda was already looking to "revitalize the entire shopping street" and not just his store.
"I wanted to get more people (and not just food and beverage customers) to visit and become interested in the Sennichimae Doguyasuji Shopping Street, so we organized "Doguya-suji Festival" on October 9 (known as the "Tool day" since the sound of 10 [pronounced as "toe"] and 9 [pronounced as "ku"] is similar to "dougu" which means "tools" in Japanese)," including daily discounts, food and a big raffle. In addition, in order to make it easier for ordinary customers to make purchases, we changed the sales method from selling one dozen or half a dozen to selling per unit. We also provided kitchen equipment for cooking programs on TV to promote the quality of our tools."
It appears the "Tool (道)" sign, which is now the symbol of the Sennichimae Doguyasuji Shopping Street, was designed around that time as a landmark for the people who came.
"I was a bank employee before I started doing business here. I've seen the good and bad times of different kinds of businesses."
Senda's foresight may have come from such an experience.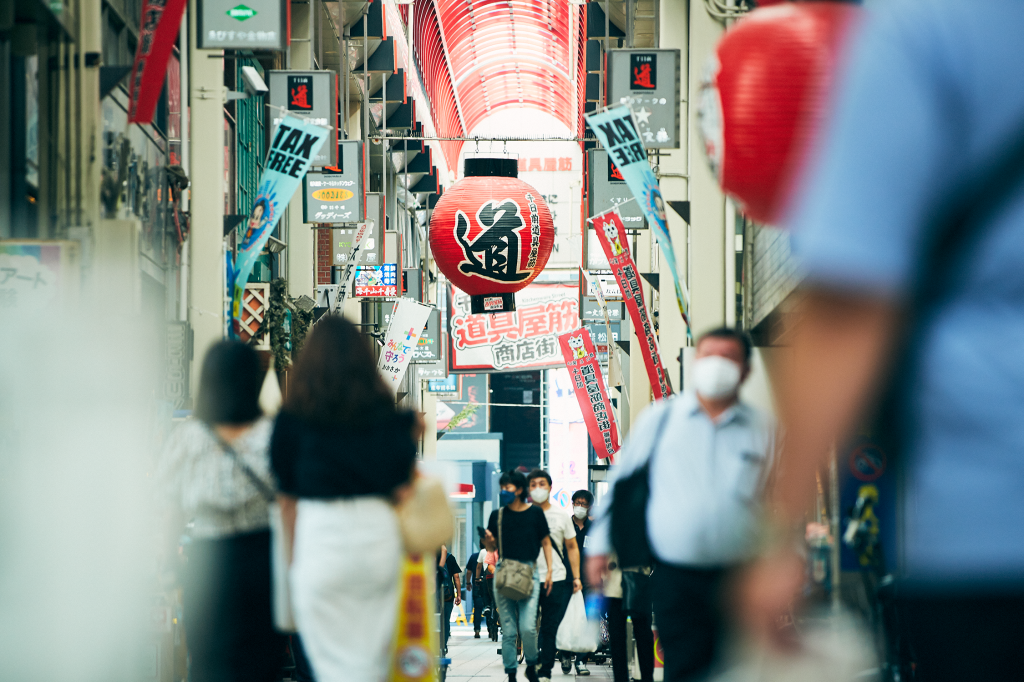 The bubble collapsed and everything changed in an instant
In the early 1990s, when the bubble collapsed, everything changed for this thriving shopping street. Unexpectedly, Senda's sense of crisis became reality.
"The shopping street and the whole city of Osaka was badly affected. Since then, there have been more cheap 100-yen shops, discount shops, and home centers, and I thought it was no longer possible to do business in Japan."
However, in that tough situation, Senda came up with an idea.
"If we can't do business in Japan, why not compete in the "world"? So, I went around all the countries in Southeast Asia and looked at the markets, and realized tourism would be the answer.
Turning towards the world was a big challenge. Firstly, Senda started by changing the atmosphere of the shopping street, reconstructing the culture with "building the community, building the people, and building products" as the pillars.
"At that time, people's perception of Osaka was that it was 'scary' and 'greedy', so we needed to make it a safe, secure, and clean city. We would patrol the area at night and pick up garbage."
Senda speaks cheerfully, but this positive image took nearly six years to spread. "While inheriting the unique culture of Osaka, we also need to add new value," Senda continues.
"Just having good products is not enough to attract customers and to create a business that will carry on to the next generation. It's not just about making money for ourselves."
The idea is that aside from providing the "goods" people buy, we should also be providing "experience" to add value. In fact, for the past 20 years or so, Senda has been holding work & learn experience programs for junior high school students across the country, and this has led to more people choosing universities in the Osaka area.
"I think Osaka's food, laughter and commerce have the power to invigorate all sorts of people."
He loves Osaka more than anyone else, and acts on Osaka's values. The enthusiasm of Senda and the local people continues to support Namba.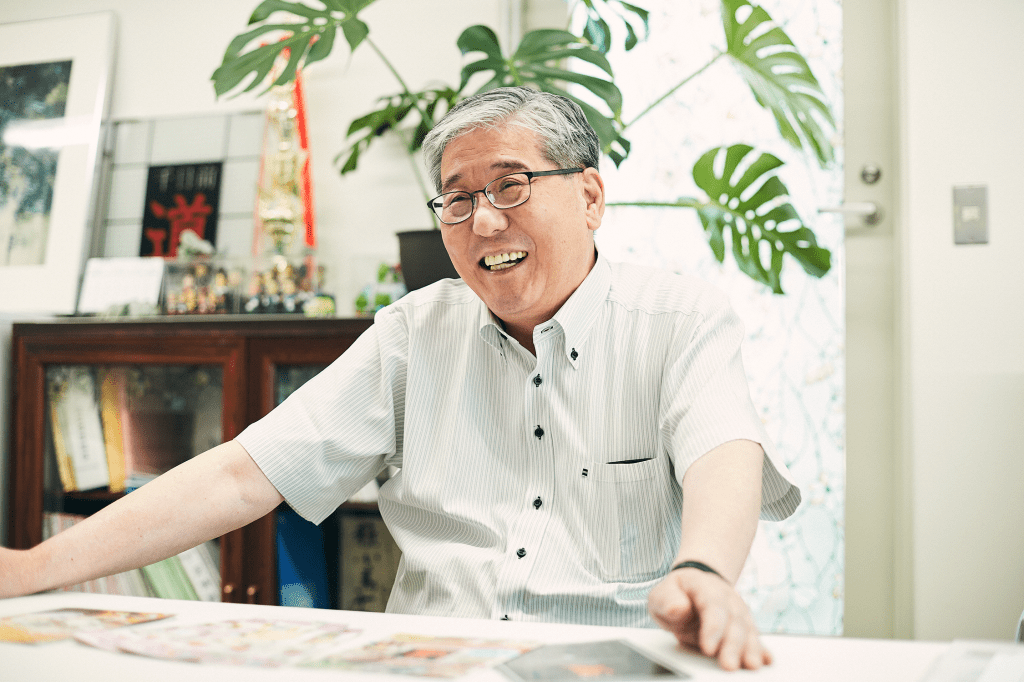 For the past 15 years, the target has been 'inbound tourism'
About 15 years ago, even before inbound tourism began to flourish in Japan, Senda turned his attention to the world and began full-scale efforts to promote tourism. Based on his experience in the Southeast Asian market, he considered what kind of services foreign tourists would be looking for, and first introduced "multilingual support".
"If we aren't speaking the same language, we can't do anything. We published brochures in four languages, including Japanese, English, Korean, and Chinese, introduced "FACE Touch me" (video call interpreting system), hired foreign staff and implemented several other initiatives."
"Muslim-friendly" initiatives are also in the works to provide tailored services for Muslims. It is difficult to have a good understanding of Muslim culture, as it is still not very well-known in Japan, but Senda remains positive.
"There are still many things I don't know but I'll do the best I can while continuing to learn. That's what's important."
Several initiatives were born from looking at it from a foreigner's perspective. At the heart was a strong desire for people to "enjoy Osaka".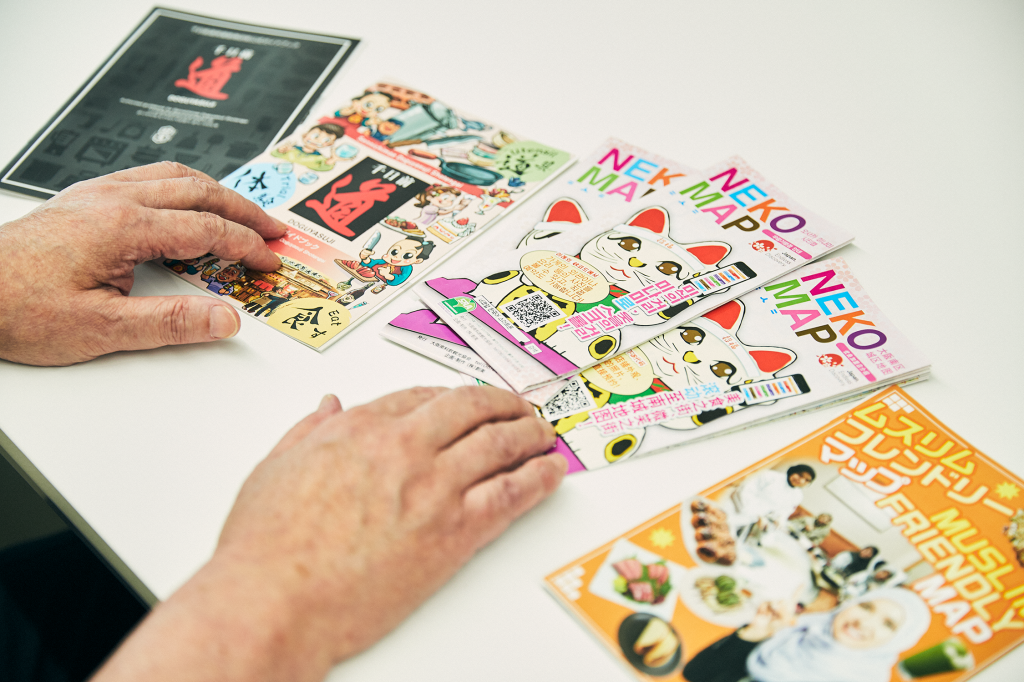 Envisioning Japan's first VR shopping district that can be enjoyed from anywhere
Recently, Senda has also invested in technology-based services, and has also implemented "AR-based city guides" that can be enjoyed in multiple languages.
"In the past, people used to show visitors around the city, but now I want to change this and provide this service from the smartphone. Visitors can listen to audio guides that guide them through the city, and AR can show them what Namba used to be like. We also provide recommendations for places to visit."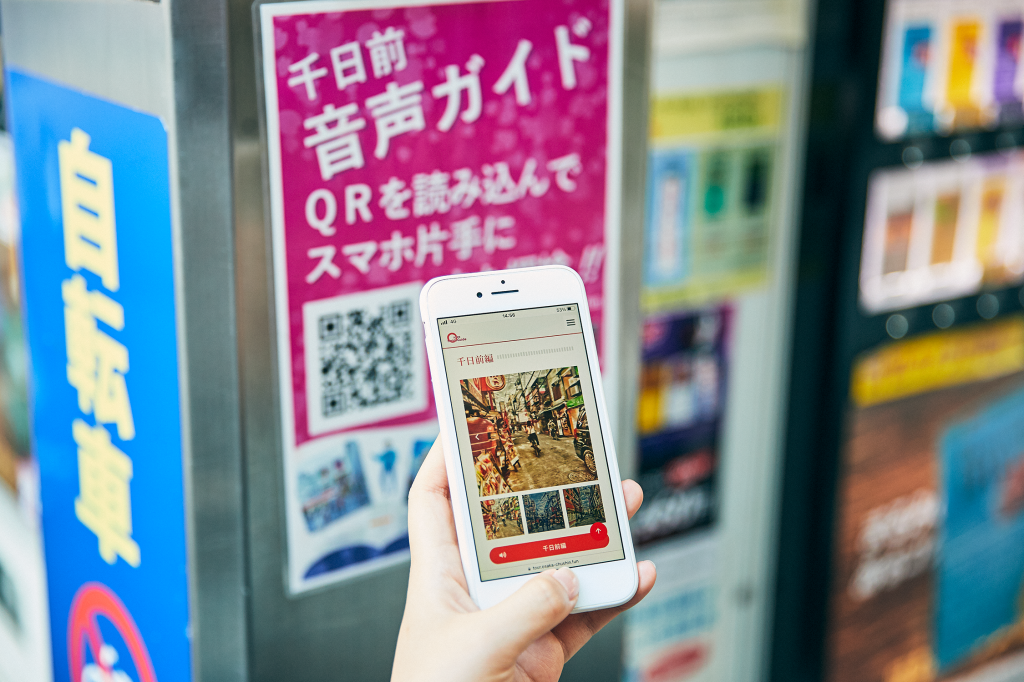 The "VR Shopping Street" that virtualized the Sennichimae Doguyasuji Shopping Street is an ongoing project.
"Sennichimae Doguyasuji Shopping Street is a place where you can find tableware, food samples, and unique tools like Takoyaki cookware. I want to work with online stores so that visitors can shop from anywhere in the world."
Sennichimae Doguyasuji Shopping Street is the only shopping street nationwide working on the virtualization of their street. It aims to complete the project within this year with the goal of being the first in Japan.
Connecting Osaka to the world and the future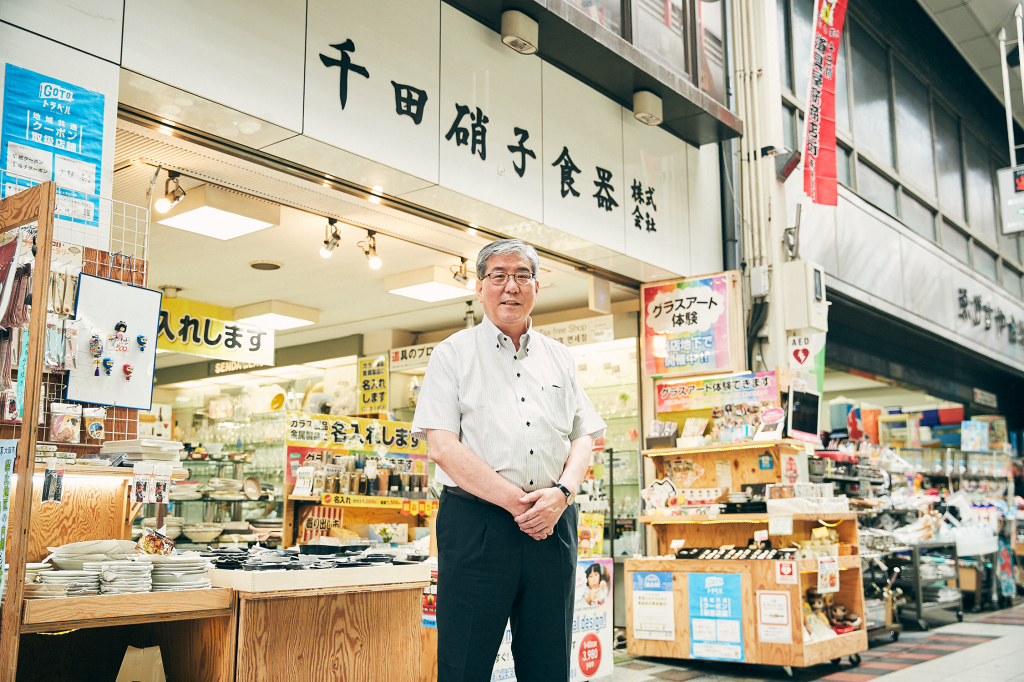 Senda discusses Osaka's charms.
"I think the charm of the city lies not only in its "newness" but also in its history and culture. Nothing can beat these streets where time seems to have stopped, or the culture of food, laughter, and commerce, can it? That's why we often hear foreigners say, 'I love Osaka.'"
So, what does he see for the future?
"I would love to create a shopping street that is loved by people in the future, not just for its efficiency and affordability, but for a special value that can only be found in Osaka."
A place that feels like home, spreading Osaka's warmth to the rest of the world. Today, Senda is still thinking about what kind of "new tourism" would only be possible in this city.
Profile
Born in Wakayama Prefecture. After getting married, succeeded Senda-glass Tableware Co., Ltd. as the second generation owner in Namba. While holding a number of key positions, Senda builds a community of different stakeholders beyond the shopping street together. By keeping an eye on what is next for the f society, he is actively challenging new initiatives with the three pillars of "building the community, building the people, and building products".