The dichotomy of Namba, Osaka: both nostalgic and futuristic
Tadashi Senda, Chairman of the Board of the Osaka Shopping Streets Association
Tadashi Senda has been doing business in Namba, Osaka for more than 40 years. He's the heart of this district, and a man who wears many hats. Chairman of the Board of the Osaka Shopping Streets Association. Representative Director of the Executive Committee of the Osaka Revitalization Project. Representative Director of Senda-Glass Tableware Co., Ltd.
"Every day is so tiring. It's true!" he smiles.
In his seventies now, he is still busy working and supporting the local community through weekends and holidays. And yet he happily gives us his time, eager to talk about the charms of Namba, and the changes he has lived through over many decades.
Paving the way
When Senda started his business 40 years ago, Sennichimae Doguyasuji Shopping Street was very different to what it is today.
"Each morning when I opened the store, there would already be a line of customers waiting. Customers from Kyushu and Shikoku regions would take the night train here to buy cooking tools. And they all paid with cash. By noon, the cash register would be overflowing with bills. It was a great time. That kept me working hard every day. And I remember I would go out for drinks in the evenings," he says.
At that time, there weren't many shopping streets providing the kitchen tools that restaurant operators needed. And so everyday, restaurateurs from all over Japan would travel hours by buses and trains to Sennichimae Doguyasuji Shopping Street.
But Mr Senda had worked in banking before his time on the shopping street, and knew that business success could be fleeting.
"What's thriving now may change in a flash," he says.
In order to modernise and futureproof his business, Senda was the first in the area to open on Sundays. He also introduced customer cards, allowing him to tailor his service to the needs of each individual. And in direct response to customers' requests, he started selling pottery in addition to glassware at his store, and made it possible for the general public to buy his wares in single units, as previously they were sold in bulk units for trade.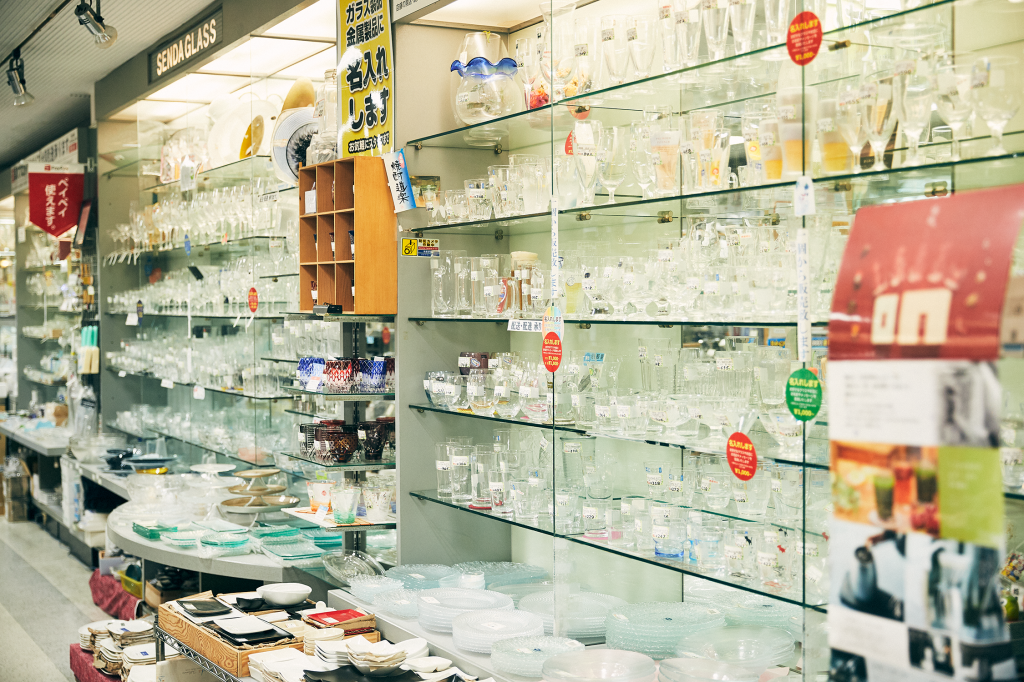 He then set his sights beyond his own store, eager to revitalize the entire shopping street.
"I wanted to get more people, and not just the food and beverage industry, to visit and become interested in the Sennichimae Doguyasuji Shopping Street, so we organized the Doguya-suji Festival," he says. The October 9 festival, which includes discounts, food and raffles, is also known as Tool Day, a play on the way that the words sound in Japanese.
The sign for tool (道) is now the symbol of the Sennichimae Doguyasuji Shopping Street, emblazoned on lanterns in this district.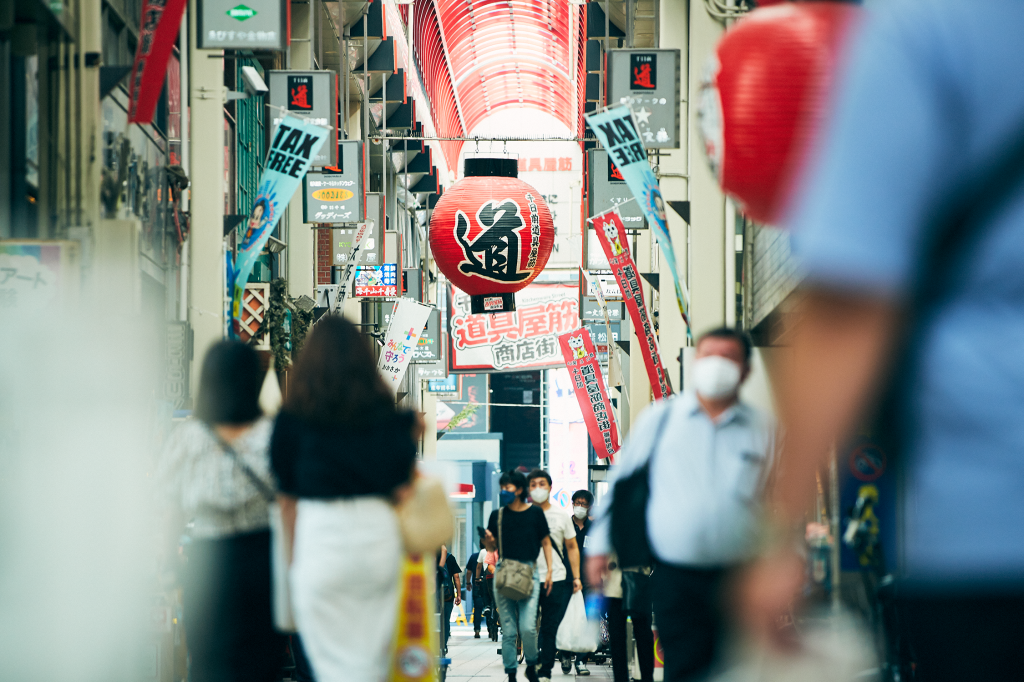 The bubble collapsed and everything changed in an instant
Everything changed for this thriving shopping street quite suddenly in the early 1990s, when the bubble collapsed.
"Our shopping street and the whole city of Osaka was badly affected. We then saw the rise of cheap 100-yen shops, discount shops, and home centers, and I thought it was no longer possible for me to do business in Japan."
However, Senda came up with an idea, to sell his high-quality and unique Japanese kitchenware to visitors to Japan instead. It took quite some work.
"At that time, people's perception of Osaka was that it was scary, so we needed to make it a safe and clean city. We would patrol the area at night and pick up garbage," he says. Years of effort eventually paid off.
Senda believes that in addition to providing goods for people to buy, a shopping street should offer an 'experience'.
"Just having good products is not enough to attract customers and to create a business that will carry on to the next generation. It's not just about making money for ourselves."
And it's not just international tourists that Senda is drawing to the district. For the past 20 years, he has been holding work and learn experience programs for junior high school students across the country, leading to more people choosing universities in the Osaka area.
"Osaka's food, laughter and commerce has the power to attract people," he says.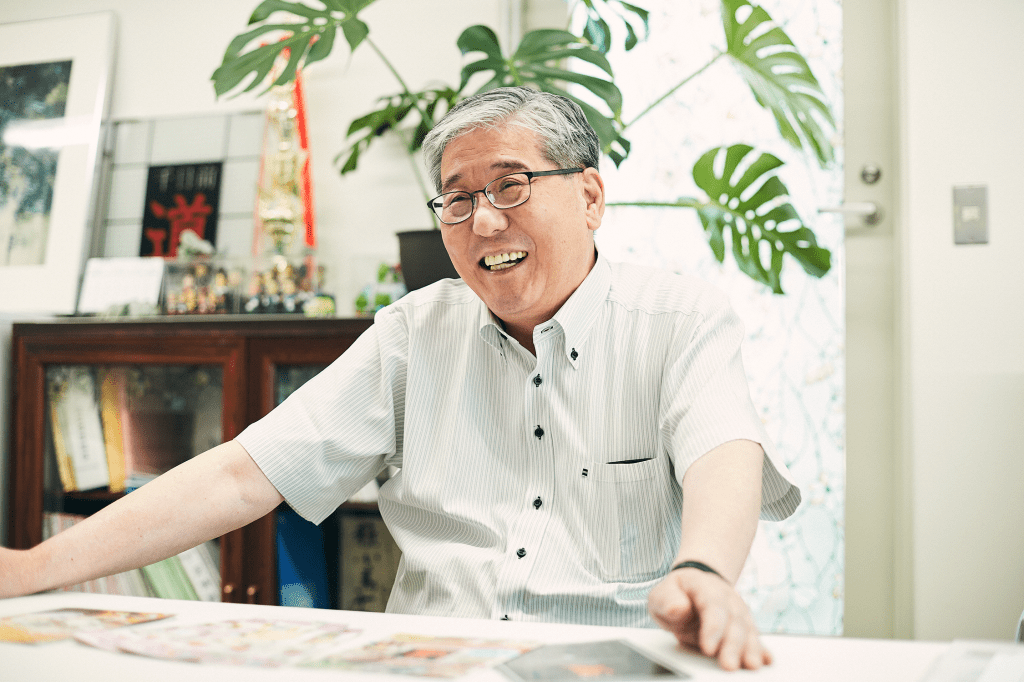 Bringing the world to Osaka
About 15 years ago, even before inbound tourism began to flourish in Japan, Senda turned his attention to bringing the world to Osaka. He considered what kind of services foreign tourists would be looking for, and introduced multilingual support.
"If we aren't speaking the same language, we can't do anything. We published brochures in four languages, including Japanese, English, Korean, and Chinese, introduced a video call interpreting system, hired foreign staff and implemented several other initiatives," he says.
Initiatives to support Muslim travellers in Japan are also in the works.
"There are still many things I don't know but I'll do the best I can while continuing to learn. That's what's important."
Senda always seeks to look at his city from a foreigner's perspective, and at the heart of his efforts is a strong desire for people to enjoy Osaka.
"We inherit the unique culture of Osaka, but we also need to add new value," says Senda.
Recently, Senda has invested in technology to further appeal to a global audience, with AR-based city guides in multiple languages.
"As well as providing recommendations for places to visit, AR guides can show visitors the history of Namba, and what it used to be like."
He also has an ongoing project to create a virtual reality version of the Sennichimae Doguyasuji Shopping Street, which will be the first in Japan when launched, and will enable visitors to shop the streets wares from anywhere in the world.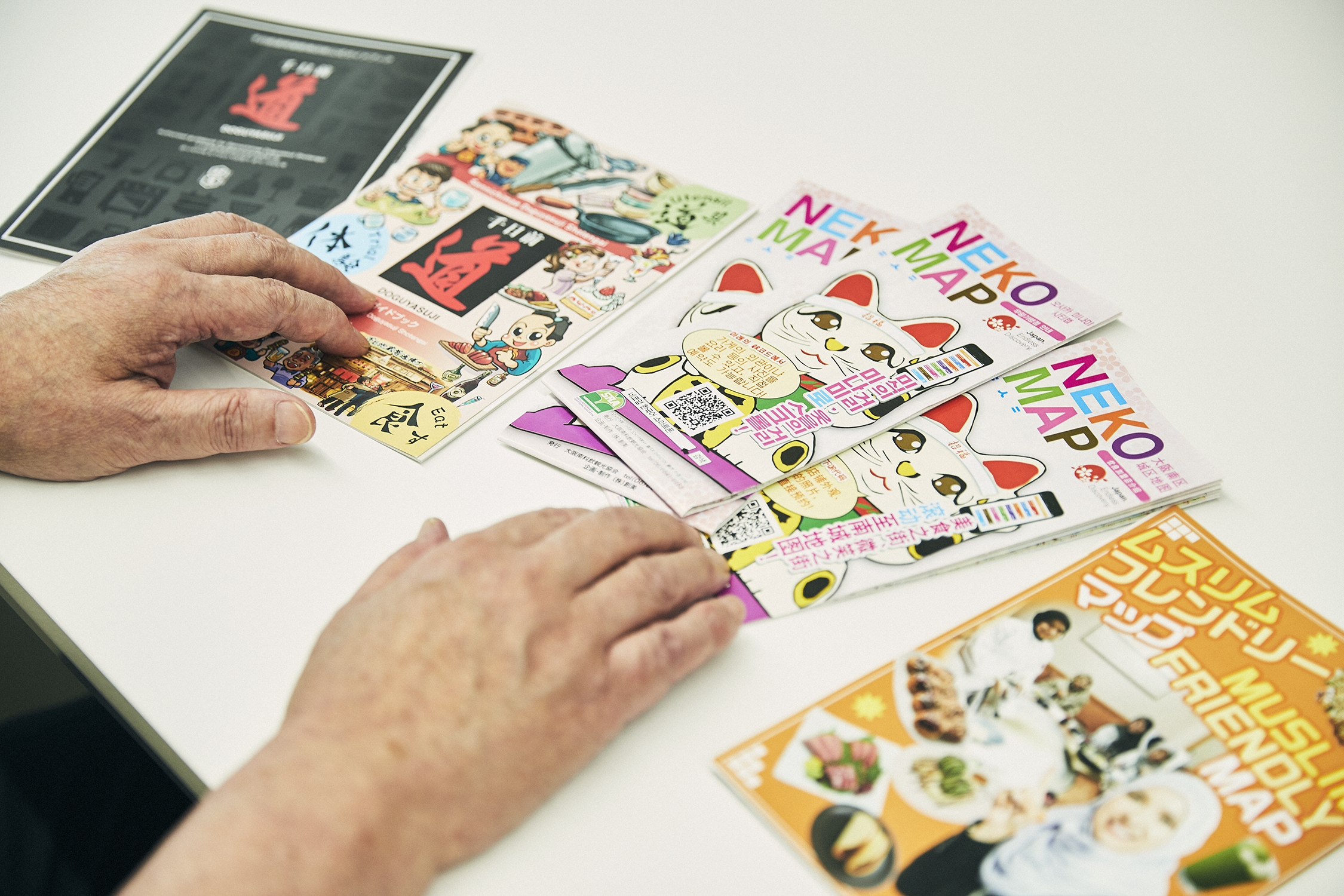 Connecting Osaka to the world and the future
"I think the charm of the city lies not only in its "newness", but also in its history and culture. Nothing can beat these streets where time seems to have stopped, or the culture of food, the laughter, the commerce, can it? That's why we often hear foreigners say, 'I love Osaka.'"
So, what does he see for the future?
"I want to create a shopping street that is loved into the future, not just for its efficiency and affordability, but because it offers something that can only be found in Osaka," he says.
He wants people to feel at home in his city, and to feel its warmth, while ensuring it retains what makes it so exciting and unique.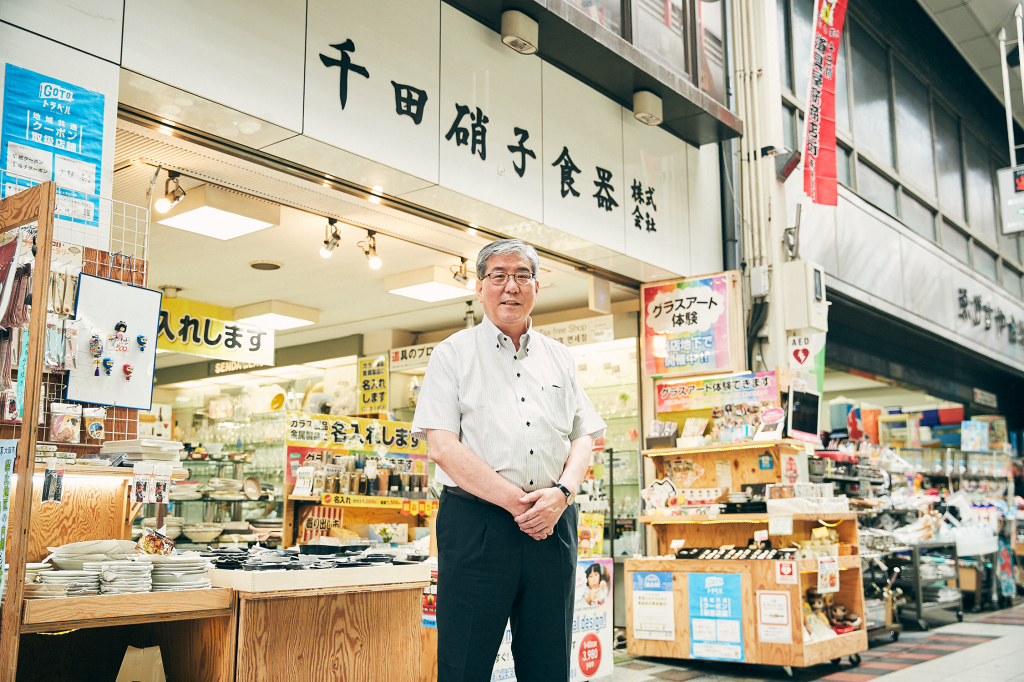 Profile
Mr Senda has worked on Sennichimae Doguyasuji Shopping Street for more than 40 years. He is a second-generation owner of Senda-glass Tableware Co Ltd, and holds a number of key positions in the local community, bringing the people behind this shopping street together. His aim is to "build the community, build the people, and build the products".