Community, gratitude and the beauty of the 'busybody' in Osaka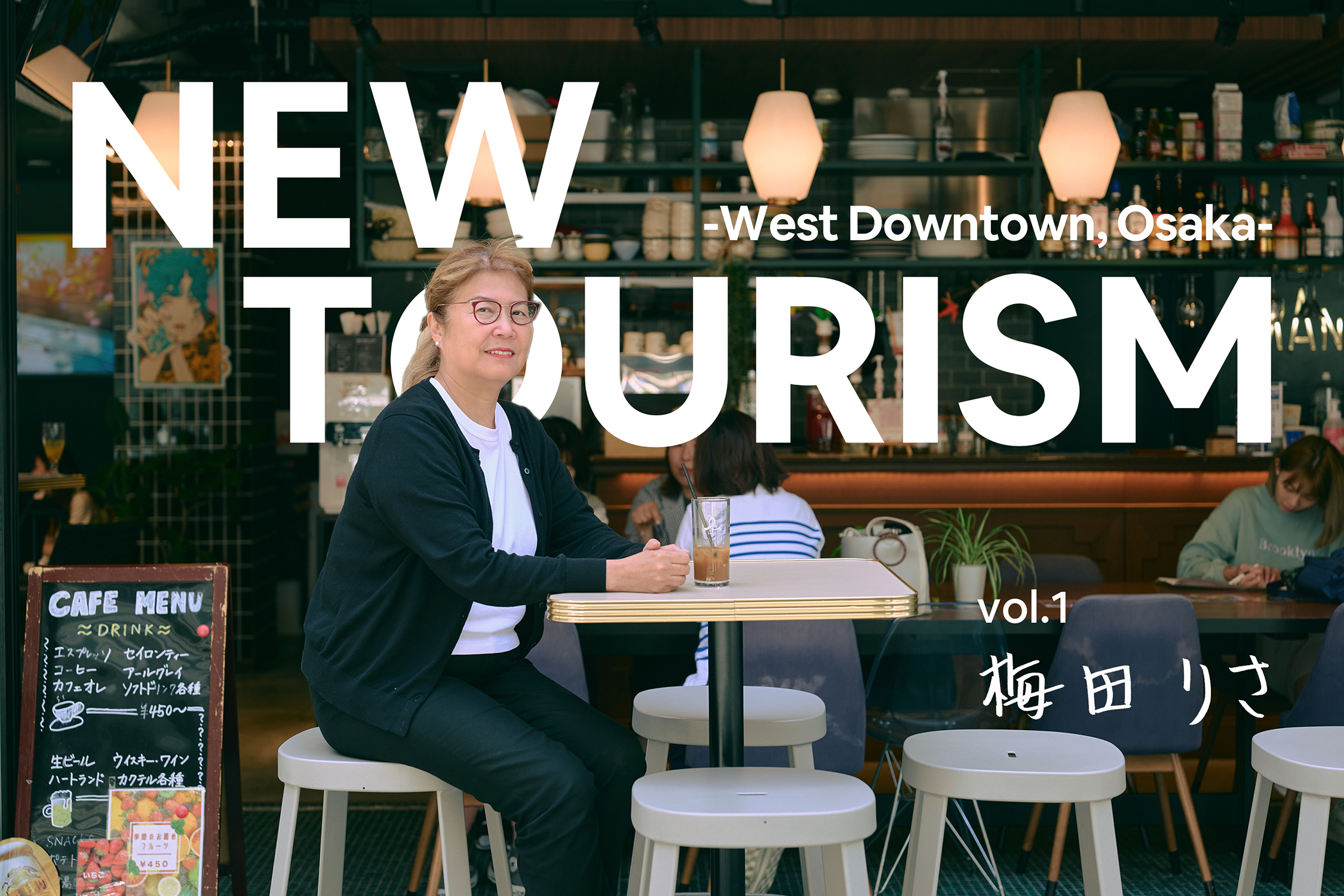 Risa Umeda/President of the Horie Association, Representative of IMANO OSAKA SHINSAIBASHI HOSTEL
On any given day you'll find a steady stream of international guests mingling with the local regulars at College Horie, an open-air café, located on the first floor of Imano Osaka Shinsaibashi Hostel. This hostel opened its doors in 2019 and the café quickly became a welcoming hub for travelers, a kind of home from home. Many guests head down here to relax right after checking in, or drop by at the end of a long day of sightseeing.
It's a place where everyone is welcome. "Sometimes we have foreign guests staying at the hostel who enjoy preparing okonomiyaki here," says Risa Umeda, owner of the hostel and chairperson of the local Horie Association of shopkeepers. Umeda is an important figure in her local community, with many years of experience running projects aimed at bringing locals and visitors closer to the life of the city. As well as running the café and many events (we'll learn more about those later), she is also an active Airbnb Host.
We spent time with Umeda to learn more about what she does and why she does it. It quickly became clear that her work is much more to her than just a business, that everything she does is driven by a need to give back to the people around her, and a belief in the importance and power of community. In reading her story, you'll also learn just what we mean when we talk (affectionately) about Osaka's 'busybody' culture!
An adopted local breathing new life into the Horie area
Umeda first arrived in Horie 27 years ago in difficult circumstances. She witnessed first-hand the unprecedented disaster of the Great Hanshin-Awaji Earthquake in her hometown, the port city Kobe, about 35 kilometers west of Osaka.
"My life was forever changed by the earthquake in Kobe," said Umeda. "As I witnessed the sight of collapsed houses, wailing disaster victims and the tragic state of the city I had grown so familiar with, I thought to myself: 'Have I ever properly shown my gratitude to those I encountered every day?'. That's why I began to realize that life is truly about engaging with others, helping each other, and expressing gratitude. These experiences serve as the motivating force behind everything I do."
After experiencing this devastating event, she moved to the Horie district of Osaka – known for its characterful alleyways filled with independent boutiques and cafés – and opened a shop there. That first store,a part florist and part café, prospered and slowly expanded over time, growing in size and in the range of products it offered.
Umeda was soon busy juggling growing work responsibilities with raising a small child, and was touched by the generous and full-hearted support she received from the people around her. As a gesture of her appreciation for the community, she organized an event called Horie Halloween, initially just for fun amongst a group of her closer friends, but the event soon enjoyed remarkable growth. From a modest start with just two stores in the second year, the event expanded to encompass 20 stores in the third year and then some 60 stores in its fourth year. In no time, it became a well-known tradition in the area.
Much later, in 2015, Umeda established the Horie Association, made up of a group of independent stores in Horie. The aim was to expand beyond the annual Horie Halloween event and to organize community initiatives on a more regular basis, such as a monthly group clean-up of the local park. By holding regular meetups like this, they began to learn in real time about how they could meaningfully contribute to their community.
"That's why I began to realize that life is truly about engaging with others, helping each other, and expressing gratitude. These experiences serve as the motivating force behind everything I do."
The Horie Association went on to team up with America-Mura, a neighborhood nearby, to hold the Ame-Hori Bar Event, before launching a large-scale festive event known as Santa Bar. The idea was simple: customers were asked to purchase a wristband and present it at participating restaurants to enjoy exclusive deals and services. It became one of Japan's largest charity bar events, bringing the spirit of the festive season to the entire city of Osaka; a portion of the purchase price for the wristband was donated towards children's cafeterias and gifts to support children battling illnesses.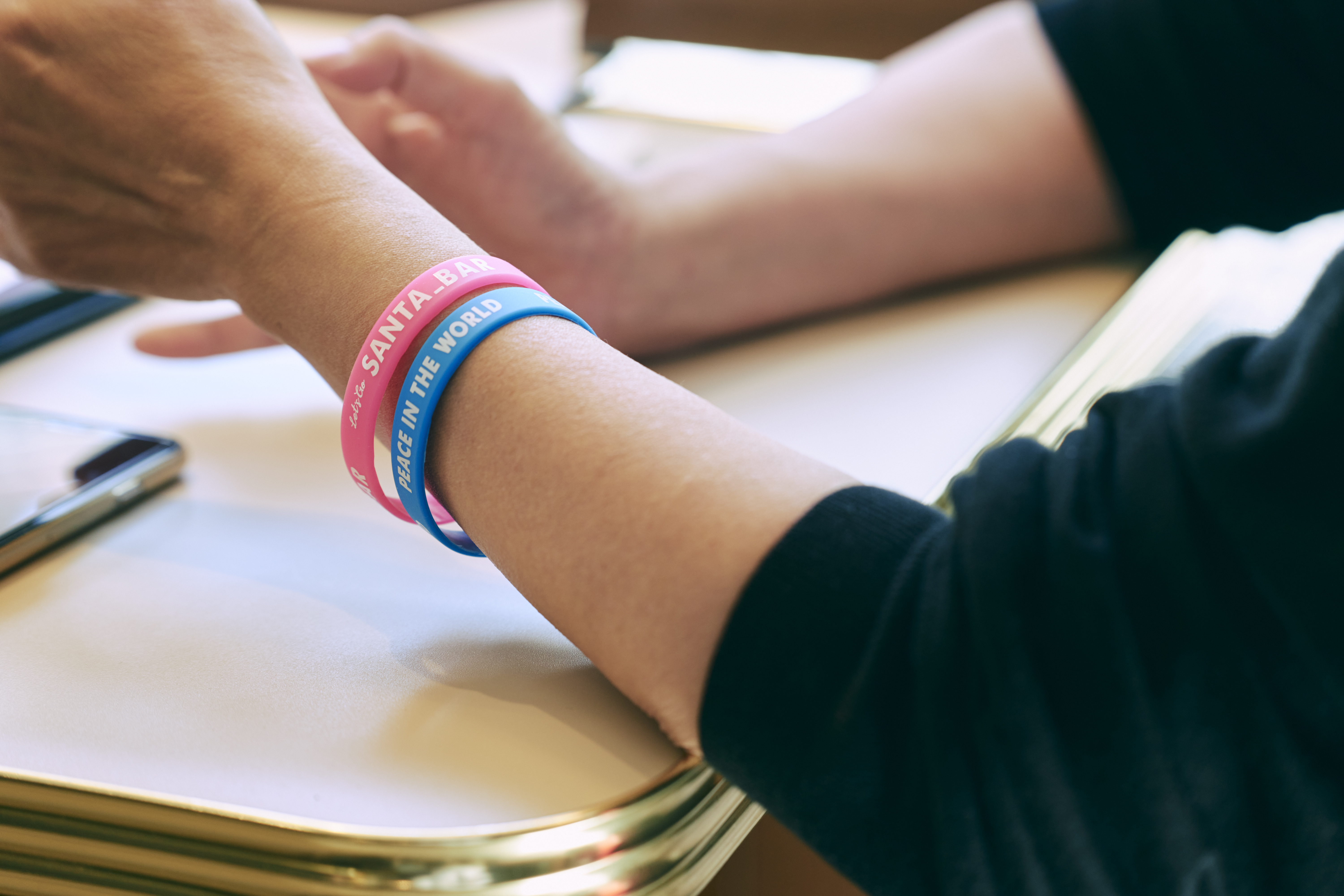 In all she does, Umeda is driven by a desire to make Horie, a vibrant neighborhood that attracts a diverse and youthful crowd, a place where people can connect. This passion is embodied in her hostel and café.
A hub for international and cross-generational connection
"I opened College Horie in 2021," Umeda explains. "As the COVID-19 pandemic unfolded, students were feeling displaced. I realized that there was a pressing need for a place where they could feel they belonged, akin to a university campus – where individuals could gather informally, share their dreams, and forge meaningful connections."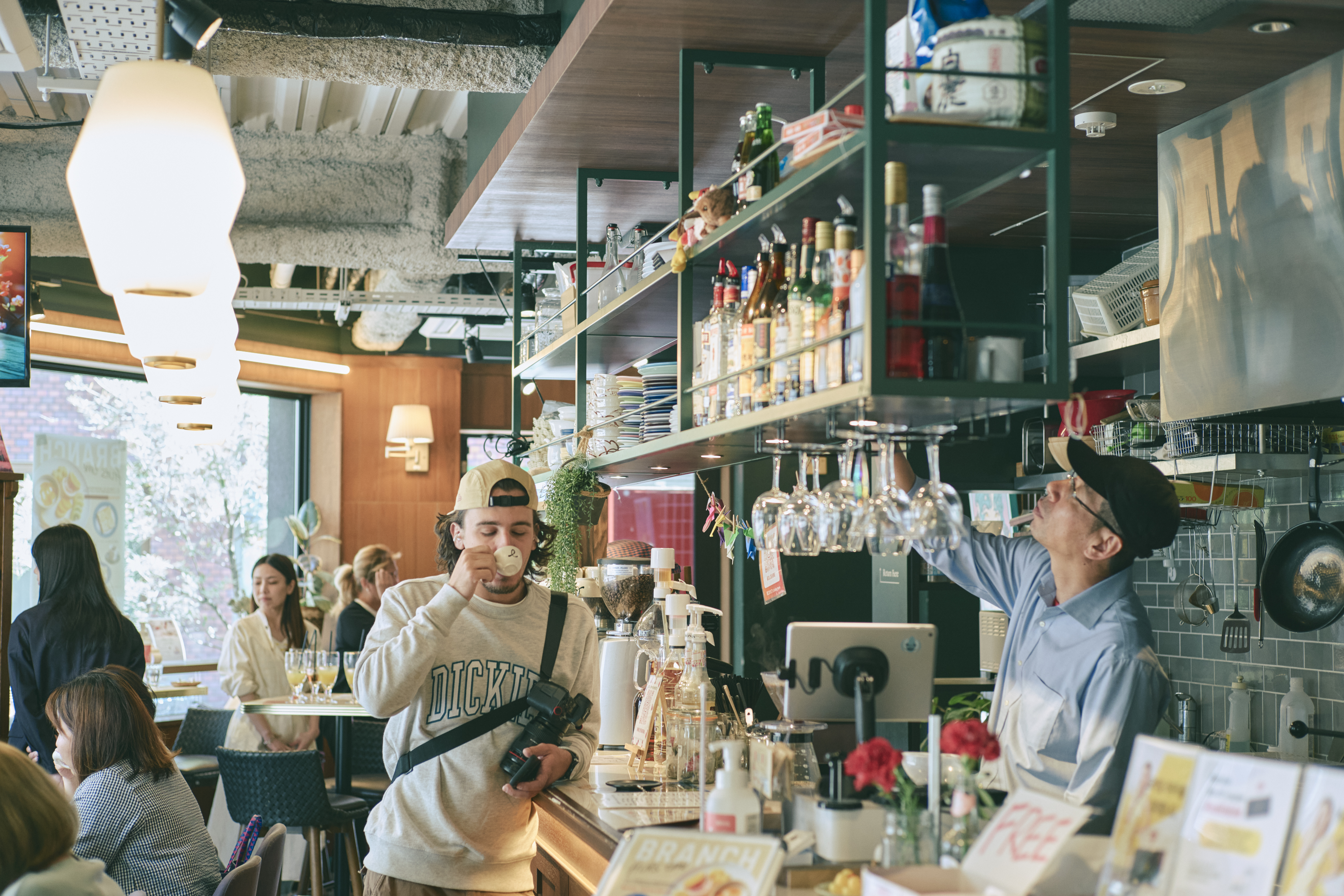 Alongside her work in the local neighborhood, Umeda also sits as the vice president of the Osaka Akaru Club, an organization dedicated to uplifting and revitalizing Osaka as a whole. She previously held the position of committee chair in its student section and the motivation behind the opening of the caé was to establish a space where the younger generation could interact in-person, fostering genuine face-to-face communication rather than relying solely on social media.
One of the café's most unique features is its 'Awareness Library,' a bookshelf without books. "What we have instead of books are the stories of young people that embody their passions. If you are interested and want to know more about someone, you can contact them; this is where all kinds of people get connected."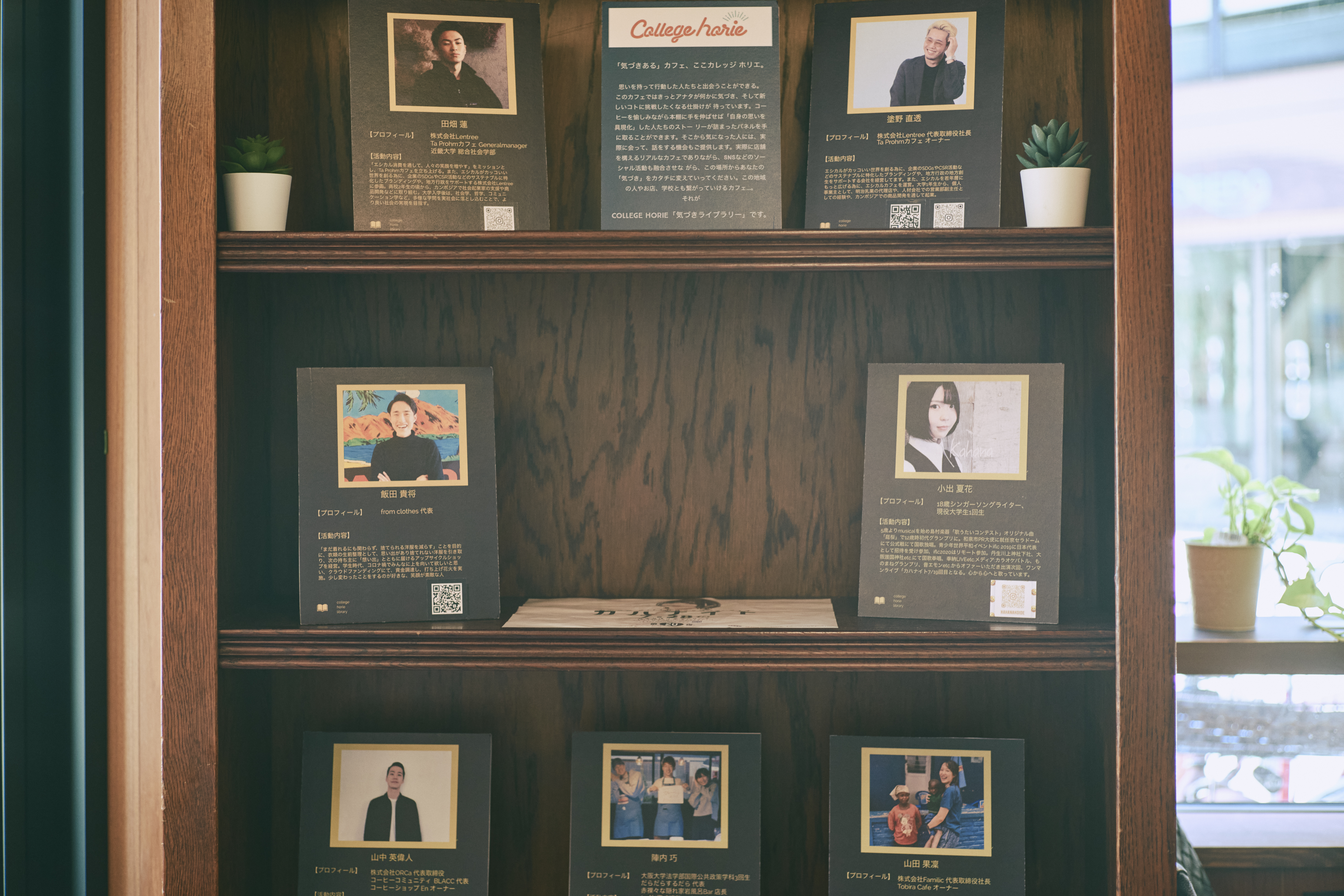 Browsing through the bookshelves, you'll come across the stories of people who are developing social enterprises, focusing on issues such as the eradication of poverty, as well as young people reinvigorating their communities with new food addresses and innovative cultural products. It also serves as a space where café customers can engage with dedicated student entrepreneurs, offering an opportunity to glean valuable insights.
Students are also responsible for the management of the café itself, including the development of the food and drink offering. The store manager is Mexican and is loved by customers, who refer to him affectionately as "Kuro-chan."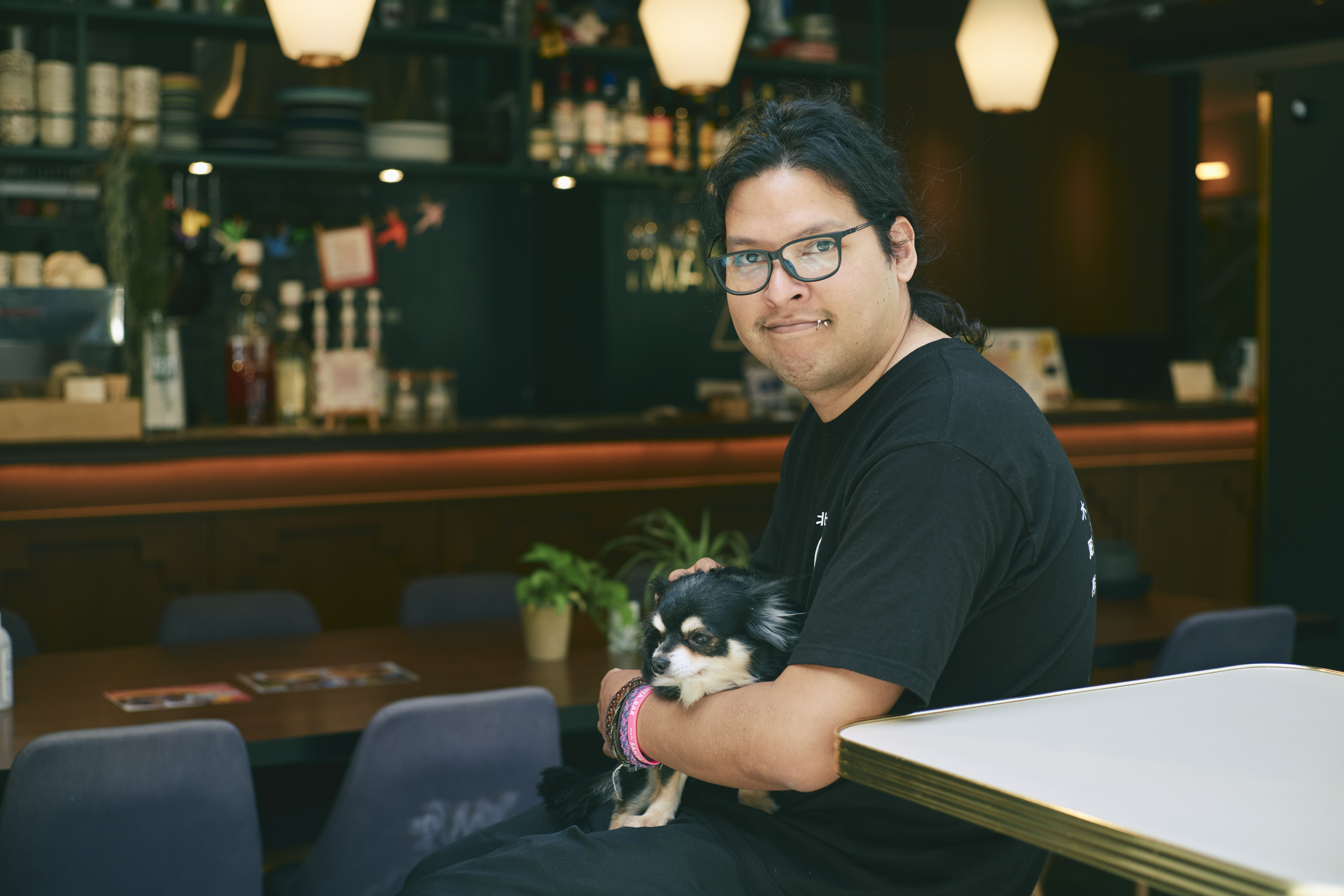 "I saw how the expressions on the faces of the young Japanese students who came to the café gradually brightened up as Kuro-chan warmly greeted them in Japanese – 'Hi!', 'Where have you been?'. I was surprised to see how cultural differences can help bring out a person's personality."
She believes that the value resulting from human interaction beyond nationality and age is the essence of tourism.
Spreading the 'light' of tourism
Umeda has a beautiful way of looking at language. "You know how 'tourism' consists of two kanji characters '観 (to see)' and '光 (light)' in Japanese? I think the sparkling 'light' in the word represents connecting with local people and learning about the community," she told us. "I hope that inbound guests staying at our hostel will not just go shopping at larger stores, but that they will also get a sense of Japanese culture and bring it back to their home countries."
True to her word, Umeda seems to be giving guests from abroad an unforgettable experience, including her okonomiyaki cooking demonstrations. We watched as she received warm applause each time the okonomiyaki was skillfully flipped. She goes out of her way to make people feel welcome – she might say to a guest who ordered only a drink, "I'm giving you three takoyaki with that!". Or during the summer season, you might find her casually inviting the guests to the local Bon Odori traditional dance festival.
Another day at the café, she found an inbound guest sitting in front of a whole cake that they had bought at a famous confectionery store with only a straw in their hand to attempt to eat it. "Wait a minute!" she called out, hurriedly handing them a knife and fork. "I must have been staring at the cake too much (I'd seen it very often on Instagram), because they kindly asked me if I wanted some!", she laughed. Her face lights up when she shares these charming stories and details.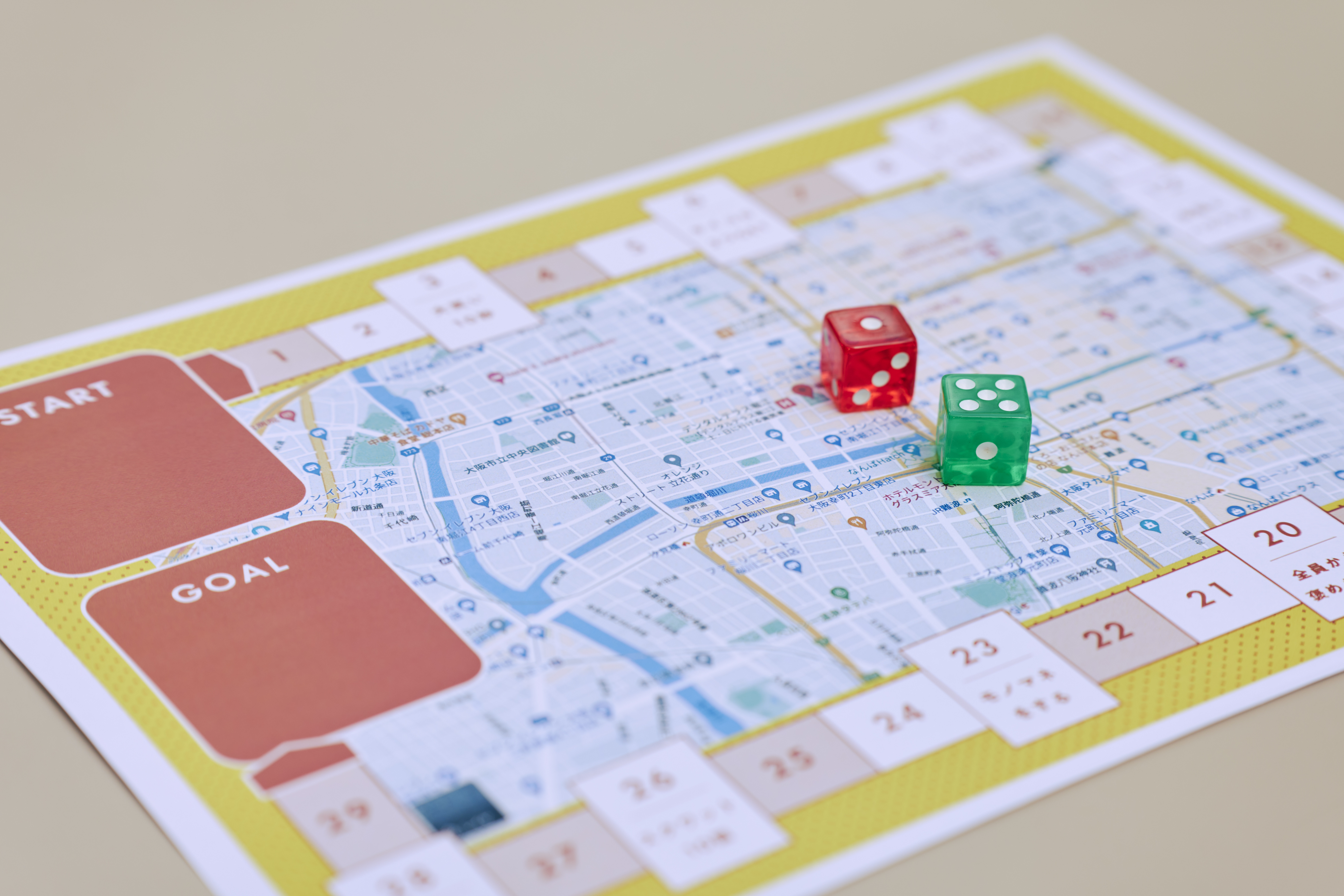 As an Airbnb listing, the hostel offers a wide variety of rooms to suit different kinds of guests, including women-only dormitories, group rooms, spacious triple rooms, and even dog-friendly rooms. Travelers seem to feel as at home here as they do in the café.
The secrets of "busybody" culture
The owner says she can't help but tend to her guests' needs. She herself professes to have a "busybody" personality, wanting to please in any way she can.
"Osaka has a busybody culture. There is a distinctive way of greeting in Osaka, a city that's unusual because it developed mainly through private capital from merchants and citizens, unlike many cities in Japan," Umeda tells us. "People often ask, 'Are you making a profit?'' because they wish wealth and prosperity for the person they're speaking with.
When I first came here from my hometown Kobe, I was surprised by the direct nature of Osaka people, but now I am the one who asks questions like, 'Are you okay with the high rent in Horie?'", she laughs, explaining the good intentions behind the could-be nosy questions. "I want you to succeed, and I want you to do your best," she explains. "Osaka's busybody culture is an expression of the feeling of: 'Is there anything I can do to help?'".
Expo Bar and looking to the future
Umeda has learned first-hand from hosting that community can transcend nationalities and now she wishes to expand the reach of her events further, beyond the borders of Japan.
"The Santa Bar charity event was held mainly to benefit children in the Kansai region, but with the coming Expo 2025 Osaka event in mind, I would like to expand the scope of the charity piece to children around the world, to bring happiness to them too," she told us enthusiastically. In 2022, proceeds from the Santa Bar event also went towards supporting children in Ukraine.
"Anyone can enjoy the event, as long as they know the rule of presenting their wristbands. The memory of being able to participate in such a charity event while traveling should be a memorable form of sightseeing that is different from ordinary trips to Osaka," Umeda told us. "Even if you don't speak Japanese, there's no need to worry – there's no shortage of busybody stores!", she added laughing.
This is what she means when she talks about the 'light' of tourism. For her, there is something very special about offering visitors the chance to connect with people, engage in community activities, and carry those cherished memories back with them (along with their wristband as a souvenir!). She hopes that her guests will carry these memories with them for their whole lives.
"It's important to keep the event going, that it's not just a one-off, like a fireworks display. Horie is an area with many people living in it and we also want to make the relationship work between those who live here, those who do business here and those who visit" our host explains. "It has to be a three-way satisfaction, for me, for them, and for the community."
As we ended our time together I asked Umeda one last question: what kind of place would she like to see Horie become? Her face lit up with excitement and obvious love for her community.
"There are many people who have lived here for a long time, but Horie is not at all old-fashioned. I think Horie is constantly changing to meet the needs of the times and of the inhabitants," she said. "It's actually unusual to find an area with so many children. This place is fun, trendy, and impeccably clean! I want to make Horie a representative town of Osaka."
We think she's already well on her way.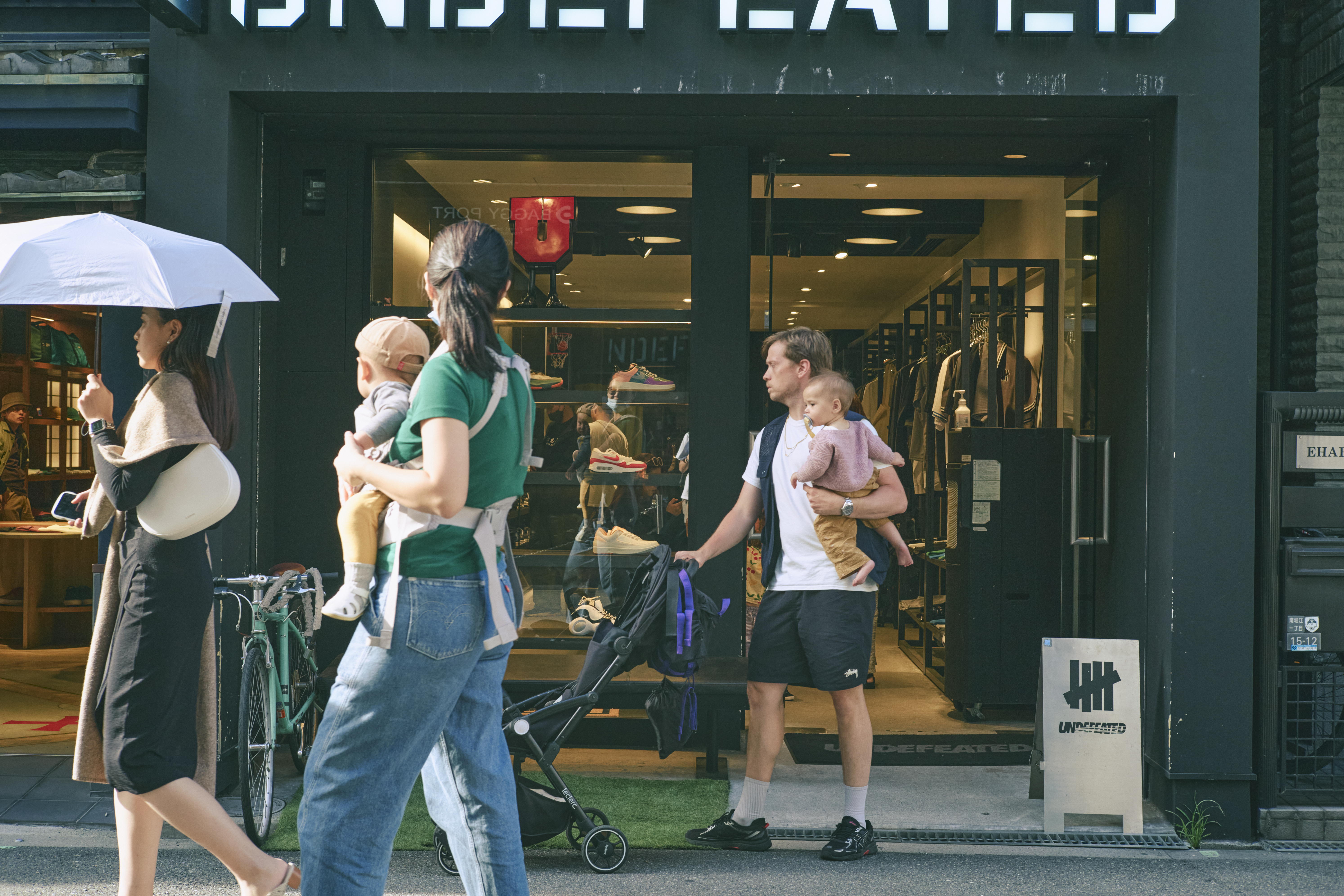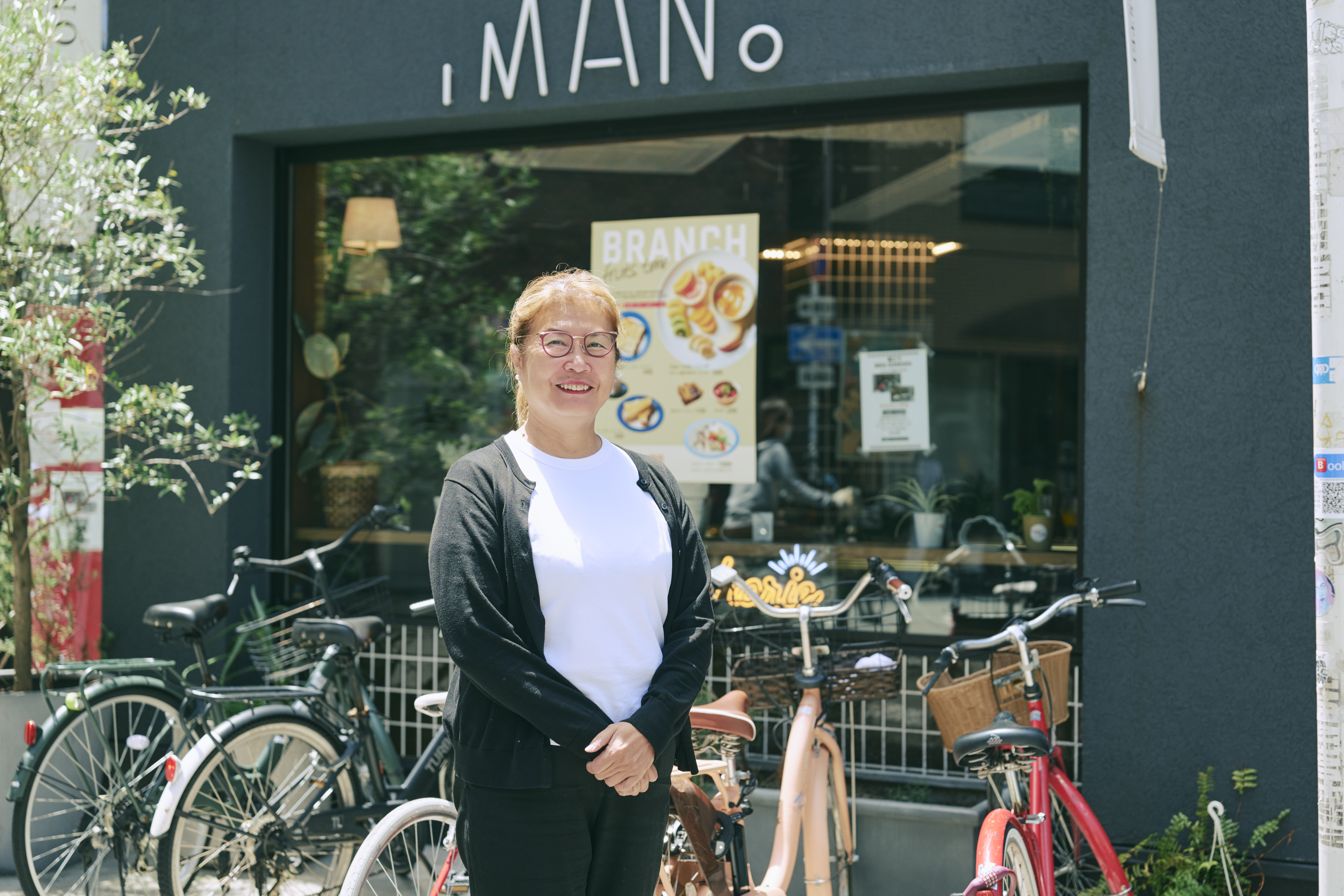 About Risa Umeda
Born in Kobe. In addition to managing numerous restaurants as the head of Machi Productions Inc., she is also involved in many famous Osaka events such as Horie Halloween, Santa Run, Santa Bar, and Osaka Aid, a project to support restaurants during the COVID-19 pandemic.