Namba, a town full of surprises brings the world an unconventional creation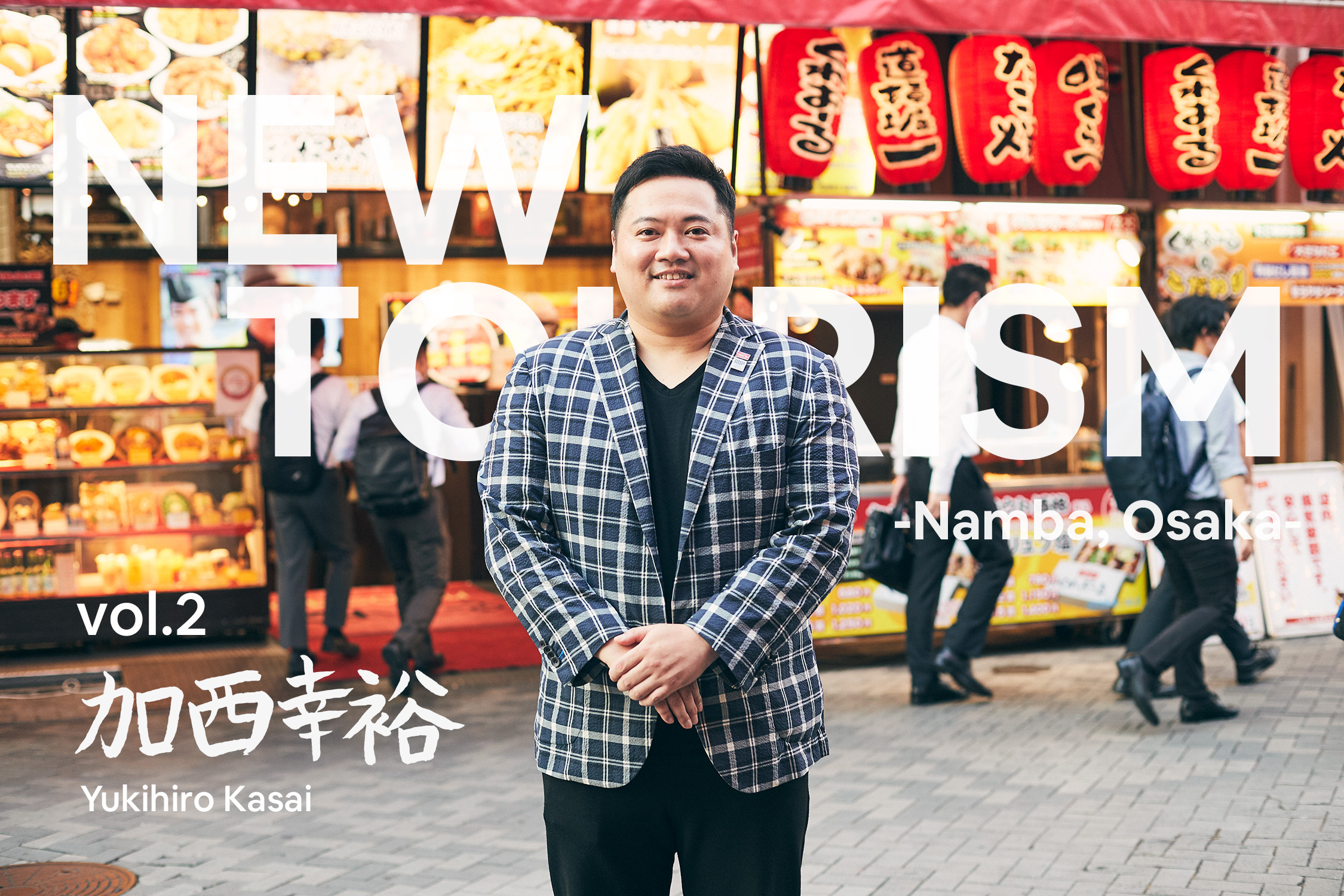 Yukihiro Kasai, President of CREO-RU Inc.
One of the specialties of Namba – known as the district of "kuidaore," meaning "where you eat until you drop" – is its flour-based dishes called "konamono". Nestled among the numerous eateries including takoyaki (savory ball-shaped cakes containing chopped octopus, made from wheat flour based batter cooked on a specially shaped griddle) restaurants, one of the most popular is CREO-RU. It all started when Kasai, the representative director, was 18 years old.
"One day when I was just a high school student, my mom turned to me and said, 'We'll open a takoyaki restaurant! The only response was 'yes' or 'YES'!"
"Really, I wasn't against the idea", Kasai adds with a smile. He is expected to be a key person supporting the "present" and "future" of Namba from a food industry perspective.
What are his thoughts on community development? What actions are needed now to introduce Namba to the world? We delved further into Kasai's true thoughts.
New "konamono" for the "era of choice"
The name "CREO-RU" comes from the Latin for "creation". As the name suggests, from branding to menu development, Kasai has not shied away from new challenges.
The recently launched "CREO-RU Healthy" is a brand of low-carb, flour-based products. It all started when he received feedback from diabetic customers.
"Diabetics have to restrict their diet and can't eat flour-based dishes. This doesn't just impact the individuals themselves but also their families who can't enjoy this food together."
Given this idea, Kasai started developing low carbs menu so that the entire family with a diabetic member can eat "konamono". "Cutting down on carbohydrate content half-heartedly is meaningless, and people won't order it," he said, adding that he has been making prototypes using soy and bean curd lees for about a year. He succeeded in developing okonomiyaki and negiyaki with 80% less carbohydrate and a sauce with 78% less carbohydrate.
"There is a great potential ahead for low carbs and health-conscious menus at a time when the number of diabetics is increasing worldwide and people are more concerned about their health", says Kasai.
"I believe that an era of choice is coming when it comes to food. In fact, more and more people are choosing to go gluten-free these days. There are many people overseas who disagree with wheat flour."
Keeping up with the times, CREO-RU began developing menus using rice flour instead of wheat flour. Kasai is also trying to develop a production method using drones and robots so the company can do their own farming and is aiming to realize a system that can efficiently grow cabbage, onions, and other vegetables 24 hours a day.
"In the future, it would be great if we could standardize our own-made rice flour product as the signature menu of CREO-RU. I believe that the selling price will be more stable if made with rice flour than with wheat flour, which tends to rely on imports.."
From the voices of everyday customers to the needs of the global guests. The way CREO-RU listens to their customers and pursues the best solutions may well be the reason it continues to be loved.
Finding a way forward after days of sleepless nights
Kasai's "creation" which started with flour-based food, has now grown considerably. One such example is organizing the "Society for Osaka as a world's hub city of food SDGs" which is active in all areas concerning food. He tells us the idea for the society came from seeing how people were disappearing from Dotonbori after the pandemic.
"There was no precedent, so we didn't know how to handle it. I was so worried I couldn't sleep for months on end. In the midst of all this, I felt we had to seriously consider our purpose and pay more attention to society at large and the surrounding environment."
What can we do for Namba and for the days when foreign tourists return? Collaborating with his colleagues, Kasai is working on a multifaceted approach, including entry into the "Osaka Expo's Co-Creation Challenges" (an initiative that calls for activities that are taking action toward the future to realize the theme of the Osaka/Kansai Expo, which is about "Designing the future society for fruitful lives"), using biodegradable containers and solving food waste issues. And in 2022, the company received the "SDGs Promotion Best Company Awards" in recognition of its numerous future-oriented management initiatives. He says he is now planning to organize an "SDGs Festival".
"I want the "SDGs Festival" to be a garbage-free event. We could use edible tableware, or offer a 100-yen discount to customers who bring their own chopsticks. We could also introduce a method of purifying the Dotonbori river using waste of lime from the disposable pocket warmers."
Kasai went on to talk about the food waste issue.
"Osaka was known as a 'Nation's Kitchen', where food and ingredients from all over Japan were gathered, selected and sent to various regions. We would like to address the food waste issue following this cultural context, branded as 'Nation's Kitchen of today'. It would be great if we could gather ingredients that would otherwise be thrown away and turn them into delicious dishes."
The event will be held in Namba, not only for fun but also for the environment. Kasai's ideas could spread throughout the world as a model case for future-oriented community development.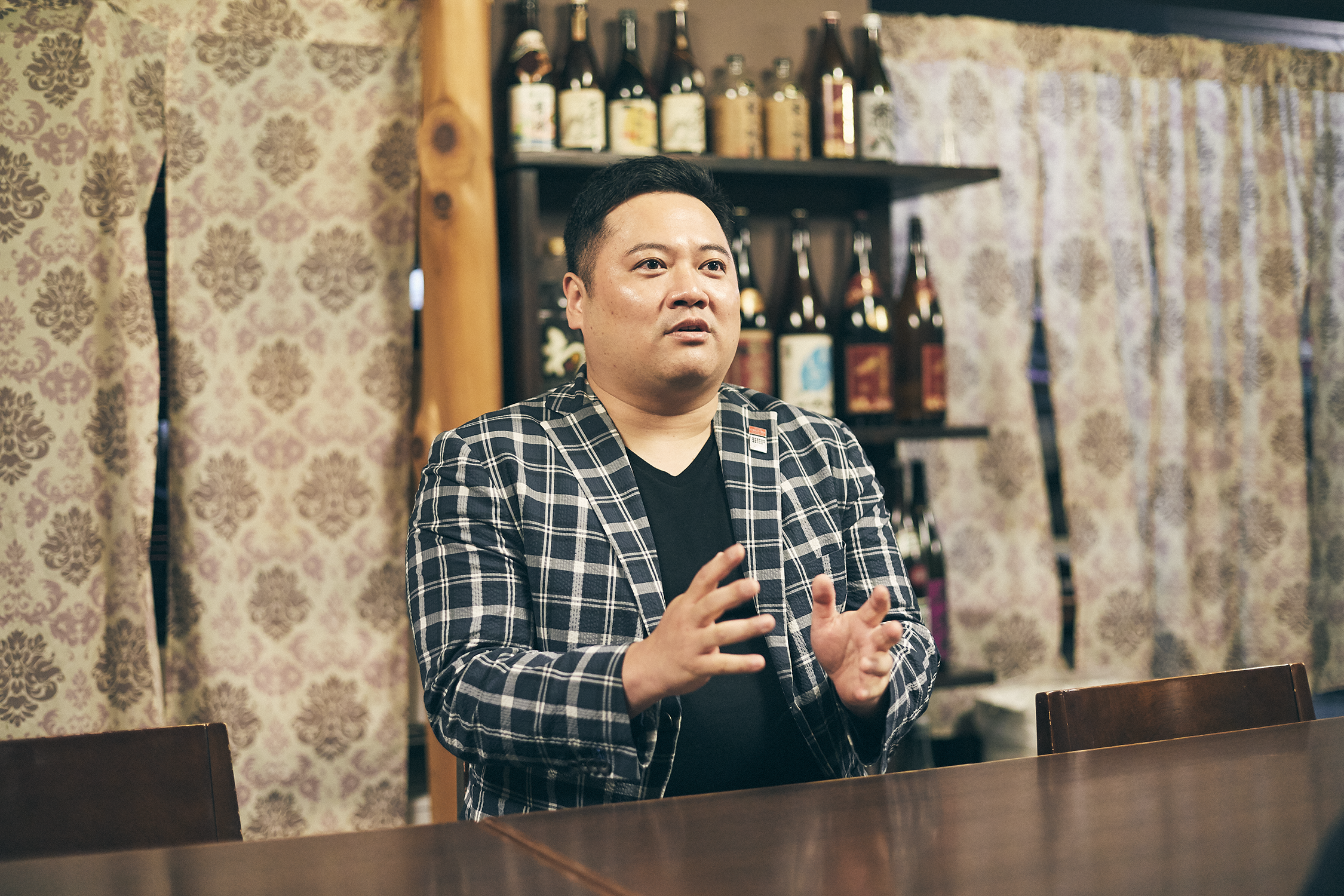 As a leading presence in the food industry, we aim to bring the 'tipping' custom to Japan
Kasai is also actively involved in post-pandemic initiatives.
Believing in the future return of foreign tourists, the company also decided to start a tipping system, which is still not popular in Japan.
Using a service called OTENTO, which visualizes how much tips are collected at any given restaurant in the country, Kasai predicts that "a restaurant in Dotonbori, which often attracts 1,500 customers a day, would probably be among the top three in the country". If this initiative can attract general attention, the number of visitors to restaurants in Dotonbori will increase, and it could potentially break out of the difficult business situation the pandemic has brought.
"It will motivate the staffs and raise the level of customer service. I think it's a great system that can enhance not only the value of my restaurant but also the restaurant industry as a whole."
We also asked about his future prospects.
"I want to do something to increase the number of people who want to work in the food and beverage industry. The introduction of a tipping system is one such example. It will help companies who are unable to increase their staff's salary, and if the pay is better, that will also help with the labor shortage."
Kasai's positive approach to the future will energize the food and beverage industry and Namba in the wake of the pandemic.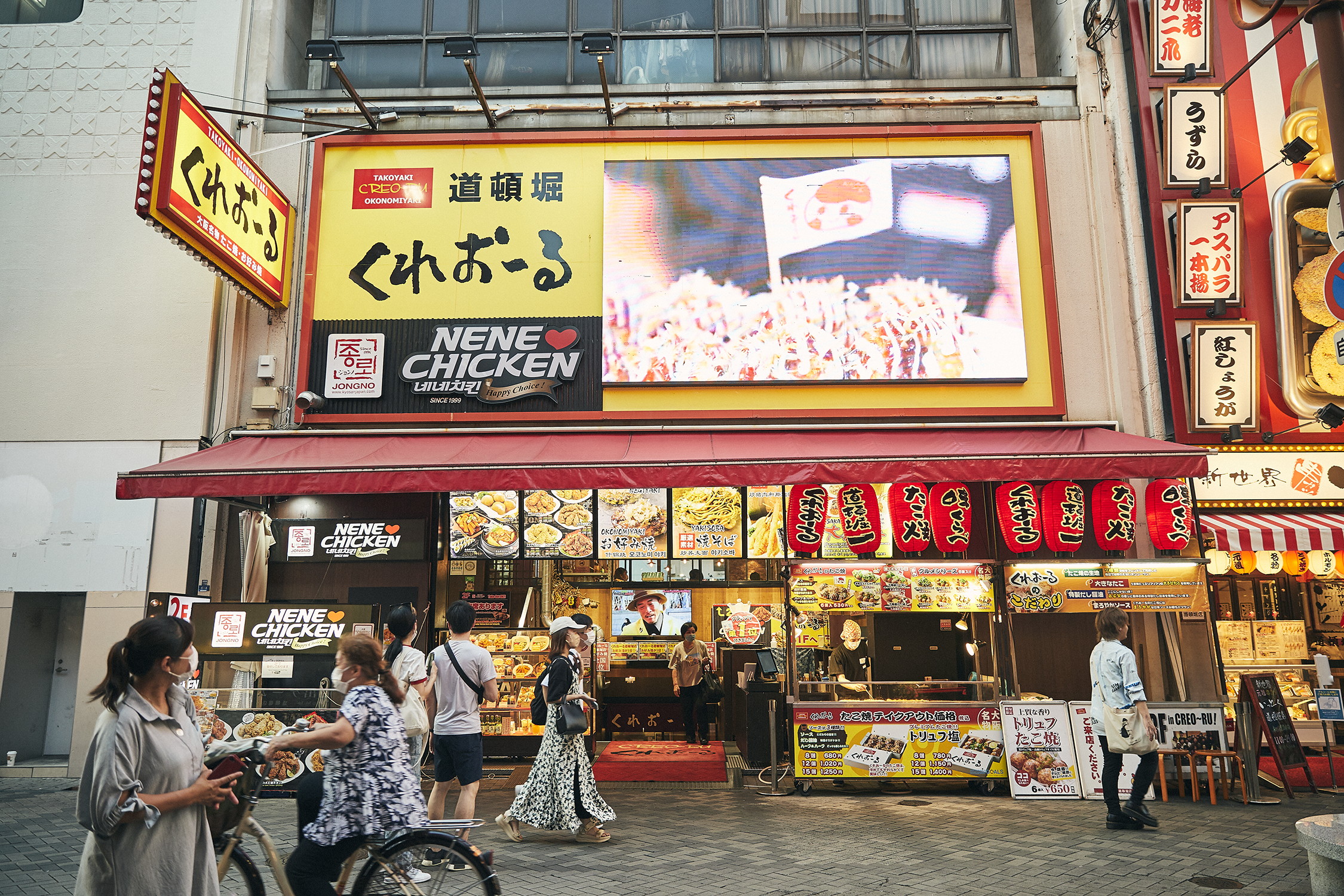 Turning Namba into the "world's number one hub"
Namba is a district with a particularly strong presence in the Osaka area, where Kansai International Airport is located and people from all stages of life come and go. We asked Kasai about the charms of Namba and his ambition to make it the "world's number one hub".
"You can see beautiful buildings anywhere. But what other city has crabs, octopus and cows hanging in the air? The joy of sightseeing is not just the scheduled encounters, but also the unexpected discoveries. It is precisely because it is a wondrous city full of surprises that I have always wondered, "What next?" There are many exciting hidden spots to be found here. I think that's what's so great about Namba."
To make this unique charm shine even brighter, Kasai continues, "I want to focus on community development where people consider the environment issues as a matter of course".
"Namba is a symbol of Osaka. It gets a lot of coverage on TV so we have to make sure we create positive contents. It would be great if we could tackle the environment issue as our personal matter, with the aim of making Namba a city we can be proud of to the world."
What should the next actions be to bring out the best in Namba? Kasai thinks about this on a daily basis, while also maintaining an objective perspective.
400 years of history is all down to the passion of the people of Namba
"My business which had been doing well with inbound tourism changed dramatically with the COVID-19 pandemic. You might be surprised but I had to borrow about 500 million yen."
Running a business in a tourist area was difficult. Although he had heard about it in the news, the extent was far beyond his imagination. However, Kasai was undeterred and looked to the future.
"I want to leave a legacy of how we overcame our difficulties."
"A sense of insecurity is the driving force," Kasai tells us during the interview. That's probably why he has been able to face adversity again and again and continue to work harder than others for the community and the industry.
He also told us that behind his passion for Namba is his gratitude to the older generation.
"CREO-RU's success is down to Namba. Dotonbori area has survived for 400 years thanks to people who sincerely love this area and have been diligently active in it. I believe that if we want our business to prosper, we have to contribute to the community and the industry."
Then, with a dependable look on his face, he continues.
"We believe that guests from all over the world will return soon, and we have been preparing together for that. Please come to our even stronger Namba with even higher expectations!"
Kasai keeps going day after day with extraordinary determination. Imagining a bright future, he looks forward to meeting you all.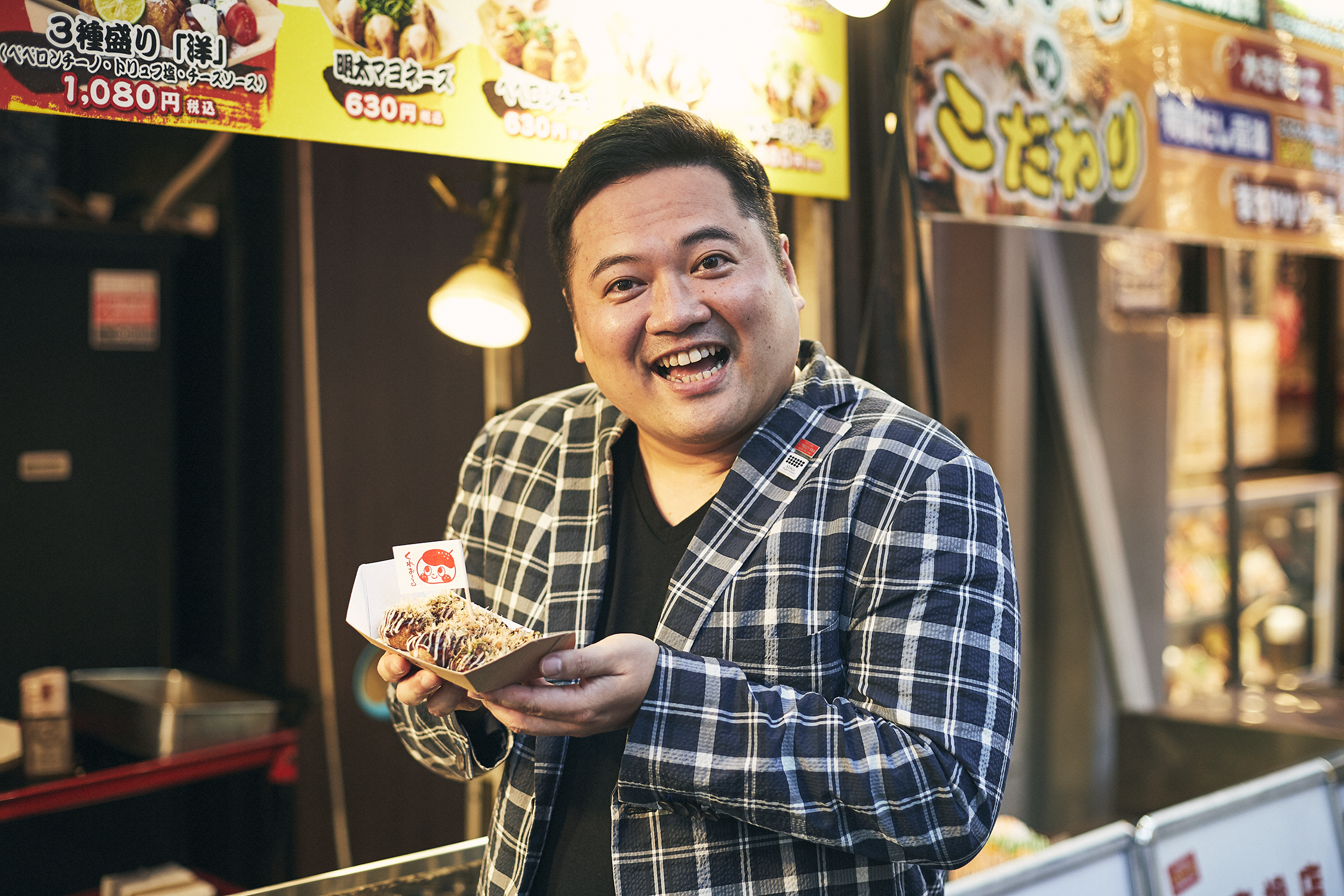 Profile
At the age of 18, he launched "CREO-RU", a takoyaki restaurant with his mother. Starting from a small house in Higashi-Yodogawa Ward, "CREO-RU" is now a popular restaurant with branches in Kyobashi, Dotonbori and Tokyo. He is also active in food diversity and SDGs initiatives from a food perspective to promote Namba worldwide.