Airbnb Explores the Future of Travel across APEC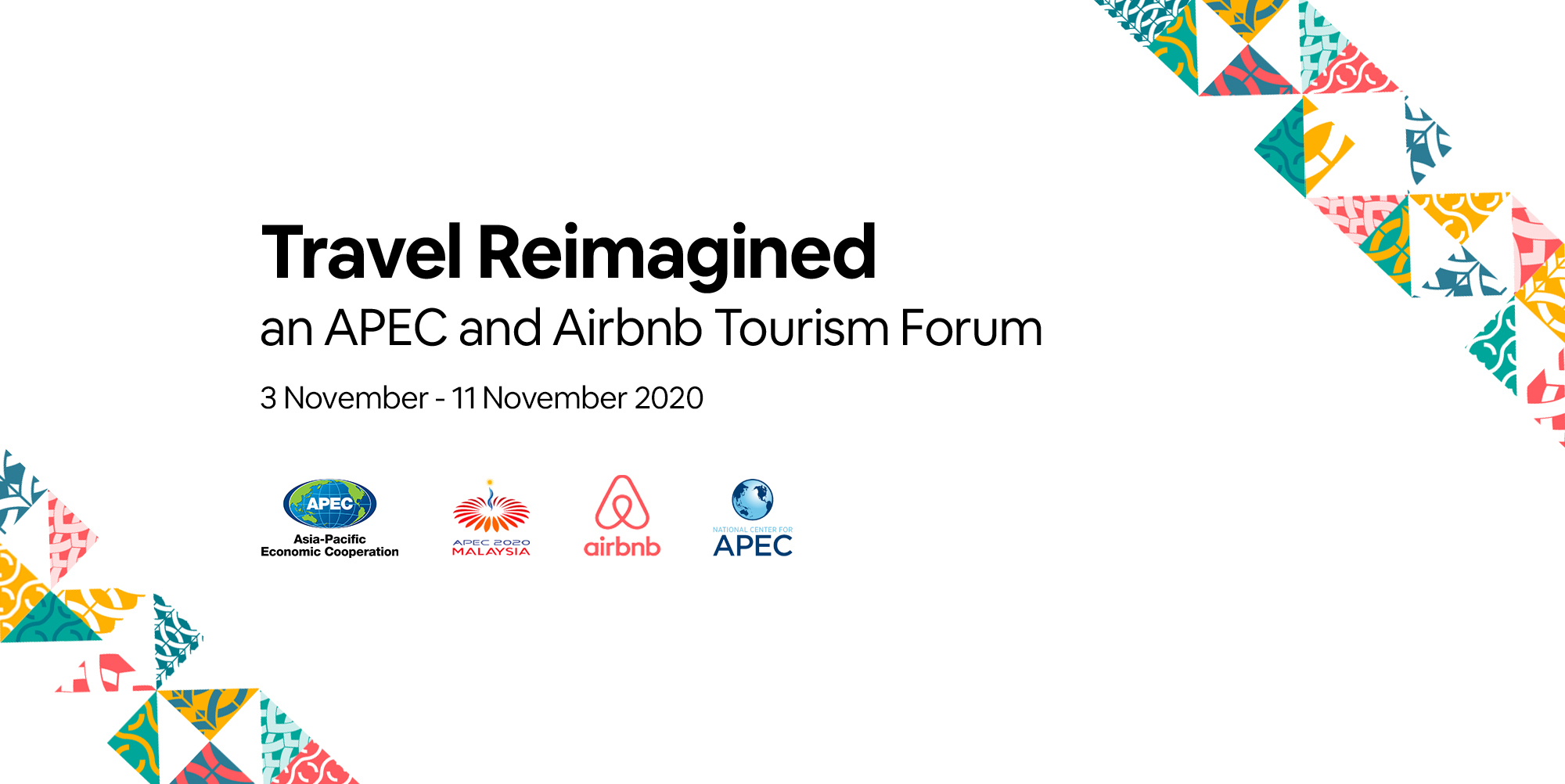 Trends redefining travel discussed at Travel Reimagined: An Airbnb and APEC Tourism Forum held in conjunction with the APEC 2020 Tourism Ministerial
Policymakers, business leaders and industry experts across various economies within the Asia-Pacific Economic Cooperation (APEC) convened recently at the Travel Reimagined: an Airbnb and APEC Forum, a series of virtual panel discussions held on 3, 6 and 11 November.
Jointly organised by the APEC Tourism Working Group and the National Centre for APEC (NCAPEC) and Airbnb, the forum discussed topics surrounding the future of tourism and tourism recovery across APEC economies.
Reopening Travel in APEC
The inaugural session of the Forum discussed the need to facilitate the reopening of borders and explored innovative ideas, such as green lanes and remote work visas, to enable a vibrant and competitive APEC tourism industry of the future. The discussions also focused on identifying key milestones that APEC economies are looking to as a signal to reopen their borders and key initiatives to restore traveller confidence.
During this session, Airbnb also highlighted how 2020 has seen significant changes in how people want to work, travel and live anywhere, spurred by new remote working lifestyles necessitated by the pandemic. Airbnb also released new data from a recent survey highlighting these trends:
Remote working is on the rise, with 40% of Malaysians currently adopting this new lifestyle, and 21% seeking to work remotely in the future
The prospect of a work-cation is highly popular in Malaysia as 78% are interested in living and working from somewhere other than home for an extended period, citing a change of scenery as the most appealing aspect of this nomadic lifestyle, along with the opportunity to reinvigorate their work life
73% of Malaysians, 74% of Koreans, 84% of Australians and 72% of Thais are looking forward to travelling within their country, showing an upward trend in living and working from anywhere across the region
Additional data also show that main searches for Airbnb amenities include WiFi connectivity and pet-friendly homes, further supporting the trend of people are looking to combine working and travelling
"We are seeing profound shifts in the way we live and work, and believe many of these changes will remain long after the pandemic. As this evolves, we will continue to develop ways to best support our communities by supporting healthy and sustainable travel, in partnership with local governments," said Chris Lehane, Senior Vice President, Global Policy and Communications, Airbnb. There is now a need to create a healthy, sustainable form of travel that all of us within the industry have a responsibility to think about in a post-COVID world."
Reimagining Destinations: Balancing Survival and Sustainability
The Forum's second session further discussed how travel restrictions have undoubtedly affected the hospitality and tourism sectors, and how a concerted effort in searching for a sustainable solution needs to take place across the world. The recovery of these industries is contingent on investment, maintenance, and sustainability training through the collaboration of public and private sectors, and the tourism industry can become a key player in contributing to the economy for positive change.
"We need to look at tourism as a key economic driver. We need to look at the future and consider sustainable developments, by using the tourism industry as a mechanism for positive change locally. It can be part of an ecosystem that works with the local government and the indigenous people, for example, and start imagining the finishing line as we develop solutions to combat the pandemic. It is important we refocus and reimagine the role of the tourism industry and how it can benefit other sectors around it," said Dr Jutamas (Jan) Wisansing, Member, Strategic Team, Ministry of Tourism and Sports (Thailand).
Technology Driving Tourism Recovery and Shared Prosperity
The third and final session of the Forum explored how the growth of the digital economy has created new opportunities for communities especially in a post-pandemic environment, and how the travel industry can leverage this as they foster greater collaboration between private and public sectors across governments and nations to begin looking towards recovery. In many countries, Malaysia included, the digital economy has become a key driver necessary to sustain businesses especially in light of COVID-19.
"There's currently an accelerated need for digitalisation. It's something that was more challenging in the past, especially for traditional and small businesses, but many businesses have now taken the first step in that direction. The challenge now is to keep the momentum going, to help them optimize their business models by exploring digital marketing and manage their inventory better digitally, and overall to harness the recovery that comes along," said Yew Heng Lim, Regional Head of Public Affairs, Grab.
The Forum is jointly organised by the APEC Tourism Working Group, National Center for APEC (NCAPEC) and Airbnb. Chaired by Malaysia in 2020, followed by New Zealand and Thailand in 2021 and 2022, the APEC Tourism Working Group prioritized this forum in its Strategic Plan for 2020-2024 to promote digital transformation in the tourism sector especially during such crucial times.
For more information on the Forum as well as the full list of speakers, visit this website.