Discover Unique Heritage Homes and Experiences on Airbnb this Malaysia Day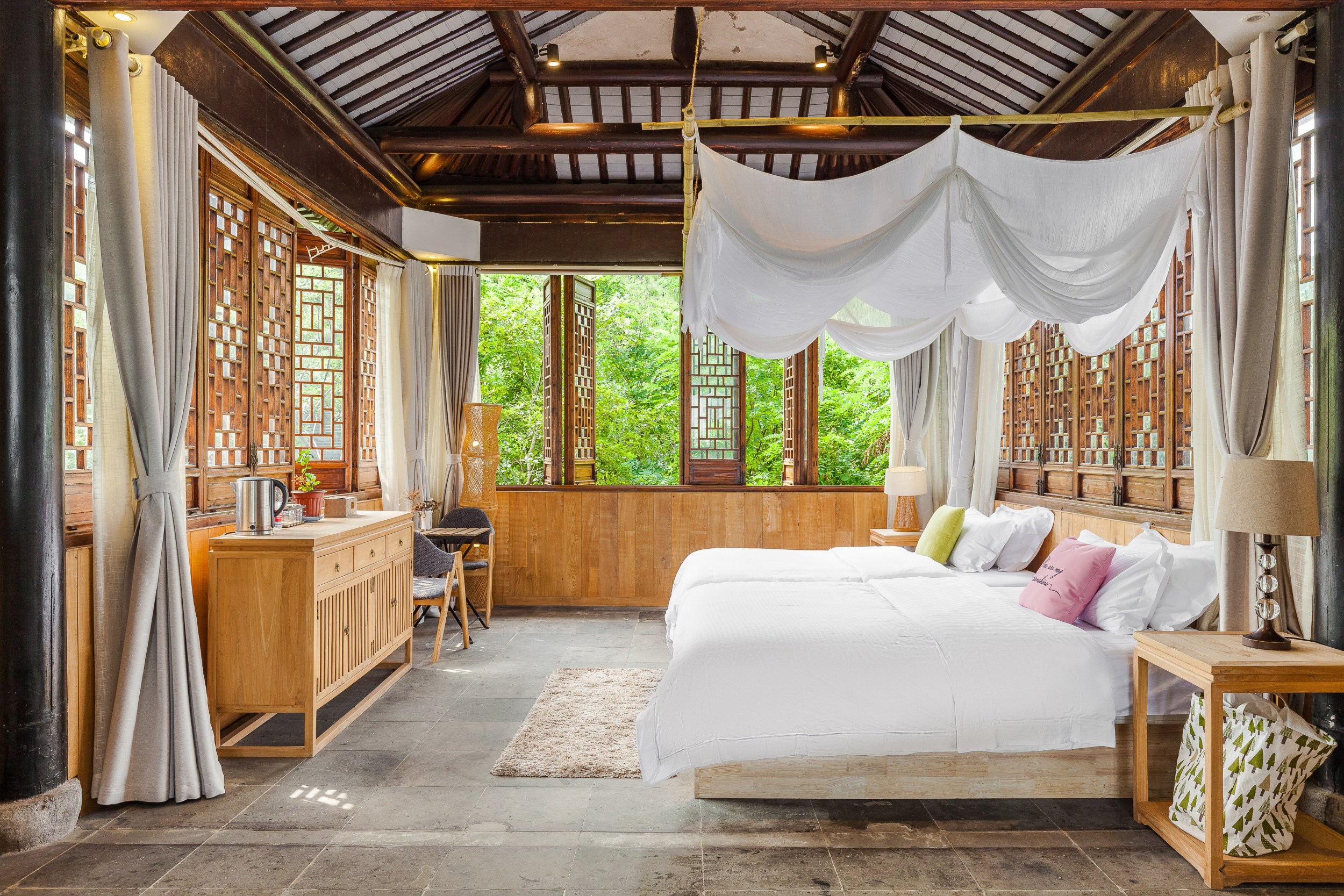 This upcoming Malaysia Day, get some inspiration for your next relaxing getaway as Airbnb unveils a diverse array of stunning homes that pay homage to Malaysia's multicultural heritage and history, as well as a number of fun Experiences that celebrate our nation's melting pot of cultures.
The Recovery Movement Control Order (RMCO) may have been extended until the end of the year, but there are still a wealth of destinations to explore and activities to enjoy across the country in the spirit of Cuti-Cuti Malaysia.
Homes on Airbnb
Steeped in history and adorned with modern skyscrapers, Penang is truly a cultural melting pot of tradition and modernity. Guests can stay in this refurbished heritage house that is protected by the UNESCO World Heritage Site and be mesmerised by its beauty and history.
2. 17BROGA – Long House, Semenyih, Selangor
Seeking a countryside getaway without wanting to travel too far away from the city? This house offers a glimpse into the traditional Chinese longhouses of old, considered a "rare" gem in Malaysia.
3. Niah Cave Longhouse, Niah, Sarawak
Blessed with surreal natural beauty, Sarawak is a true gem of a travel destination filled with many indigenous cultures and traditions. Make the most out of the stay in this authentic Iban longhouse and enjoy the traditional dance performance courtesy of the hosts if you get the chance!
4. Heritage Home, George Town, Penang
Keen to pamper yourself with a short getaway in Penang? Guests can stay in this beautifully renovated Penang shophouse, well-equipped with tastefully furnished with antiques and period furniture.
5. Classic Heritage Loft House in KL, Kuala Lumpur
A beautifully-appointed tribute to Malaysia's old wooden homes, this Classic Heritage Loft House gives guests the chance to experience living in a traditional-style house right in the heart of Kuala Lumpur City Centre.
Experiences on Airbnb
Guided by local experts, guests will learn how to make hand-woven Semai's accessories using the weaving technique, practice shooting using the traditional Semai hunting blowpipe, and swim in a nearby river, just like the locals do.
2. Experience Little India and Chinatown, Kuala Lumpur, Malaysia
Discover the city's intoxicating history and vibrant modern cultures on this guided KL walking tour. Hop on a tour to Chinatown that is also known as a bargain hunter's paradise and amble your way down to Little India to experience India's traditional culture and food.
3. History Walk Around George Town, George Town, Penang
Experience Penang from a different perspective with a guided walking tour and explore the central historic area of George Town as well as marvel at colonial buildings that come with tons of historical events on Penang island!
4. Batu Caves, Little India & More, Kuala Lumpur, Malaysia
Take part in this cultural tour and dive into this immersive journey to learn more about Malaysia's many cultures and food.
---
Terokai Penginapan dan Pengalaman Warisan Unik di Airbnb pada Hari Malaysia ini
Pada Hari Malaysia yang akan datang ini, dapatkan beberapa inspirasi untuk percutian santai anda yang seterusnya! Airbnb menampilkan pelbagai kediaman yang menakjubkan demi memberi kehormatan kepada warisan dan sejarah berbilang budaya Malaysia, serta beberapa Pengalaman menyeronokkan yang meraikan kepelbagaian budaya negara kita.
Perintah Kawalan Pergerakan Pemulihan (PKPP) kini telah dilanjutkan hingga akhir tahun ini, tetapi masih terdapat banyak destinasi yang boleh diterokai dan aktiviti untuk dinikmati di seluruh negara dengan semangat Cuti-Cuti Malaysia.
Penginapan di Airbnb
Pulau Pinang yang kaya dengan warisan sejarah dan bangunan pencakar langit moden, sememangnya merupakan tempat pertemuan budaya tradisi dan kemodenan. Tetamu boleh menikmati keindahan dan sejarah yang mempersonakan ketika menginap di rumah warisan yang diperbaharui ini yang dilindungi di bawah Tapak Warisan Dunia UNESCO.
2. 17BROGA – Rumah Panjang, Semenyih, Selangor
Inginkan percutian luar bandar tanpa perlu mengembara terlalu jauh dari bandar? Rumah ini menawarkan beberapa ciri rumah panjang tradisional Cina lama, yang dianggap sebagai khazanah yang jarang ditemui di Malaysia.
3. Rumah Panjang Gua Niah, Niah, Sarawak
Diberkati dengan keindahan alam semula jadi yang mengasyikkan, Sarawak adalah khazanah sebenar destinasi pelancongan yang kaya dengan pelbagai budaya dan tradisi orang asli. Manfaatkan sepenuhnya penginapan di rumah panjang Iban asli ini dan nikmati persembahan tarian tradisional sebagai penghormatan daripada hos jika anda berpeluang!
4. Rumah Warisan, George Town, Pulau Pinang
Ingin memanjakan diri anda dengan percutian singkat di Pulau Pinang? Tetamu boleh menginap di rumah kedai Pulau Pinang yang diubahsuai dengan cantik, dilengkapi dengan barangan antik dan perabot zaman dulu yang bergaya.
5. Rumah Loteng Warisan Klasik di KL, Kuala Lumpur
Sebagai penghormatan kepada rumah-rumah kayu lama di Malaysia yang indah, Rumah Loteng Warisan Klasik ini memberi tetamu peluang untuk merasai pengalaman tinggal di rumah bergaya tradisional yang terletak di tengah-tengah Pusat Bandaraya Kuala Lumpur.
Pengalaman di Airbnb
Dibimbing oleh pakar tempatan, tetamu akan belajar cara membuat aksesori Semai dengan menggunakan teknik menganyam, berlatih menembak menggunakan paip tiup pemburuan Semai tradisional, dan berenang di sungai berhampiran, sama seperti penduduk tempatan.
2. Alami Little India dan Chinatown, Kuala Lumpur, Malaysia
Terokai sejarah bandar yang mengasyikkan dan budaya moden yang meriah dalam lawatan berjalan kaki KL berpandu ini. Sertai lawatan ke Chinatown yang juga dikenali sebagai syurga pemburu barangan murah dan teruskan perjalanan anda ke Little India untuk mendalami budaya dan merasai makanan tradisional India.
3. Lawatan Ke Tempat Bersejarah Dengan Berjalan Kaki Di Sekitar George Town, George Town, Pulau Pinang
Alami Pulau Pinang dari perspektif yang berbeza dalam lawatan berjalan kaki berpandu dan terokai kawasan bersejarah berpusat George Town serta mengagumi bangunan kolonial yang menjadi tempat penganjuran banyak acara bersejarah di Pulau Pinang!
4. Batu Caves, Little India & Sebagainya, Kuala Lumpur, Malaysia
Sertai lawatan budaya ini dan ikuti perjalanan yang memberikan pengalaman yang mendalam untuk mengetahui lebih lanjut tentang pelbagai budaya dan makanan Malaysia.
---
这个马来西亚日,在爱彼迎上探索独一无二的古迹房源和传统体验
在爱彼迎,为您的下一场休闲旅程寻找灵感。为迎接即将到来的马来西亚日,爱彼迎推出了类型多样的惊艳房源,向马来西亚的多元文化遗产和历史致敬;更有缤纷趣味体验,与您共庆这座文化大熔炉的联邦成立日盛典。
虽然复苏式行动管制令(RMCO)已延长到年底,但本着Cuti-Cuti Malaysia的精神,马来西亚全国各地仍会有众多值得探索的目的地和丰富多彩的活动等待您来体验。
爱彼迎房源
槟城拥有悠久的历史,而现代化的摩天大楼又为其增添了时尚的魅力,可谓一座真正的传统和现代文化熔炉。入住这栋经过翻新的古迹房源,房客将为它的美丽和历史所深深吸引。这座房屋已被联合国教科文组织列入世界遗产保护名录。
想找个乡村度假好去处,又不想去离城市太远的地方?这栋房源可以让您领略到古老传统中式长屋的独特魅力,可谓马来西亚的一处稀世之宝。
3. 砂拉越州尼亚洞长屋
砂拉越拥有无与伦比的自然美景,遍布众多土著传统文化景点,是一颗真正的旅游明珠。入住这座正宗的伊班 (Iban) 长屋,充分享受独特的住宿体验。如果有机会的话,您还可以欣赏到好客房东为您带来的传统舞蹈表演!
4. 槟城乔治镇古迹房源
渴望在槟城尽情享受短途度假的乐趣吗?这栋经过翻新的精美槟城店屋拥有齐全的便利设施,入住这里的房客可以欣赏到雅致的装潢,体验古董家具的魅力。
5. 吉隆坡经典传统阁楼
这座装修精美的经典传统阁楼房源是对马来西亚老木屋的致敬。房源位于吉隆坡城中城,房客有机会在城市的中心位置享受到传统风格房屋的住宿体验。
爱彼迎体验
在当地专家的指导下,参与者将学习如何利用编织技术制作闪迈 (Semai) 手工编制饰品,练习使用传统的闪迈狩猎吹箭筒射击,并像当地人一样在附近的河流中游泳。
加入这场吉隆坡漫步之旅,感受这座城市迷人的历史和充满活力的现代文化。您可以走进被誉为砍价圣地的唐人街,开启购物之旅,然后漫步前往小印度,体验印式传统文化和美食。
3. 槟城乔治镇历史漫步
换个角度体验槟城,在导游的带领下漫步探索乔治镇的历史中心区,欣赏槟城岛上的殖民时期建筑,并了解在此发生的数不胜数的历史事件!
加入这场文化之旅,深入了解马来西亚的众多文化和美食。