Malaysian designer wins USD$100,000 to build coconut-inspired Airbnb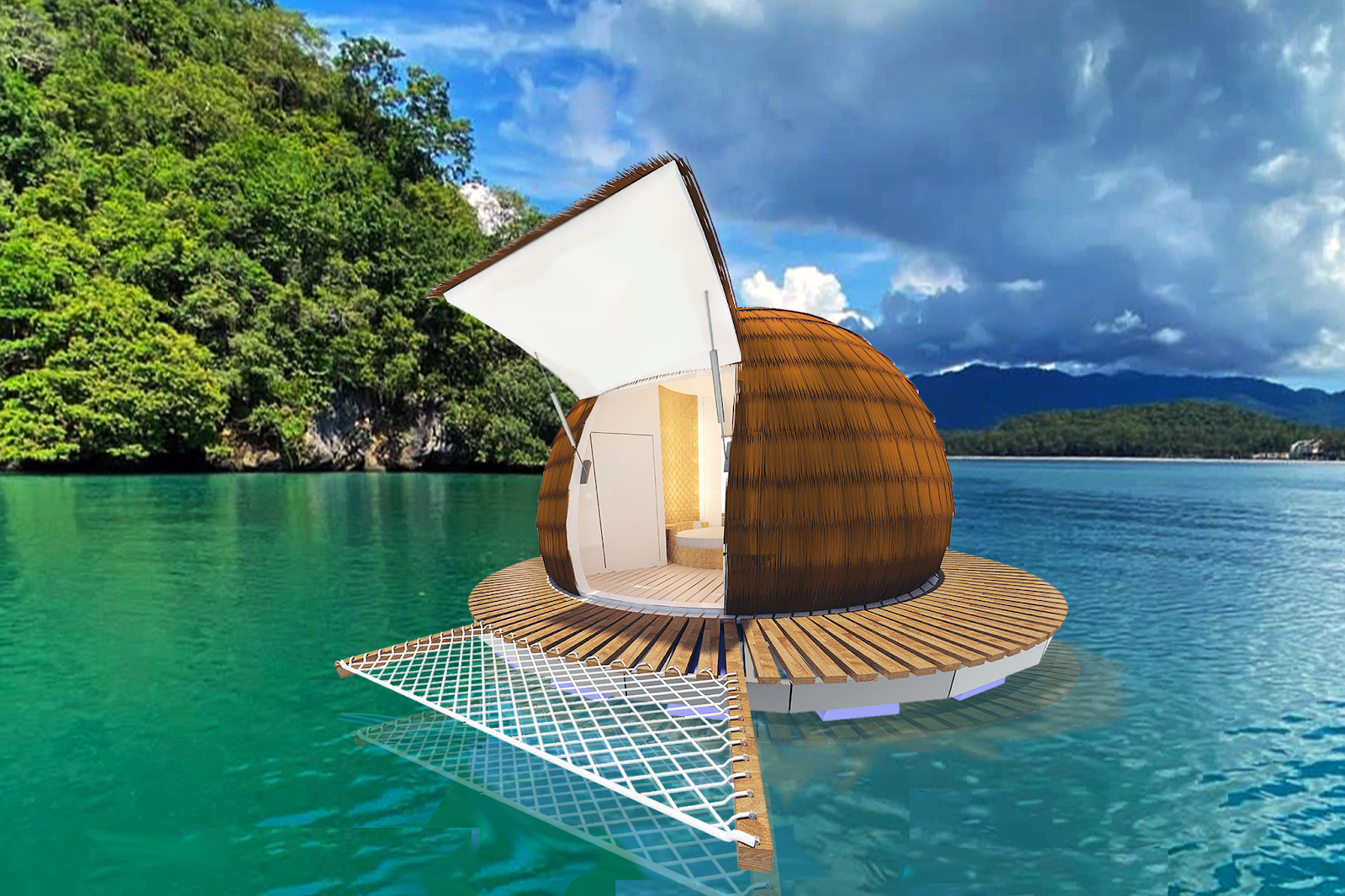 Hakim Azly is among the 100 designers from 20 countries chosen to bring their crazy ideas to life as part of Airbnb's US$10,000,000 OMG! Fund
His winning "Coconut Drifting in the Sea" design will be guest-ready by summer 2023, and will be a part of Airbnb's OMG! Category
Kuala Lumpur, 1 December — From tens of thousands of entries from around the world, Malaysian Muhammad Hakim Azly is one of 100 aspiring designers chosen to bring their crazy space ideas to life as part of global hospitality platform Airbnb's US$10,000,000 (approximately RM44,000,000) OMG! Fund.
Hakim's winning idea, "Coconut Drifting in the Sea", is a floating home located just off the shore of Langkawi's Tanjung Rhu beach. Accessible by boat or kayak, guests can enjoy a 360-degree view of the surrounding islands. Resembling an aged coconut, with its husk and outer shell designed to look like it is peeling so as to let light into the space, the property comprises a 250sqm bedroom equipped with a king-sized bed and large adjacent restroom. Its white, non-angular and continuous interior is designed to be reminiscent of the insides of a coconut.
Hailing from Perlis, Hakim's passion for design stemmed from his early years having grown up in a home that his late grandfather built in Kangar, filled with unique and futuristic design elements that he fondly refers to as being "ahead of their time in the 60s". He later grew up in Teaneck, New Jersey where he spent much of his youth painting large-scale murals before pursuing his studies in architecture.
"To me, architecture has always been more than an assembly of materials. It's seeing the bigger picture, where the architect has the responsibility to measure every design decision and the purpose the finished object serves within the community. This has fueled my passion for the discipline over the years, and is another reason why I'm incredibly excited over having this opportunity to create something truly unique and out-of-this-world," shared Hakim.
Having entered the OMG! Fund together with his wife, Reena, Hakim shared that inspiration for their winning idea struck during one of their strolls along the beach, where they spotted the fruits falling into the water. Together, they decided to design a home inspired by a coconut drifting at sea, that tells a story of enjoying one's journey towards one's unknown destination.
"The concept for the design brings a sense of adventure to the traveler, allowing them to fully immerse themselves and experience the fluctuations in weather, tide levels, and sun cycles the way a floating coconut out at sea would," Hakim explained. "We're also glad that we are able to weave in one of our main goals with this project, which is to build a 300sqm fish farm and coral nursery around our floating home as part of the OMG! Experience."
Hakim shared that their plans for fish and coral farming are aimed at encouraging local communities and tourists alike to replenish and mitigate the consumption of natural resources, that are often consumed to support the tourism industry.
This is not Hakim's first experience with Airbnb, having been a Superhost in Seattle for over a year before returning to Langkawi where he now lives with his wife, Reena, who is a full-time Airbnb Host of ten units that her family built from scratch.
"Everything started with just one unit," Reena added. "Every month, we'd put aside some of our earnings to work on the foundation of the home, and years later, here we are with ten units that we can now proudly say we made by simply taking a chance and doing it."
"When I started hosting on Airbnb in the US, I didn't have much space either, but I knew the potential that it had, and sometimes that's all it takes," Hakim shared. "We saw the opportunity and value in honoring a place rich with heritage and building a cause to be proud of, and "Coconut Drifting in the Sea" is the result."
Recipients of the OMG! Fund will each receive up to USD$100,000 to make their fantastical creations possible, and over the course of the next ten months, will design, construct and outfit their spaces to be guest-ready by summer 2023 – when you may find them available as part of Airbnb's OMG! Category.
Interested in becoming an OMG! Host? Learn more at airbnb.com/host/homes.
NOT FOR TRANSLATION BELOW
###
About Airbnb
Airbnb was born in 2007 when two Hosts welcomed three guests to their San Francisco home, and has since grown to over 4 million Hosts who have welcomed more than 1 billion guest arrivals across over 220 countries and regions. Every day, Hosts offer unique stays and one-of-a-kind activities that make it possible for guests to experience the world in a more authentic, connected way. Providing hosted travel and the ability to live anywhere on a global scale, Airbnb has become a noun and a verb and most traffic to our platform remains organic. We will continue to invest in innovations that expand the travel market and lead the way in turning travel into a way of life.
Media Contact
This press release is distributed by Archetype Agency on behalf of Airbnb.
For media enquiries, please contact: