13,000 sign petition supporting home sharing legislation in Korea
Airbnb, the world's leading community-driven hospitality company, has collected around 13,000 signatures in a petition supporting the home sharing legislation in Korea.
First launched in mid-October, the petition calls for the enactment of a new home sharing law that will allow Koreans to share their homes with Korean domestic travelers. As of November 30, 2018, the petition has attracted 12,832 unique signatories — a testament to growing advocacy among Koreans for the need of a new home sharing law supporting domestic travel. In accordance with the national petition law, all signatories shared their full names and home addresses through the offline petition. In the online version, the signatures are replaced by email and phone number.
The Urban Homestay Program for Foreigners category, created in December 2011 under the Tourism Promotion Act, states that residents in urban areas such as Seoul and Busan can only share their homes with foreign tourists, thus restricting accommodation options for Koreans traveling domestically. Exceptions apply to domestic guests staying in hanok (traditional Korean houses) in urban areas. Regulations differ in rural areas including farms and fishing villages, where homestays are permitted for domestic travellers.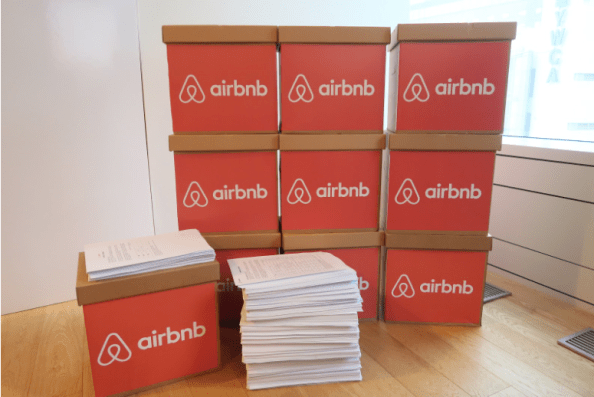 On December 4, Airbnb sent 13,000 petition signatures to ten key decision makers. Each stakeholder will receive a box containing 13,000 signatures.
On December 4, Airbnb sent the petition and a letter proposing the enactment of a new home sharing law to key decision makers including the Office of the Prime Minister, the Ministry of Culture, Sports and Tourism, the Ministry of Strategy and Finance, the Ministry of Health and Welfare, the Ministry of Land, Infrastructure, and Transport, the Ministry of SMEs and Startups, and political parties such as the Democratic Party, the Liberty Korea Party, the Bareun Future Party, and the Justice Party.
"Laws and regulations should reflect the reality and serve as a tool for the market to function. These 12,832 unique signatures demonstrate the strong level of support by Korean citizens. People want to travel and stay in other people's homes, and likewise, people want to host other travelers. We will submit an official petition request to the executive branch of the government and the National Assembly to pass the new home sharing law so Koreans can enjoy unique and authentic hospitality away from home, as they do abroad" said Sanghyun Lee, Head of Public Policy, Airbnb Korea.