Airbnb and Handicap International work together for greater inclusion
During Tourism & Disability month, Airbnb continues its commitment to inclusion. Following the announcement of its partnership with Handicap International and the acquisition of the Accomable platform, Airbnb is preparing to offer new accessible accommodations, in addition to those already present on the platform. For Airbnb and its partners, it is essential to mobilize to guarantee the development of accessible housing for guests with disabilities.  
During a discussion on tourism and accessibility, Manuel Patrouillard, General Manager of Handicap International, Emma Delfau, Deputy Director of Tourism at the Ministry of the Economy and at the initiative of the State brands Tourism & Handicap and "Destination for All", Valentine Lesser, Director of the Jaccede association and Eliane Fuseau, host on Airbnb and member of the "Accueillir en France" collaborative assembly, welcomed the progress made in meeting the challenges faced by travellers with special needs, and the actions that remain to be taken.
Today, Airbnb and Hizy.com, the new information platform created by Handicap International, are proud to announce the introduction of 19 new accessibility criteria for people with reduced mobility.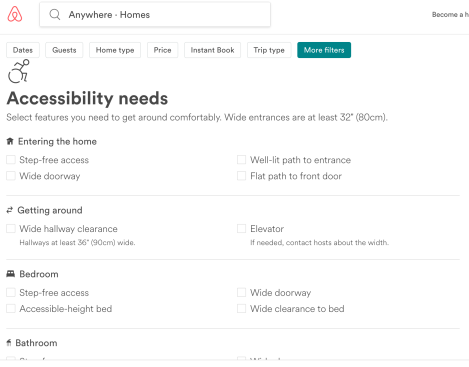 "We are very happy to be able to participate in this particularly important work that is being done with Airbnb. For Hizy, it is essential to have such partners," said Manuel Patrouillard.
At a time when 12 million people are disabled in France, we are glad to see that Airbnb's host community is committed to ensuring that everyone who travels can belong anywhere in the world, regardless of their needs.
READ MORE –  5 tips you need to know to write an ad about your accessibility friendly listing
---
Discover Airbnb Citizen on Facebook