Airbnb Announces Partnerships Promoting Sustainable and Responsible Tourism
Airbnb announced this week its partnerships with WWF Mexico and the Mexican Federation of Tourist Associations (FEMATUR) to promote the reactivation of domestic tourism and promote safe, co-responsible and sustainable travel through its Mexico by Land initiative, which includes five routes to travel by car.
These routes cover attractive and biodiverse spots in Mexico that seek to be an alternative to mass and traditional tourism. In turn, they will allow people to travel more safely, integrate their experiences with local communities, and make their value chains visible while contributing to economic recovery during and after COVID-19.
"Airbnb partners with WWF to stimulate sustainable travel in balance with local communities and the environment. And its partnership with FEMATUR seeks to contribute to boosting the economy of micro and small entrepreneurs in Mexico through these highway routes. We believe that in order to travel more safely and continue contributing to the tourism economy, domestic and land travel in compliance with the prevention measures against COVID-19 established by governments are a responsible solution."

Jorge Balderrama, Director of Public Affairs of Airbnb Mexico
Recently, Airbnb disclosed that, according to an internal survey, 39 percent of hosts are employed full-time and 23 percent are part-time employees. "In an economically difficult context, the platforms collaborate with self-employment opportunities for thousands of Mexicans. Through initiatives such as Mexico by Land, we seek to partner to empower micro entrepreneurs and communities throughout Mexico, as they will be crucial for the country's economic recovery", said Jorge Hernández, FEMATUR's President.
Meanwhile, María José Villanueva, Director of Conservation at WWF Mexico added that "sustainable, responsible and inclusive tourism is a great opportunity we have to raise awareness about the biodiversity of our country. The alliance with Airbnb is an example of how travel can be sustainable in Latin America, and how it can help local communities to have a green recovery in the new normal."
The current situation we are going through has also presented us with a great opportunity to travel in a more responsible and conscious way, and with it, practice and promote tourism in balance with local communities and biodiversity. When conditions allow so, venture out to discover all that Mexico has to offer and learn about Mexico's touristic routes, which were created by Airbnb in conjunction with WWF and FEMATUR to promote safe, responsible and sustainable travel, including natural and protected areas, as well as local communities:
Jaguar's Corridor: Tuxtla Gutiérrez – San Cristóbal de la Casas – Lagunas de Montebello – Bonampak – Palenque – Palizada – Calakmul
Route of the sun: Mexico City – Tepoztlán – Atlatlahuacan – Cuautla – Cuernavaca – Xochicalco – Tequesquitengo – Taxco – Xalitla – Acapulco
Pacific Jewels: Guadalajara – Tequila – Talpa de Allende – San Sebastián del Oeste – Boca de Tomatlán – Puerto Vallarta – Sayulita – San Blas – Mexcaltitán – Mazatlán – Las Labradas
Caribbean paradises: Holbox – Cancún – Puerto Morelos – Playa del Carmen – Cozumel – Akumal – Tulum – Muyil – Sian Ka'an – Bacalar – Mahahual
Wonders of the Peninsula: Mérida – Izamal – Yaxunah – Valladolid – Ek Balam – Ría Lagartos; Mérida – Uxmal – Hopelchén – Campeche – Champotón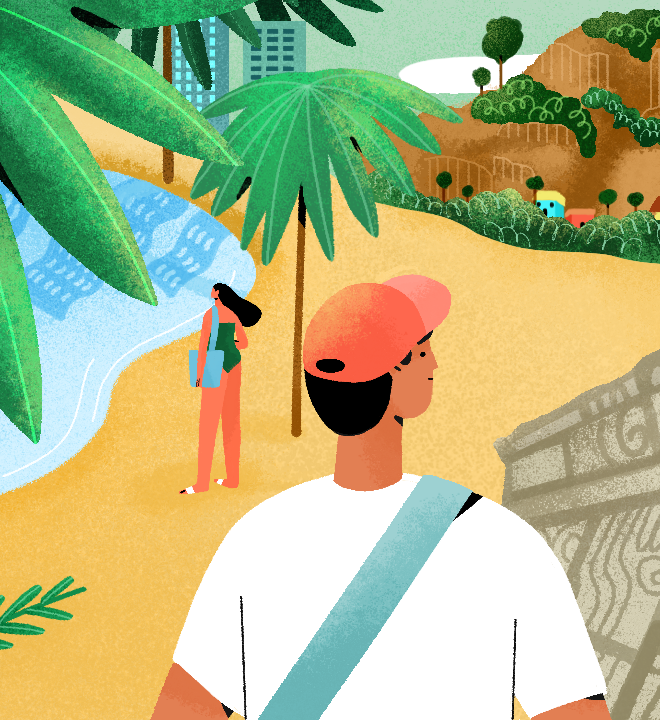 On this website created by Airbnb, travelers will be able to find the five routes and their destinations with cultural and natural recommendations that benefit artisans, traditional cooks, guides and other micro-entrepreneurs and individuals who are part of local economies, in addition to showing visitors and hosts the importance of biodiversity and ecosystems, including the natural corridors of the jaguar, as well as the benefits they bring. In addition, on the website you can find safety tips for road trips and the indications and recommendations of the authorities for each state.
"Safe trips are an engine for economic development and social inclusion in hundreds of destinations and towns in the Mexican Republic and support more than 10 million direct and indirect jobs in the country. For this reason, and, derived from the COVID-19 pandemic and the effects of confinement, it is necessary to promote the economic reactivation of Mexican tourist destinations with few people, that are small or related to ecotourism, always in accordance with the sanitary provisions of the local authorities. Considering the above, Mexico by Land represents an alliance of mutual collaboration and cooperation between Airbnb and its partners in pursuit of the safe and sustainable highway tourist reactivation," said Balderrama.