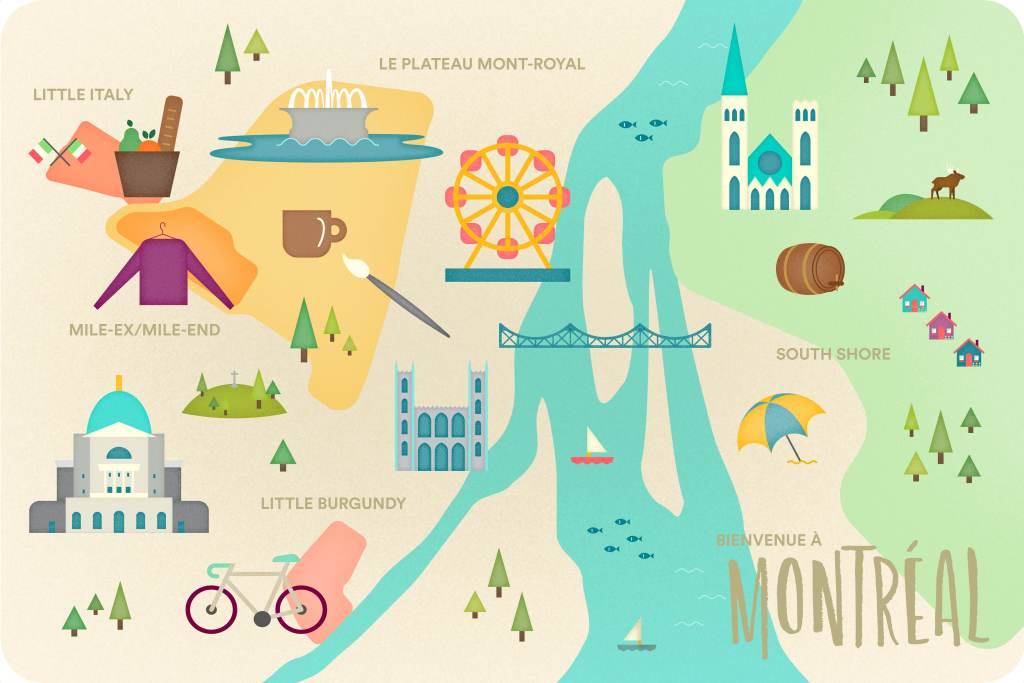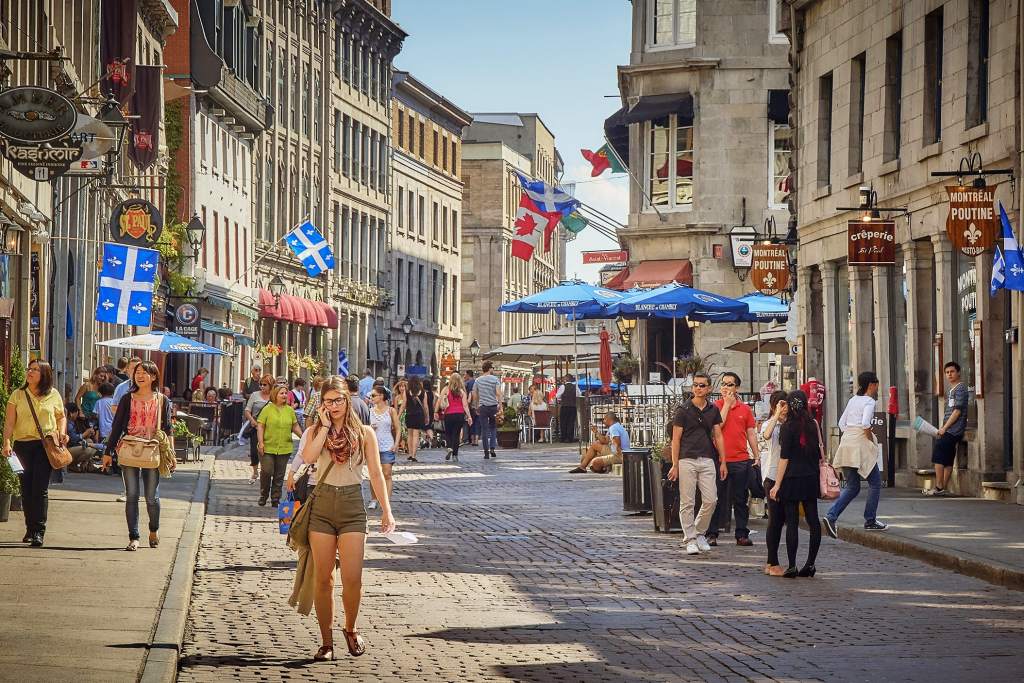 Montreal is in a constant state of reinvention. From its temperate summers to snowy winters, the stylish Quebecois city seems to evolve in tandem with its climate.  But the Montrealers we spoke with all agreed on one point: No matter the weather, Montreal locals are out to play, and with the launch of Airbnb Experiences in this dynamic city, you can be too.
With dozens of colorful neighborhoods packed with bustling arts & nightlife, an exciting culinary scene and expansive parks, there's much to explore beyond the iconic Basilique Notre-Dame and plates of poutine. (Though don't skip the poutine.) To narrow down the possibilities, we asked Montreal Airbnb hosts for their advice on where to stay, what to do and what to eat in some of the city's popular neighborhoods.
For culture-conscious visitors to Montreal, there may be no better place to spend a day than Mile Ex and Mile End, an artsy outpost with a blend of multicultural and industrial roots.  Stay in a modern apartment with a balcony, and savor the neighborhood's indie cafes, bookstores, art galleries and design shops.  "A perfect day in the Mile-Ex would start off with an americano at Dispatch, a hip local cafe no more than 50m from our condo," suggests host Matt. "For lunch, I recommend Dinnette Triple Crown, where they'll put your order in a picnic basket – you can walk across the street and enjoy your meal in the park."
"
There's no shortage of places – whether it's the cool vibes at Alexandraplatz or a quick ride down to the famous Crescent street, you're all set.
Host Matt
"
After a morning basking in Montreal's center of cool, let your imagination take the reins at a local eco-design hub. "If you're feeling creative, come to ETHIK and immerse yourself in a true eco-designer experience,"  says Elodie, host of the Fashion Yourself a New Upcycled Outfit Experience. "Pick an item from our vintage section, and upcycle your very own item." After the sun goes down, wear your new upcycled threads at one of the buzzing bars and nightlife spots on St. Laurent or Rue Crescent.
For those wanting to taste their way through Montreal, Little Italy is well worth a visit. Book a sunny, quiet apartment at the center of the action and spend a day strolling the area's cafes, restaurants and markets. "Its main attraction is the Jean Talon Market, one of the largest open-air markets in North America," says Mayssam, a local culinary expert who hosts the Explore the Jean Talon Market Experience. 
"
Visit the Madonna della Difesa church and try to spot Mussolini in the ceiling's fresco.
Host Mayssam
"
Arrive hungry for a day of sampling cheese, charcuterie, produce and desserts while getting to know local vendors. "Italian coffee at Caffè Italia is also a must," Mayssam adds. "Grab a cannoli at Alati Caserta on Dante Street and enjoy it in the little park across the street if the weather permits." In between tasting a variety of treats, hosts recommend wandering the area's parks and hidden marvels, such as the engrossing frescos of Madonna della Difesa church.
For all the city's  cosmopolitan charms, greater Montreal is no urban jungle. For travelers seeking a nature immersion, South Shore is a must-go for hiking, canoeing, wildlife spotting or skiing. Book a cozy, cheerful spot with easy access to the nature reserves, parks and resorts in the area.  "After a nice walk, what better than a good microbrewery beer?" says host Maggy, who leads the South Shore Microbrewery Tour Experience. Soak up the outdoors, then take a guided 'road trip' through the local pubs serving authentic Quebecois craft beers, with stops at historic Old Longueuil or St. Charles.
"
Mont St-Hilaire, Mont St-Bruno and Les Îles-de-Boucherville are good destinations to reconnect with nature easily. Bring a lunch and have a picnic at the top or on the water's edge.
Host Maggie
"
A one time industrial zone, Little Burgundy has emerged in recent years as one of Montreal's most interesting neighborhoods. Book a spacious, two-story apartment a stone's throw from historic movie theater Théâtre Corona, Atwater Market and the beautiful Lachine Canal. Little Burgundy is also the ideal starting point for a bike adventure, says Matthieu, who hosts the Electric Fat Bike Experience launching in Little Burgundy: "This is the absolute best way to see the best views and parks that this city has to offer, and Montreal is well known for its stunning green spaces," he says.
"
Montreal is a city known for its parks and greenspaces. I love to put on my snow pants, jacket, goggles and helmet and walk a few kilometres in the -20 windchill weather over to Park Lafontaine. During the winter, the large lake freezes over and becomes an enormous kilometre long rink.
Host Matthieu
"
For the well-rounded traveler, Le Plateau Mont-Royal has something for every taste: relaxed cafes, trendy boutiques, Instagram-worthy street art and access to abundant green spaces. Book a room at a laid-back B&B attached to the best cafes in the neighborhood.  "Le Plateau Mont Royal is a very eclectic and vibrant neighborhood," says host Jamie. "If it's winter you might want to hang around Laurier Est to discover the boutiques and cafés, but in summer you will appreciate a quick swim in Parc Laurier's amazing outdoor free swimming pool."
"
Take the time to walk through all the back alleys of the neighborhood. You will discover hidden gems: beautiful pieces of street art, amazing vegetation, and colorful houses.
Hosts Jamie and Maya
"
In the bohemian heart of 'Le Plateau',   make your own souvenir mug at Atelier Make studio    with Jamie and co-host Maya. Let your imagination guide you through this neighborhood, and "Do not forget to grab a hot chocolate or an ice cream at NOIR – you will thank me for that one!" adds Jamie.