Airbnb hosts set to welcome guests from around the world for the Olympic Winter Games PyeongChang 2018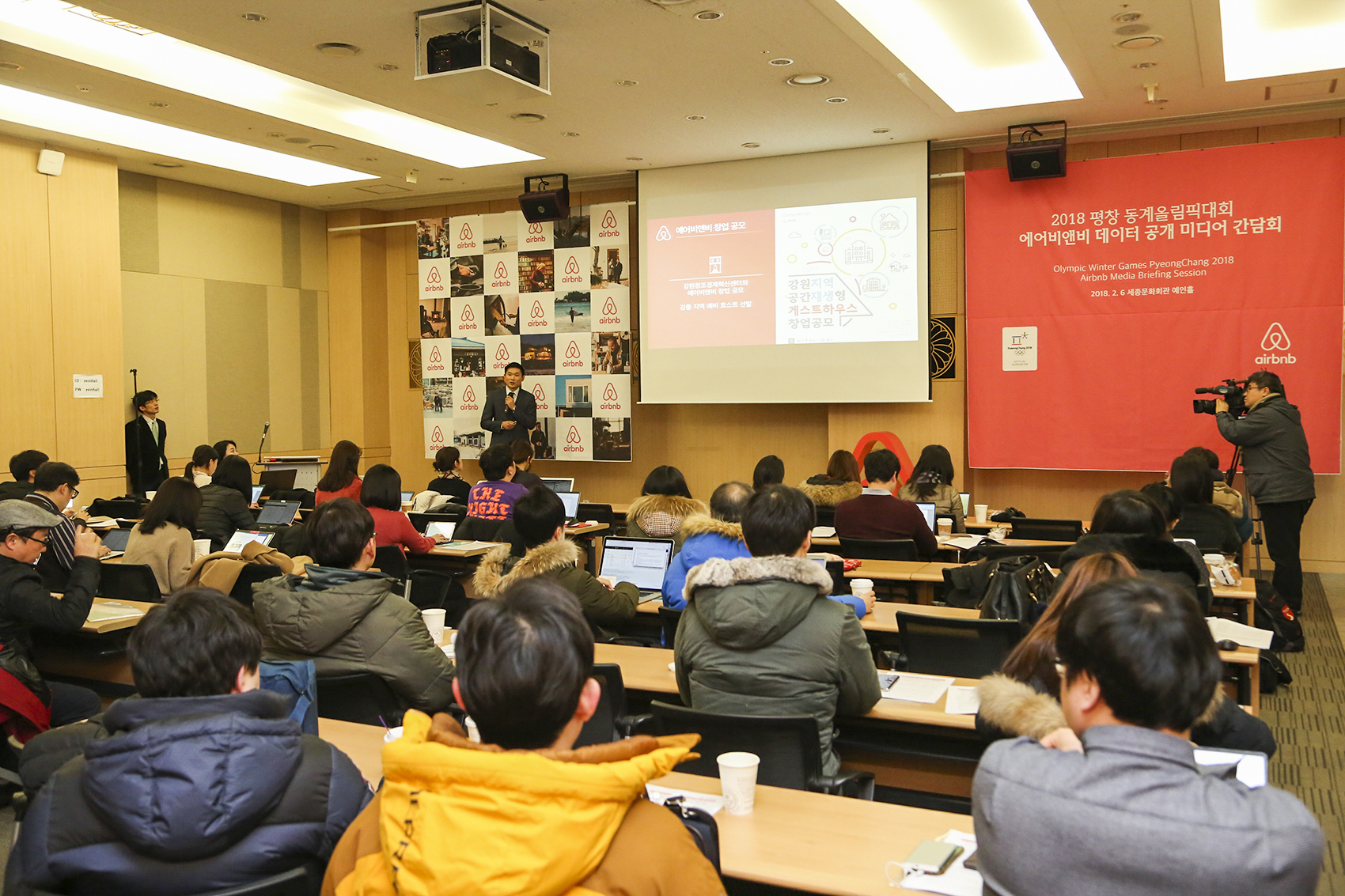 With less than a week to go before the opening of the Olympic Winter Games PyeongChang 2018, locals from across Gangwon-do have opened their homes to more than 9,000 travellers from Korea and around the world.
Since its foundation in 2008, Airbnb, the world's leading community-driven hospitality company, has worked to help cities scale up accommodations for many major events around the world, from the Olympic Games Rio 2016 to the 52nd Super Bowl, which took place yesterday.
At a press conference in Seoul, Airbnb today announced new data that highlights the important role Korean hosts on Airbnb are playing to help expand lodging capacity and help Gangwon manage increased demand — all without laying a single brick.
Guest arrivals:

As of today, there will be more than 9,000 guest arrivals on Airbnb to Gangwon Province during the Winter Olympics — a 260% increase from the same period in 2017. With many hotels and traditional accommodation options sold out, this figure is the equivalent of adding 4,500 hotel rooms or 28 average-sized hotels operating at full capacity.

Host income:

Across the region, new and long-time hosts on Airbnb will make meaningful extra income by sharing their homes. Hosts keep 97% of what they charge and are already expected to make over KRW2.3bn (USD2.1m) during the Winter Olympics. The typical host will earn around KRW280,000.00 (USD260.00).

Affordable accomodations:

With hotel rooms across the region selling out and prices for available rooms sky-high, local and domestic travellers alike have turned to Airbnb as an affordable and authentic option. The average nightly-per-room rate of booked listings in Gangwon-do is KRW185,000 (USD170.00), while the average rate for hotel accommodations recently spiked to over KRW500,000 (US$460.00) per night*.
Airbnb signed on as an official supporter of online accommodation services for the Olympic Winter Games PyeongChang 2018 in November, and today's announcement highlights our efforts to work with the local host community to offer accommodation options for travelers visiting Gangwon during the Games, while promoting the province's unique culture and natural beauty. These efforts have led the number of listings in Gangwon to more than triple since the company's partnership with the province began in early 2017.
"PyeongChang 2018 has demonstrated how Airbnb can help cities quickly scale up accommodations when cities are hosting globally or nationally significant events, while putting the spotlight on the city's best asset — its people. By mobilising our community to share their homes, Airbnb is helping to tackle short-term accommodation challenges around the world in a flexible, sustainable and economically efficient way," said Sanghyun Lee, Airbnb's Head of Public Policy for Korea.
Airbnb has also partnered with local startups to facilitate reservation management support and offer transportation to hosts whose listings are located slightly further from key Winter Olympic venues. The company has also worked with the YWCA Women Career Development Center in Gangneung to offer host education sessions ahead of the Games.
"With thousands of guest arrivals and counting, there has never been a better time to be an Airbnb host. Travelers from around the world are staying with locals to experience the region's unique culture and attractions while enjoying the Winter Olympics. At the same time, our hosts get a chance to be part of the Winter Olympics by hosting visitors and serving as ambassadors to their country, all while benefiting from the increasing tourist dollar," shared Lee.
Last year, Airbnb published a pocket-sized "Hello Tour Gangwon" local guidebook to promote Gangwon-do to travelers visiting the province. The guidebook has received the support of the Visit Korea Committee and Global ICT Forum. Airbnb is also working closely with the Visit Korea Committee to promote Myungju-dong, the historic city of Gangneung, and recently participated in the G-50 event held in Seoul Olympic Park.
Airbnb PyeongChang 2018 Olympics highlights:
Over 9,000 guest arrivals

Top 5 countries that guests are arriving from are Korea, the United States, China, Canada and Japan

Host income is expected to total KRW2.3bn (USD2.1m)

Typical host median income is KRW280,000.00 (USD260.00)

4,000 listings in Gangwon province

Reservations average KRW185,000 (USD170.00) per night

3 nights on average per reservation
Guests resting by the fireplace in their Airbnb in PyeongChang, Gangwon-do, Korea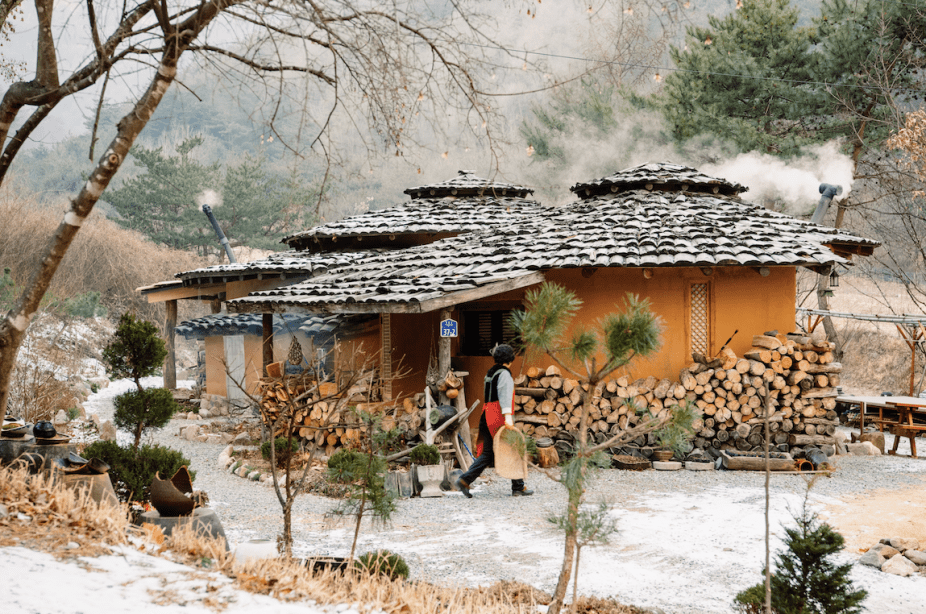 An Airbnb listing in Jeongseon, Gangwon-do, Korea
Meet some of our Airbnb hosts in Gangwon-do:
Jongkyung Choi (Gangneung, Chodang-ri)
"In Singapore, my host picked me up from the airport, helped me get around the neighborhood, and recommended restaurants and spots near his listing. I thought that I want to do the same thing with my passion for sharing! For the Winter Olympics, my wife and I are learning how to cook American-style brunch. Also, I plan to provide rides to the Olympic Stadium for those going out early."
Gwangho Lee (Gangneung, Yeongok-myeon)
"I will make a special list of authentic Korean restaurants that my past guests have liked, with English explanations. My listing has a high revisiting rate having more than 50 guests who have visited my place 20-30 times."
Myungsub Kim (Pyeongchang, Daehwa-myeon)
"3 years ago, I built a two-story house to use as a vacation house. With an injury in my leg, however, I've been only using the 1st floor of the house. My son recommended to list the 2nd floor on Airbnb, and I am excited to share a part of my life with guests."
Gon-Seob Shin (Hoengseong, Dunnae-myeon)
"I have received 5 reservations from Olympic Games visitors, to whom I explained that there is not much around my house; it is far from the city and no restaurants nearby. Surprisingly, guests said they are all even more excited for the true local experience."
Jungshin Kim (Wonju, Neulpum-ro)
"Thanks to Airbnb's collaboration with a local car-sharing startup, I feel like I'm able to provide much better service to guests. For example, when I introduce the car-sharing service to my guests, they tell me the price of the car-sharing service is very affordable and that they will definitely utilize the service during their stay."
NOTE
*Based on a report by Yonhap News Agency, reported by USA Today.