Airbnb signs cooperation agreement with Baja California Sur

Airbnb and the government of Baja California Sur (home to Cabo San Lucas), celebrated the execution of a memorandum of understanding where it was agreed to formally work together to create a framework for applicable tax collection on behalf of hosts and to help promote innovation, entrepreneurship, and sustainable tourism.
This agreement is the fifth of its kind in the country, after lodging tax collection on behalf of our hosts in Mexico City and Quintana Roo, and collaborating on sustainable tourism and entrepreneurship with Yucatán and Colima.
Baja California Sur is home to some of the most sought-after beaches in the world. Los Cabos is one of the most important destinations in the country. All of this is reflected in the local Airbnb community, where most hosts are women. Single moms, students, and entrepreneurs that now double as representatives of their beautiful state.
A typical Airbnb host in Baja California Sur makes around 4,900 USD (95,550 MXN) a year. To date, there are over 2,200 hosts in the state, sharing 4,400 spaces through Airbnb.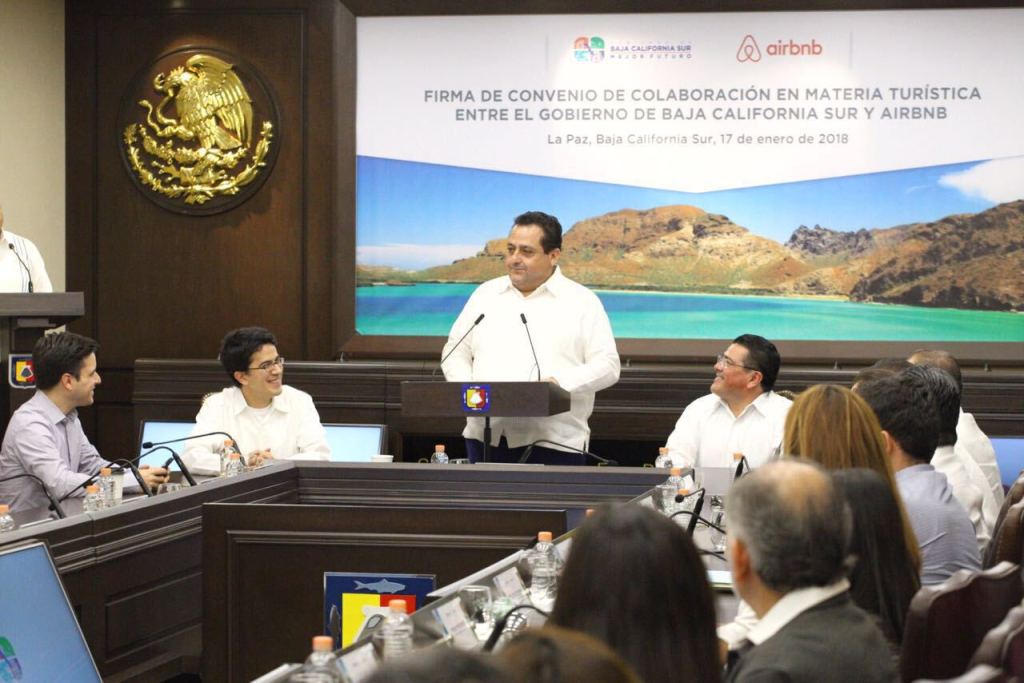 In his speech, governor Carlos Mendoza Davis said: "This is the first step. We're sure that we'll be able to do much more together. We will join forces in promoting our destination using technology and innovation to benefit sudcalifornianos".
Angel Terral, Airbnb Country Manager for Mexico, highlighted the platform's capacity for diversifying tourism. "Airbnb opens the possibility to receive even more travelers in even more places, impacting the local economy of traditional towns and diversifying the touristic offering of Baja California Sur."