Airbnb Unveils New Online Experiences on Global Accessibility Awareness Day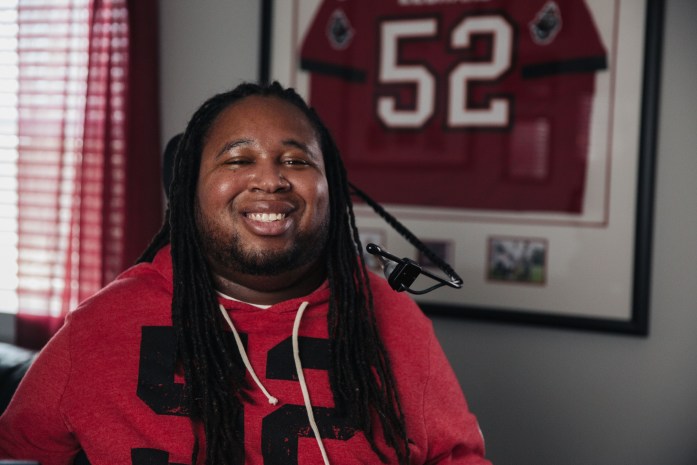 As people around the world celebrate Global Accessibility Awareness Day, Airbnb is highlighting more than 20 new Online Experiences which have been designed by hosts with accessibility in mind—and is continuing its work to improve accessibility across the Experiences platform in partnership with disability organizations and advocacy groups, including the Christopher & Dana Reeve Foundation, Royal Association for Deaf people, and The Arc.
Whether you want to join an audio described cardio boxing class or try adaptive yoga with a pro dancer, guests can now book Online Experiences designed by hosts to suit a range of accessibility needs. Want to learn more about accessibility? You can try learning sign language or go virtually on the farm with mini horses and donkeys, and find out more about the benefits of equine therapy.
For a limited time, former American college footballer, motivational speaker, sports analyst and author, Eric LeGrand, will offer an exclusive session on public speaking with proceeds supporting the Christopher & Dana Reeve Foundation. British entrepreneur, artist, television presenter and disability advocate, Sophie Morgan, will host an animal drawing class, with proceeds benefiting UK disability non-profit, Leonard Cheshire.
Designed by hosts to meet a variety of accessibility needs, these new Online Experiences are available for everyone to book and are also ideal for friends and family to book and reconnect with loved ones over a shared activity. Whether it's a unique celebration or casual get together, guests can also opt for private bookings, all from the comfort and safety of home. Other Online Experiences include:
As part of our efforts to improve accessibility across the Experiences platform, Airbnb has partnered with disability organizations and nonprofits including the Christopher & Dana Reeve Foundation, Royal Association for Deaf People, and The Arc, to help enable more people to access and enjoy Online Experiences.
Partners and global disability organizations outlined their support of the Airbnb Experiences platform:
As part of our care mission, the Christopher & Dana Reeve Foundation is dedicated to helping create a more accessible world. Airbnb's Online Experiences bring exciting innovation to this effort and make it possible for people with disabilities, including paralysis, to embark on a wide range of adventures and opportunities that once may have been closed to this community. We applaud Airbnb's first move to improve accessibility and are proud to partner on this initiative

Peter Wilderotter, President and CEO of the Christopher & Dana Reeve Foundation
One of RAD's key ambitions is to create a better, more accessible future for Deaf people. We are therefore incredibly proud to partner with Airbnb who share our aspirations. We're thrilled to see Online Experiences hosted in sign language and welcome this opportunity for deaf people to access Experiences in their first language—in addition to workshops for beginners.

Amanda Casson Webb, Joint Chief Executive, Royal Association for Deaf people
A key part of our mission at The Arc is to ensure people with intellectual and developmental disabilities can participate in their communities as fully as possible. It's important that Airbnb is highlighting these new Online Experiences. We're looking forward to continuing our partnership with Airbnb on accessibility across Experiences.

Peter Berns, Chief Executive Officer of The Arc
At the American Foundation for the Blind, we believe in a world with no limits. We are delighted that Airbnb is highlighting online experiences designed by hosts for people who are blind or low vision, and look forward to experiencing them. Everyone in our community is trying to stay at home and keep safe, so having a fun and inclusive way to connect with Airbnb Online Experiences is really valuable, and a great first step to helping improve accessibility on the platform.

Tanner Gers, Business Development Lead, American Foundation for the Blind
"As a regular wheelchair tennis player, I am delighted about these new Online Experiences designed with the disability community in mind," says Suzanne Edwards, the Accessibility Lead for Experiences at Airbnb. "Not only do I think many of these Online Experiences are valuable to address my own needs but they're also a great way to connect with friends and family. At Airbnb we are always looking for ways to improve accessibility across our platform. Our goal is to ensure Experiences are inclusive of as many needs as possible."
To celebrate Global Accessibility Awareness Day, guests can connect with hosts around the world and try something new. To book, visit www.airbnb.com/d/accessibility
Launched in April 2020, Online Experiences unlock unprecedented access to inspiring hosts across the world, including Olympic medalists, Buddhist monks, magicians, and more. Whether visiting the dogs of Chernobyl, wine tasting in Portugal, or making coffee with a professional coffee taster, guests have the chance to connect with new people and travel virtually, all from the comfort of their own living room.