D.C. Host: Cathy Cook's Story
Cathy Cook started using Airbnb as a guest when she couldn't find an affordable hotel room on a trip to Toronto, but after an amazing stay, she quickly thought what many soon-to-be-hosts realize: "we can do this."
After extensive research and speaking with other hosts, she listed the spare room in her Washington, D.C., home. Within 30 seconds, she had her first booking!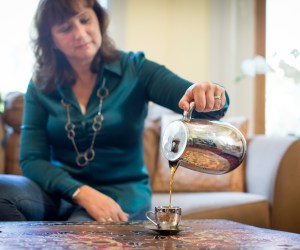 That was five years ago and her timing couldn't have been better.
During the recession, Cathy was navigating her next career move and sharing her home afforded her additional time and flexibility. "Missing the salary I used to have, hosting meant that we could meet our financial commitments," Cathy says. "It meant the difference between just making ends meet to 'wow, maybe we can go away for a weekend.'"
Even after starting a great new job, Cathy continued hosting in Ward 2's 14th Street Corridor. "Cost of living here has really ramped up over the last two years and I really think hosting has allowed us to keep up," she explains.
But it's not just the extra income that keeps Cathy hosting today – like many hosts, it's the experiences and relationships that have been the greatest surprise and one of the most rewarding aspects of home sharing.
"A lot of repeat guests have become close friends," Cathy explains. "I haven't been getting the people I expected. I'm getting CEOs, I'm getting tech-multimillionaires, backpackers, and students, and people going for jobs at the White House… I've actually hosted my guests' kids when they come down to visit colleges."
For hosts like Cathy, an important part of building such strong relationships is creating authentic experiences and that means championing her local businesses.
As guests venture out in the morning, Cathy points them to Peregrine Espresso, a little cafe on the corner that's run by a fellow Airbnb host and known for its small town feel. At night, anyone seeking a drink is sent to Cork & Fork, a nearby wine shop run by a third-generation champagne maker – regardless of their knowledge or budget, he always finds the right bottle. During the holidays, Cathy gets to share her favorite tip. When guests are looking for the perfect D.C. memento or gift, she tells them about The Decatur House, the home of the White House Historical Association where visitors can buy the annual White House Christmas Ornament that changes each year.
"I would like to think I'm providing a concierge experience… I would never send anyone somewhere I haven't been myself and I'm always looking for that hidden gem that no one else knows about."
Even Cathy's neighbors are enjoying the presence of such amazing guests. Her co-op board recently voted to legitimize home sharing in her historic building, the first co-op in D.C. to do so, and one of her annual guests, a professional architect, just built the tenants a new bike rack free of charge.
Now, in addition to consulting and hosting, Cathy runs the D.C. host club that she helped to create, so she can share her knowledge and experience with new members of the home sharing community. And of course, she also continues to host returning guests, including a new friend who recently switched from working in tech to making wine and invited Cathy out to California to sample his very first batch.
"By opening our home and our hearts to people who are traveling, they've opened their hearts and it's been just wonderful," she says. "Airbnb is allowing people to trust each other in probably the most intimate of settings."