Live like Bluey for the weekend: Iconic Heeler home listed on Airbnb
Key Takeaways
House from the hit Australian children's series lovingly recreated 'for real life'
Available for one family to book for a unique Bluey-themed getaway
Key Takeaways
House from the hit Australian children's series lovingly recreated 'for real life'
Available for one family to book for a unique Bluey-themed getaway
The iconic Heeler family home from hit Australian kids' show, Bluey, is being listed on Airbnb in Brisbane, Queensland, offering one lucky family the opportunity to live like the Heelers for the ultimate Bluey fan weekend.
Bluey is a global phenomenon that follows the adventures of Bluey – a lovable, inexhaustible six-year-old Blue Heeler dog – who lives with her Mum (Chilli), Dad (Bandit) and little sister Bingo. The show screens in over 60 countries and is beloved by both parents and kids for its heart, humour and relatable family moments.  
Airbnb has partnered with BBC Studios, co-commissioner and global distributor of Bluey, on this one-of-a-kind experience. 
Nestled on a quiet, tree-lined street in one of Brisbane's most picturesque neighbourhoods – the city which has inspired the show's colourful backdrop – the house has been entirely customised to bring the cartoon experience to life, featuring quirky details Bluey fans will recognise from the Heeler family home in the show.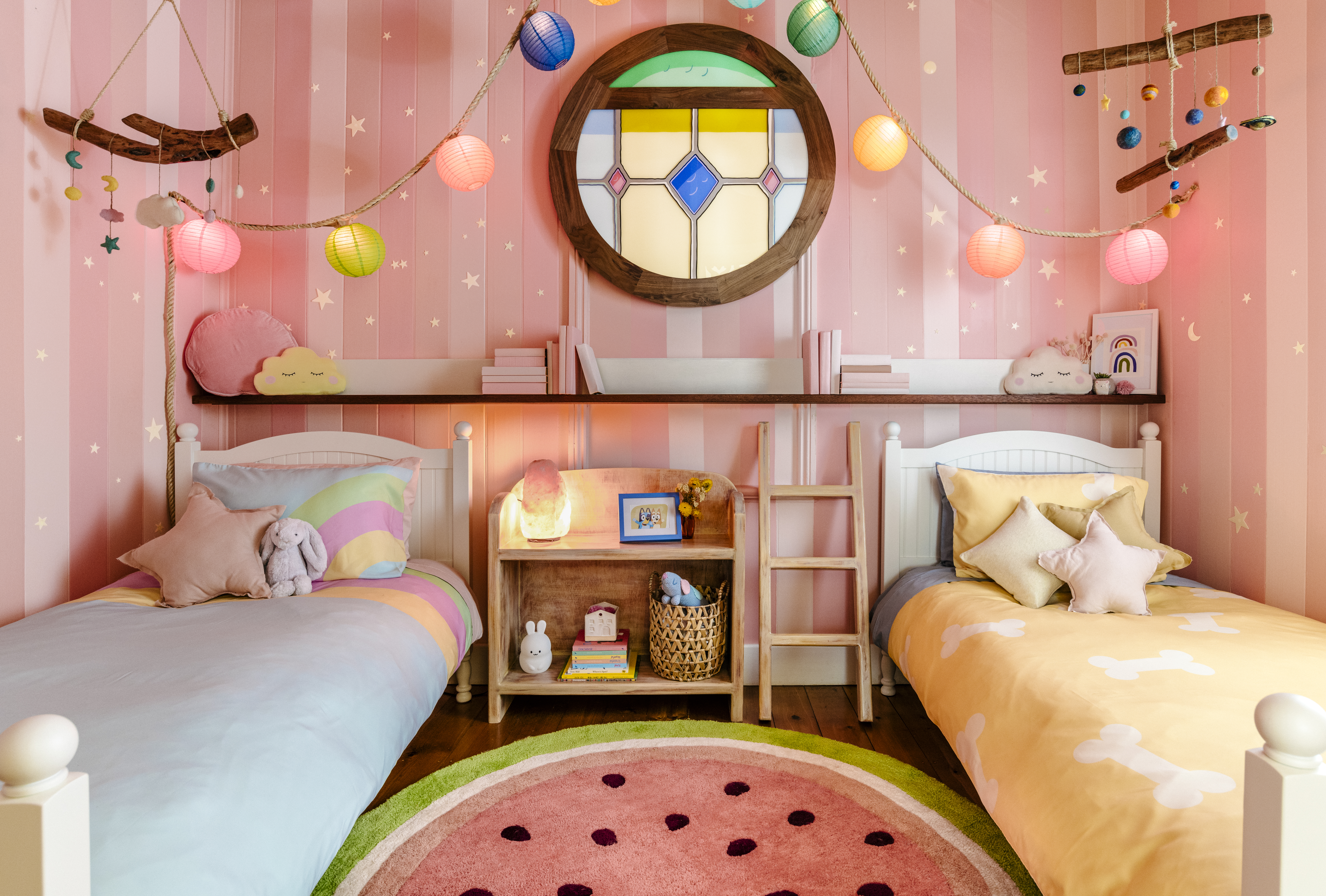 From the moment guests step on to the front lawn, they'll be transported to Bluey's imaginative world as they spot familiar touches like the red letterbox, bone-shaped chimney, and charming bay window.
Inside, the interior has been re-imagined with a breezy Mid-century aesthetic coupled with playful pops of colour. The girls' playroom with its signature rainbow canopy, kiwi rug and numerous toys – including Bluey's beloved Chattermax toy and Magic Xylophone – is the ultimate setting for creative play and make believe.   
Kids can stay overnight in Bluey and Bingo's Bedroom, equipped with two single beds fitted with a custom stained-glass window feature, colourful hanging lanterns, cloud cushions and, of course, a hand-crafted watermelon rug. Once the putdown's done, and the kids are snuggled down with Bingo's Floppy and Grey Dancer toys, parents can retreat to Bandit and Chilli's airy and plant-filled Master Bedroom – complete with queen-sized bed, rattan furnishings and neutral hues.  
The backyard is a verdant oasis for family games – like Horsey Ride and Keepy Uppy – with a BBQ, kids'-sized trampoline, Grannies' car, custom toadstool seats and bespoke dog garden gnomes. Yummy snacks can be found in the fully stocked fridge, including Bandit's famous duck cake.
The weekend getaway includes:
An exclusive behind the scenes tour of the Ludo Studio, where Bluey is created.
A Chinese takeaway feast in the lush backyard (don't forget the spring rolls!).
An afternoon decorating the Heeler's famous duck cake, where the whole family can test their culinary skills.
A puppet making craft session featuring Bluey's famous Bob Bilby character (a local Aussie marsupial).
This two-night stay*, for two adults and two children, will take place from Friday, February 18 to Sunday, February 20 for only AUD $20** (or AUD $10 dollarbucks a night!). All guests must be residents of Australia.
Bookings are available on a first come first serve basis. Bluey fans can request to book this stay on Tuesday, 15 February at 8:00 AM AEDT at airbnb.com/bluey. To request to book, guests must have a verified Airbnb profile, a history of positive reviews and be aged 18+. Airbnb is committed to ensuring each stay is a positive experience for guests, Hosts and local communities. 
For those who miss out on the stay or are located outside Australia, an Online Experience hosted by one of the Bluey composers, Jazz D'Arcy, part of the team behind the music in the series, along with Brisbane-based children's choreographer, Cherie Lange, will be available for kids and their parents. Ten spots will be available to book in each of three distinct time zones (Australian, US and UK). Hosted live from Bluey's house, the whole family can participate in this fully interactive online workshop where guests will be dancing, singing and laughing as Jazz and Cherie recreate some of the most beloved songs and dance moves from the show.
Bookings for the Online Experience sessions open on Tuesday, 15 February at 8:00 AM AEDT at airbnb.com/blueyexperience. Guests who request to book the Online Experience must also have a verified Airbnb profile and be aged 18+.
"Like many parents with young children, I've been captivated by the adventures of Bluey and her family, which bring so much joy and quintessential Aussie humour to audiences across the globe. We're delighted to add Bluey, Bingo, Chilli and Bandit to our growing community of Airbnb Hosts. And while we have some incredible homes on Airbnb, there will be nothing quite like waking up in the Heeler house and getting to live and breathe in Bluey's magical world for one wondrous weekend."

Susan Wheeldon, Airbnb Country Manager for Australia and New Zealand.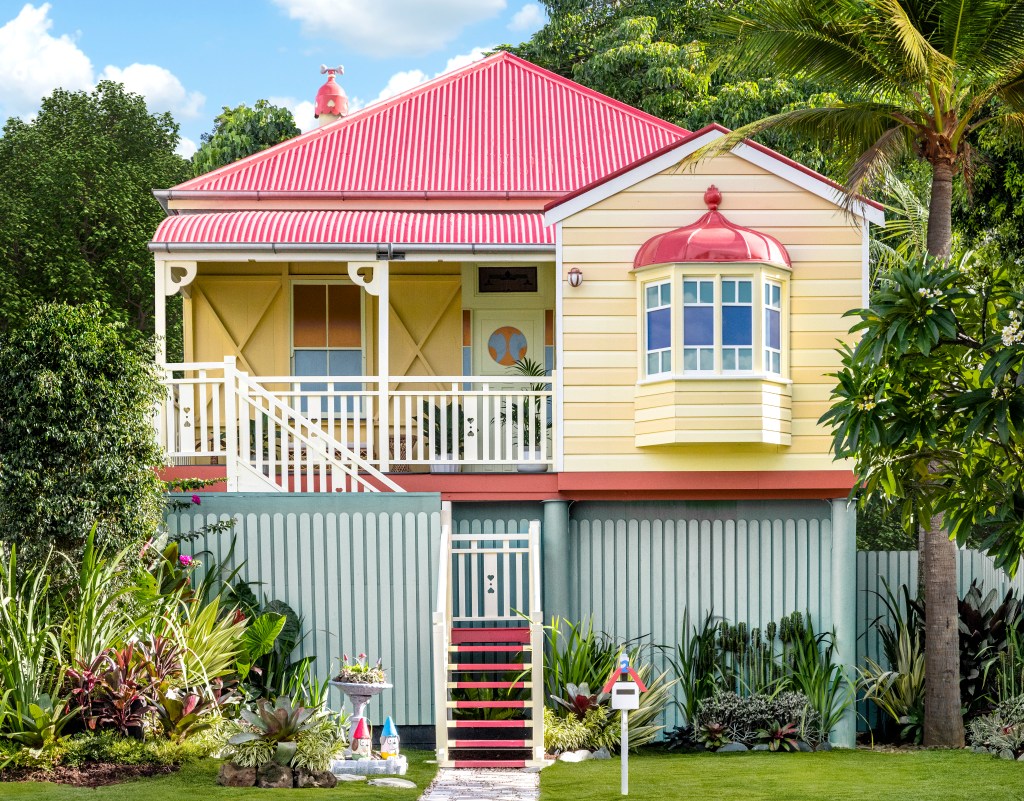 "The Heeler house is almost a character in its own right. We've been amazed at the outpouring of love the fans have shown for this iconic setting, and for all the beautiful Queensland locations the crew have so lovingly included across the three series. Bringing Bluey's backdrop to life in such an ingenious and colourful way for our fans has been an absolute delight." 

Madeleine Jelfs, Bluey Senior Marketing Manager, BBC Studios Australia and New Zealand
A game of musical statues to the Bluey theme song is recommended on arrival.
Please keep sticky geckos off the ceiling.
Be sure to take some adventurous snaps with Bob Bilby.
Maximum two adults and two children can stay at the house for the overnight weekend stay.
For safety reasons, it is recommended children aged 4+ sleep in the single beds in the Playroom. A cot can be provided for younger guests.
No smoking.
No pets allowed – especially emus named Shaun.
Reasonable accessible accommodations can be made if required; these will need to be pre-arranged in advance.
All guests must present a negative Covid-19 test result obtained within 72 hours prior to check in. Masks must be worn by adults during the tour of Ludo Studio and when interacting with campaign staff.
House Rules
Created by Joe Brumm and made entirely in Brisbane Australia, Bluey is produced by the multi-Emmy® award-winning Ludo Studio for ABC KIDS (Australia) and is co-commissioned by ABC Children's and BBC Studios, with production support from the Australian Government through Screen Australia, and support from the Queensland Government through Screen Queensland's Post, Digital and Visual Effects (PDV) Incentive.
Notes to Editors
This press release encourages safe and responsible travel. Local and interstate travel requirements, as well as health guidelines, continue to change quickly. Check local restrictions at home and in your destination before booking a trip on Airbnb. Guests are responsible for their own travel to and from Brisbane.
Airbnb is closely monitoring Brisbane infection rates and government policies and will offer booking guests a AUD $1,000 Airbnb credit if it becomes necessary to cancel the stay.
*This two-night stay is not a contest
**Plus taxes and fees
---
About Bluey
Loved by both parents and kids, Bluey is a global phenomenon and the most-watched series ever on ABC iview. In June 2019, BBC Studios struck a global broadcast deal with Disney to premiere Bluey in all territories outside Australia, New Zealand and mainland China.
The home-grown animated series has enjoyed critical success in Australia and globally, winning a Logie Award for 'Most Outstanding Children's Program' in 2019 and an International Emmy® Kids Award in the Pre-school category in 2020. Over 2 million Bluey books have been sold in Australia and Bluey The Album debuted on the ARIA album charts at #1 – the first ever children's album to top the ARIA chart. Bluey is produced by the Emmy® award-winning Ludo Studio for ABC Kids and is co-commissioned by ABC Children's and BBC Studios. Both series received production support from the Australian Government through Screen Australia, and Queensland Government through Screen Queensland.
About BBC Studios
BBC Studios, a global content company with bold British creativity at its heart, is a commercial subsidiary of the BBC Group, supporting the license fee and enhancing programs for UK audiences. Able to take an idea seamlessly from thought to screen and beyond, its activities span content financing, development, production, sales, branded services, and ancillaries across both its own productions, and programs and formats made by high-quality UK independents. Award-winning British programs made by the business are internationally recognized across a broad range of genres and specialisms, with brands like Strictly Come Dancing/Dancing with the Stars, Top Gear and Doctor Who. BBC.com, BBC Studios' global digital news platform, provides up-to-the-minute international news, in-depth analysis and features to more than 139 million unique browsers each month.BBC Studios has offices in over 20 markets globally, including ten production bases in the UK and production bases or partnerships in a further seven countries around the world. The company, which ordinarily makes around 2000 hours of content a year for both the BBC and third parties including Apple, Netflix and Migu, is a champion for British creativity around the world. It is also a committed partner for the UK's independent sector through a mix of equity partnerships, content investment and international distribution for program titles.