First ever house by legendary architect Antoni Gaudí listed on Airbnb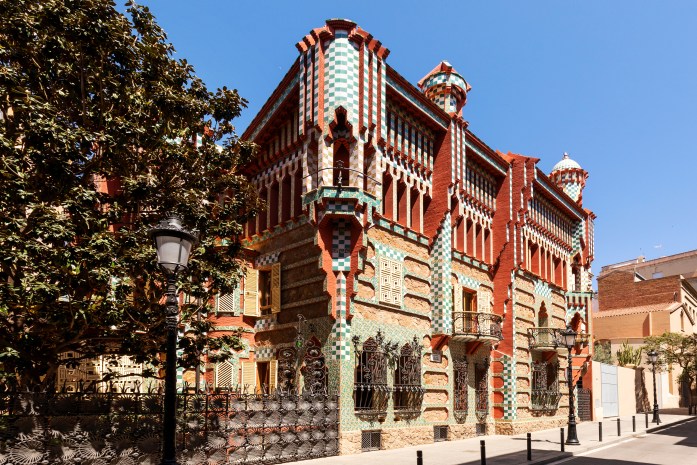 Antoni Gaudí's first house, Casa Vicens, will open its doors for a very special one-night stay in Barcelona this fall. Never before have guests been offered this level of overnight access to the remarkable architectural gem, which has been in private hands for most of its 136 years of existence.
Built as a lavish summerhouse for a local family, Casa Vicens was designed by the man who would go on to wow the world with his extraordinary and unique church in Barcelona. Guests who secure their booking will be greeted by their Host Emili, a member of the team that recently transformed Gaudí's first house into a house museum.
Emili will share his insights and secrets from the recent restoration project during an exclusive tour of the house which is widely regarded as being one of the first buildings of the Art Nouveau movement – a style of architecture that completely broke away from the norms of the period.
Doors will be closed to the public, giving guests unprecedented access during a socially distanced exploration of Casa Vicens and its signature blend of Moorish, neoclassical and organic forms.
We are excited to give guests the opportunity to experience this house as Gaudí designed it – as a nature oasis. We are deeply committed to the preservation of Gaudí's cultural heritage and it will be a great pleasure to share the building's secrets and rich history with whoever books.

Emili, Casa Vicens Gaudí Host
After a deep dive through the building's history, guests will be treated to a Gaudí-inspired Michelin star menu in the dining room: a jaw-dropping gem that is full to the brim with unique and never-before-seen decorative touches – the perfect setting for an intimate yet unforgettable meal. Dinner will be followed by a nightcap in the luxurious smoking room.
To conclude the evening, guests will retire to the most private of spaces, the Vicens family's master bedroom – another stunning jewel decorated by Gaudí in his distinctive style.
Highlights from the stay will include:
A special welcome tour with Emili, your Host, who is part of the team that transformed this historic house into a house museum.
Unprecedented access to this 19th century single-family summer house designed by the one and only Antoni Gaudí.
The opportunity to taste a Gaudí inspired Michelin star menu in a truly unique space followed by a delicious nightcap in 'the smoking room'.
A full mediterranean breakfast in the lush private city garden (best croissants in town included!).
Booking opens at 4:00 PM CEST on July 12, 2021, for a one night stay for a group of two guests this fall, they will have the chance to request to book the stay at airbnb.com/gaudi.
Interested guests should note that house rules are in strict adherence with local COVID-19 guidelines, and those who request to book must live in the same household to minimize risk. Guests can rest easy knowing that the house will be cleaned in accordance to Airbnb's five-step enhanced cleaning process.
*The one-time, one-night stay is not a contest. Bookings are on a first come first served basis. Guests who fulfil the requirements will be eligible for the stay. The stay will cost 1€ (plus taxes and fees). This is a symbolic value in order to be able to correctly process the booking.
This press release encourages safe and responsible travel. Local and international travel requirements, as well as health guidelines, continue to change quickly. Check local restrictions at home and in your destination before booking a trip on Airbnb.
All images included in this document may be used for editorial content based solely on this press release. No other uses are allowed.
About Airbnb
Airbnb was born in 2007 when two Hosts welcomed three guests to their San Francisco home, and has since grown to 4 million Hosts who have welcomed more than 900 million guest arrivals in almost every country across the globe. Every day, Hosts offer one-of-a-kind stays and unique Experiences that make it possible for guests to experience the world in a more authentic, connected way.
About Casa Vicens
Casa Vicens is the first house designed by Antoni Gaudí between 1883 and 1885. Declared a UNESCO World Heritage Site in 2005, it is the house-manifesto where a young Gaudí, at just 30 years of age, established the foundations of what would become his later style of architecture. Located in Barcelona's Gràcia neighbourhood, it opened its doors to the public in November 2017 after three years of restoration and renovation that enabled the house to be restored to its original condition. The outstanding restoration carried out by Martínez Lapeña – Torres Arquitectos and DAW Office – has been a finalist in and received various architecture awards from around the world (Finalist of the 2018 FAD Architecture Prize, 2018 Lledó Arquitectura Restoration Prize, a work awarded at the 2016-2017 XIV Biennial of Spanish Architecture and Urbanism, Nominee for the 2019 EU Mies Award and Finalist for the 2019 XI BIAU Awards). Casa Vicens has the Safe Tourism seal awarded by the Spanish Institute for Tourism Quality and a Safe Travels badge supported by the World Travel and Tourism Council. Both stamps recognize the full and correct application of the hygiene and health measures established to deal with COVID-19.