Hotel industry campaign contributions to Honolulu leaders
They say you're known by the company you keep, and Honolulu Mayor Kirk Caldwell's company says it all.
While signing a bill to limit home sharing and ban most vacation rentals, he was flanked by hotel industry players, further proof Bill 89 was about caving to the interests of the hotel lobby.
Together, Mayor Kirk Caldwell, Councilmember Ikaika Anderson and Councilmember Ron Menor have accepted $52,900 from the hotels, hotel industry lobbyists and hotel worker unions represented at the bill signing, according to public records.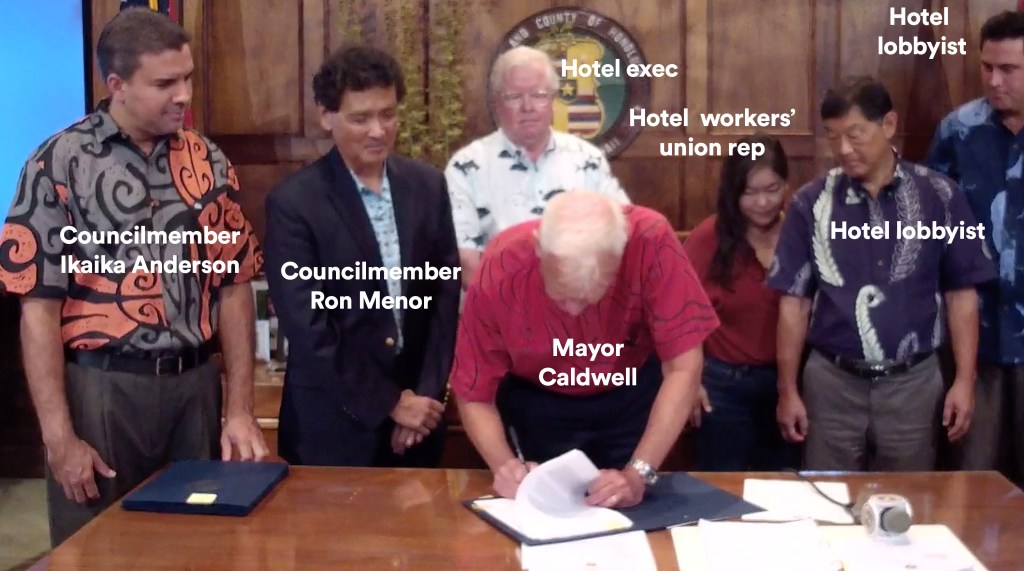 Campaign contributions
Campaign donations to Mayor Caldwell, Councilmember Ikaika and Councilmember Menor from attendees of press conference and/or the entities they represent or are employed by.
Source: Hawaii Campaign Spending Commission, Accessed 06/27/19
Mayor Kirk Caldwell
Campaign Donors
Entity & Employees Contributions
Time Period
Amount
Park Hotels and Resorts
2018
$4,000
HOTELPAC (AH&LA's PAC)
2012
$500
Unite Here Local 5
2007
$200
Turtle Bay Resort & its Employees
2012-2017
$4,500
Hilton Worldwide & its Employees
2010-2016
$21,000
Marriott International & its Employees
2014
$8,000
Ivan M. Lui-Kwan, registered lobbyist for Hilton Worldwide, Turtle Bay Resort, Park Hotels and Resorts
2008-2016
$2,750
Total
$40,950
Source: Hawaii Campaign Spending Commission, Accessed 06/27/19
Councilmember Ikaika Anderson Campaign Donors
Entity & Employees Contributions
Time Period
Amount
Park Hotels and Resorts
2018
$4,000
Hilton Worldwide
2013
$1,000
HotelPAC
2011-2016
$450
Ivan M. Lui-Kwan, registered lobbyist for Hilton Worldwide, Turtle Bay Resort, Park Hotels and Resorts
2016
$500
Total
$5,950