Taking time out to travel the world is a long established rite-of-passage for many but it is not the kind of adventure typically associated with new parents. Julien and Miki Miljian, a couple with two young children, have been traveling in Asia together over the past several months. Their unconventional trip has been incredibly special not despite parenthood but because of it. Here's how they did it.
Back in summer of 2017, the family made the last-minute decision to book four one-way tickets to Bali. With no firm plans in place, their main goal was to 'live the most extraordinary and life-changing experience all together'. Miki, originally from Milan works in fashion and Frenchman Julien is a marketing consultant, so they were in the fortunate position  to be able to work on-the-go. Slightly more challenging was how they would manage with 2-year-old Teo and 1-year-old Lia also on the trip.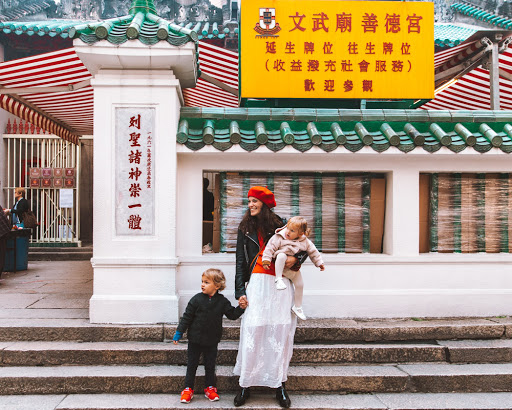 Miki explains: "We were initially a bit daunted. But it turns out traveling with your little children around the world is not only possible, it is fantastic! You get to see these new places through their eyes. And of course sharing this kind of adventure with them is incredibly special."
After Bali, the Miljian family visited Malaysia, Singapore, Thailand and Vietnam. But it is Hong Kong that left them with some of the most vivid memories and impressions.
Julien says that having their children with them made the trip much more memorable and special:
The coolest thing is that people are always smiling when they meet us in the street. You somehow feel more welcomed everywhere. And of course, I have to say the most special thing when you travel the world with your children is that you get to share such great life moments.
And he    explains that finding the right accommodation was essential to making their family trip successful:
When children are small, the choice of accommodation is essential and it's the first real step in a journey that allows you to relax and discover the destination at the same time. A good bed, the possibility of cooking at home, and a space that represents a true point of reference for children when they are far from their home and habits.
In Hong Kong, Julien continues, they were given a warm welcome at the door of their temporary home:
Our host Eyal welcomed us with open arms to his fantastic apartment. It was so well-kept and, much to our surprise, full of toys for the children! The toy cars belonged to our host's great-grandfather, and he was very happy to know they were being enjoyed again by Teo and Lia. They didn't want to leave!
The Miljian family returned to Europe a month ago, but are already planning a six week visit to Japan in April. You can find out more about their adventures here. And more photos below.
With the recent launch of Airbnb's Family Collection, traveling with families is now easier. Airbnb Collections are groupings of homes that meet a defined criteria making them perfectly suited to different types of travel. Family and Work Collections have been live since February with Social stays, Weddings, Honeymoons, Group getaways and Dinner parties coming later this year.