Meet Canada's women hosts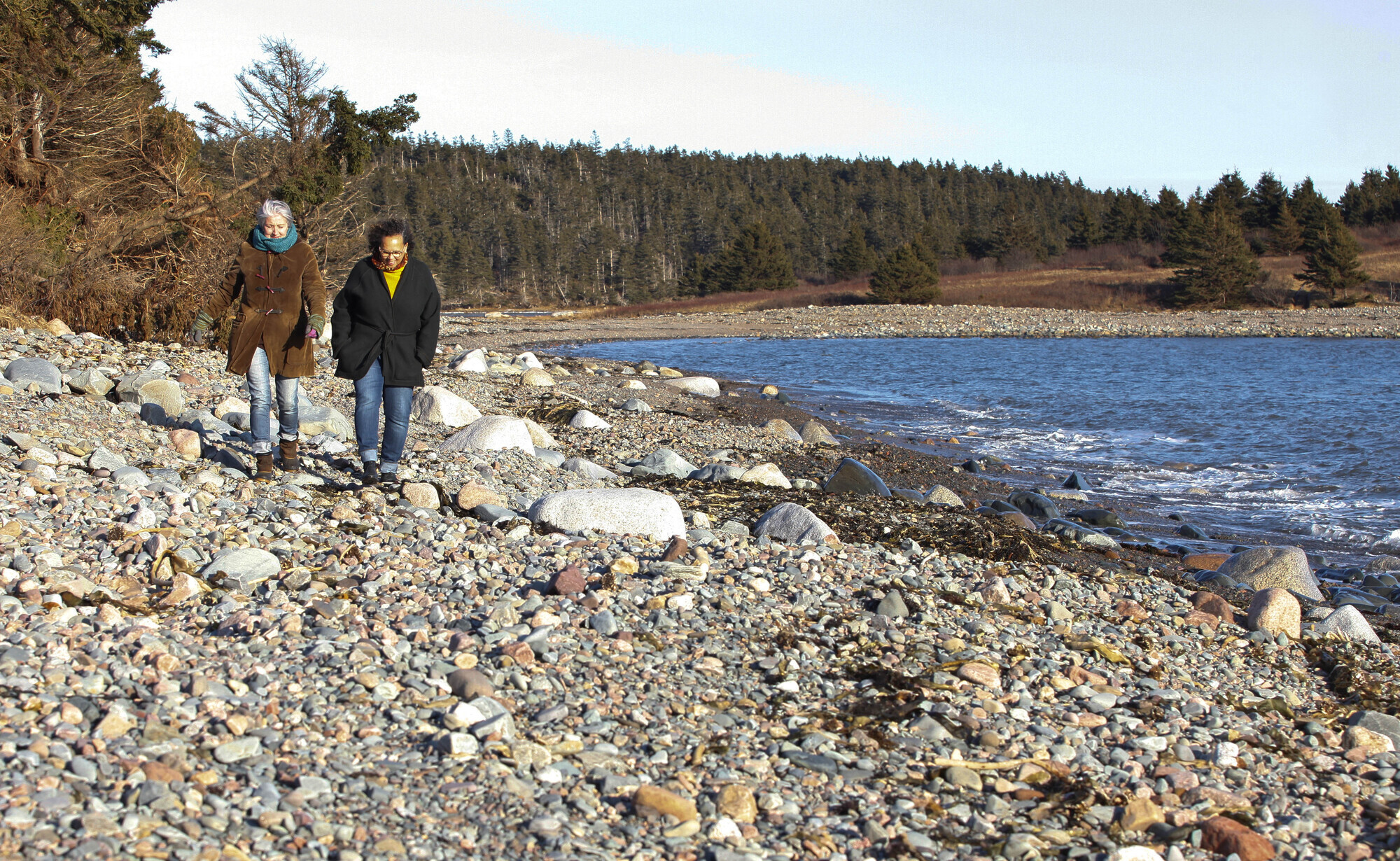 Meet Jacqueline in Toronto
Jacqueline started leading Black history walking-tours on Airbnb after learning about Experiences in a news article, it seemed a natural fit.
"Black history walks combine my love of two things" she says, "Black history and being outside."
Her unique tour and charisma captures visitors from all around the world. As she explains, "Airbnb brings me a market that I could never reach by myself: somebody from Germany, US, Vancouver etcetera." Writing her thesis on "why Black people are afraid of the woods"
Jacqueline has a great sense of humour and passion for her work. She adds, "Experiences are unique – they give you a chance to see multiple perspectives – experiencing tourism from the individual. You are getting a slice of life from the perspective of someone who lives in the city."
Meet Sheryl and Sue in Nova Scotia
After inheriting a mobile home on a property that overlooks the Atlantic Ocean, the creative couple – both artists in their spare time – built a magical space full of personal touches. "We have an incredible kitchen, our bathtub sits on logs we found on the beach," they share.
"Guests like the artwork, they can really tell we made things by hand. There's a lot of love put into our home, and a lot of personality."
Just 45 minutes outside of Halifax, the beachfront property boast 250 degrees of ocean and miles and miles of sky. The ladies love to see visitors shopping local and say, "Nova Scotia needs to diversify. We are able to bring people into an area where there aren't a lot of accommodations. The money that goes into the local community would have gone elsewhere if it wasn't for us. It isn't possible to have hotels in scarce areas, so Airbnb fills that gap."
Meet Linda in Montreal
Linda is a mother, an entrepreneur and a proud host in her historic Rosemont home, which used to function as an Italian bakery. Her kitchen, the centerpiece of the circular-shaped home, features remnants of a traditional Italian brick oven. "The neighbourhood is very family oriented," Linda says. Having guests and family come stay with them has made her children more social.
After leaving her full-time job to start her own technology business, the income from Airbnb helps Linda feel comfortable taking career risks as a mother.
"Airbnb gives me the flexibility to focus on the growth of my own company, while still supporting income of the household… If we had no Airbnb I wouldn't do what I do," she says.
Meet Yoshiko in Calgary
After Yoshiko and her husband Keith, both lost their jobs, the last thing she wanted was to lose their beautiful home. With costs of living on the rise, Yoshiko says,
"There are a lot of for sale signs in Calgary. I am very thankful for Airbnb, this way we can keep our home. It is very important."
Yoshiko started cleaning and preparing her home for guests and in the process discovered her own business – housekeeping. "I feel good cleaning other people's Airbnbs because we host ourselves. I always ask myself, is this place clean enough for the guests? Is it good enough for me?" she says. Operating her own small business, Airbnb has allowed her the flexibility to live a full and dynamic life. "We are transforming a limited life to much more creative and open life. Airbnb gives us more healthier happier lifestyle. To meet people from all over the world… some people we become good friends we will continue to visit each other for many years on Airbnb."
Meet Winnie in Victoria
Community connection is what drives Airbnb host Winnie to go above and beyond for her guests. The former actress, performer, and yoga enthusiast welcomes guests with a hand-drawn sign, vegan pizza, and a hug. To Winnie, home sharing is all about "meeting with like-minded people who want to make a difference in the world." After losing her job of 20 years, a friend recommended that Winnie try home sharing. Little did she know it would change her life, her home, and her well-being for the better. "My home has been transformed through Airbnb," she says,
"each guest that has come to visit has affected my life in a positive way…and I try to give them something in return."
Meet Liz in Kelowna
A long-time mountain biking instructor in Kelowna, Liz is a perfect guide for visitors who want to experience the trails and see the views the city is known for. She says she feels like more than just a host:
"I am an advocate for community, it is part of my business."
When you stay at Liz's place, you'll have access to two guest bikes. The whole vacation experience is at your doorstep – with stunning trails, coastlines and scenic views a bike ride away.
As a single mom, Liz also loves to meet new people while keeping the short term rental space available for her adult children to visit from out of town. "Connection is one of the fundamental needs for humankind." she says. "There are moments where you get to see the kindness of human nature through a simple exchange of home sharing."
Meet Amber in Vancouver
Passionate nature buff, Amber, hosts a popular Airbnb Experience –  "Sea to Sky Waterfall Tour." After overcoming a broken back that left her immobile, Amber's love for adventure and the outdoors has become even more apparent. "Living in Vancouver, people don't always notice what we have around us. I like to think that I can look at things with fresh eyes when I take people from other countries out on hikes," she says. "They get so excited, and I get to experience the excitement that I had the first time through their expressions. It is a nice reminder."
Startup founder and mother, Amber shares that hosting Airbnb Experiences are more than just a passion project.
"A big part of my drive is to show my kids, no matter how hard it is, if you keep pushing through you can do anything."
Overcoming her physical injury and funding her startup doing what she loves, it is clear Amber is an inspiration not just to her children, but to everyone she meets.
Meet Rosemary in Newfoundland
Rosemary is a filmmaker, artist and all around creative producer. As a women who wears many hats, Airbnb host is one more title Rosemary has recently added to her repertoire.
"You need to have as many options as possible to get by, especially working as an artist, writer and filmmaker" she says.
Like many other Airbnb hosts working in the Arts, Rosemary augments her income with the money she makes on Airbnb.
For those seeking artistic inspiration a visit to Rosemary's home may be just the thing you need. It has been said that her A1C postal code, which is in downtown St. John's, has the most professional artists per capita than in all of Canada. Plus, with over 32 years living in her historic home (built in 1875!), Rosemary is one of the most knowledgeable hosts and tour guides in the city.
To learn more about women hosts on Airbnb around the world, read the full story here.