Airbnb Hosts in Malaysia Offer over 1,000 Places Frontline Stays
Airbnb launches its global Frontline Stays programme in Malaysia with the endorsement of the Ministry of Health, as part of a global initiative to provide places to stay for COVID-19 responders
To date, hosts in Malaysia have offered frontline responders over a thousand places to stay, adhering to cleanliness protocols and stringent safety standards
Airbnb partners with Homes4Heroes Malaysia to help connect frontline staff and hospitals to available stays on the Airbnb platform
Malaysia is among the countries launching Frontline Stays in Asia-Pacific, following local programmes announced by Airbnb in Thailand, Philippines, Australia and New Zealand to support local frontline responders
Following Airbnb's recent announcement of the expansion of its global Frontline Staysinitiative in Malaysia, hosts across the country have offered over 1,000 places to stay for healthcare staff and first responders.
Endorsed by the Ministry of Health, Airbnb's Frontline Stays programme provides COVID-19 frontline responders with safe and convenient places to stay while they carry out their critical work. Hosts in Malaysia who wish to open their homes and be a part of the programme can continue to sign up at airbnb.com/covid19relief.
Malaysia is among the countries launching Frontline Stays in Asia-Pacific, following local programmes announced by Airbnb in Thailand, Philippines, Australia and New Zealand. To date, the global community of Airbnb hosts have offered over 200,000 places to stay for people responding to the pandemic. Airbnb will continue to waive all fees on the first 100,000 stays booked through the programme from all over the world.
Partnering with Homes4Heroes Malaysia
To make the Frontline Stays programme even more accessible to COVID-19 frontline responders in Malaysia, Airbnb is partnering with local grassroots movement Homes4Heroes to match healthcare frontline responders with available stays. The Homes4Heroes movement in Malaysia is led by volunteers and civil society members from NGOs and movements Yayasan Chow Kit, KitaJagaKita, Projek Wawasan Rakyat, UndiRabu and Pulang Mengundi, who have collectively come together to aid medical frontline responders displaced by new and sudden postings due to COVID-19, ensuring that these personnel have comfortable housing and reliable transport.
"We are delighted to partner with Airbnb for the Frontline Stays programme in Malaysia as we uphold a shared mission to help find and provide accommodation to COVID-19 responders," said Hanna Alkaf, Team Member, kitajagakita.com. "Having a ready supply of clean, safe and conveniently-located homes available and open to frontliner responders in every part of the country will make a great difference. In times like these, it's good to know that we're all doing what we can to help each other."
"The overwhelmingly positive response from our local hosts to our Frontline Stays programme in Malaysia embodies the spirit of Kita Jaga Kita that lives on in our Airbnb community," says Mike Orgill, General Manager (Southeast Asia, Hong Kong and Taiwan), Airbnb. "We are truly grateful to everyone who has signed up to open their homes to COVID-19 responders during this time of crisis. We're confident that by working together with Homes4Heroes, the Ministry of Health and our hosts, our collective efforts will help connect Malaysian healthcare workers with a place to stay as they do their lifesaving work."
Booking a stay
Free and paid stays can be booked by any COVID-19 frontline responder directly on Airbnb, or through local partners in Malaysia, including Homes4Heroes. The frontline responder must have an account and sign up for the Frontline Stays programme at https://www.airbnb.com/covid19relief-guests. Frontline Stays has also been expanded so that individual responders can book directly on the Airbnb platform, allowing hosts to help even more people who are in immediate need. Healthcare professionals, relief workers and first responders seeking a comfortable and convenient place to stay while on duty can now submit their information and accommodation needs here.
Cobnb Malaysia, a professional hospitality company taking care of multiple properties, was one of the first to sign up for the programme, making 50 of their homes available for stays. "This is a difficult time for everyone and coming together to help where we can is the best way forward," says Glenn Wong, Managing Director, Cobnb Malaysia. "As Malaysians, we pride ourselves on being hospitable and welcoming hosts, and our frontliners deserve all the support we can offer for their incredible selflessness."
Upholding cleanliness and safety standards
Airbnb is committed to ensuring that all accommodation made available as part of Frontline Stays takes into account robust preventive practices and stringent safety standards. Hosts signing up for the programme have agreed to follow safety protocols developed by leading experts, officials, local and national authorities, and the Centers for Disease Control and Prevention (CDC).
Following the recent announcement of the Airbnb Enhanced Cleaning Initiative, which includes the first overarching standardized protocol for cleaning and sanitization in the home sharing industry, in May, Airbnb will launch the new Cleaning Protocol, offering enhanced procedures and guidance on how to clean every room in a home. The host Cleaning Protocol will include specific information on COVID-19 prevention, such as the use of personal protective equipment, like masks and gloves for hosts or their cleaners, as well as disinfectants that are approved by regulatory authorities. This effort builds off of Airbnb's strong historical track record of cleanliness: To date 94 percent of all Airbnb reviews show that guests are satisfied with cleaning, scoring it at 4 or 5 stars after their stays.[1]
If hosts are unable to commit to the Cleaning Protocol, they can alternatively opt into a new feature called Booking Buffer, to create a vacancy period between stays. Hosts can commit to keeping their home empty for a set period in between stays, with no activity other than cleaning. Reservations will be automatically blocked during that time frame, currently set at 72 hours. This option includes the same 24 wait period before entering, and hosts should still observe CDC recommendations and other applicable local guidance.
Supporting our frontline responders
Malaysian hosts interested in participating in Frontline Stays can continue to sign up here. For all Malaysians and guests keen to lend their support outside of opening their homes, Airbnb has launched a donation tool with 100% proceeds to go directly to non-profits helping with COVID-19 relief efforts. To donate, go to airbnb.com/openhomes/covid19relief?donate.
###
---
[1] Internal Airbnb data referring to guest reviews on a stay's cleanliness as of March 31 2020.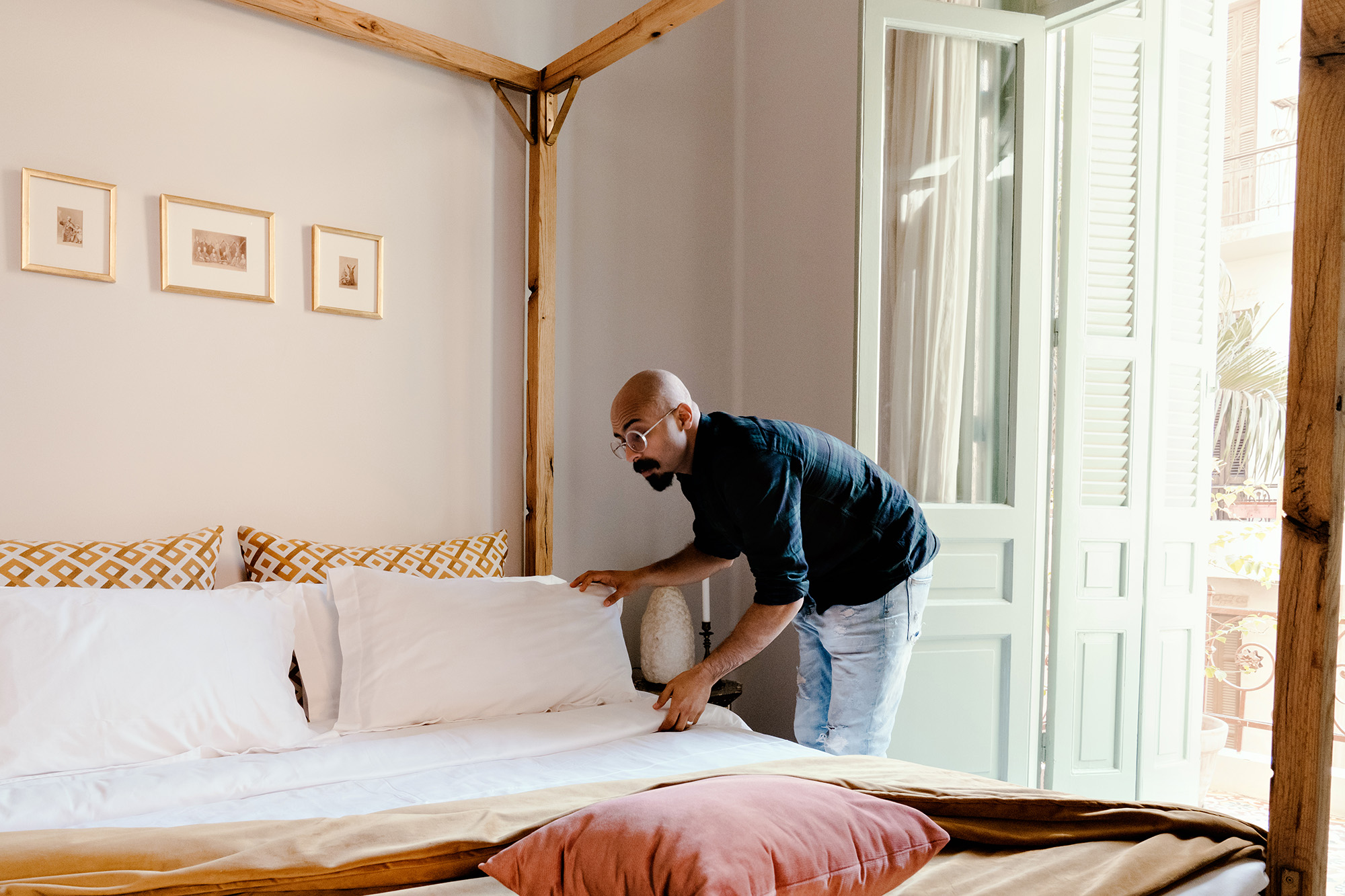 Hos Airbnb di Malaysia Menawarkan Lebih 1,000 Tempat Penginapan untuk Petugas Barisan Hadapan COVID-19
Airbnb melancarkan program Frontline Stays global di Malaysia dengan sokongan Kementerian Kesihatan, sebagai sebahagian daripada inisiatif global untuk menyediakan penginapan untuk petugas bantuan COVID-19
Setakat ini, hos di Malaysia telah menawarkan lebih seribu tempat penginapan yang mematuhi protokol kebersihan dan standard keselamatan yang ketat kepada petugas barisan hadapan
Airbnb bekerjasama dengan pergerakan Homes4Heroes untuk membantu menghubungkan kakitangan barisan hadapan dan hospital dengan penginapan yang tersedia melalui platform Airbnb
Malaysia merupakan antara negara yang melancarkan Frontline Stays di Asia Pasifik, mengikut program tempatan yang diumumkan oleh Airbnb di Thailand, Filipina, Australia dan New Zealand untuk menyokong petugas barisan hadapan tempatan
Mengikuti pengumuman Airbnb baru-baru ini tentang perluasan inisiatif Frontline Stays global di Malaysia, hos di seluruh Malaysia telah menyediakan lebih 1,000 tempat penginapan untuk kakitangan kesihatan dan responden pertama.
Dengan sokongan Kementerian Kesihatan Malaysia, program Frontline Stays Airbnb menyediakan tempat tinggal yang selamat and selesa kepada responden COVID-19 semasa mereka menjalankan tugas kritikal. Hos di Malaysia yang ingin membuka kediaman mereka dan menjadi sebahagian daripada program ini boleh terus mendaftar di airbnb.com/covid19relief.
Malaysia merupakan antara negara yang melancarkan Frontline Stays di Asia Pasifik, mengikuti program tempatan yang diumumkan oleh Airbnb di Thailand, Filipina, Australia dan New Zealand. Setakat ini, komuniti global hos Airbnb telah menawarkan lebih 200,000 tempat penginapan untuk golongan yang terlibat dalam usaha bantuan menghadapi pandemik ini. Airbnb akan terus mengetepikan semua yuran untuk 100,000 penginapan pertama yang ditempah melalui program ini dari seluruh dunia.
Bekerjasama dengan Homes4Heroes
Untuk lebih memudahkan program Frontline Stays diakses oleh petugas barisan hadapan COVID-19 di Malaysia, Airbnb bekerjasama dengan pergerakan akar umbi tempatan Homes4Heroes untuk memadankan petugas barisan hadapan perubatan dengan penginapan yang tersedia. Pergerakan Homes4Heroes diketuai oleh sukarelawan dan aktivis daripada NGO dan pergerakan Yayasan Chow Kit, KitaJagaKita, Projek Wawasan Rakyat, UndiRabu dan Pulang Mengundi, yang secara kolektif telah berganding bahu untuk membantu petugas barisan hadapan perubatan yang kehilangan tempat tinggal disebabkan oleh penempatan baharu yang dibuat secara tiba-tiba akibat COVID-19. Ini memastikan kakitangan ini mendapat penginapan yang selesa dan pengangkutan yang boleh diharap.
"Kami gembira bekerjasama dengan Airbnb untuk program Frontline Stays di Malaysia kerana kami berpegang kepada misi bersama untuk membantu mencari dan menyediakan penginapan untuk petugas bantuan COVID-19," kata Hanna Alkaf, Ahli Pasukan, kitajagakita.com. "Memastikan terdapat bekalan penginapan bersih, selamat dan terletak di lokasi berdekatan dengan tempat kerja yang tersedia dan terbuka untuk petugas barisan hadapan di setiap kawasan di negara ini akan memberikan manfaat yang sangat besar. Pada masa seperti ini, ia amat melegakan apabila mengetahui bahawa kita semua sedang berusaha sedaya upaya untuk membantu antara satu sama lain."
"Reaksi yang sangat positif daripada hos tempatan kami terhadap program Frontline Stays di Malaysia menyemarakkan semangat Kita Jaga Kita yang tidak pernah padam dalam komuniti Airbnb kami," kata Mike Orgill, Pengurus Besar (Asia Tenggara, Hong Kong dan Taiwan), Airbnb. "Kami berterima kasih kepada semua yang telah mendaftar untuk membuka pintu rumah mereka kepada petugas bantuan COVID-19 pada masa krisis ini. Kami yakin bahawa dengan bekerjasama dengan Homes4Heroes, Kementerian Kesihatan dan hos kami, usaha kolektif kami akan membantu menghubungkan kakitangan perubatan Malaysia dengan tempat penginapan semasa mereka melakukan kerja mereka untuk menyelamatkan nyawa."
Menempah penginapan
Penginapan yang percuma dan dibayar boleh ditempah oleh mana-mana petugas barisan hadapan COVID-19 secara terus di Airbnb, atau melalui rakan kongsi tempatan di Malaysia, termasuk Homes4Heroes. Frontline Stays juga telah diperluaskan supaya setiap petugas bantuan boleh menempah secara terus di platform Airbnb. Ini membolehkan hos membantu lebih ramai orang yang memerlukan dengan serta-merta. Pekerja profesional perubatan, pekerja bantuan dan petugas barisan hadapan yang mencari tempat penginapan yang bersih dan selamat semasa menjalankan tugas kini boleh menghantar maklumat dan keperluan penginapan mereka di sini.
Cobnb Malaysia, sebuah syarikat hospitaliti profesional yang mengurus beberapa harta tanah, adalah antara yang pertama mendaftar untuk program ini dan telah menyediakan 50 daripada kediaman mereka untuk penginapan. "Ini masa yang sukar untuk semua orang dan cara terbaik untuk menghadapi krisis ini ialah dengan berganding bahu untuk sama-sama membantu sedaya upaya kita," kata Glenn Wong, Pengarah Urusan, Cobnb Malaysia. "Sebagai warga Malaysia, kami berbangga menjadi hos yang mesra dan prihatin, dan petugas barisan hadapan kita layak mendapat semua sokongan yang kami boleh tawarkan untuk sikap mereka yang tidak mementingkan diri sendiri. "
Mematuhi standard kebersihan dan keselamatan
Airbnb komited untuk memastikan semua penginapan yang tersedia sebagai sebahagian daripada Frontline Stays akan mematuhi amalan pencegahan yang mantap dan standard keselamatan yang ketat. Hos yang mendaftar untuk program ini telah bersetuju untuk mengikuti protokol keselamatan yang dibangunkan oleh pakar yang terkemuka, pegawai, pihak berkuasa tempatan dan nasional, dan Pusat Kawalan dan Pencegahan Penyakit (CDC).
Ekoran daripada pengumuman Inisiatif Pembersihan Tertingkat Airbnb baru-baru ini, yang merangkumi protokol standard terbaik yang pertama untuk pembersihan dan pembasmian kuman dalam industri perkongsian penginapan, pada bulan Mei, Airbnb akan melancarkan Protokol Pembersihan baharu, yang menawarkan prosedur dan panduan tertingkat tentang cara membersihkan setiap bilik dalam tempat penginapan. Protokol Pembersihan hos akan merangkumi maklumat khusus tentang pencegahan COVID-19, seperti penggunaan peralatan perlindungan peribadi seperti topeng dan sarung tangan untuk hos atau pekerja pembersihan mereka, serta disinfektan yang diluluskan oleh pihak berkuasa kawal selia. Usaha ini sejajar dengan sejarah rekod kebersihan Airbnb yang kukuh: Setakat ini 94 peratus daripada semua ulasan Airbnb menunjukkan bahawa tetamu berpuas hati dengan kebersihan, dengan memberi penilaian 4 atau 5 bintang selepas penginapan mereka.[1]
Jika hos tidak dapat mematuhi Protokol Pembersihan kami, mereka boleh memilih ciri baharu yang dipanggil Penimbal Tempahan, untuk mewujudkan tempoh kekosongan antara penginapan. Hos berjanji untuk memastikan kediaman mereka kosong untuk tempoh masa tertentu antara penginapan, tanpa aktiviti lain selain daripada pembersihan. Tempahan akan disekat secara automatik sepanjang rangka masa tersebut, yang pada masa ini ditetapkan untuk tempoh 72 jam. Pilihan ini termasuk tempoh menunggu 24 jam yang sama sebelum memasuki ruang, dan hos masih perlu mematuhi cadangan CDC dan panduan tempatan lain yang berkenaan.
Menyokong petugas barisan hadapan kita
Hos Malaysia yang berminat untuk menyertai Frontline Stays boleh terus mendaftar di sini. Untuk semua warga Malaysia dan tetamu yang berminat untuk menghulurkan bantuan selain daripada membuka pintu rumah mereka, Airbnb telah melancarkan alat sumbangan dengan 100% daripada hasilnya disalurkan terus kepada organisasi bukan untung yang membantu dalam usaha bantuan COVID-19. Untuk menderma, pergi ke airbnb.com/openhomes/covid19relief?donate. ###
---
[1] Data dalaman Airbnb merujuk kepada ulasan tetamu tentang kebersihan penginapan setakat 31 Mac 2020.
马来西亚的爱彼迎(Airbnb)房东为新冠肺炎疫情一线防控人员提供 1000 多处住宿
在马来西亚卫生部的认可下,爱彼迎在大马推出全球一线疫情防控人员住宿计划。这也是爱彼迎为新冠肺炎疫情一线防控人员提供住宿的全球计划的一部分
迄今为止,马来西亚的房东已为一线疫情防控人员提供超过一千处住宿,每处房源都遵守清洁规程和严格的安全标准
爱彼迎与 Homes4Heroes並肩合作,为一线疫情防控人员和医院联系爱彼迎平台上可供预订的房源
继爱彼迎在泰国、菲律宾、澳大利亚和新西兰宣布推出这支持一线防控人员的计划之后,马来西亚是亚太地区推出该计划的其中一个国家/地区
爱彼迎近日宣布在马来西亚拓展全球一线疫情防控人员住宿计划,全国各地的房东为医疗保健人员和急救人员提供了1,000多个住宿地点。
在马来西亚卫生部的认可下,马来西亚的一线医护人员可以免费和付费预订当地住宿。马来西亚的房东如果希望敞开家门并参与此计划,可继续通过 airbnb.com/covid19relief 注册。
爱彼迎在泰国,菲律宾,澳大利亚和新西兰宣布该计划之后,马来西亚是在亚太地区启动"前线住宿" 计划的其中一个国家。迄今为止,全球爱彼迎房东社区已经为新冠肺炎疫情防控人员提供了 20 多万个房源。爱彼迎将继续为世界各地通过该计划预订的前 10 万笔住宿订单免除所有服务费。
与 Homes4Heroes 合作
为了让马来西亚的疫情防控人员更方便地预订一线疫情防控人员住宿,爱彼迎与Homes4Heroes合作,为一线医护人员匹配可预订的住宿。Homes4Heroes 是由来自非政府组织及民间组织 Yayasan Chow Kit、KitaJagaKita、Projek Wawasan Rakyat、UndiRabu 和 Pulang Mengundi 的志愿者和社会活动家牵头。他们携手合作,确保那些因疫情需要前往新岗位或突发岗位的医护人员拥有舒适的休息场所和可靠的交通工具。
「我们很高兴与爱彼迎合作,在马来西亚推出一线疫情防控人员住宿计划。这是我们坚持共同的使命,希望帮助疫情防控人员寻找、为他们提供住宿。」kitajagakita.com 的成员 Hanna Alkaf 表示。「提供给全球各地的一线医护人员一个清洁、安全和地理位置方便的房源能打造更好的变化。在这情况下,很高兴我们都在尽己所能互相帮助。」
「我们从当地房东那里收到了他们对马来西亚一线疫情防控人员住宿计划非常积极的回应,这体现了植根于我们爱彼迎社区中的 Kita Jaga Kita 精神。」爱彼迎总经理(东南亚、香港和台湾)Mike Orgill 表示「我们感谢所有在此次危机期间向新冠肺炎疫情防控人员敞开家门的人们。我们深信,通过与 Homes4Heroes、卫生部和房东的合作,我们的共同努力将为坚守在拯救生命前线的马来西亚医护工作者提供休息之所。」
预订住宿
任何新冠肺炎疫情防控人员均可直接通过爱彼迎预订住宿,也可通过爱彼迎在马来西亚当地的合作伙伴(包括 Homes4Heroes)预订。爱彼迎不断拓展推出一线疫情防控人员住宿计划的国家/地区。现在,个人防控人员也可以直接在爱彼迎平台预订住宿,这让房东能够帮助更多有迫切需要的人士。坚守岗位的医护工作者、防控人员和急救人员希望寻找干净、安全的住所,现在,他们可以在此提交自己的信息和住宿要求。
Cobnb Malaysia 是一家代表多个爱彼迎房东的爱彼迎房源管理公司,也是首批注册加入该计划的公司之一。他们为该计划提供了 50 个可供预订的房源。「对于每个人来说,这都是一个艰难的时期。共同努力、尽我们所能提供帮助是共克时艰最好的方式。」Cobnb Malaysia 董事总经理 Glenn Wong 表示。「作为马来西亚人,我们为成为热情好客的房东感到骄傲。我们的一线防控人员无私奉献,应该得到我们的支持。」
维护清洁和安全标准
爱彼迎承诺,确保作为一线疫情防控人员住宿出租的所有房源都将采取周密的预防措施并严格遵守安全标准。注册参加该计划的房东已同意遵守专家、政府官员、地方和国家/地区部分以及疾病控制与预防中心制定的安全规程。
爱彼迎最近公布了强化清洁计划,其中包括住房共享行业首个清洁和消毒的总体标准化规程。爱彼迎将于 5 月推出新的清洁规程,提供如何清洁房源中每个房间的强化程序和指引。房东清洁规程将包括关于新冠病毒预防措施的具体信息,例如使用个人防护设备(如房东或其清洁人员的口罩和手套)以及经监管部门批准的消毒剂。这项工作借鉴了爱彼迎一直以来在清洁方面的优秀表现:迄今为止,94% 的爱彼迎评价都表明房客对清洁工作感到满意,并在住宿结束后给予 4 星或 5 星的评分。[1]
如果房东无法承诺遵守清洁规程,他们也可以选择使用「预订缓冲期」的新功能,在两次住宿之间预留一段空置期。房东可以承诺在两次住宿之间的一段时间内保持房源空置,除了清洁之外不进行其他活动。在此期间,预订将被自动屏蔽(目前设置为 72 小时)。此选项包括进入房源前相同的 24 小时等待期,房东仍应遵守疾病防治中心的建议和其他适用的本地指引。
支持我们的一线疫情防控人员
有兴趣加入一线疫情防控人员住宿计划的马来西亚房东可继续通过此处注册。爱彼迎为希望在开放房源之外提供支持的所有马来西亚人和房客推出了一个捐款工具,善款将全数直接捐赠给非营利组织,帮助开展新冠肺炎疫情防控工作的医护人员。如需捐款,请前往 airbnb.com/openhomes/covid19relief?donate。
---
[1] 爱彼迎内部数据参考了截至 2020 年 3 月 31 日房客对房源清洁度的评价。