Colin's Airbnb Story
Colin Smith lives in the lower half o
f his Uptown home. For four years, the 34-year-old, who is an academic director of not-for-profit schools for underserved children, has been sharing the top floor with guests from all over the world.
He's had great experiences using Airbnb as a traveler since 2010, and says hosting felt like a natural next step.
"Since I bought my house five years ago, the money I've earned from hosting has helped me tremendously," he says. "I've been able to furnish and maintain it, and now I'm redoing some windows and other things around the house. The extra income is a wonderful way to help me re-invest in my home."
While Colin enjoys the revenue Airbnb brings in, he also says he likes hosting for reasons he didn't expect. "I find something so lovely about preparing everything for my guests to the finest detail: leaving notes, buying flowers. I realize those personal touches are what New Orleans is all about, and what Airbnb is all about."
"Some of my guests have told me they were on the fence about visiting New Orleans, but then a friend told them about my place and how much they enjoyed staying here. That tipped the balance, and they decided to come!" he says.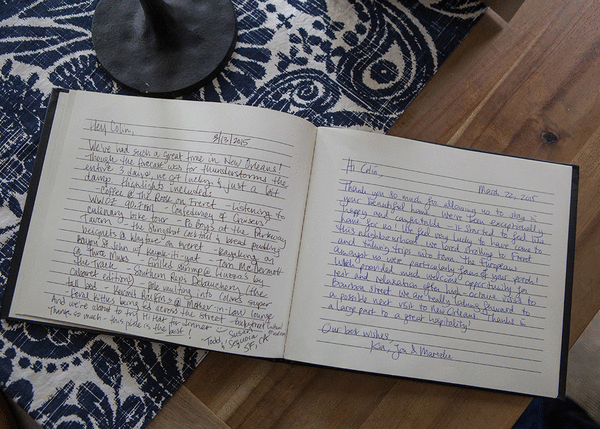 Colin directs travelers to the many shops and restaurants in Uptown's newly-booming corridor of Freret Street, and says his guests do the same for each other in the guestbook he provides. "The hotels are all downtown," Colin says, "it's Airbnb that's bringing people to these developing areas that are worth investing in. My guests write in the book that everything is within walking distance here: the French Quarter, the parade routes. It's everything they want, but with a local feel. They support our small businesses and get out in the community."
In addition to local recommendations, guests also leave colorful remarks, anecdotes, and praise for Colin's extra attention to detail, in his guestbook. "The book started off as a simple suggestion from my mother," he says. "I love how I can go back and flip through the pages and remember everyone that's been here. My mother stayed with me recently, and yes, she signed the guestbook, too."
When Colin talks with his neighbors about Airbnb, he mentions his exacting selection process for guests. "I'm not just trying to keep the place filled every night; I enjoy the process of hosting. And I am very considerate of my property, my neighbors, and my city. I want everyone to have a good experience. I've never had a problem."
"Travelers want to do more than just stay overnight somewhere," Colin says. "They want to connect with new people and places. Airbnb brings more connection and community into our lives."