The Sacramento Street Merchant Walk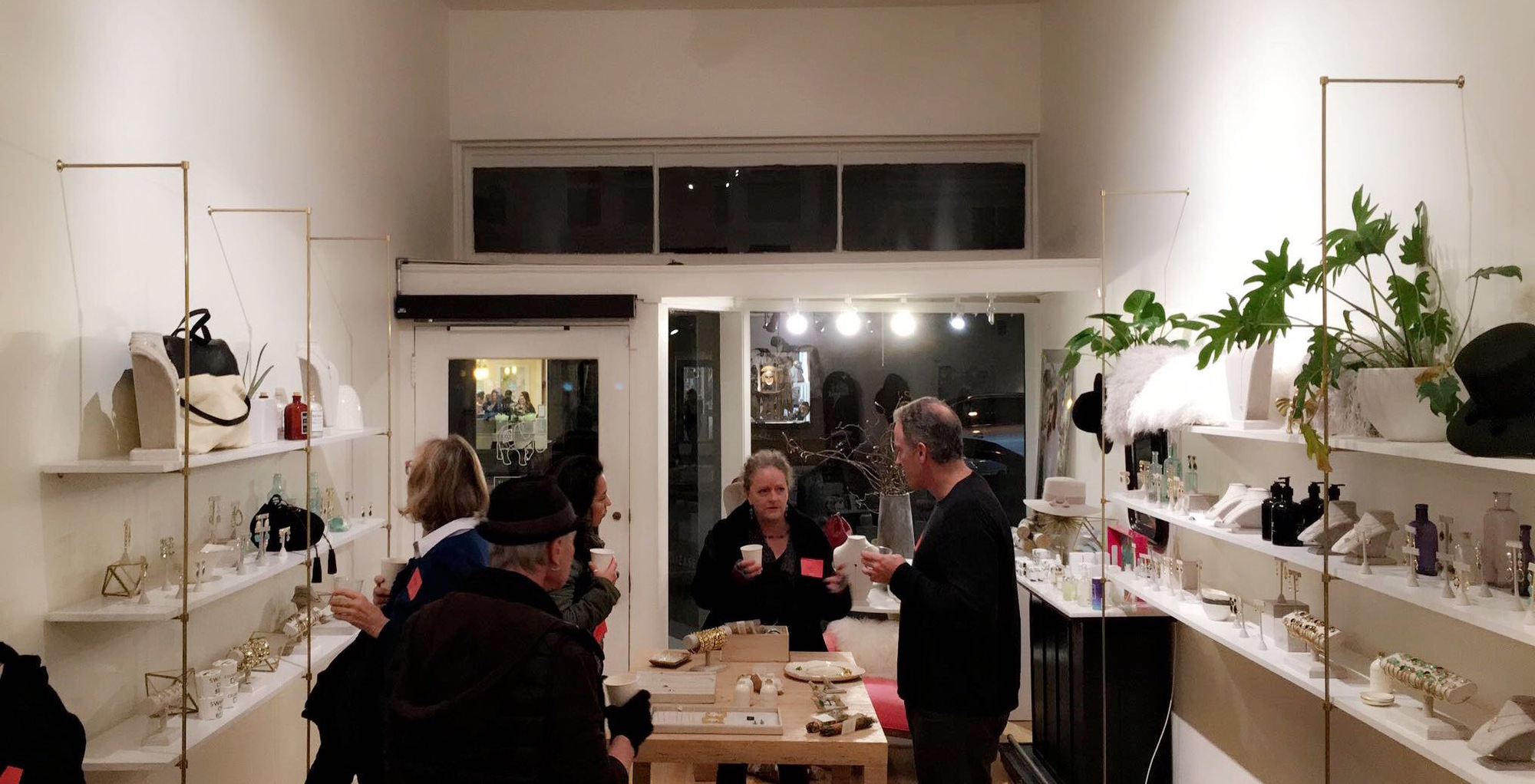 San Francisco's stately homes provide the perfect backdrop for the polished and refined restaurants and shops along Sacramento Street. Its proximity to the Presidio allows visitors to explore some of the city's natural wonders in addition to its architectural ones.
On Thursday, January 26th, Airbnb hosts explored the local treasures along Presidio Heights' Sacramento Street corridor. The 11th Airbnb San Francisco Merchant Walk included stops at more than 12 shops stocking amenities for all occasions.
Marilyn Jaeger outlined the shop's skincare services for those seeking a refresh. Mom's the Word showed off its womenswear for expectant mothers. Local treasure Garibaldi's even supplied a tasting of one of its most enjoyed entrees, the marinated lamb tenderloin.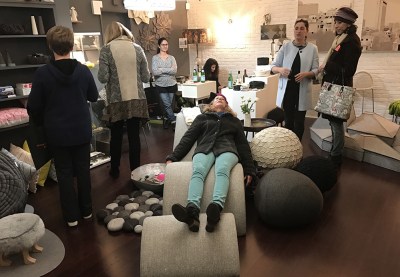 As small groups of interested hosts toured the shops, store owners shared their stories and draw to Sacramento Street.
Lindsay Brier, of Anyon Atelier and Interior Design notes, "[our store] opened its doors in 2013, and we've loved being part of this neighborhood! It changes constantly, and it's been very rewarding to watch the street become a design destination — for interior designers and local customers alike."
Design is front and center along Sacramento Street. Traci Teraoka, owner of Poetica Art and Antiques and head of the Sacramento Street Merchant Association, characterizes the neighborhood as "understated stylish."  She continues, "We have the historic Vogue movie theater and a Carnegie-built library that was fully renovated and restored a couple of years ago. [The corridor includes] 6 blocks of independently owned boutiques, salons and a handful of destination restaurants mixed into a charming stroll-able residential neighborhood."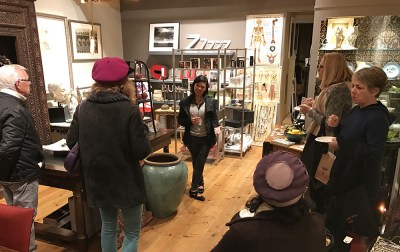 As hosts walked the corridor looking for new places to recommend to their guests and friends, the individuality of each business became apparent. Jewelry makers Mabel Chong and Margaret Elizabeth share a delicate precision, but design with different points of view. Alys Grace and Ếlu's crafted storefronts offer unique and stylish women's wear and accessories for varied occasions.
Found by Maja's internationally inspired look are available for one-off purchase or interior design consulting. The varied furnishings in BaBoo, ANTHEM Interiors, and Rachel Ashwell Shabby Chic appeal to a range of styles from whimsical, to lux, and ethereal looks. Monique Arden's fine arts showcased more classical art, stocking oil paintings and other works. The afterparty at Thos. Moser's showroom gave hosts an opportunity to live amongst the handmade furniture.
Anyon's Lindsay Brier adds, "some of the things we appreciate most about the Presidio Heights neighborhood include the neighborly atmosphere and the beautiful architecture. The barista at our favorite coffee shop, As Quoted, will likely remember your name, and shops tend to be dog friendly! The incredible residential homes, just off Sacramento Street, have details that we never tire of looking at."
For out of town guests and local hosts, Sacramento Street offers an abundance of beauty and style. Thank you to all the businesses who participated in the 11th Merchant Walk, and for making this event a success!  Our hosts loved the hospitality and plan to share what they saw with their future guests.