Win your Dream Travel Ang Pao with Airbnb this Chinese New Year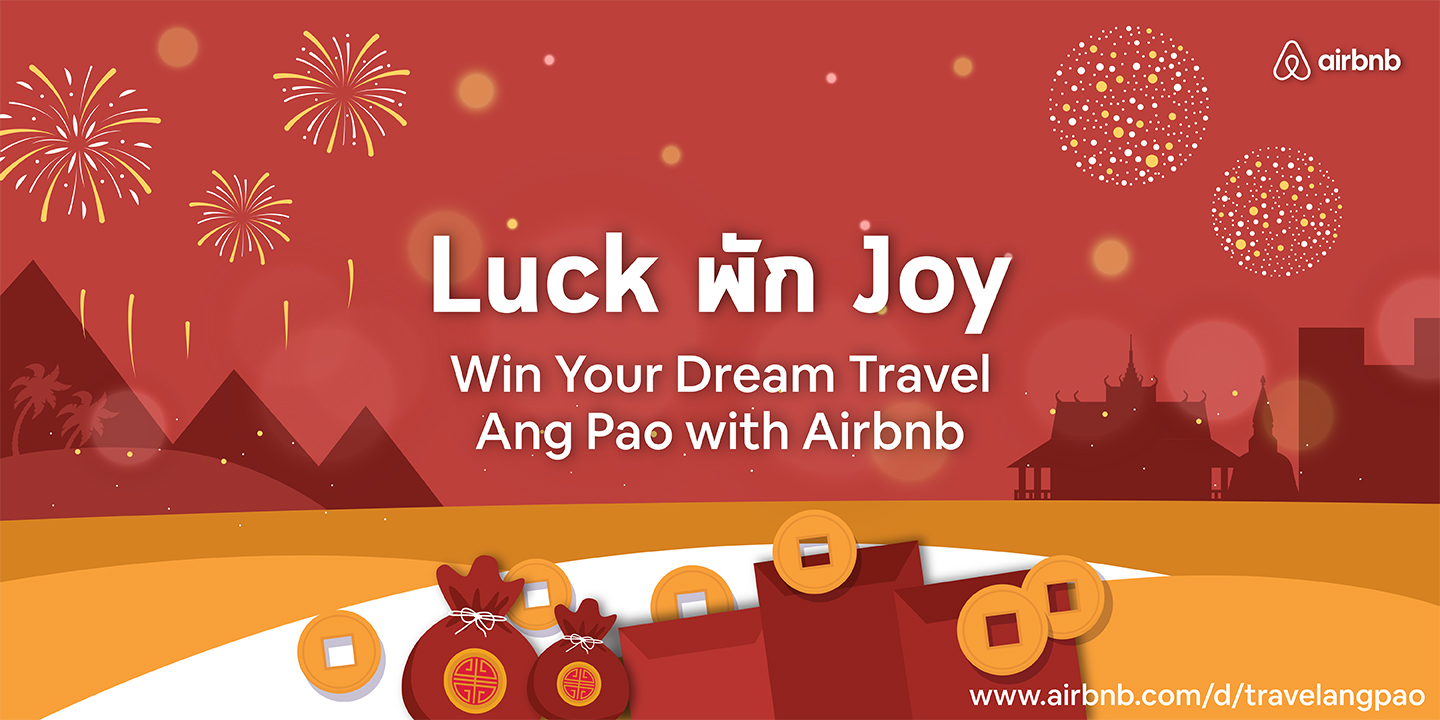 Excitement is in the air as we welcome the Year of the Ox! Airbnb today announces Luck, พัก, Joy: Win your Dream Travel Ang Pao with Airbnb, a nationwide competition where one lucky family of four will win a once-in-a-lifetime dream holiday with Airbnb.
Chinese New Year is a time when families gather in joyful reunion and while travel may be difficult this year, Airbnb wants to celebrate the festive season with a domestic family vacation giveaway that the winners can redeem when travel resumes at a later date.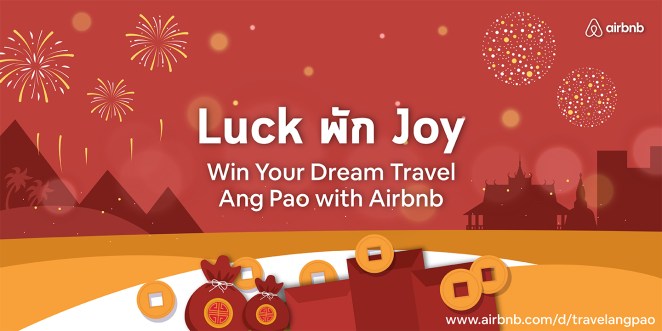 "Chinese New Year is a significant moment for Thais, and it is a time when families reunite and often travel together. Amidst the ongoing COVID-19 pandemic, and in line with the government's support for domestic travel, Airbnb wishes to bring some festive joy and keep the travel inspiration going with this one-off dream travel opportunity. Our travel Ang Pao can be redeemed anytime from now until end 2021, and we strongly encourage the winning family to travel when it is safe and appropriate to do so," shared Amanpreet Bajaj, General Manager for India, Southeast Asia, Hong Kong and Taiwan, Airbnb.
Win a 2021 Travel Ang Pao
Airbnb is offering a family of up to 4 pax the chance to win a free 3D2N stay at an Airbnb Stay of their choice in Thailand, and two Online Experiences, which they can redeem any time during 2021.
How to Enter
Send an email to airbnbtravelangpao@gmail.com and include the following: Name, Age, URL links to your choice of Airbnb Stay and Airbnb Online Experiences, and a photo of your happiest Chinese New Year memory. Finally, in 150 words or less (in Thai or English language), tell us the reason why you would love to win the Stay and Online Experiences for you and your family! For more details and all terms and conditions, go to www.airbnb.com/d/travelangpao.
Dream big. Download the Airbnb app and search for your vacation of a lifetime anywhere in Thailand.
Stays: Unique homes anywhere in Thailand
Be inspired by unique stays in Thailand that tantalise guests with a taste of international travel. If you're missing a European jaunt then try this European-style villa in Khao Yai or step into a Jane Austen novel with this English Countryside Cottage in Chiang Mai. For those who prefer travelling within Asia, this Traditional Chinese Shophouse in Bangkok or Japan-inspired villa in Khao Yai would be perfect.
Online Experiences: Travel from the comfort of your couch anywhere in the world
Jumping on a plane to a far flung destination may not be possible right now, but don't let this come between you and your travel dreams. Transport yourself to anywhere in the world from the comfort of home with Airbnb Online Experiences. 'Visit' Iceland and Become an Aurora Hunter, or learn about Kenya's 44 diverse ethnic groups with Discover Holidays and Traditions of Kenya. Alternatively, see Venice through the eyes of a Venetian with Secrets of Venice, or Zoom Around Kyoto and stop off at a shrine built over 1,000 years ago before dropping by a family-run teahouse dating back over 25 generations.
Terms & Conditions
Contest is open to aged 18+, Thai residents only. One entry per person. Entry from 0900 hrs (Bangkok time) 4 February 2021 to 1700 hrs (Bangkok time) 17 February 2021 on Airbnb.com. Contest to win a stay for a family (inclusive of immediate and extended family members) of up to 4 pax at any listing of the winner's choice within Thailand and any 2 Online Experiences available on Airbnb.com. One winner to be announced 22 February 2021, 5pm (Bangkok time), by email. Airbnb account required. Face value of Stay equal to up to THB60,000, and face value of Online Experiences equal to up to THB12,000. Please see full terms & conditions. Sponsored by Airbnb Ireland Unlimited Company (registration no.:511825).
Note: All Homes and Experiences referenced are intended purely to inspire and illustrate. Airbnb does not recommend or endorse specific Home or Experience listings on the Airbnb platform.