Successful Airbnb and Community Development Department collaboration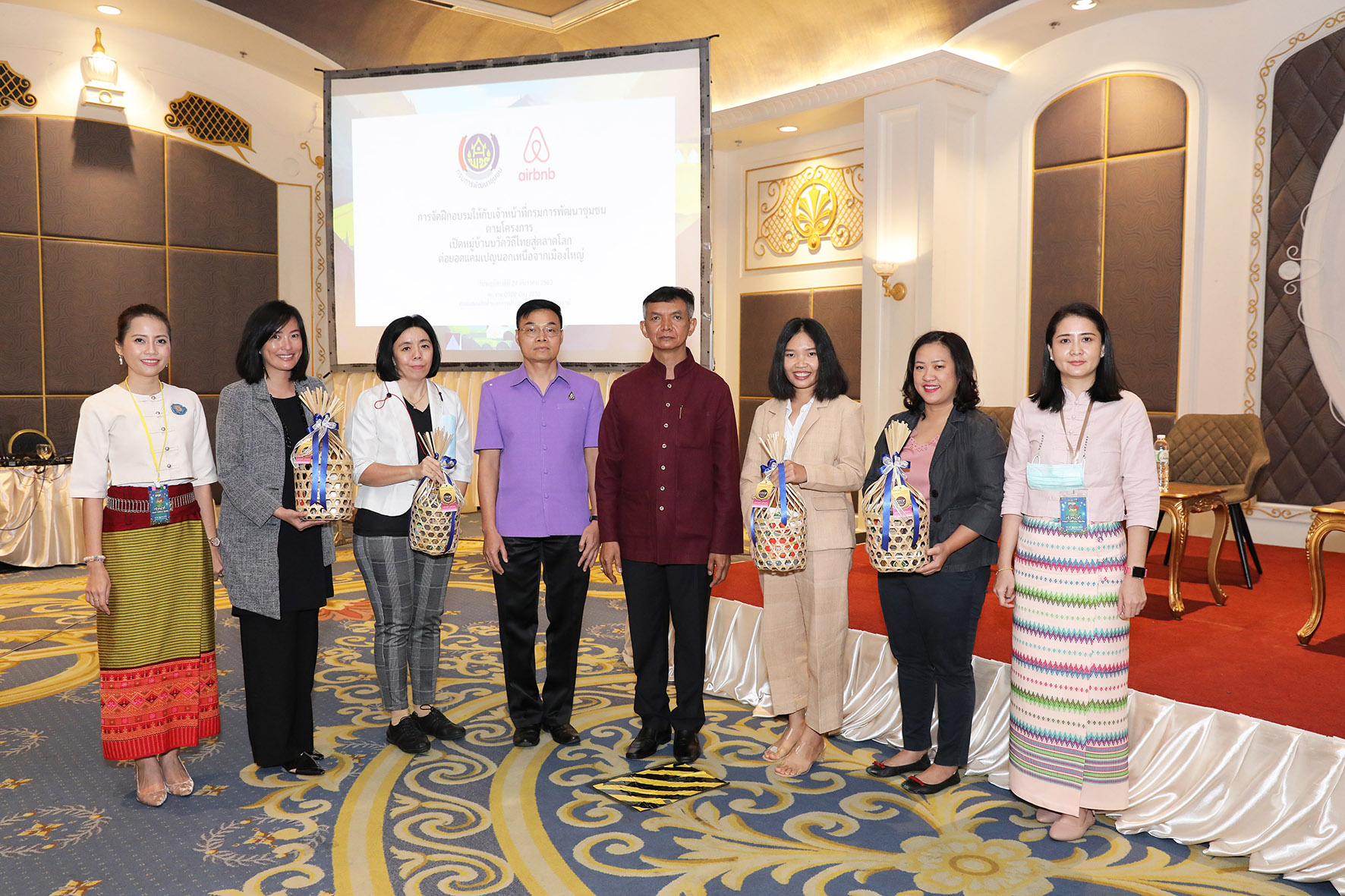 Guests from around the world took part in Airbnb's Online Experiences and immersed themselves virtually in local Thai culture
Empowering local communities, some hosts have earned in excess of 10,000THB extra monthly income
Launched less than four months ago, Airbnb's collaboration with the Ministry of Interior's Community Development Department (CDD) has already begun to successfully empower local tourism entrepreneurs and deliver additional tourism revenue to diverse communities around the country.
Launched in September this year, the Meet Thailand's Villages campaign showcases local Thai villages, cultures and crafts through a series of Airbnb-CDD Online Experiences. From Nai Nang to Tai Dam, more local communities and tourism entrepreneurs are sharing their villages' heritage trades and cultural traditions with guests online. Since launch, some hosts have earned in excess of 10,000THB extra monthly income from welcoming virtual guests from Latin America, Africa, Australia, Japan, India, as well as from within Thailand*.
As part of the Meet Thailand's Villages campaign, Airbnb today held a training session with CDD provincial officials from all 76 provinces at the OTOP City 2020 event, to equip them with the information and digital skills necessary to onboard more local hosts. During the session, Airbnb representatives shared with CDD officials about the benefits of Online Experiences on community tourism development. Hosts from Samut Songkram, Loei and Chiang Mai provinces also shared about their positive hosting experiences in-person and over video call.
"The pilot phase of our Meet Thailand's Villages campaign has been a great success and we have received excellent feedback from our Thai hosts," said Suttipong Juljarern, Director-General of the Ministry of Interior's Community Development Department. "Through Airbnb's Online Experiences, hosts have welcomed guests virtually from all over the world, and we are now building on the success of this campaign and expanding to more communities across Thailand."
"Airbnb Online Experiences have been a great success globally and was something we offered in response to people's limited ability to travel during the pandemic," said Mich Goh, Head of Policy, Southeast Asia, Airbnb. "Working with Thailand's Community Development Department, we have seen how Airbnb Online Experiences can positively impact local communities. Connecting Thai hosts with the world and enabling guests to discover their cultures and traditions has empowered them to earn extra income during these times."
Empowering Local Communities
At a time when domestic travel is Thailand's primary focus, Airbnb and CDD have worked together to create a series of unique Online Experiences to shine a light on some of Thailand's diverse local communities.
Working together with a registered tour guide, Wipa Khumkham co-hosts Airbnb's Visit the Hidden Thai Village Online Experience in Loei province. Prior to joining the Meet Thailand's Villages campaign, they welcomed visitors to the village museum, but few spent time with the local community or learned about their local way of life, unique crafts and culture. "In the past two months, we have welcomed more than 30 guests from around the world to our community virtually. We have been able to share more about our village and way of life, and our Online Experience has enabled us to earn additional income and also give work and purpose to many people in the community."
Growing Thailand's Tourism Potential
Guest feedback on the Airbnb-CDD Online Experiences has been overwhelmingly positive thus far, with an average Experiences ranking of 4.88*. Sharing their local knowledge and insights, hosts have made new friends around the world, and some international guests have been so inspired after their Experiences that they are committed to visiting Thailand in person in the future.
Speaking of the Visit the Hidden Thai Village Online Experience, guest Jennifer shared, "My parents and I love traveling—exploring new places, people, food and cultures. Getting to visit this small Thai village virtually was a great alternative in this crazy year! We got to learn about a people group in Thailand and "take" a motorcycle ride to see how a family home and business is run, watch local dances and games, and "meet" new people through our tour guide's journey in real time. The only thing missing was the ability to sample the local cuisine—so we'll have to wait until we can take an in-person trip and explore Thailand for ourselves! I would definitely recommend this experience."
*Based on internal booking data from Oct-Nov 2020.
Note: All Homes and Experiences referenced are intended purely to inspire and illustrate. Airbnb does not recommend or endorse specific Home or Experience listings on the Airbnb platform.