The Airbnb community sees more of the Fillmore during merchant walk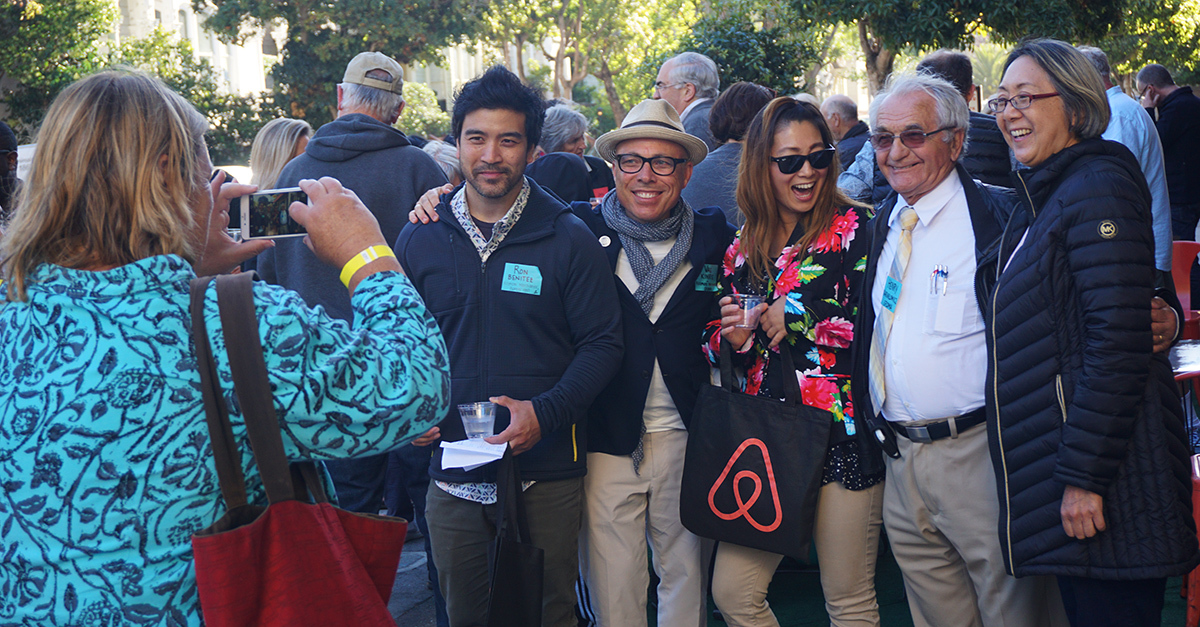 More than 60 members of the Airbnb community in San Francisco recently came together for a merchant walk through the Fillmore.
Airbnb guests stay longer and spend more money in the neighborhoods they visit than typical hotel guests, and many guests visit businesses based on their hosts' recommendations. Merchant walks help introduce hosts to new and interesting small businesses that they can recommend to their guests. The Fillmore's rich history and vibrant small-business community make it perfect for exploration by hosts and guests.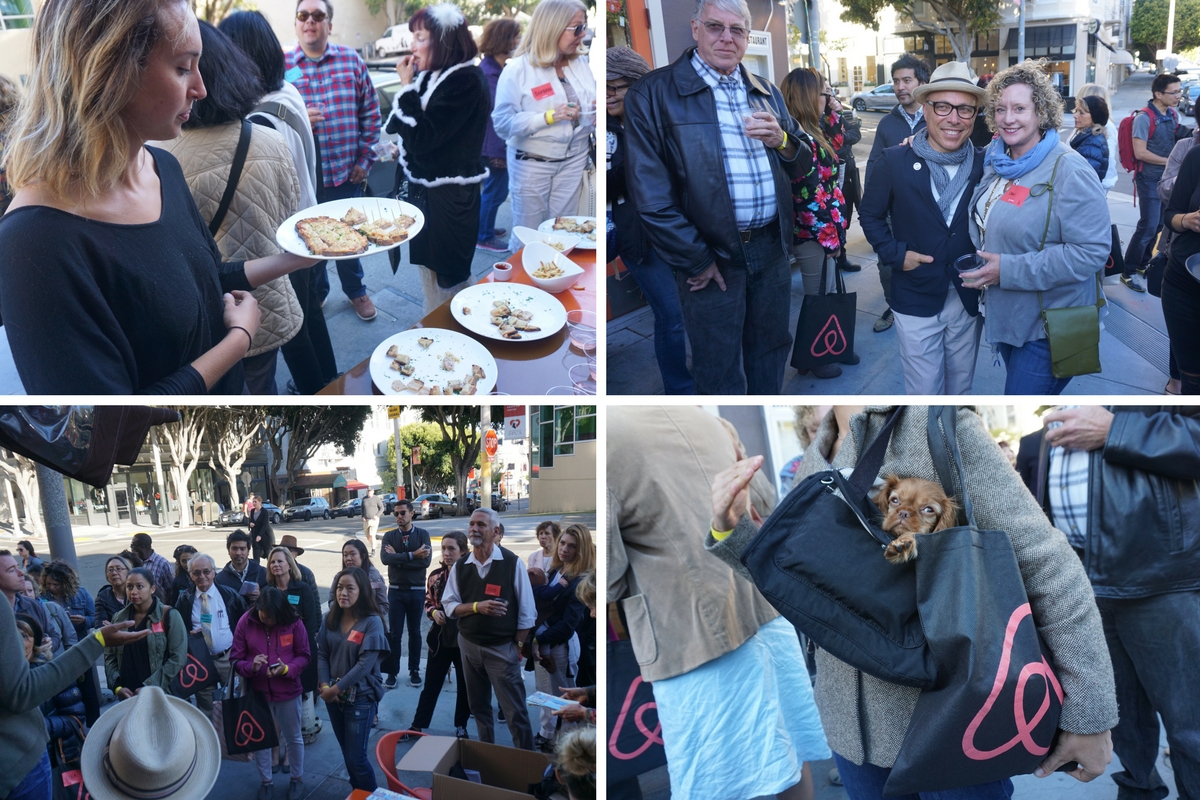 The night began at Chouquet's, where attendees sampled Croque Monsieur, french fries, and wine provided by the French bistro.
Vas Krinis—Executive Director of the Fillmore Merchants Association and owner of Zinc Details—thanked everyone for coming to the event, and talked about the neighborhood's history.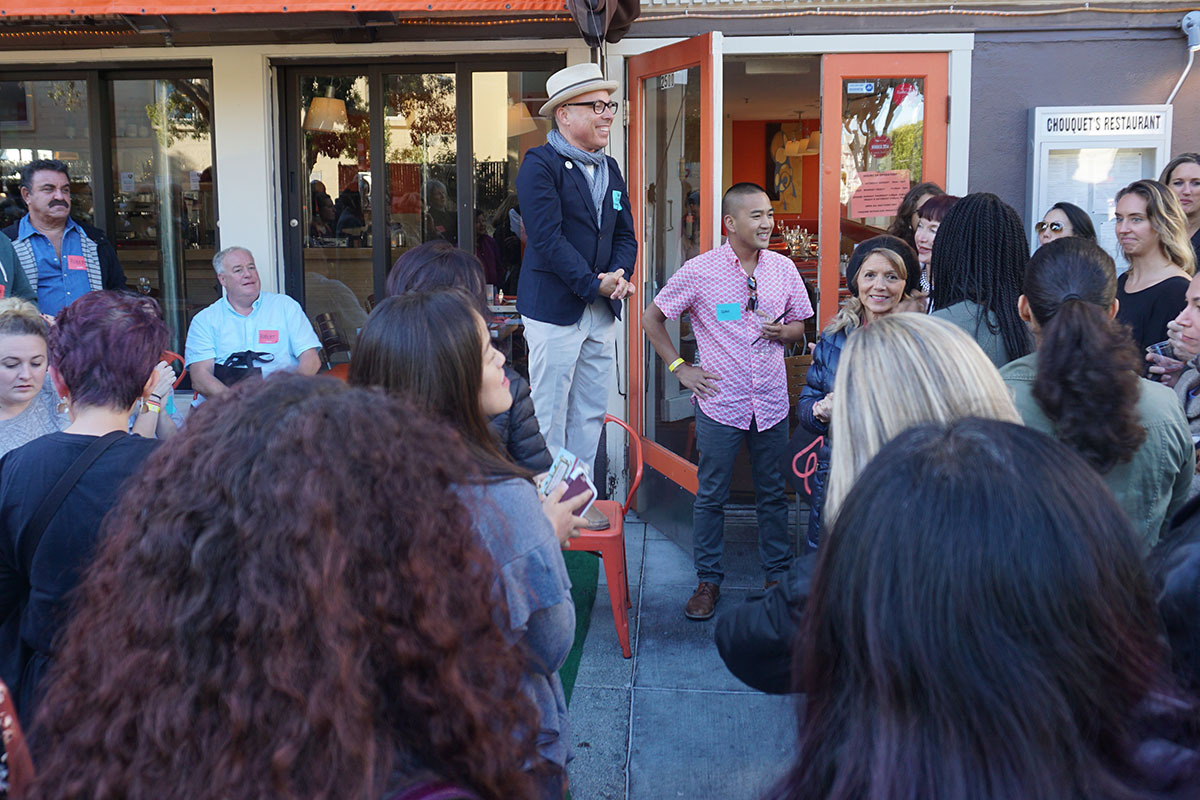 "After the 1906 earthquake, when the rest of the city was in ruins, this was the main commercial thoroughfare of San Francisco," Vas told the crowd. "We have lots of history to share here. So, let's start the tour! I'm sure you'll love everything."
After Vas spoke, the group got to hear from one more very special guest: London Breed, President of the San Francisco Board of Supervisors and District 5 Supervisor.
"I'm really excited to be here! I know this is not District 5," Supervisor Breed said, "but as a native San Franciscan I don't just represent my district; it's important that I represent the city as a whole."
"We have lots of history to share here."

— Vas Krinis
"This is my community," she said. "I grew up here. I actually worked at the Wells Fargo Bank right down the street. I feel like the work we do with the Board of Supervisors is important in creating policies that make these neighborhoods even better.I want to do everything I can to make sure that your businesses are thriving. So have a wonderful night! Eat, drink, be merry, and have a good time."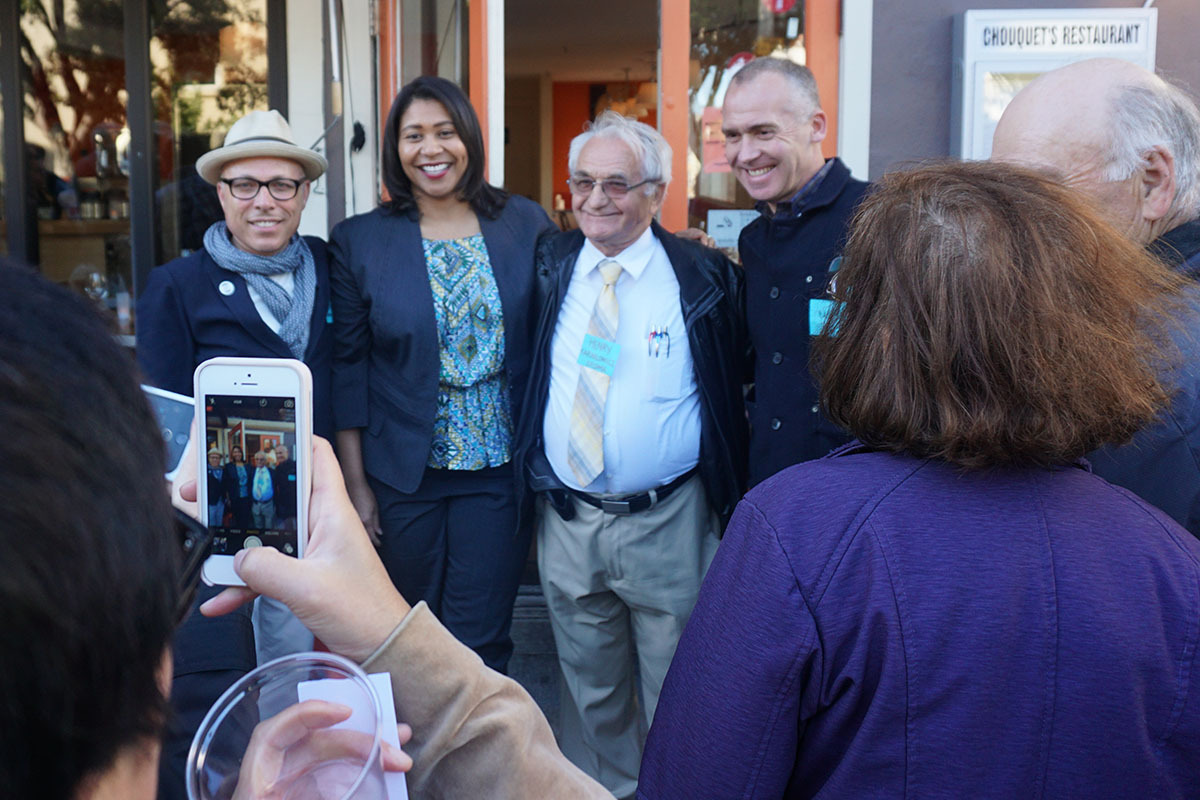 Vas Krinis, Executive Director of the Fillmore Merchants Association; London Breed, President of the San Francisco Board of Supervisors; Henry Karnilowicz, President of the San Francisco Council of District Merchant Associations; and Matt Middlebrook, Airbnb Public Policy Manager
Hosts, business owners, and constituents spoke with Breed—whose district includes parts of the Fillmore—before setting off.
The first stop was Salt & Straw, a famous artisanal ice cream shop that just opened its first San Francisco location right in the heart of the Fillmore.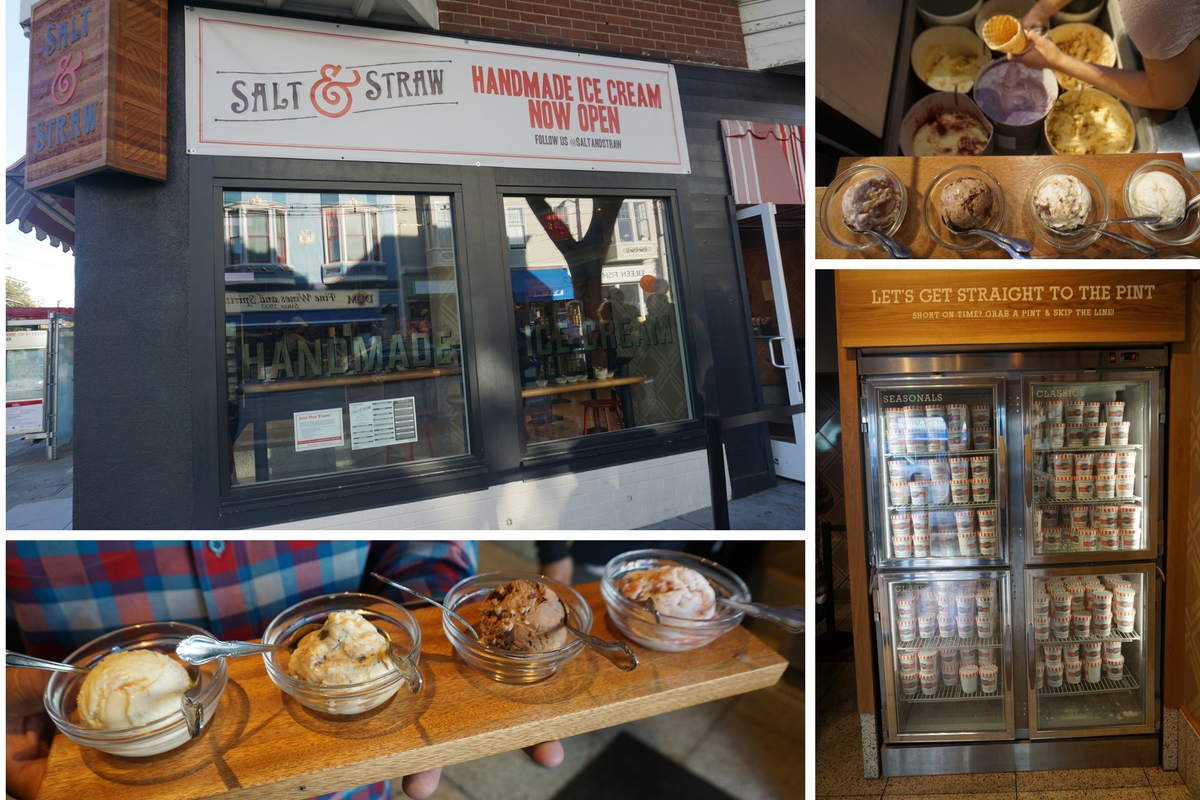 Guests sampled the shop's ice cream "flights," four scoops of four of Salt & Straw's most popular flavors: Sea Salt with Caramel Ribbons, Chocolate Gooey Brownie, Roasted Strawberry Tres Leches, and Caramelized Almond S'mores.
The group then headed to Atelier Cologne, a Parisian perfume house that specializes in unique and creative fragrances.
Homer De Ala walked hosts through Atelier's scent-creation process and helped them sample perfumes and colognes. He told the stories behind the scents, many of which are based on memories: An outdoor breakfast with friends led to the creation of a rich, blood-orange-based Cologne Absolue.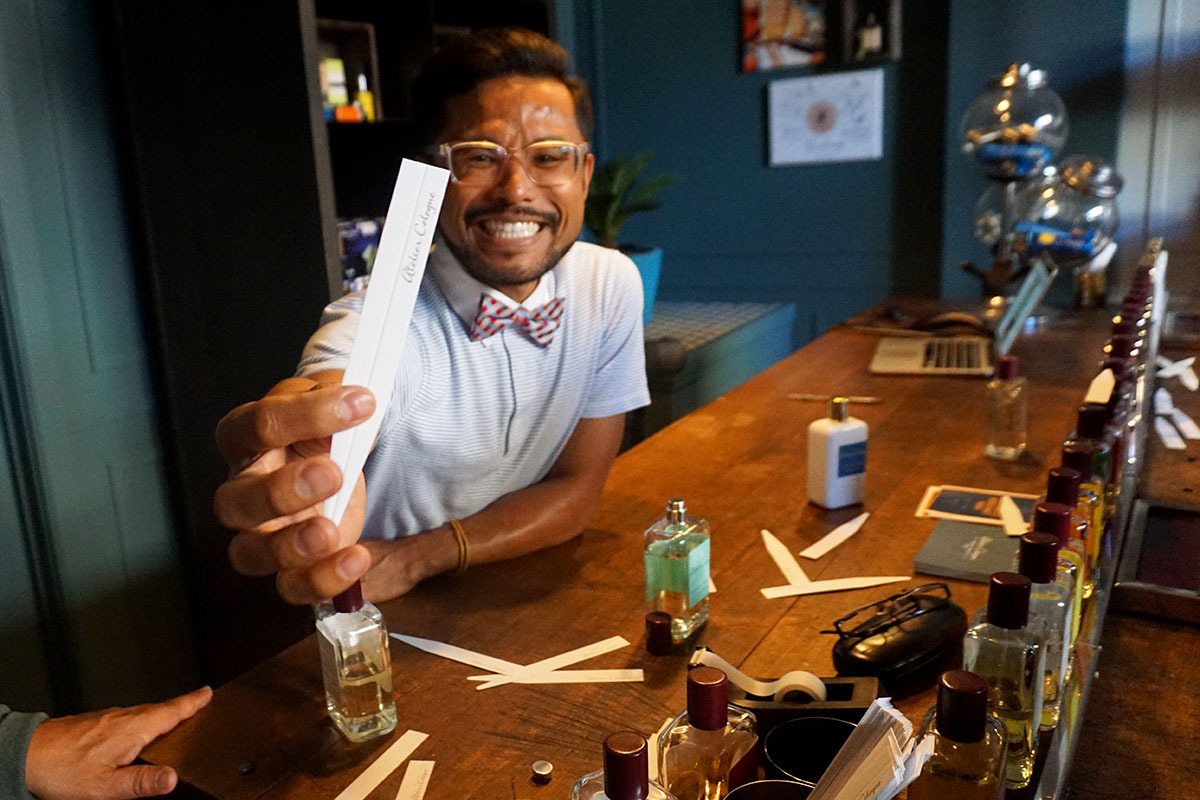 Next stop: The Frye Company, a famous leather goods store that just began opening retail locations—their location in the Fillmore is Frye's first store in the state of California. Angela Keating said Frye participated in the merchant walk because the company wants to support the Fillmore's vibrant small business community.
"We are a tried-and-true heritage brand, and as much as we always like to promote the store and the company," Angela said, "we also want to promote the street as well, because we really believe in the Fillmore as a whole. That's also why we chose this location."
After trying on a few pairs of shoes, guests moved on to Saje Natural Wellness, an essential-oils based company that focuses on the healing and restorative effects of essential oils and aromatherapy.
"We really believe in the Fillmore as a whole."

— Angela Keating
Algernon Allen said Saje participated in the merchant walk "because we want to support the community."
"Because it's a family company," he said, "we care about helping people, healing people. The company all about helping people, and helping people in this community."
Merchant walk guests then crossed the street to visit Hi Ho Silver, where Victoria Dunham—the shop's owner and proprietor—introduced the store. "You're standing in a silver shop, so I hope you love sterling silver," she said. "We import from Mexico, Bali, and Thailand. It is all sterling silver and handmade by very talented designers."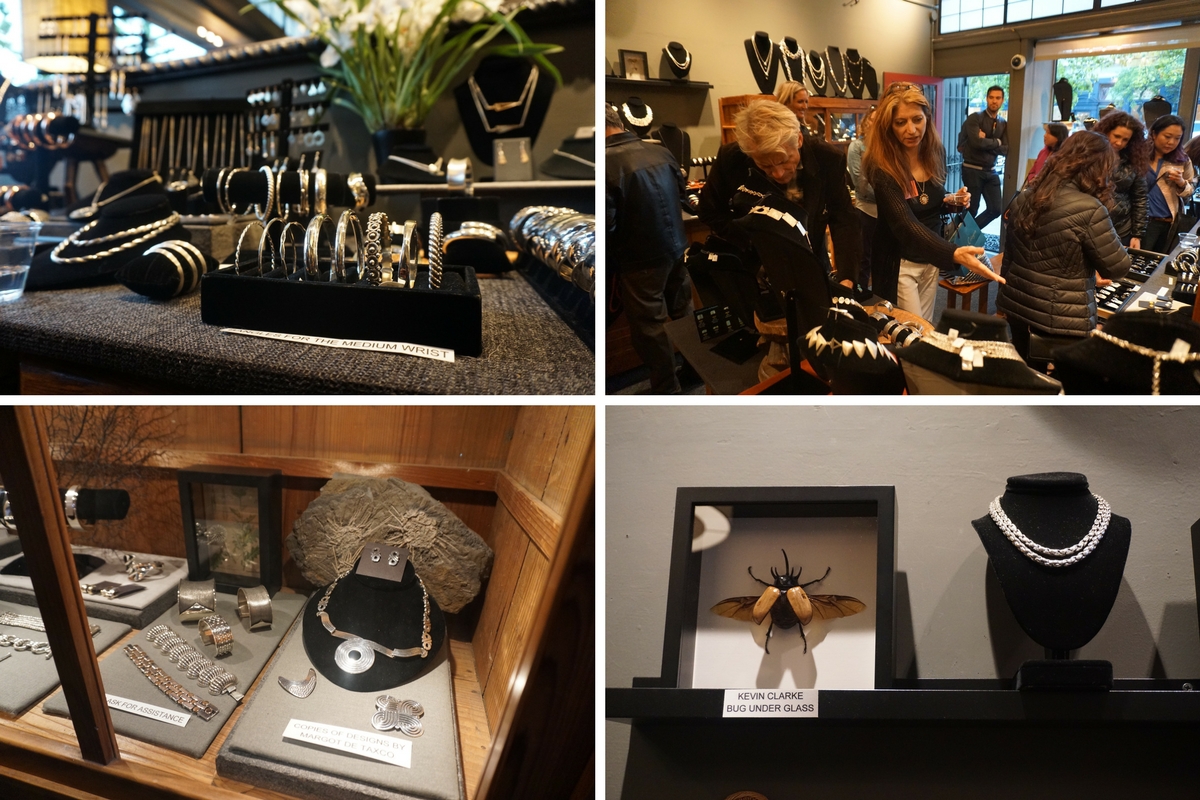 While guests looked over the shelves and drawers of unique, hand-crafted silver jewelry, Dunham talked about what the Fillmore means to her. "I'm a merchant here, and I participate in everything that has to do with Fillmore. This is my neighborhood. I've lived here for over 20 years; I raised a kid here. The Fillmore is my family."
Guests moved on to Asmbly Hall, where Ron Benitez—Asmbly Hall's owner and President of the Fillmore Merchants Association—introduced his staff. "This is my wife Tricia over here," Ron said, pointing towards the back of the shop, "and this is our intern Harlowe, who is currently putting her shoes on the wrong feet, but that's alright."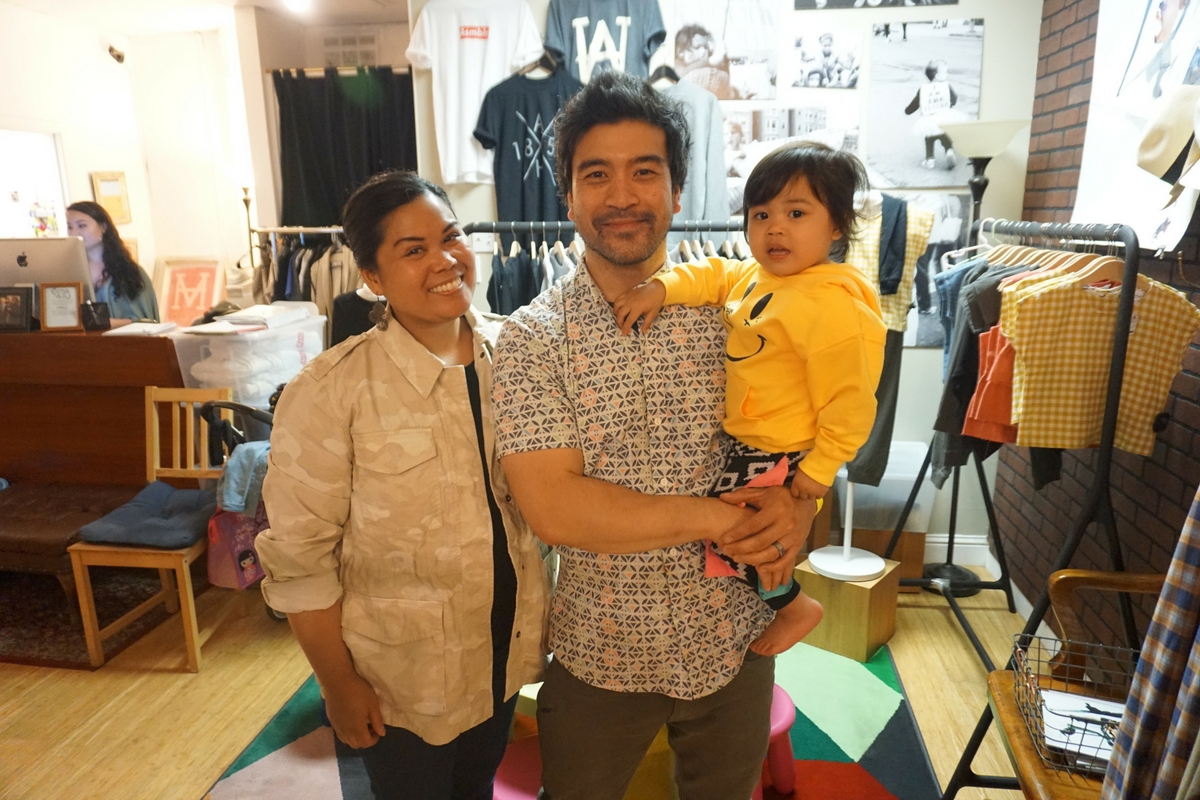 Tricia, Ron, and their intern (and daughter), Harlowe
Asmbly Hall is a true family-run business. "We are a Mom-and-Pop shop, a small men's and women's clothing boutique, and we also carry little human clothing, for obvious reasons." He told guests how Asmbly Hall works to support the local community.
The Fillmore is my family.

— Victoria Dunham
"We like to use our store as a platform to showcase up-and-coming designers, and up-and-coming artists. We have a lot of things that are made in San Francisco, and in addition to the shop being a local Mom-and-Pop shop carrying local products, we also support local artists by hosting art shows here at the shop, as you can tell from what's all along the walls."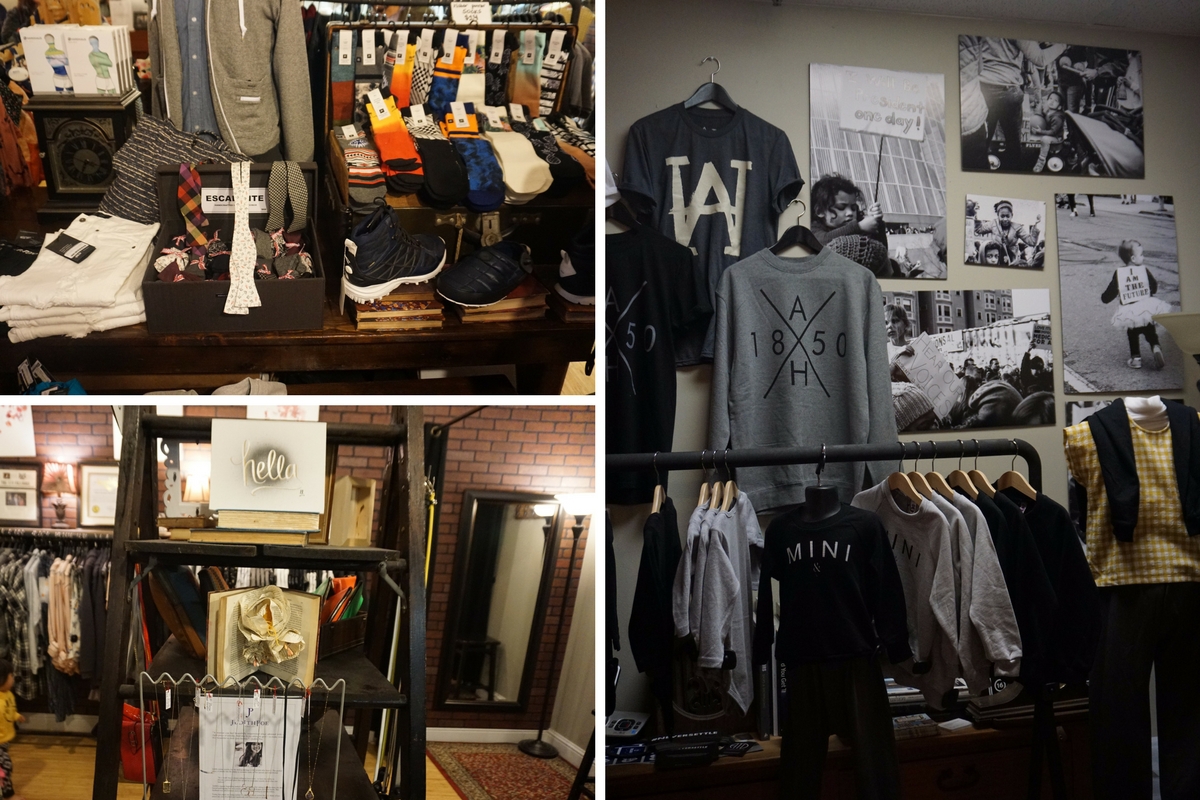 Finally, guests ended the night by heading to Zinc Details and The Boom Boom Room, two staples of the Fillmore.
At Zinc Details, Vas greeted guests and shared information about all aspects of the Fillmore. Guests explored the store, learning more about the neighborhood—and even trying out some of the furniture on display.
Next door at The Boom Boom Room, guests settled into at the bar and sampled food from Fillmore restaurants Tacobar and La Mediterranee, while being treated to music by the Contemporary Jazz Orchestra.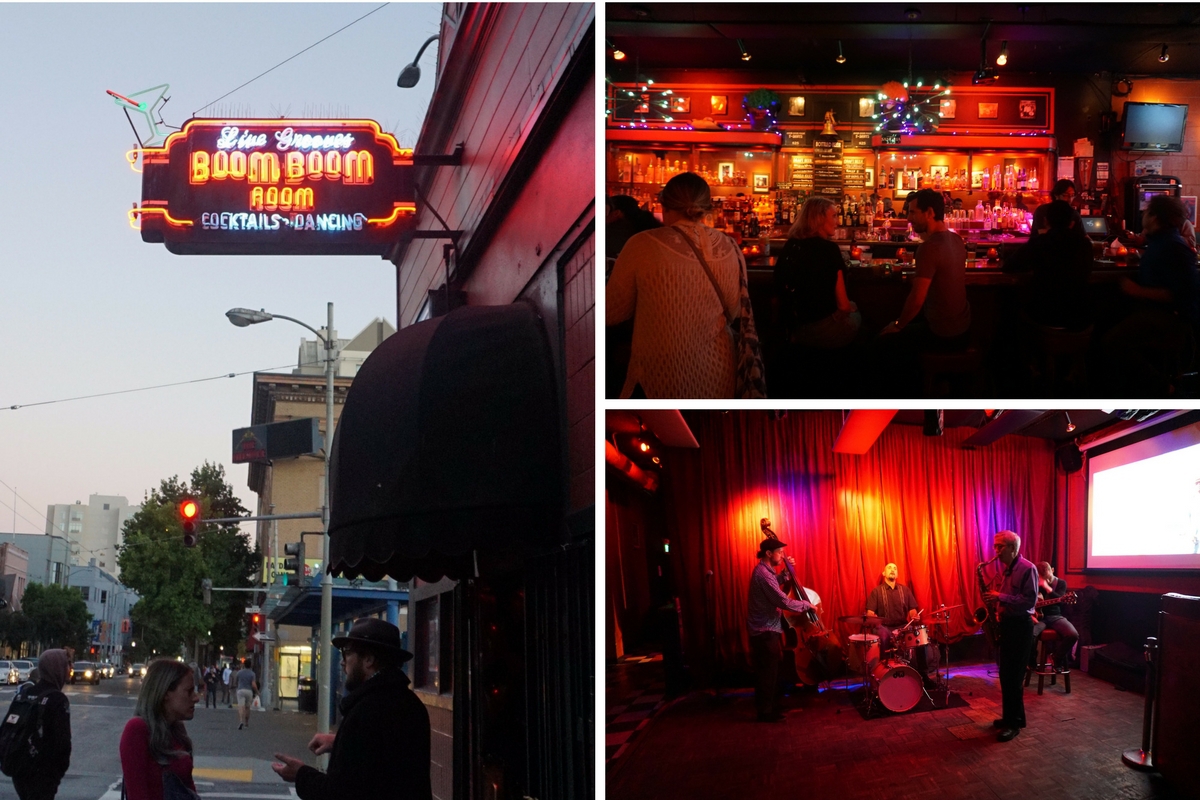 Outside, hosts Shane and Shaudi shared how much they enjoyed the Fillmore Merchant Walk.
"It was so much fun!" Shaudi said. "I got to see all these hidden gems of stores that I didn't even know existed. I come down this block a lot, but I think I just kind of focus more on the main chains. So it's really nice to see the Mom-and-Pop stuff."
"And learn about who opened the store and a little bit about the people behind the shops," Shane added.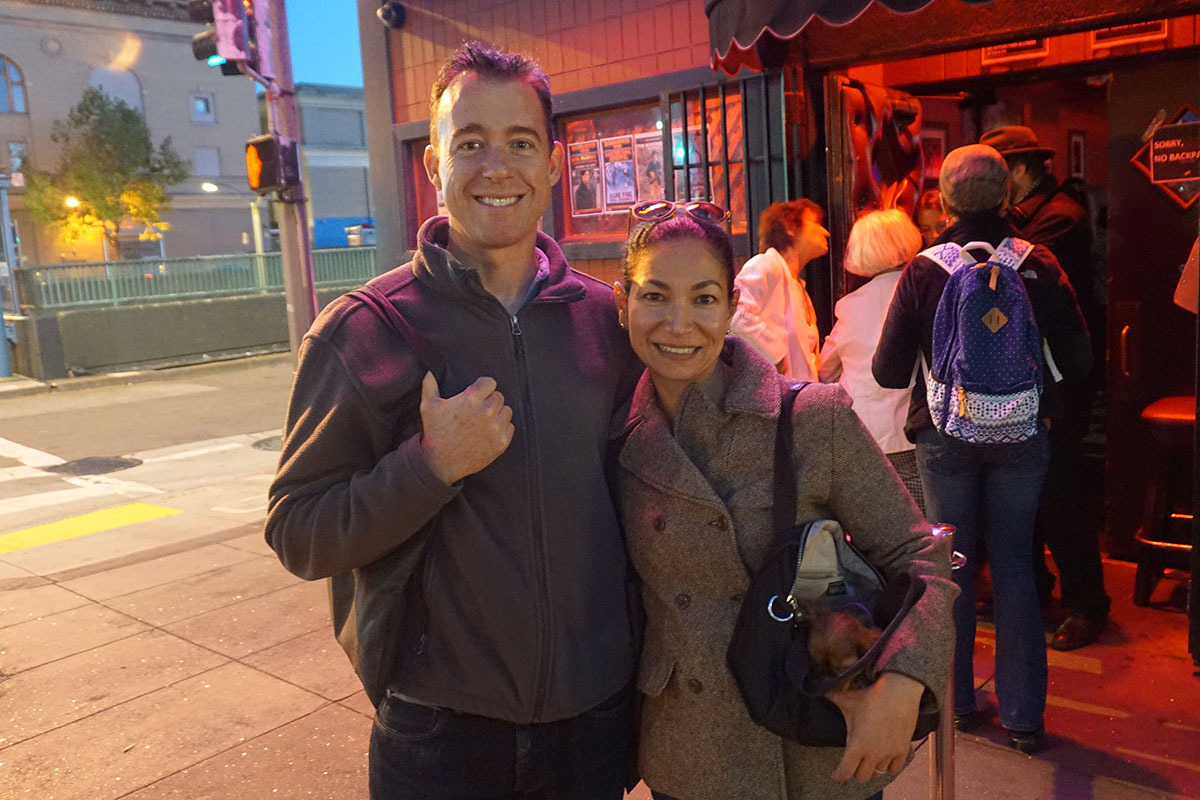 When asked if they would recommend the shops they toured to their guests, Shane and Shaudi didn't hesitate. "Absolutely! In fact," Shaudi said, "I can't wait to come back here and shop myself. There were so many interesting stores I want to go back to!"