The Clouded Leopards at the Toronto Zoo are Now Airbnb Hosts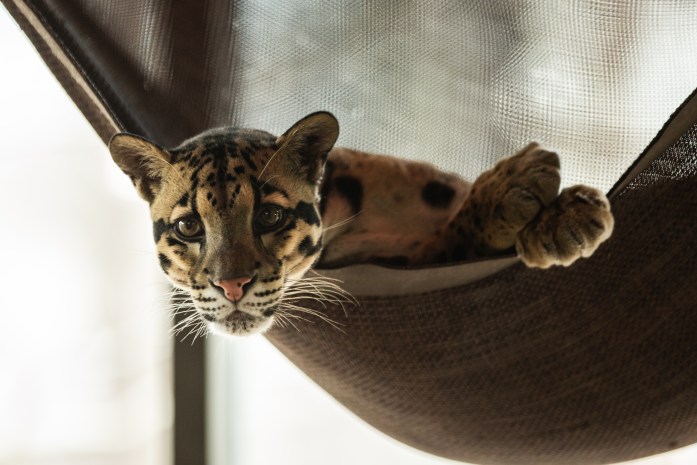 The clouded leopards at the Toronto Zoo are heading on vacation this summer and have decided to become Airbnb hosts to earn while they burn on their trip (sunscreen please!), since a host in the City of Toronto can earn an average of $2308 per month*. When the lemurs cried out they were also in need of a vacay, Airbnb swooped in to connect the family with the clouded leopards to book their open-air treehouse with next-level amenities. To help us give the clouded leopards and lemurs their voices, we teamed up with actor Rachel Bilson. Learn more about their Airbnb story below.
Taking a cue from best host practices, the clouded leopards hired a photographer to make their bright, outdoor place look its best and added special touches that the lemur family would appreciate, including a fresh fruit to snack on, toys for the pups, and a hammock for lounging. Now with the lemurs all settled into their Airbnb, all that's left to do is hit #vacationmode and relax, just as they do here.
Curious about the listing? Although homo sapien guests won't be able to stay in the clouded leopards' treehouse, they are invited to book it for $15 CAD a night to give back. All proceeds from each booking will go to the Toronto Zoo to support their conservation efforts, and Airbnb is getting the donations started by making a $10,000 CAD donation of its own to the Zoo.
House Rules
Monkeying around is encouraged, but don't act like a wild animal
Don't feed the humans
Remember to stay grounded
No shirt, no shoes, no problem
The full $15 cost for an overnight stay at the clouded leopards' treehouse will be donated to the Toronto Zoo. No overnight stay or visit to the Toronto Zoo is being purchased. To learn more about admissions, please visit here.
Looking for other places to stay with a hammock to chill in? Check out this sampling of homes available on Airbnb, complete with the lemur-approved amenity.
*This earnings estimate assumes 15 nights booked per month for an entire home listing for four guests at forecasted daily prices. The forecasted daily prices are based on average prices for listings with a similar location, listing type, and guest capacity. How much you actually make may vary with your pricing, type and location of your listing, actual occupancy rate, season, demand, local laws, and other factors.
The Airbnb Press Room is aimed at journalists. All Homes and Experiences referenced on the Airbnb Press Room are intended purely to inspire and illustrate. Airbnb does not recommend or endorse specific Home or Experience listings on the Airbnb platform.