The Italian Sabbatical: One Month in
In June of this year five people from across the globe started a once-in-a-lifetime opportunity to move to southern Italy, to spend three months working as a volunteer in the tiny town of Grottole.
As part of the Italian Sabbatical, a new collaboration between Airbnb and local NGO, Wonder Grottole, the volunteers were selected from over 280,000 hopeful applicants, to become temporary residents of the town – to live alongside just 300 other people, and to immerse themselves in community projects.
The aim? To slow down, embrace rural life and experience Italy like a local. But also to revitalise Grottole – to put the picturesque hilltop town on the global map, and assist its local residents to help move Grottole forward, to fill its 600 empty homes, and to help attract new visitors with incredible experiences.
The volunteers – Anne, Helena, Darrel, Pablo and Remo – have now been part of the local community for just over one month. Airbnb joined them in Grottole to learn about their sabbatical, and their volunteering experience so far.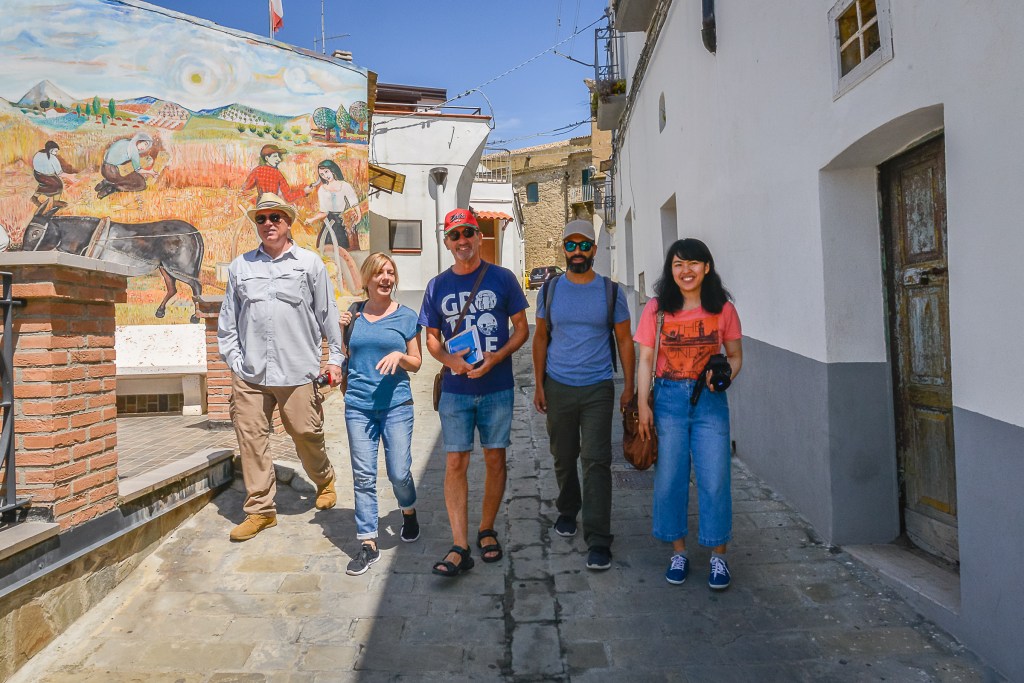 It's 10am on a blistering hot Wednesday and Rocco – Grottole's local barber, beekeeper and master of all trades – is showing the group his bee hives. The multi-coloured boxes are lined up against a long row of spindly eucalyptus trees, which helps give the honey its flavour. He eases a frame out of the hive, lifts it to the sunlight and the volunteers lean in, scooping blobs of honey onto their fingers.
Rocco's beekeeping morning is just one example of the experiences that exist in Grottole today. Jars of his honey line the shelves of his barber shop, along with certificates for his various awards. Soon his beekeeping will be part of a handful of other experiences available to visitors – created by the Italian Sabbatical volunteers, and handed over to the local community to host themselves.
Grottole is a hilltop town, some 480m above sea level, and at the foot of the town is Enza's house. She's gathered the volunteers around her kitchen table and is working quickly with flower and water, kneading the mixture in her hands, with the volunteers watching on. Soon, they are working on their own versions, sprinkling on flour, adding more water, and breaking it into small pieces. Using two fingers, they press down on the pasta dough, shaping it into orecchiette, a curvy ear-like shape. Soon other visitors to Grottole will get to try Enza's masterclass. Pablo and Helena will work with Enza to help market her class, and make it available to new visitors.
The development of these experiences is hinged, in part, to communication. That afternoon, the volunteers gather beneath the high ceilings of one of Grottole's restored buildings for an Italian lesson with Michela. But the volunteers aren't the only ones set to learn a new language.
"One of the most useful things is that the town learns English," Silvio, co-founder of Wonder Grottole, the NGO that has been working for several years to revitalise the town, explains. "It's tangible and helpful."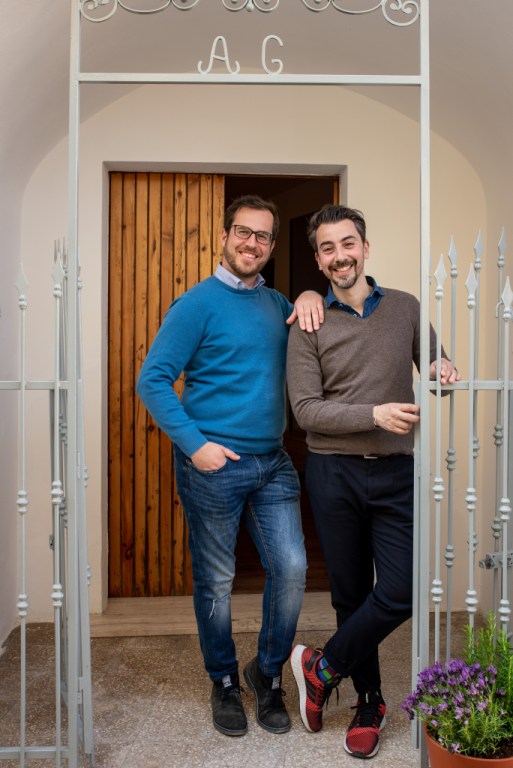 That's where Remo comes in. The Welsh volunteer is qualified to teach English, and has started offering English lessons to keen locals; at Bar Zolletta, Caterina wants to become fluent. "The locals are already asking me for classes," Remo explains. Beyond the classroom, the locals will also get the chance to have informal lessons. "On Monday we are starting some English exchange classes at the pub," Pablo says. "Some people have basic language skills but they don't want to speak because they don't feel confident. We will listen to them talking and involve them in conversation. Languages are so important for tourism, and it's one of the most important things that we need to develop in the town."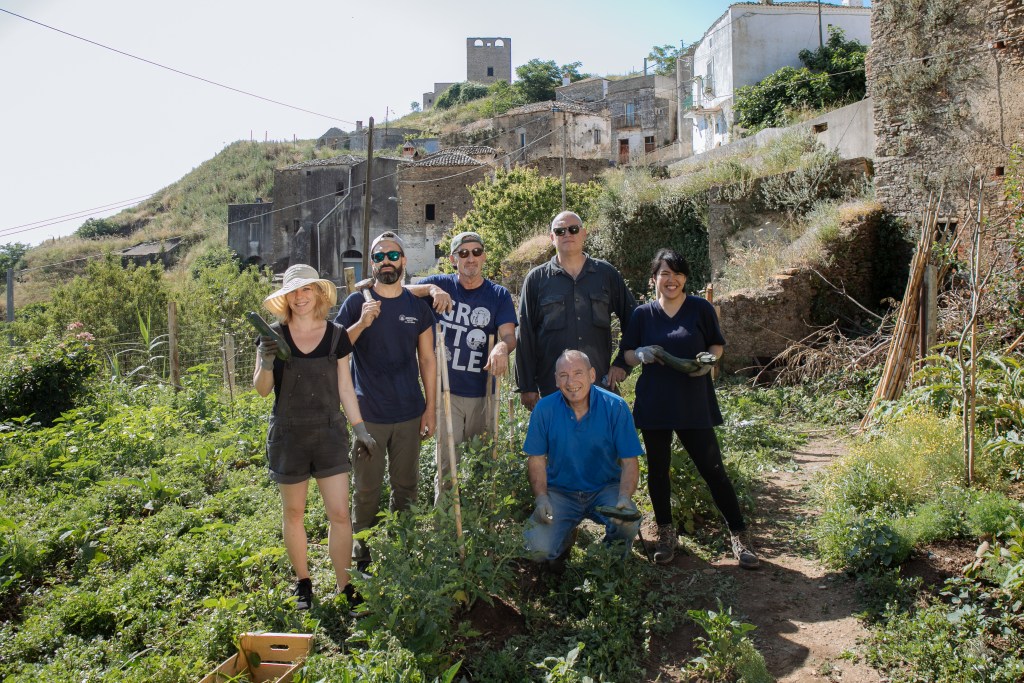 The following morning, the group gathers in the vegetable garden with Mario. He shows them what he needs them to do, weeding the soil, then cutting bamboo sticks for the tomato plants. It's early days, but the plan is to make the vegetable garden a space for all villagers – where they can grow their own produce.
Elsewhere, Darrel, a retired firefighter from New York, is sizing up a Piaggio Ape van. He plans to fix the vehicle to whizz around Grottole's cobbled streets, making deliveries and getting residents from A to B. Remarkably, the vehicle will sit on the very same streets that Darrel's grandfather once strolled. He was from Grottole, and moved to the US in his early 20s. Darrel was searching his family's history when he saw the sabbatical advertised; applied and didn't think much more of it, until he was told he had a place.
Within a few days of living in the town he'd already been approached by local residents who recognised his surname and knew his family: "Thank god for this whole experience," he says, "because without it I don't think I would have had as much luck at finding people as this has provided me."
At 6pm every night Grottole is ready to socialise. Grandpas recline on the benches in the main square, while at the opposite corner the local teenagers meet up after a day at school. The volunteers sit on the benches of the local pub, eating pizza and chatting to their new friends. "The people of Grottole are happy, they are calm," Anne says. "They're not stressing too much about things – it's a good lesson to learn, and a good perspective to have for five people who have come from a city. Just to slow down, and live life slowly. I love it."