Once considered just a sleepy provincial city in China's West, Chengdu has always been best known for its slow pace of life, relaxed tea drinking culture and excellent, fiery food. But times they are a'changing. Though its laid-back nature remains, the city is making its mark on the global map as a destination to watch, with a burgeoning scene of creatives and entrepreneurs adding a dynamic energy.
In between seeing the pandas on the city's outskirts (a don't-miss from most hosts) and visiting famous sites like Wuhou Temple and Wushu Monastery, explore the city's amazing neighborhoods with insider tips from our hosts on where to go, what to eat and how to live like a local. And if you only have one day in Chengdu? Then, in the words of Superhost Yuhang: 'Eat, eat, eat.'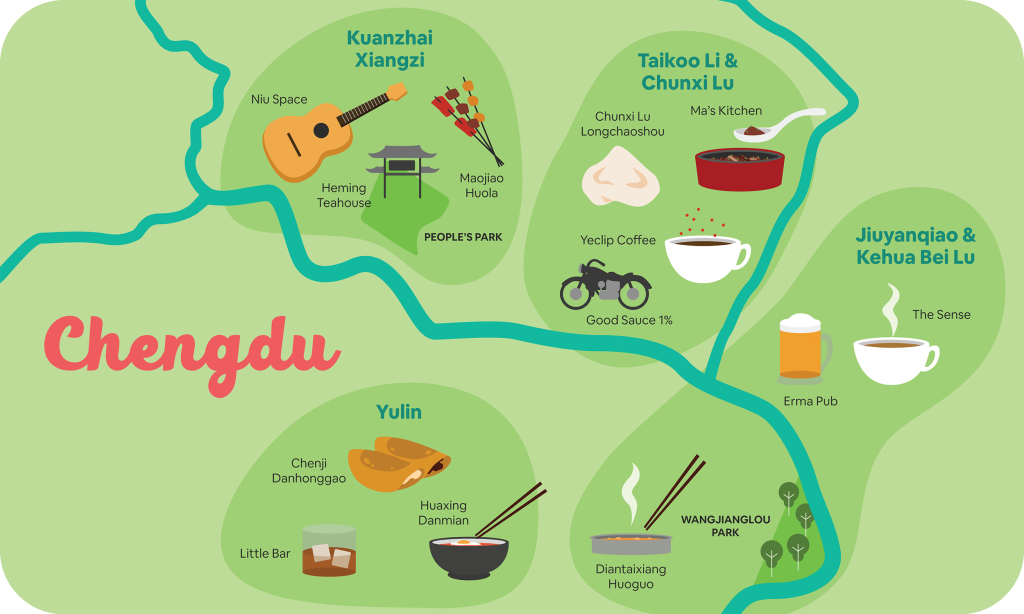 Taikoo Li / Chunxi Lu
The epitome of modern Chengdu, the neighborhood that spreads out around Chunxi Lu, the International Finance Center (IFC) and the recent Taikoo Li shopping development offers the traditional smack up against the contemporary, with high-flying luxury brands facing opposite hole-in-the-wall snack shops. The city's fashion-forward youth saunter through the ritzy developments, while just to the south an up-and-coming area is seeing a new crop of independent, locally owned cafes and bars.
Stay in an airy, sunlit loft perched right above IFC and Taikoo Li or book a luxurious one-bedroom retreat with floor-to-ceiling windows overlooking the city. Start your morning with a two-hour walking breakfast tour with food writer and host Qinou where you'll dive into the history, culture and tradition of Sichuanese street food, or hop on a bike with host Chantal for a half-day experience of local life, markets and food off-the-beaten-track in Chengdu.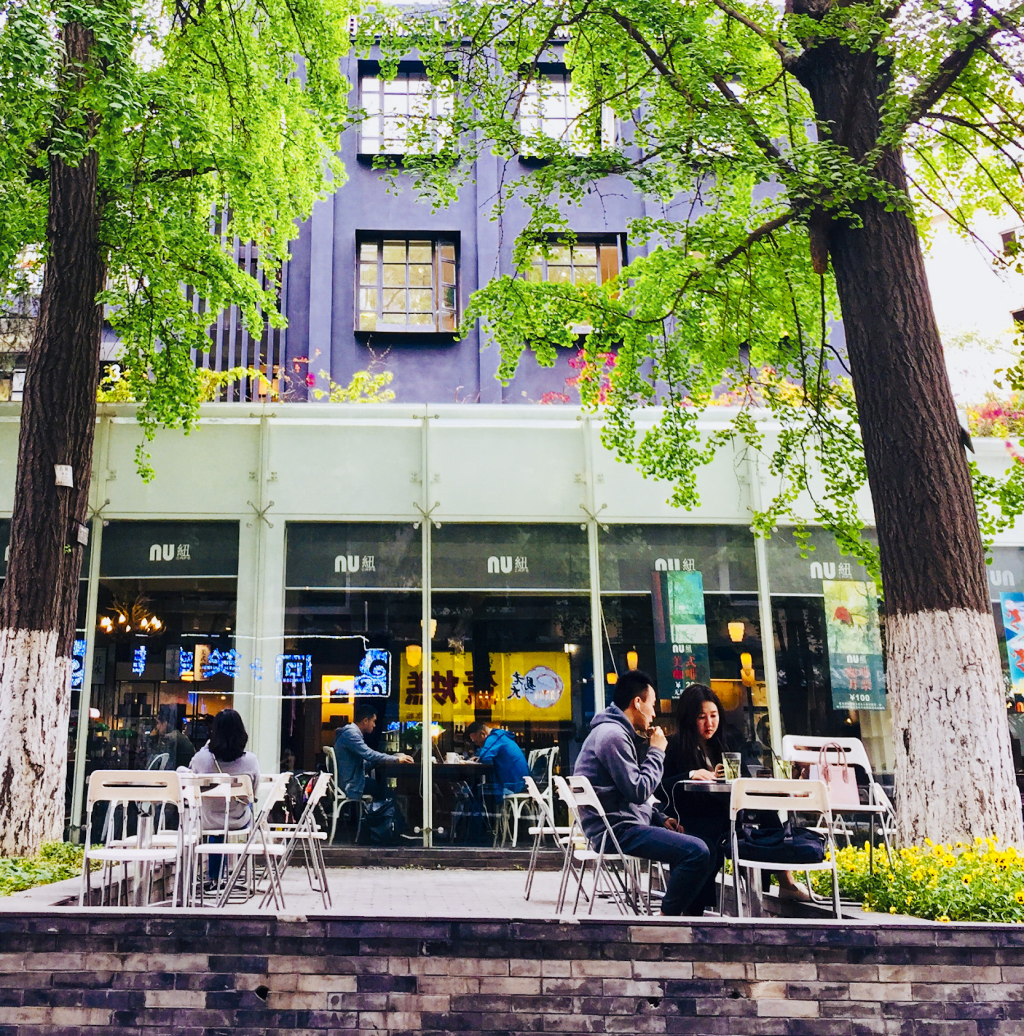 From international and luxury brands to smaller boutiques, there's plenty of shopping to be done in the neighborhood. Superhost Yoyo recommends browsing Eyes on Me (3-18 Dongkangshi Jie). "The owner backpacked around the world and opened this shop with clothes and pieces from her travels." She also suggests Dressing For Fun (10-1 Ganhuaishu Jie).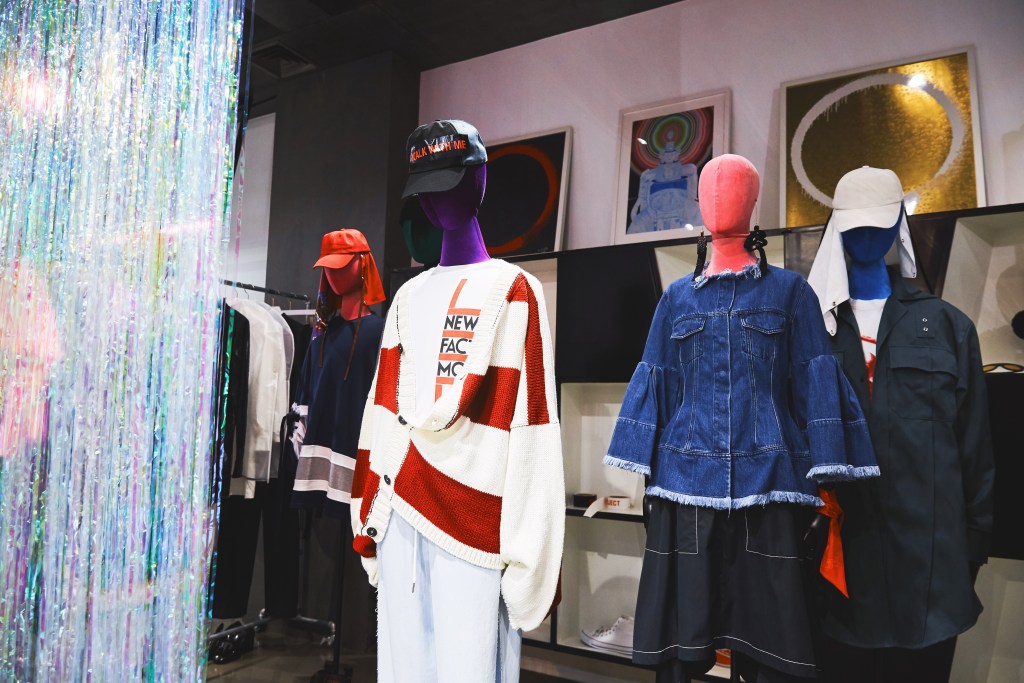 "The style of clothing here is young and fresh. It's one of the most reputable shops in Chengdu."
—— Superhost Yoyo
Grab a very Chengdu cup of joe (think laced with chili pepper) at sleek cafe Yeclip Coffee (43 Tangba Jie).
"Their specialty is a spicy coffee. Even in Chengdu, you can have exceptional coffee now."

—— Superhost Dandan
Try a Sichuanese jelly dessert called bingfen (冰粉) at Deyang Yi Hao Dian (146 Shuwa Bei Yi Jie).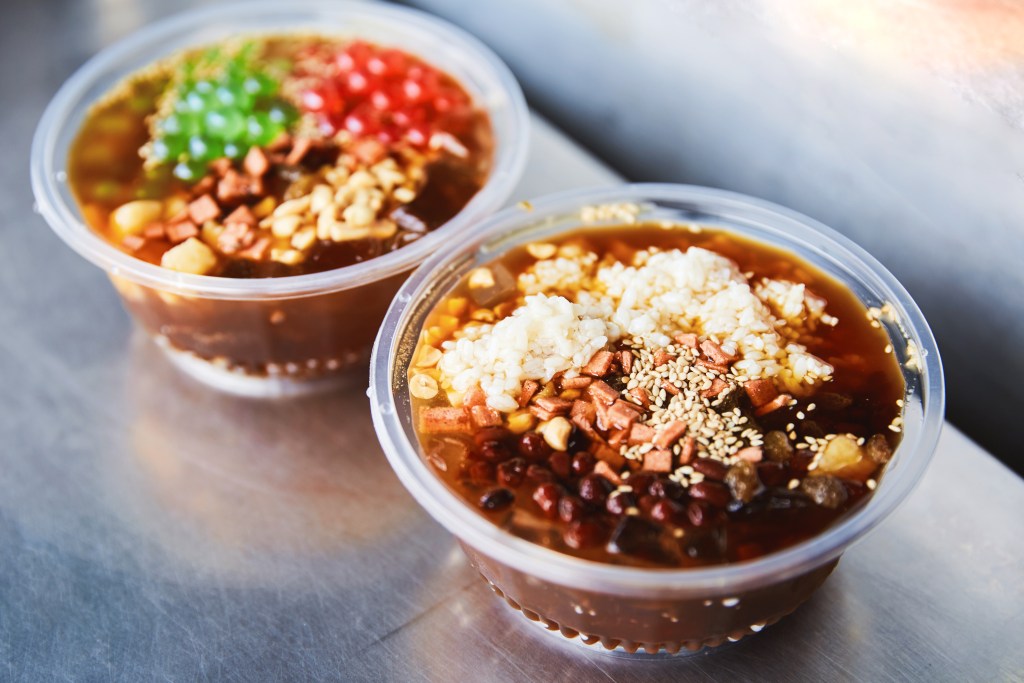 "The jelly's flavor here is better than at other shops. The rose-flavored jelly in particular is my favorite as the sweet rose taste comes through intensely."

—— Superhost Shu
For a savory snack, Superhost Yangyang suggests Chunxi Lu Longchaoshou (63 Chengshou Jie). "You'll see a long line of people waiting to order when you go there. Get the longchaoshou (spicy wontons), the zhongshuijiao (spicy-sweet dumplings), the danhonggao (egg cake) and the shengjianbao (fried soup dumplings)." Superhost Min recommends the very popular and trendy Ma's Kitchen (1 Dongkangshi Jie). "It's my favorite restaurant to go to with friends and family. The atmosphere's modern, but the food and the cooking techniques are traditional. It's exactly what I remember from my childhood."
For night owls, head to Good Sauce 1% (158-2 Binjiang Dong Lu), an American West-inspired space which transforms from cafe to cocktail bar with expert drinks come evening, recommends Superhost Yuhang.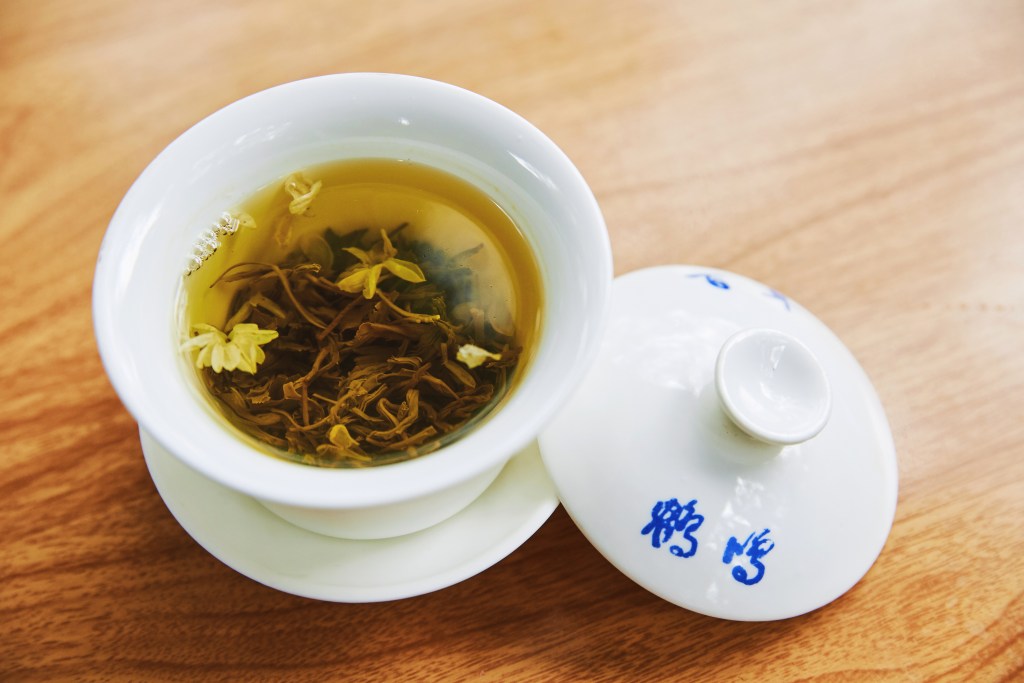 "Heming Teahouse in People's Park – very close to Kuanzhai Xiangzi – has a history of hundreds of years."
—— Superhost Yuhang
"In Chengdu, no matter if they're old or young, everyone likes to drink tea. People's Park is always very busy with locals catching up and chatting. On weekends, you'll likely have to wait for a table. Really sink into the local experience with a Mahjong Experience at Heming Teahouse."
—— Superhost Lucas
Go for lunch at city-wide favorite hotpot Longsenyuan (60 Qintai Lu). "It's the highest-quality hotpot in Chengdu," says Superhost Min. "Both the broth and oil are clean, the signature dishes are good and the ingredients are fresh." Superhost Jaye also recommends it. "It's been open for 20 years but hasn't turned into a chain. There are so many choices for broth – all of them great. Even if you don't eat spicy, it's still delicious and the ingredients are fresh." Or wind your way into the alleys for a bite.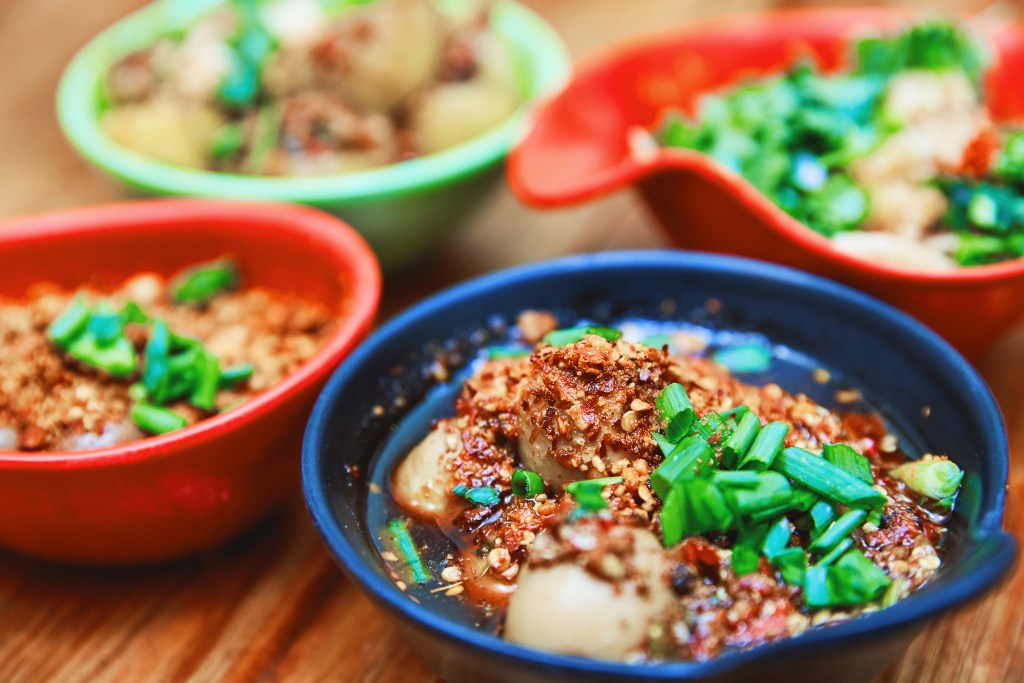 "The skewers at Maojiao Huola (33 Kuixinglou Jie) are a local specialty. You have to get the tripe, rabbit kidneys, country-style potatoes and 'tangled thousand-layer' tripe."
—— Superhost Jane
"I actually think the snacks are better than skewers. The rabbit heads [another Sichuan specialty] come in two flavors: five-spice and numbing-spicy. Both are wonderful."
—— Superhost Loulou
Jiuyanqiao / Kehua Bei Lu
Set right against Sichuan University, it's no surprise that this neighborhood on the Jinjiang River has been long known for its lively bar and club scene. The Jiuyanqiao ("Nine Eyes Bridge") bar street makes for an easy night of bar hopping alongside locals and enthusiastic university students where you can pick your poison of raucous or chilled-out bars. On the north bank of the river, you'll find the boisterous area of Lan Kwai Fong, named after the infamous Hong Kong nightlife neighborhood. Stretching south on the opposite bank is the university and Kehua Bei Lu, which offers a host of great local eateries.
Stay a quick subway ride away from the bustle of Jiuyanqiao in a chic, contemporary studio. Experience the spirited nightlife scene on a guided bar crawl where you'll meet locals and travelers over a few drinks or strike out on your own. Superhost Yoyo recommends Erma Pub (68 Binjiang Dong Lu) for a low-key night out. "It's right on the river and a good place to get together with a few friends and chill out with views of Nine Eyes Bridge. There aren't any noisy live performances, and the Sichuan snacks are good. Everything's exactly right."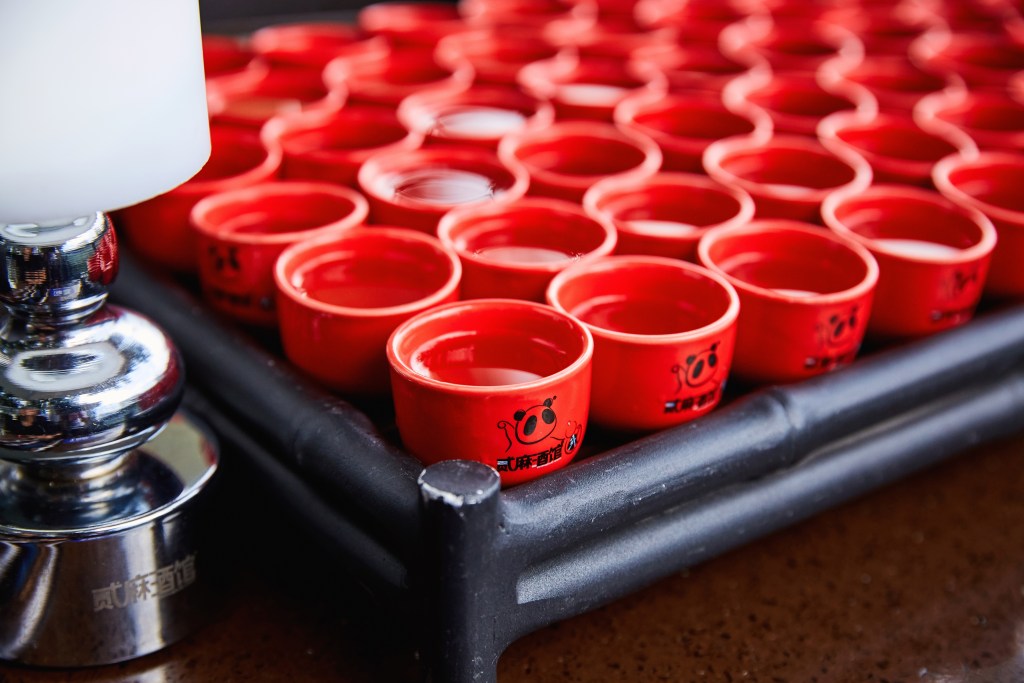 But there's more to the picturesque neighborhood than just nightlife – explore it with camera in hand on a photography tour that sets off from Sichuan University.
"In the fall, Chengdu's gingko leaves are very beautiful," says Superhost Sunny. "Jinxiu Lu between Kehua Bei Lu and the US Consulate is the most famous. In late autumn, the whole street's trees turn completely golden, thick with yellow ginkgo leaves."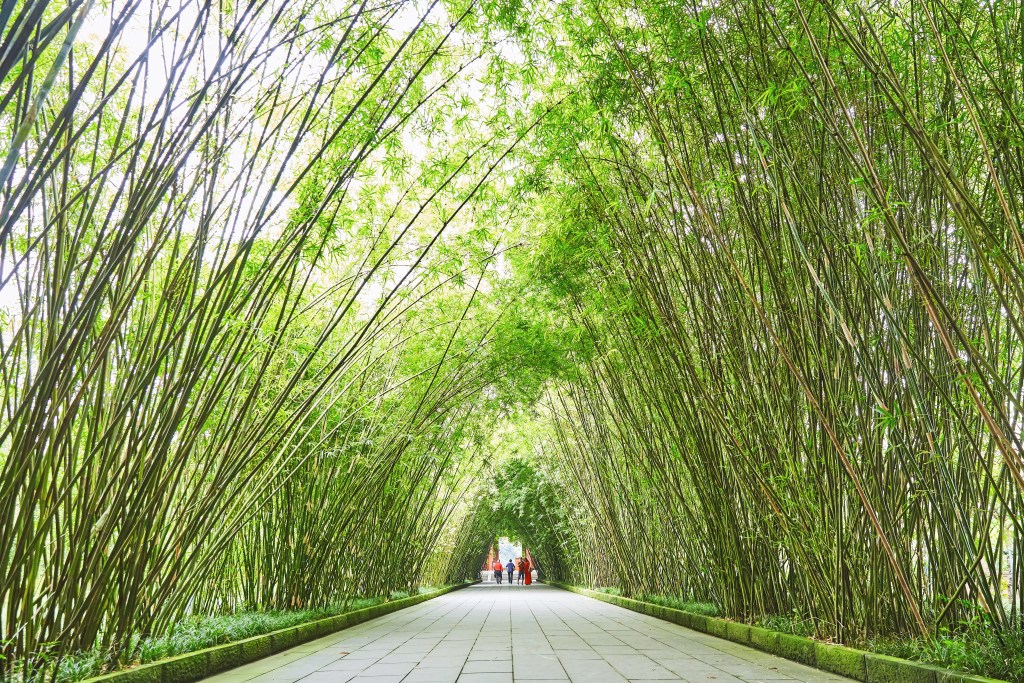 Another picture-perfect spot is Wangjianglou Park. "The grounds are extensive and very elegant," recommends Superhost Huang Ting. "There's a bit of bamboo forest and at Xue Tao Well near Wangjiang Pavilion, there's an open-air teahouse where only locals go. It's a bit of paradise in the city – but there are mosquitos."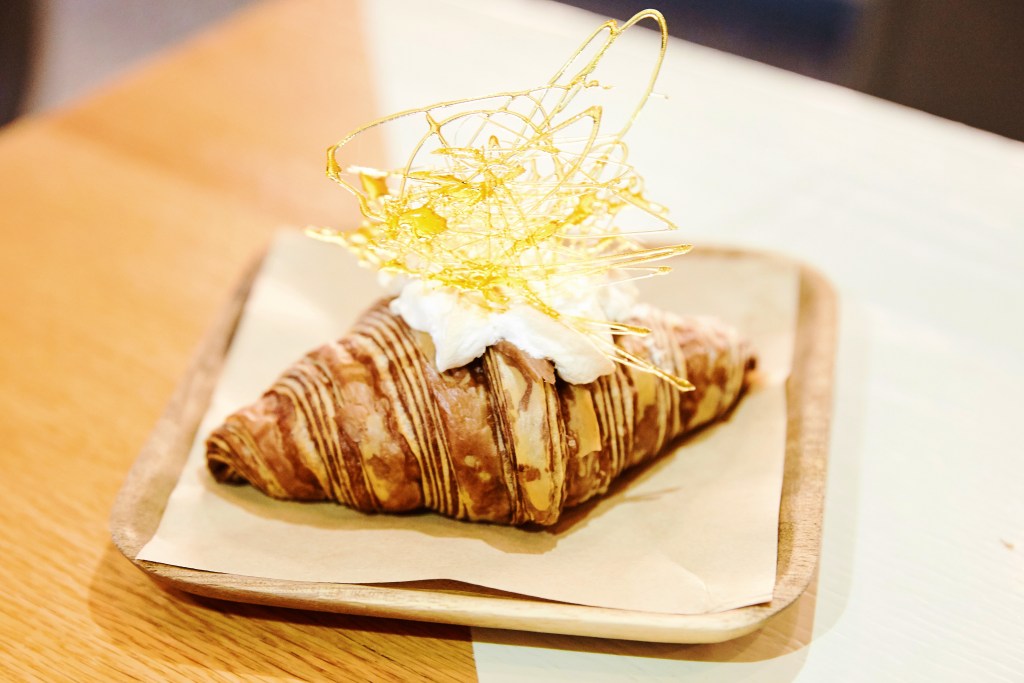 Relax over a coffee at The Sense (194 Hongji Zhong Lu) – "It's probably Chengdu's most famous community coffee shop," says Superhost Yoyo – before finishing the day with hotpot at either Diantaixiang Huoguo (121 Kehua Bei Lu) or Xiaolongkan Huoguo (54 Kehua Bei Lu) where she says that lines for dinner stretch out the door starting at 5 p.m. every day.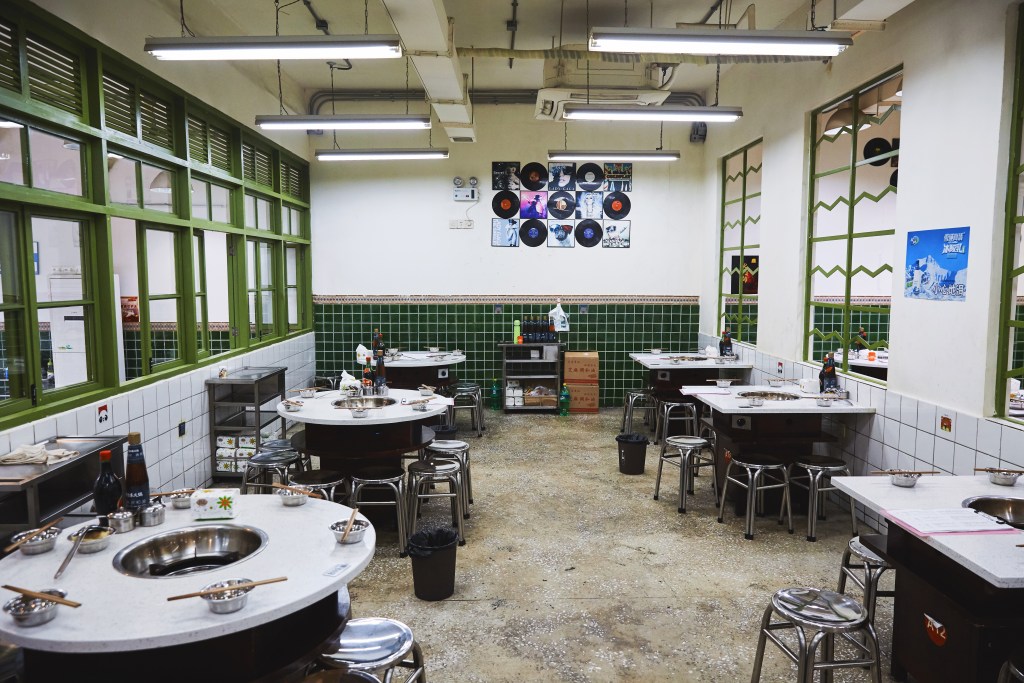 Kuanzhai Xiangzi
Named after the "wide and narrow alleys" that make up this historic neighborhood, the area of Kuanzhai Xiangzi dates back to the Qing Dynasty. Originally comprised of 42 lanes serving as a residence for Manchu military, now only three remain and form the main bustling arteries that are speckled with cafes, snack shops and boutiques. The neighborhood is high on most Chengdu visitors' lists, but tourists aside, still offers a worthy snapshot into the city's culture and history. "Stay in the area," advises Superhost and longtime resident Yuhang, "and you'll avoid peak traffic and be able to feel old, authentic Chengdu."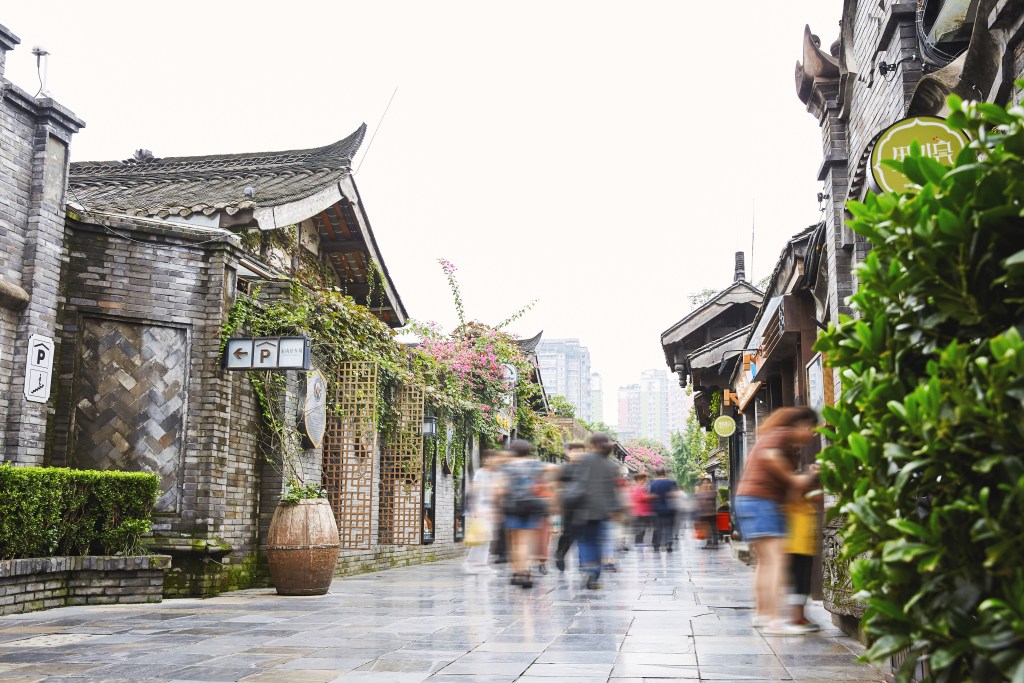 Book a modern two-bedroom apartment, neatly designed with curated artworks and books, or an elegant and light-filled one-bedroom that places you right on the steps of the historic alleyways. One morning, try your hand at making the city's signature spicy noodles with a market tour and dandan mian class.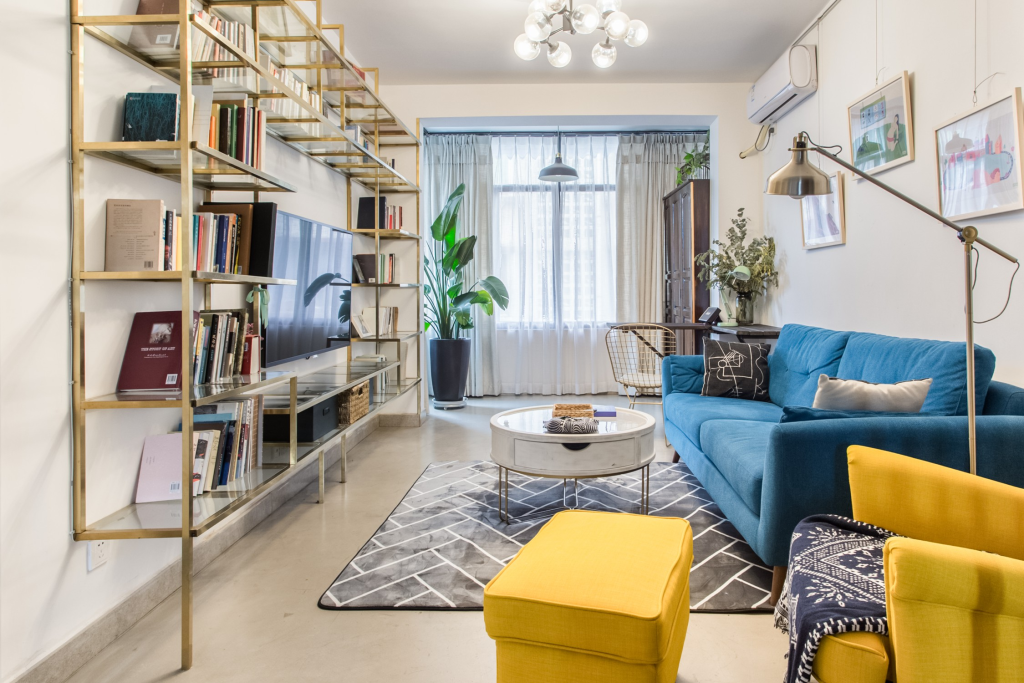 On another, delve into a day of exploring the lanes, but first make a stop for one of the most iconic Chengdu experiences nearby.
Check out independent music-venue-and-coffee-shop-and-bookstore Niu Space (55 Kuixinglou Jie) down the street recommended by Superhosts Yoyo and Yuhang.
Yuhang also suggests Sanlian Bookstore (30 Zhai Xiangzi) for its atmosphere or White Night bar (32 Zhai Xiangzi). "White Night was founded in the early 1990s by famous female poet Di Yongming and embodies the poetry and romance of Chengdu."
Yulin
"Yulin is like a small town within a modern city," says Superhost Huang Ting who has been living in the charming neighborhood almost all her life. "There aren't any high-rise buildings or major roads. There's the warmth of local life, and more places than you could possibly eat at. Staying here gives you the sense of the real Old Chengdu life."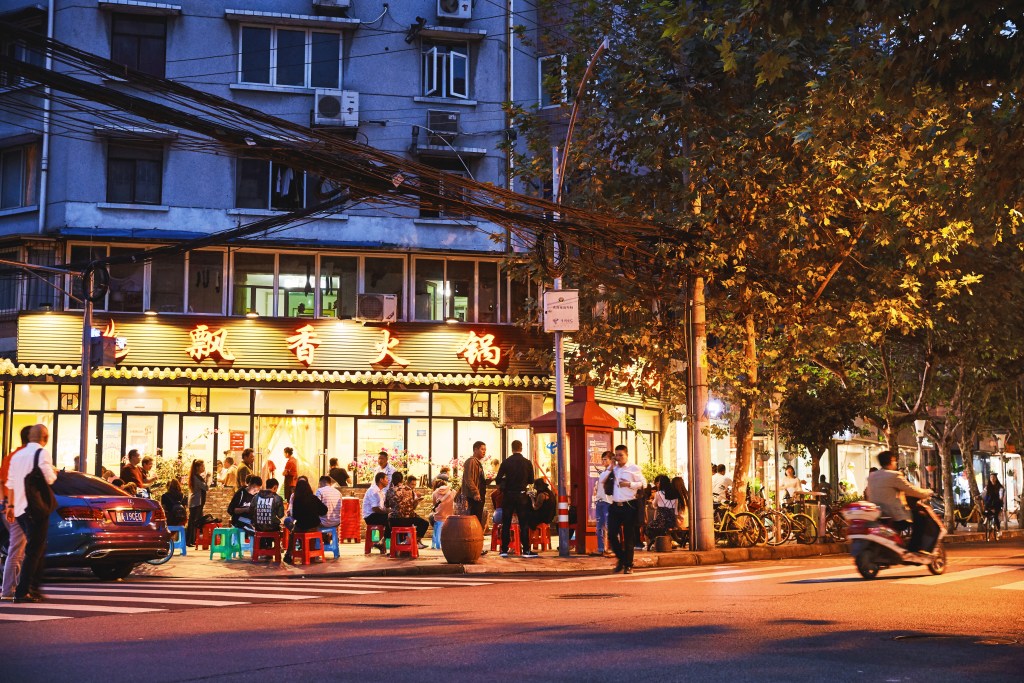 Chengdu is a UNESCO World City of Gastronomy and there's no better way to experience local life than through food. Delve into it with a market visit and Sichuanese cooking class, or explore any of the numerous eateries in the neighborhood.
"If you're only in Chengdu for a day, then the three things you must do are breakfast, lunch and dinner," Superhost Xiangyin quips. "Start with a local breakfast of egg-topped noodles at Huaxing Danmian (15 Yulin Bei Lu). Try it and you'll understand why it's been popular for 20 years. Grab a bowl of wandoufan (a Chengdu congee/bean soup) on the street for lunch and then snack on a danhonggao or jelly dessert at Chenji Danhonggao (Yulin Si Xiang, near Yulin Dong Lu). You have to have dinner at Yulin Chuan Chuan's flagship store (26-23 Yulin Jie)."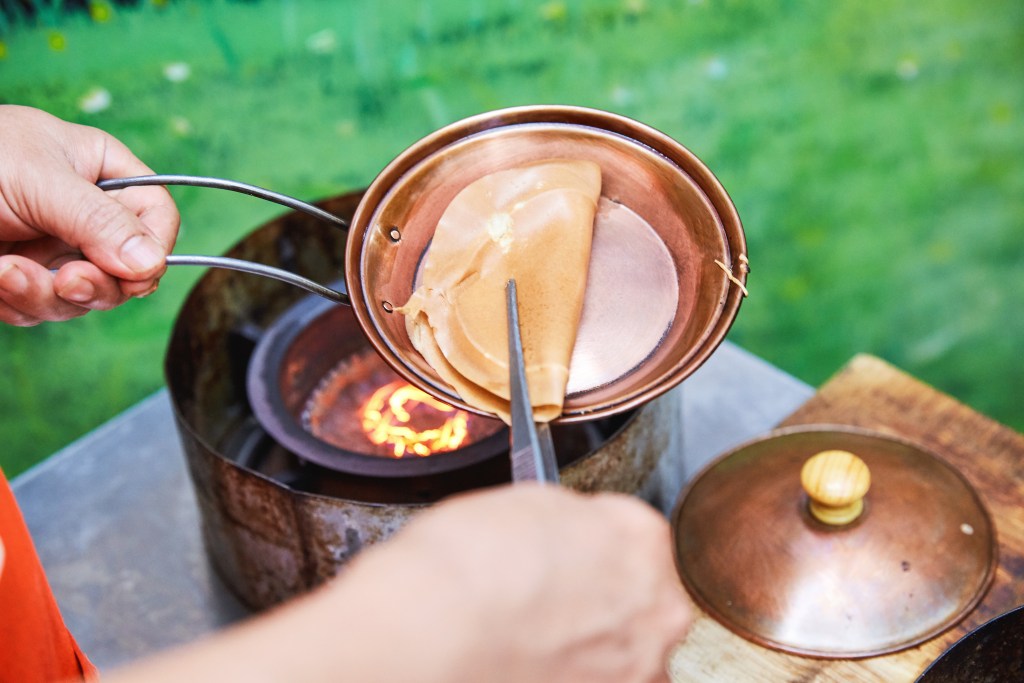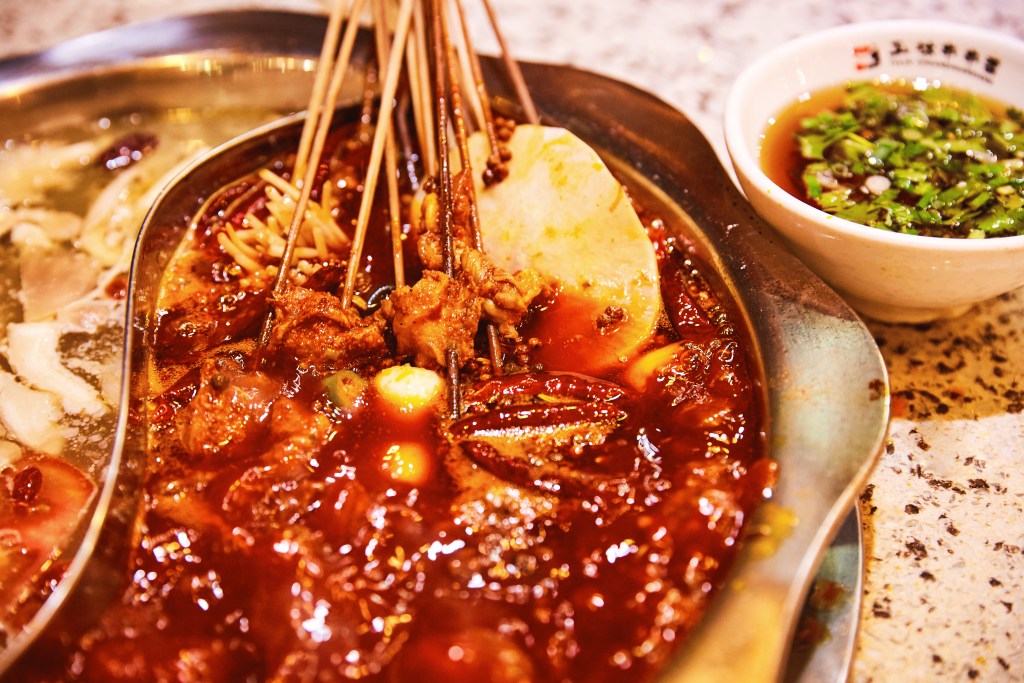 For more places to fill yourself up in the area, Superhost Yao Lu recommends retro spot Qingnian Huogou (2-6 Baiyun Jie). "If you only have one hotpot meal in Chengdu, this should be it. The flavors here are both authentic and spicy."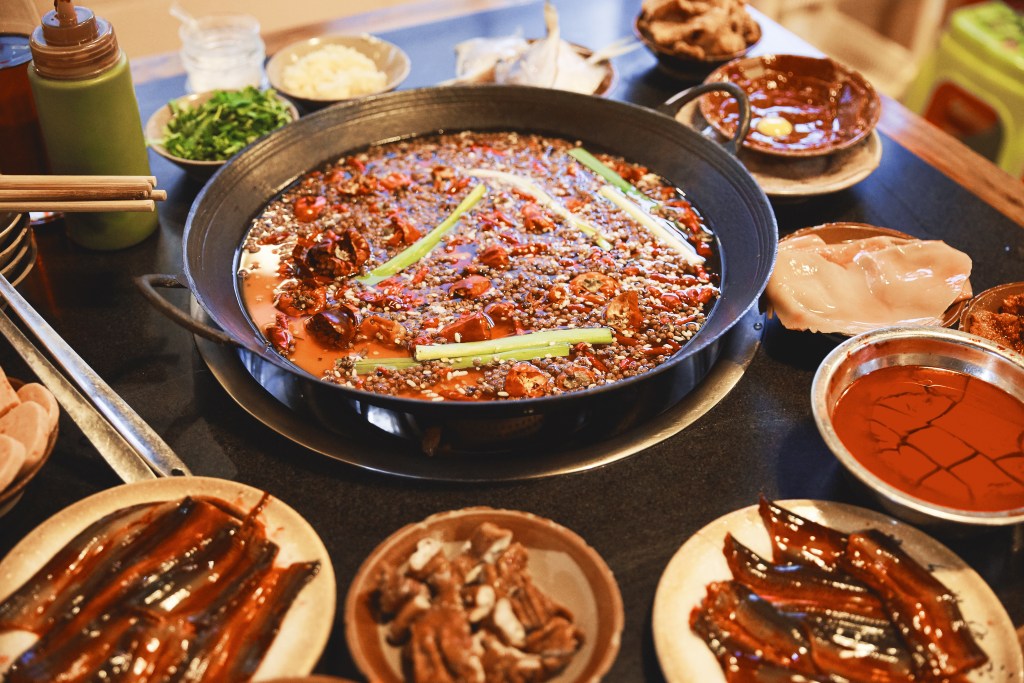 After dinner, check out Little Bar, suggests Superhost Yangyang. There are two locations of this central player in the city's live music scene – grab a drink at the smaller original location (55 Yulin Xi Lu) or catch a live show at the newer, larger branch (87-5 Fangqin Jie).  "It's the oldest livehouse in Chengdu," says Yangyang, "and they get a lot of bigger names coming through."