A Traveler's Dream – Staying In A Treehouse in Belize City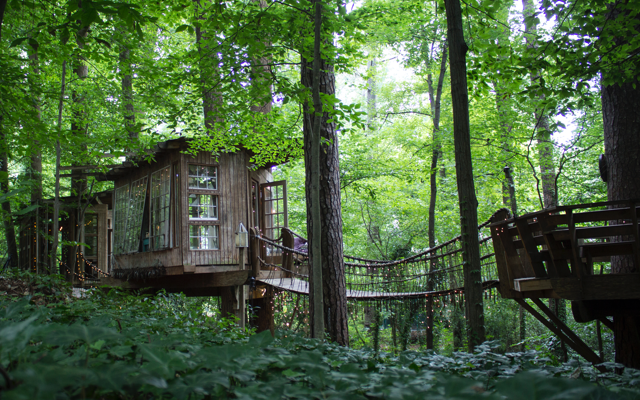 The great outdoors: Treehouses top the list for some of the most desirable type of place to stay on Airbnb
Small is the new big: All 10 of the most Wish Listed properties are not villas but rather tiny homes, treehouses, and cottages
Sun trumps snow: Around the globe people are looking for sun, destinations like San Juan, Puerto Rico and Turks and Caicos are some of the most wanted on Airbnb
Airbnb, the world's leading community-driven hospitality company, today unveiled the most popular Wish-Listed locations and properties around the globe. Airbnb Wish Lists is a feature that lets travelers save and share their favorite Airbnb listings, whether a cabin in Cornwall or a villa in Bali. Each of the almost two million listings in 190 countries around the world on Airbnb is unique and staying in one offers a glimpse into a new neighborhood and lifestyle.
Airbnb analyzed the Wish Lists that have been saved by millions of guests since the feature was launched in 2012 and has revealed the 10 most popular locations, types of listings, and the most wish-listed properties in the world. Wish Lists are aspirational and indicate where a traveler would go if they had all the time and money they could want.
When people travel on Airbnb, they want to experience something delightful, something off the beaten path. A penchant for fantasy is evident when examining the most Wish Listed properties by type. The adventure of an outdoor treehouse is by far the most popular type of property on Wish Lists. Others cannot wait to snuggle up with igloos being the second most popular property type on Wish Lists. Other unique accommodations experiences – vans, lighthouses, and caves – round out the top five most Wish Listed property types.
Top 10 Wish Listed Property Types on Airbnb*
Treehouse
Igloo
Van
Lighthouse
Cave
Island
Yurt
Train
Loft
Cabin
Treehouses also represent the majority among the top 10 individual properties that have been most Wish Listed throughout all time. When people want to get away from it all, they want to live more simply, as most of the top Wish Listed properties are not expansive villas, but compact places with unique design, such as the Cob Cottage in Canada or the Mini Loft in Rome. Unique properties also reign supreme in the top 10 listings, with the gorgeous Casa Caracol (Seashell house) in Mexico and a pirate-themed tent in California.
Top 10 Most Wish Listed Properties on Airbnb
Forget skiing, when people want to get away nothing is better than, sun, sun, and more sun. Airbnb discovered that the destinations with the highest percent of listings on Wish Lists are almost exclusively known for their warm weather. Whether Belize City, Belize, Okinawa Islands in Japan, or the Turks and Caicos, when people want an escape they escape to the beach.
Top 10 Highest Percentage of Homes Wish Listed in a Destinations Globally**
Belize City, Belize
Okinawa, Japan
Savannah, Georgia
Turks and Caicos
Mendocino, California
Kyoto, Japan
San Juan, Puerto Rico
Margaret River, Australia
Jervis Bay, Australia
Tamarindo, Costa Rica
In the US, Savannah, Georgia is at the top of many people's dream destinations. With it's antebellum architecture and beautiful parks, Savannah is a great getaway. Also on the top of the list are Mendicino, Ojai, and Hood River which are all weekend destinations from big cities, San Francisco, Los Angeles, and Portland, respectively. Travelers can't resist the pull of the beach and the Florida Keys rounds out the top five.
Top 10 Highest Percentage of Homes Wish Listed in a Destinations in the US**
Savannah, Georgia
Mendocino Region, California
Ojai, California
Hood River, Oregon
Florida Keys, Florida
New Orleans, Louisiana
North Carolina Coast, North Carolina
Sedona, Arizona
The Big Island, Hawaii
Kauai, Hawaii
*Based on frequency of active listings of host-identified property-type to appear on Wish Lists
**Markets with highest percent of listings that have appeared on at least one wishlist with at least 200 currently active listings