Airbnb Brings Experiences to Life in Berlin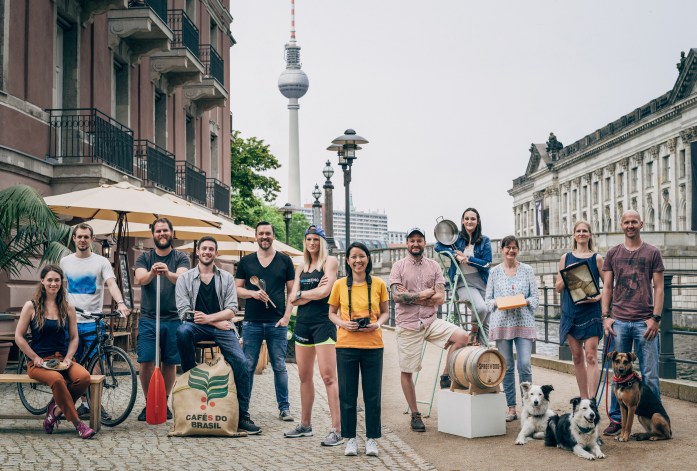 Flo started  out as a home barista, but his passion and skill for brewing quickly led to him becoming an expert coffee professional at The Barn, a pioneer of third-wave coffee in Germany that is supplying beans to coffee shops across the globe. During his masterclass in the fine art of coffee-roasting, guests will get an overview of the coffee process from crop to cup ending the session with a bag of the guests' very own roasted beans.

Gallerist for a Day
Karoline's Experience will take guests through Mitte, Berlin's central district and home to many of its galleries, boutiques, major museums, fantastic cafés and restaurants. Exploring the neighborhood on foot, guests will uncover Berlin's burgeoning contemporary art scene and access private galleries and art spaces.
The Ultimate Crafternoon

 

With host Miles, guests will explore the world of leather crafting. Step-by-step, guests will be led through the stages of creating their own handmade leather item – a wallet or personalized luggage tag.

 

 

A mere 60 kms south of Berlin in the heart of the pretty village of Schlepzig, Bastian will give insights into the craft of distilling whisky, and take guests on a behind-the-scenes tour of their stills, explaining the production process in his Spreewald distillery. To work up an appetite, he'll take guests to the Spreewald's famous waterways, exploring the primeval forest by canoe. Returning to the distillery, he will guide guests through the tastings helping them to identify subtle distinctions in flavor. If you aren't already – you'll leave this Experience a whisky connoisseur.

 

 

Xenia will introduce her guests to the ancient art of soap-making. Based in the residential district of Karlshorst, the born and bred Berliner has been making soap for over 15 years and sells her soaps, bath melts and perfumes in stores in the US, Spain, Italy, Switzerland, France and Taiwan. Guests will learn how to make nourishing, beautifully-scented soaps from a blend of vegetable oils and produce their own personalized soap using ingredients including pure essential oils and herbs.

 

 

Laurel, owner of the bagel bakery Fine Bagels and founder of the Nosh Berlin, Berlin's first Jewish food week, will give her guests  hands-on instruction for how to make, roll, boil, and bake authentic New York water bagels and bialys in her bakery kitchen. Laurel has been baking bagels in Berlin for the last 6 years. Originally from Boston, she is passionate about maintaining and spreading the food traditions she grew up with.                                                                                                                                                                                                                
"Airbnb Experiences give people traveling to Berlin the opportunity to feel like they can truly belong anywhere. Berliners can now participate in and contribute to local tourism, sharing their skills and favorite experiences with others, whilst making a little extra money from their interests and passions. It's a great way for people to discover new things to do, meet new people, and play tourist in their own backyard."

Alexander Schwarz, Airbnb General Manager of Germany
Launched in November 2016, Airbnb Trips currently has over 1,700 Experiences available in more than 30 cities.  Berliners willing to host a unique and exclusive Experience can request to list it on: www.airbnb.de/host/experiences
Airbnb announces the launch of its Trips Platform in Berlin, expanding beyond accommodation by offering bookable Experiences hosted by locals in and around the city.
Bringing together where you stay, what you do and the people you meet, all in one place, Berlin Experiences offer a chance for people to enjoy a different side of the city, and for locals to share their passions and interests with German and international visitors alike. For cities, it can help to diversify tourism away from busy city centres and allow Berliners to participate and benefit from tourism by sharing skills and making a little extra money from their interests and passions. Trips is also a great way for local residents to discover new things to do and meet new people.
Originally launched in 12 cities around the world, Airbnb Trips has now expanded to over 30, with Berlin being the latest to offer the service. Starting today, visitors and locals can choose from over 25 Berlin-based curated Experiences, bookable through the Trips platform and designed and led by local experts. Highlights include: