Airbnb announced today the debut of Airbnb Partners in Japan. This world-first initiative sees Airbnb forming alliances with 36 Japanese businesses across a wide variety of industries. The launch precedes the Private Lodging Business Act, which comes into effect on June 15 and will have a profound impact on the nation's tourism landscape.
The new sharing economy that results from this collaboration will be a positive addition to modern Japanese culture. Airbnb looks forward to contributing to Japan's economic progress through this new ecosystem.
The partnerships will span three categories. Demand partners will offer specific services such as loyalty programs and mileage accrual on certain airlines. Service partners will provide host support services such as host training, listing registration, furniture setup, photography and cleaning. Supply partners such as real estate developers or professional hosts will offer a portfolio of high quality and unique listings.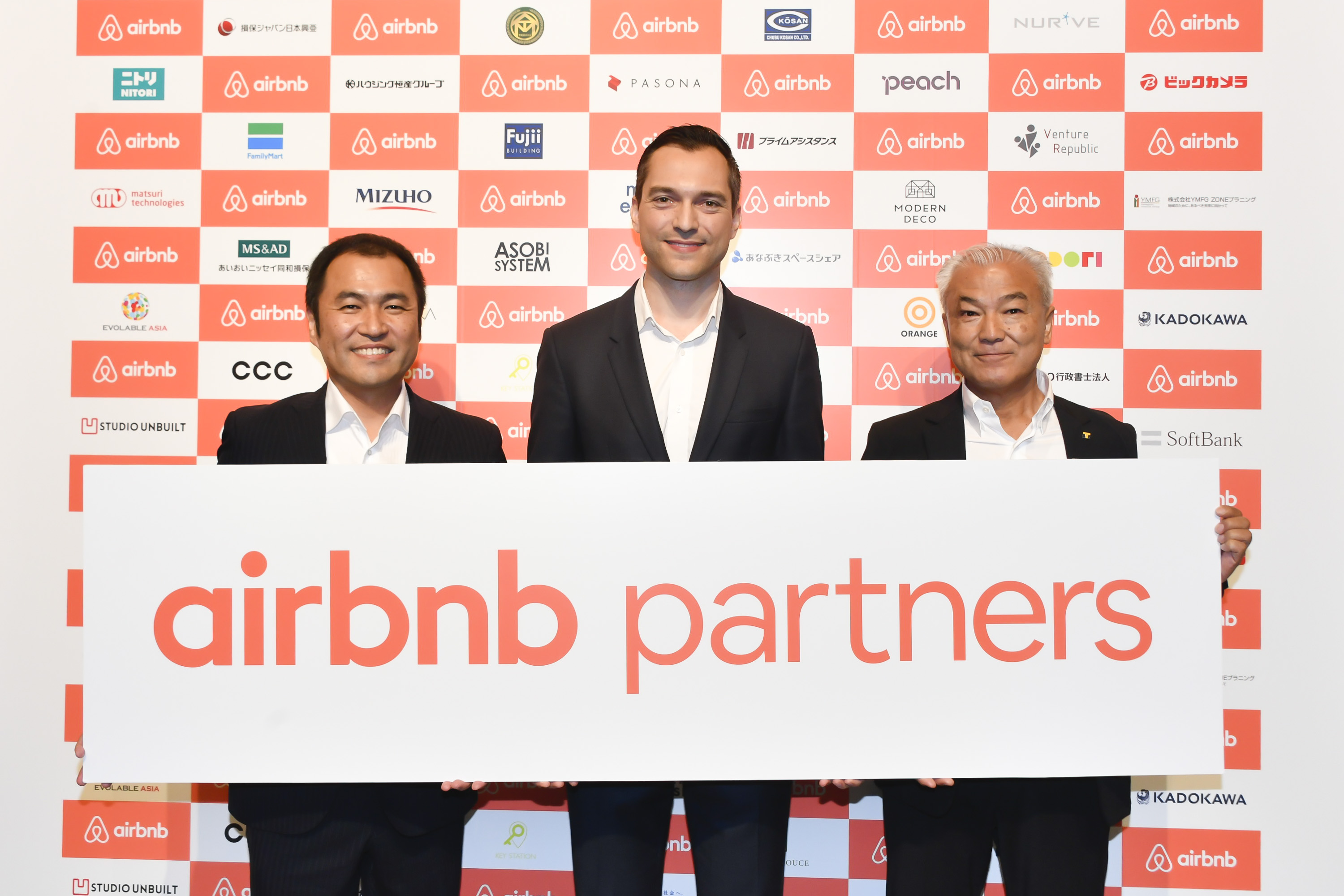 L-R: Yasuyuki Tanabe, Head of Airbnb Japan, Nathan Blecharczyk, co-founder, CSO, and Chairman of Airbnb China, Muneaki Masuda, Representative Director President and CEO of   Culture Convenience Club Co. Ltd.
We are committed to making it easier for everyone in Japan to use Airbnb. Our new partnerships will give hosts and guests the services and support they need and help our community grow bigger and stronger in the weeks and months ahead.

Nathan Blecharczyk, co-founder, CSO, and Chairman of Airbnb China
Yasuyuki Tanabe, head of Airbnb Japan, outlined his hopes for Japan's tourism industry and stated,  "Home sharing will open up new opportunities for Japan by empowering locals and bringing new audiences to experience our unique culture and heritage. Japan is one of our top inbound destinations globally and we are looking forward to continuing to serve this important market."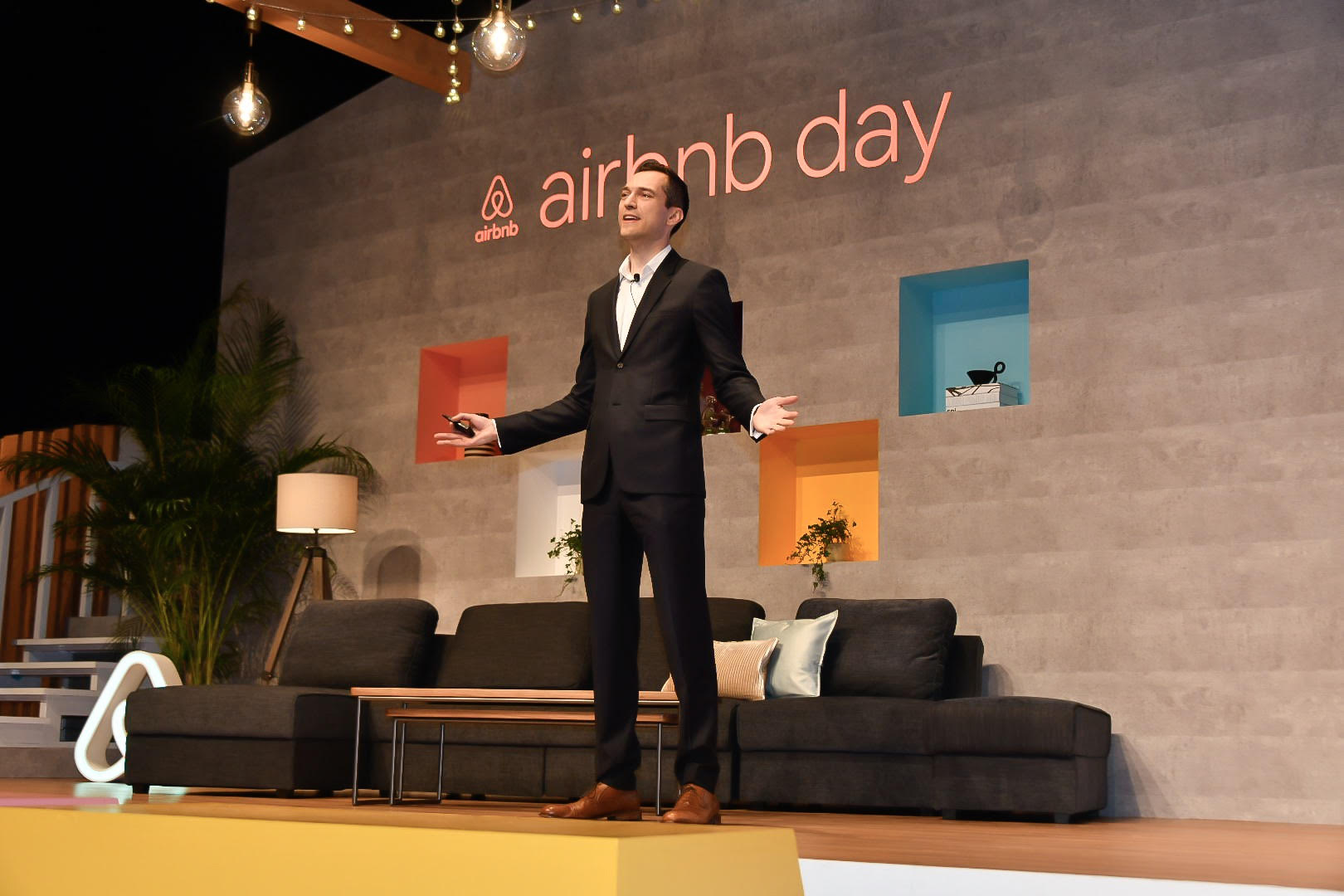 Airbnb also announced seven unique initiatives to contribute to sustainable growth as the nation prepares for 2020 and beyond, including the following:
1. Bringing Airbnb Plus to Tokyo, Osaka and Kyoto
Airbnb Plus is a new tier of homes on Airbnb that have been inspected in person for comfort and quality. Airbnb has already invited hosts in Tokyo to apply for the Airbnb Plus program and will begin inviting hosts in Osaka and Kyoto this year. Airbnb Plus hosts benefit from top placement and premium support, while guests benefit from that added peace of mind that these homes have been verified and inspected.
2. Launching loyalty program with CCC
Airbnb will join Culture Convenience Club's (CCC) T Point loyalty program in late 2018, Japan's premiere loyalty services company. Residents of Japan will be able to earn points when they book a listing on Airbnb.
3. Nationwide one-stop franchised services
A nationwide franchised version of the one-stop services of AirTripStay, an official Airbnb partner, will be rolled out this year. The services have largely been focused on metropolitan Tokyo, with the new program aligning with partners in key regions around the country, including Fujii Building in Hokkaido, Grandouce in western Japan and Kyusu, Anabuki Kosan and Modern Deco in Chugoku and Shikoku, Tamaki Home and Chubu Kosan in Okinawa. By offering easy one-stop services – such as listing registration, photography of homes, cleaning services and more – Airbnb aims to make hosting easier, breathing new life into the approximately 8 million empty homes throughout Japan.
4. Host training program expansion
In May 2017, Airbnb launched a host training program with Pasona Corporation to enhance hospitality skills and training. This year, the program will be extended to major cities around Japan to help interested hosts navigate and comply with the new rules, sharpen their hosting skills and prepare their homes for meaningful and enjoyable guest stays.
5. Community revitalization
In November 2016, Airbnb launched Yoshino Cedar House, a unique community project in Yoshino, Nara, that explores how home sharing, architecture and culture can revitalize communities. By the project's first anniversary, the host cooperative numbered 31 members and generated $24,990 in profit. Airbnb is set to launch projects involving similar local enterprises and communities in greater Kyoto, Harajuku, Tokyo and Shiogama, Miyagi that foster home sharing and highlight Japanese culture and traditions.
6. Branded homes
Airbnb will list branded homes for short term rental on its platform in collaboration with famed Japanese author and screenwriter Kundo Koyama and his company, Orange and Partners. As an initial project, Open House (a real estate developer) will develop home sharing friendly properties under the Private Lodging Business Act and start to sell them by the end of 2018. Homes will cater to those seeking to live in both urban and rural areas as the family dynamic changes with people living longer and families moving away from rural areas and into cities.  
7. A Japan-exclusive insurance program
Airbnb formed a partnership with Sompo Japan Nipponkoa Insurance and Aioi Nissay Dowa Insurance to roll out a locally-issued insurance policy specific to the Japanese market, replacing the global programs previously in place. This initiative is slated to roll out in the months ahead.
Our Partners
Aioi Nissay Dowa Insurance Co., Ltd., ALL NIPPON AIRWAYS CO., LTD., Anabuki Space Share Inc., ASOBISYSTEM CO., LTD., BicCamera Inc., CHUBUKOUSAN Co.,Ltd, Culture Convenience Club Co.,Ltd., Evolable Asia Corp., FamilyMart Co., Ltd., Fujii BUILDING, Grandouce Inc., Housing Kousan, irodori, Inc., KADOKAWA CORPORATION, KEY STATION Co., Ltd., matsuri technologies company, Metro Engines Inc., Mizuho Bank, Ltd., MODERN DECO inc., NITORI Co., Ltd., NUR*VE, Inc., OPEN HOUSE CO., LTD., ORANGE AND PARTNERS CO., LTD., OTSUKA KAGU, LTD., Pasona Group, Inc., Peach Aviation Limited, Prime Assistance Inc., SATO OFFICE certified administrative procedures specialist, SECOM CO.,LTD., SEISHIN SERVICE CO. LTD., SoftBank Group Corp., Sompo Japan Nipponkoa Insurance Inc., STUDIO UNBUILT, Tamaki Home Co., Ltd., Venture Republic Inc., YMFG ZONE PLANNING CO.,LTD.