Airbnb recognized as a Disability Equality Index® Best Place to Work for Disability Inclusion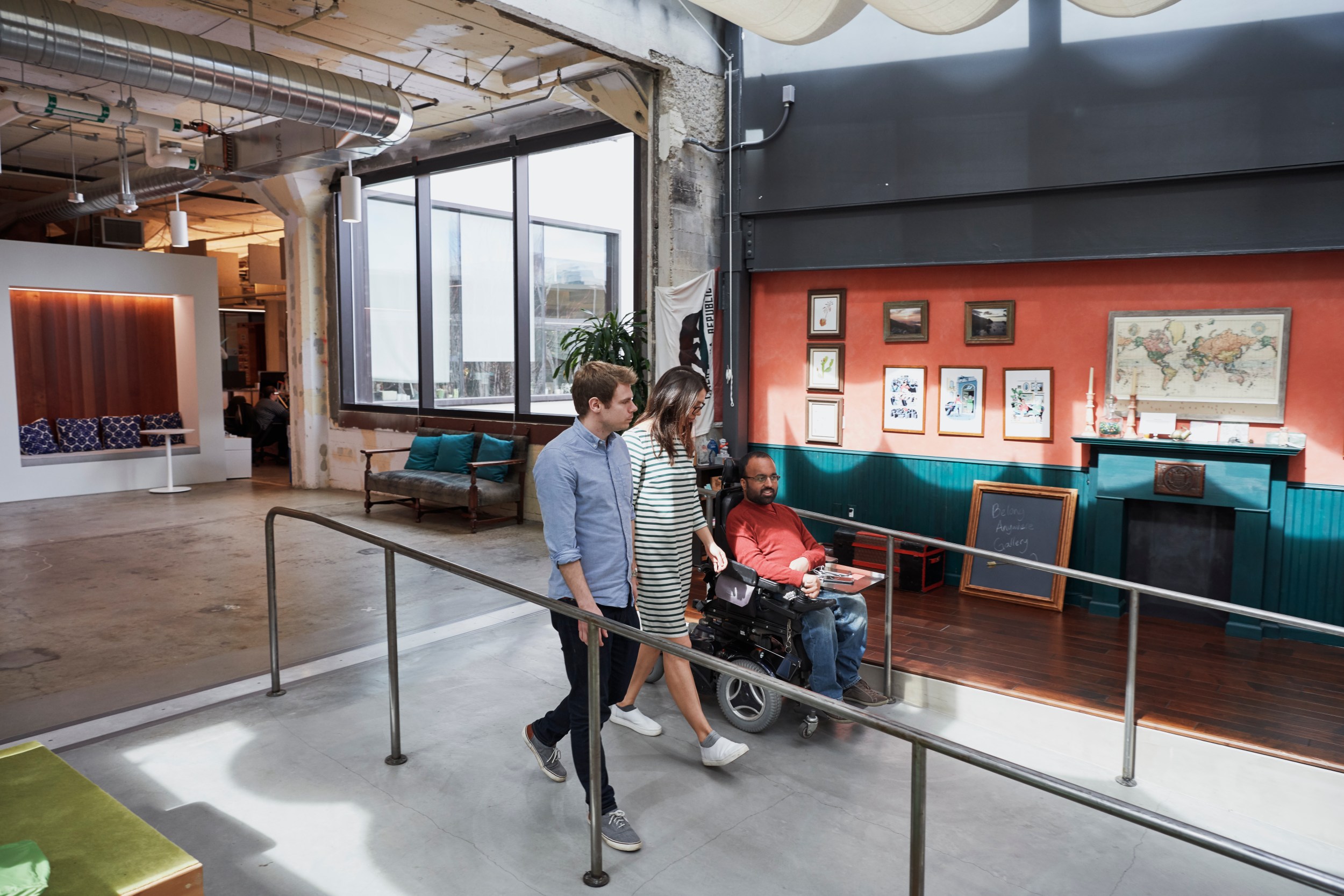 We are proud to share that Airbnb received a 100 percent score on the Disability Equality Index® (DEI) and is being recognized as a DEI Best Place to Work for Disability Inclusion.
The DEI was launched in 2015 by Disability:IN and The American Association of People with Disabilities (AAPD) and is acknowledged today as the most robust disability inclusion assessment tool in business. Now in its seventh year, the DEI exists to help businesses make a positive impact on the unemployment/ underemployment of people with disabilities.
Airbnb promotes connection and belonging, and to achieve our mission, our company is committed to disability inclusion for our employees and our community of Hosts and guests around the world. Our ongoing work includes:
Working to help ensure that our benefits, recruitment practices, employment practices, and accommodation practices fully consider and include individuals with disabilities.
Offering health benefits that cover vision and hearing aids, as well as paid caregiver and medical leave for our employees, and providing flexibility and benefits to help caregivers navigate the challenges of COVID-19.
Providing training for Airbnb employees designed to improve our accessibility and strengthen disability allyship.
Executive sponsorship and support for Able@, our employee resource group for employees with disabilities and allies.
Continuing to expand our definitions of diversity to help us better understand and support our employees. Recently, we began offering the opportunity for our US-based employees to voluntarily identify if they have a disability.
Through our Supplier Diversity program, connecting more diverse-owned (including people with disabilities-owned) businesses with Airbnb to provide goods and services
Engaging with our community and organizations in the disability community to improve our product and platform, including holding quarterly Disability Advisory roundtables with a number of national and regional organizations, activists, advocates and leaders.
Continued collaboration with the Valuable 500, a movement to encourage businesses to advance disability inclusion in their organization.
As a Worldwide Paralympic Partner in a nine-year, five-Games partnership, supporting Paralympian athletes as hosts and guests on Airbnb.
"We are proud to be recognized as a Disability Equality Index Top Scorer for the progress we've made in disability inclusion, which is possible thanks to our employees, our employee resource group Able@, and our company leaders. This recognition is a reminder that we must remain unwavering in our commitment to help make sure our product, company and community is inclusive of people of all abilities."

Dr. Melissa Thomas-Hunt, Airbnb Global Head of Diversity and Belonging
Globally, people with disabilities represent over one billion people. Disability is a natural part of the human experience, and it crosses lines of age, ethnicity, gender, gender identity, race, sexual orientation, socioeconomic status and religion.
"We are so pleased to partner with 319 companies this year on the Disability Equality Index. Part of corporate commitment to disability inclusion is recognizing your stance and using it as an 'aha moment' to drive the business investments needed to scale change. Inclusion and accessibility cuts across the enterprise, from cultural representation in the workforce, to technology acceleration, to incorporating supply chain diversity. These are tangible opportunities that leading companies can leverage to create sustainable impact for their business and brand."

Jill Houghton, President & Chief Executive Officer, Disability:IN
"The Disability Equality Index shines a spotlight on companies that believe they have a stake in creating a more equitable society for people with disabilities. It is a conduit for our work championing disability rights for the 60 million Americans with disabilities and knocking down barriers to employment, technology and healthcare, and we're thrilled to see the progress being made today."

Maria Town, President and CEO of AAPD
---
About Airbnb
Airbnb was born in 2007 when two Hosts welcomed three guests to their San Francisco home, and has since grown to 4 million Hosts who have welcomed more than 900 million guest arrivals in almost every country across the globe. Every day, Hosts offer one-of-a-kind stays and unique Experiences that make it possible for guests to experience the world in a more authentic, connected way.
About the Disability Equality Index®
The Disability Equality Index (DEI) is a comprehensive benchmarking tool that helps companies build a roadmap of measurable, tangible actions that they can take to achieve disability inclusion and equality. Each company receives a score, on a scale of zero (0) to 100, with those earning 80 and above recognized as a "Best Place to Work for Disability Inclusion."
The DEI is a joint initiative of the American Association of People with Disabilities (AAPD), the nation's largest disability rights organization, and Disability:IN, the global business disability inclusion network, to collectively advance the inclusion of people with disabilities. The organizations are complementary and bring unique strengths that make the project relevant and credible to corporations and the disability community. The tool was developed by the DEI Advisory Committee, a diverse group of business leaders, policy experts, and disability advocates. Learn more at: www.DisabilityEqualityIndex.org.
About the American Association of People with Disabilities (AAPD)
AAPD is a convener, connector, and catalyst for change, increasing the political and economic power for people with disabilities. As a national cross-disability rights organization AAPD advocates for full civil rights for the 50+ million Americans with disabilities. Learn more at: www.aapd.com.
About Disability:IN®
Disability:IN is a global organization driving disability inclusion and equality in business. More than 270 corporations trust Disability:IN to activate and achieve disability inclusion across their enterprise and in the broader corporate mainstream. Through the world's most comprehensive disability inclusion benchmarking; best-in-class conferences and programs; and expert counsel and engagement, Disability:IN works with leading businesses to create long-term business and societal impact. Join us at disabilityin.org/AreYouIN #AreYouIN.