The world of travel continues to change. People are hitting the road more than ever, and tend to place greater value on unique, local experiences over formulaic itineraries. This wanderlust trend is also showing up in the way people approach business travel. The lines between  business and leisure travel are blurring; more and more of us are combining business trips with weekend stays. In fact,  more than 50 percent of business trips on Airbnb in 2016 included a Saturday night.
But, business travel doesn't have to be all about being a road warrior. It should be more about working the way you live. Life shouldn't stop because you're traveling for work. We know your first priority is to crush that pitch meeting, but you also want to explore a city. With Airbnb, you can do both.
Airbnb gives travelers a chance to live in a city when traveling for work. This is one of the reasons employees from more than 250,000 companies – in over 230 countries and territories – have signed up to use Airbnb for work. In 2016 alone, the number of business trips on Airbnb tripled. And today, nearly 10 percent of trips on Airbnb are for work.
With all this growth comes our continued commitment to making it easier to travel for work with Airbnb. Living and working like a local doesn't have to come at the expense of convenience.
In 2016, we made a number of improvements to make business travel easier and more convenient.
We launched a third-party booking tool so both the employee who is managing travel and the employee who is taking the trip can book, make changes to the reservation, and message the Airbnb host with questions about the listing or neighborhood.

We rolled out the ability to filter search results to highlight listings with

self check-in

  – where guests can access listings using a key lockbox, smartlock, keypad, or doorman any time after the designated check-in time on their arrival date.

We introduced business-friendly receipts – streamlining the expense process – and kicked off integrations and partnerships with travel management companies (TMCs) and duty of care providers.

We grew our number of

business travel ready listings

 – homes that have the essential amenities and services a business traveler needs, like WiFi, laptop-­friendly workspaces and self check­-in – to more than 150,000 globally.
Building on this, we're making it even easier to find business travel ready listings by introducing a new search and booking experience.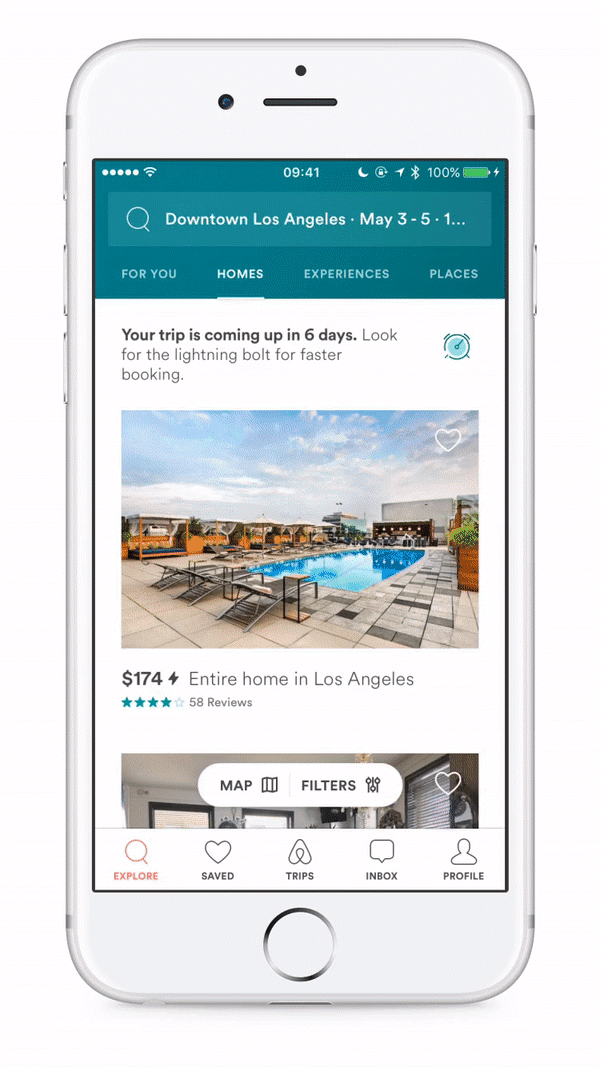 In the past, the Airbnb experience has been designed primarily for leisure travelers. Not anymore. Typically, leisure travelers come to Airbnb at a point of inspiration and discovery; they spend time researching neighborhoods, browsing listings and toggling between photo after photo. Not business travelers. Business travelers come to Airbnb already knowing where they want to stay, and with less lead time. They want speed, convenience and reliability. With our new feature – on desktop and mobile – business travelers can filter search results to only show business travel ready listings. This makes it easier and faster to find and book the perfect Airbnb for a work trip.
To try the new search function, you'll need to have your work email address linked to your Airbnb account to see this new feature. If you haven't yet registered as a business traveler with Airbnb, you can visit airbnb.com/business-travel.
Stay on the lookout for more from us in 2017 – from integrating with corporate travel booking tools, making it easier to rebook the business travel ready listing you absolutely loved, to offering easier access to amenities like gyms and co-working spaces.
With Airbnb, traveling for work doesn't have to be lonely or isolating anymore. We're bringing the comfort and adventure back into business travel. Don't put your life on hold when you're on the road.
For more information, visit airbnb.com/work.