Catherine Powell to Lead Airbnb Experiences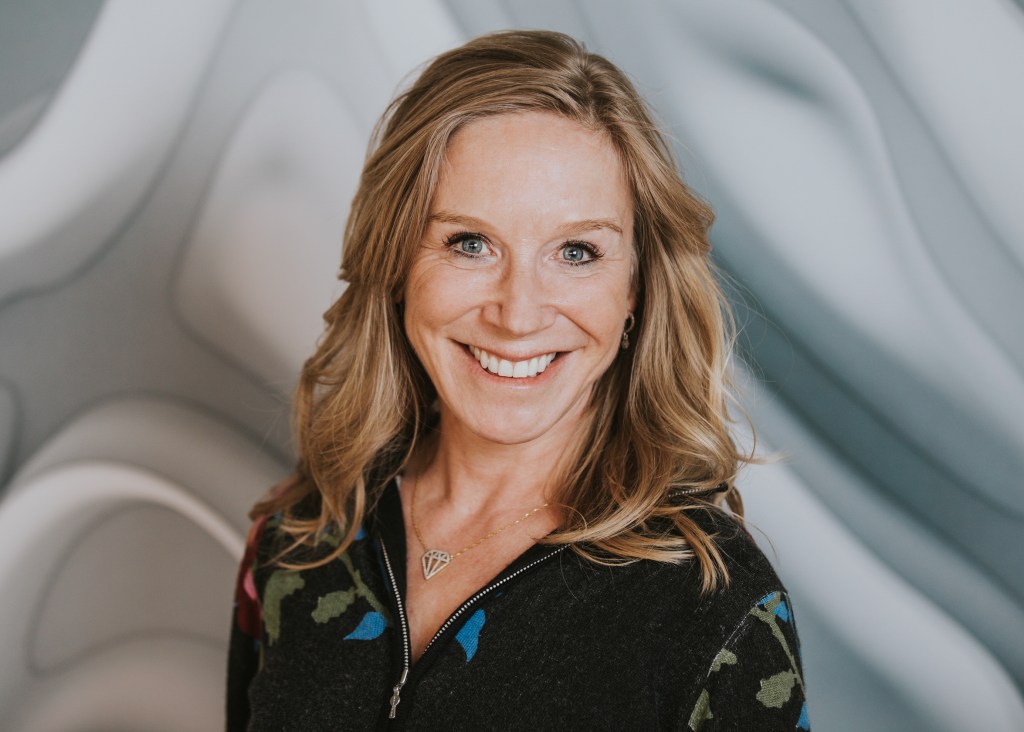 Airbnb today announced the appointment of Catherine Powell as Head of Airbnb Experiences. In this role, Powell will serve on Airbnb's Executive Team and lead Airbnb's Experiences business, managing a team spanning five continents that works to grow the number of high-quality offerings available to travelers and support Airbnb Experience Hosts.
A veteran of the Walt Disney Company, Powell has lived and worked around the world over the last two decades to deliver immersive experiences to guests. Her appointment comes as consumers, particularly Millennials and Generation Z, are increasingly choosing to spend their time and money on local, authentic things to do rather than on consumer goods. Euromonitor estimated that "consumer's expenses with experiences should increase from $5.8 trillion in 2016 to $8 trillion in 2030."
Launched in 2016, Airbnb Experiences have grown and succeeded: today, there are over 40,000 Experiences in more than 1,000 cities around the world. Airbnb Experiences immerse travelers in local communities by offering activities that are skilfully handcrafted and led by local experts. Experiences are unique, with many available only on Airbnb. And each Experience is reviewed to ensure it meets our quality standards before it is listed on the Airbnb platform.
"Today, people are prioritizing things to do, not things to buy," said Airbnb Co-Founder, CEO and Head of Community Brian Chesky. "I believe Airbnb Experiences will be a massive business. Not everyone has a home to rent out, but everyone has a story, a passion or a talent they can share.
"Catherine is the perfect person to lead this business. Some people can come up with creative ideas. Others know how to run big teams and scale big businesses. Catherine can do both. She has worked around the world, managing tens of thousands of people and delivering amazing moments to millions more. She has the creativity and the operational excellence we need to help deliver more experiences to more people and we are incredibly lucky to have her.
"I also want to thank Joe Zadeh for his leadership and the work he did to take Experiences from an idea on a whiteboard to a global business," added Chesky. "One day, just as many people will meet on Airbnb Experiences as they do in Airbnb homes, and that is a credit to his vision and leadership. Because Joe can take a big idea and turn it into something real, I have asked him to turn our vision for a company that serves all stakeholders into a reality, and I'm incredibly excited to work with him on this critically important project."
"Airbnb is a truly inspiring company with a mission that sits at the heart of the Experiences Economy," said Powell. "People don't just want to travel. They want to connect with the people and places they visit. The opportunity to bring people from around the world together to share their communities, cultures, and passions is extraordinarily exciting. I've seen firsthand how Experience Hosts take Guests on amazing adventures and I know Airbnb has a unique opportunity to deliver experiences that are distinct, authentic, immersive, and memorable. The potential for this business is virtually unlimited."
"In the earliest days, we focused on developing the blueprint that would allow Airbnb Experiences to thrive," said Chief Stakeholder Officer Joe Zadeh. "I'm incredibly proud of the work we've done to build Airbnb Experiences and thrilled to welcome Catherine to the Airbnb team. She's the right leader to build on our progress and take Airbnb Experiences to the next phase."
In 2019, Airbnb launched new categories of Experiences including Airbnb Adventures, Cooking Experiences and Animal Experiences. For example, Cooking Experiences allow Guests to do anything from learning grandmas' recipes to traditional Uzbek home-cooking, while Animal Experiences help people better understand animals through caring for them, guided by expert Hosts, and set a new standard for animal tourism.
Airbnb will launch additional categories in the coming year and is working from a small and solid foundation:
As of January 1, across 10 of our most popular Experiences markets (Paris, Bali, Rome, Mexico City, London, Lisbon, New York, Barcelona, Los Angeles, and Havana), the number of available Experiences nearly doubled from the beginning of 2019 to the beginning of 2020, from 3,800 to over 7,500.
The number of Experience bookings in Bali nearly tripled from 2018 to 2019. In Rome, the number of bookings grew 161 percent; in Mexico City, 95 percent.
The number of Guests booking an Airbnb Experience from December 24 to December 31, 2019 more than doubled compared to the same timeframe in 2018.
In 2019 in certain cities like Seattle, Sydney and São Paulo, more than 15 percent of all Experience bookings were made by local users.
The growth of Airbnb Experiences coincides with the larger growth of the Experiences Economy and consumers' desire to spend their time and money on things to do, not things to buy. In a recent Morning Consult poll1 conducted for Airbnb, more than 50 percent of consumers in Mexico, France, Australia, India, the UK, the US, Germany and Brazil indicated they would prefer to spend money on experiences, not physical goods.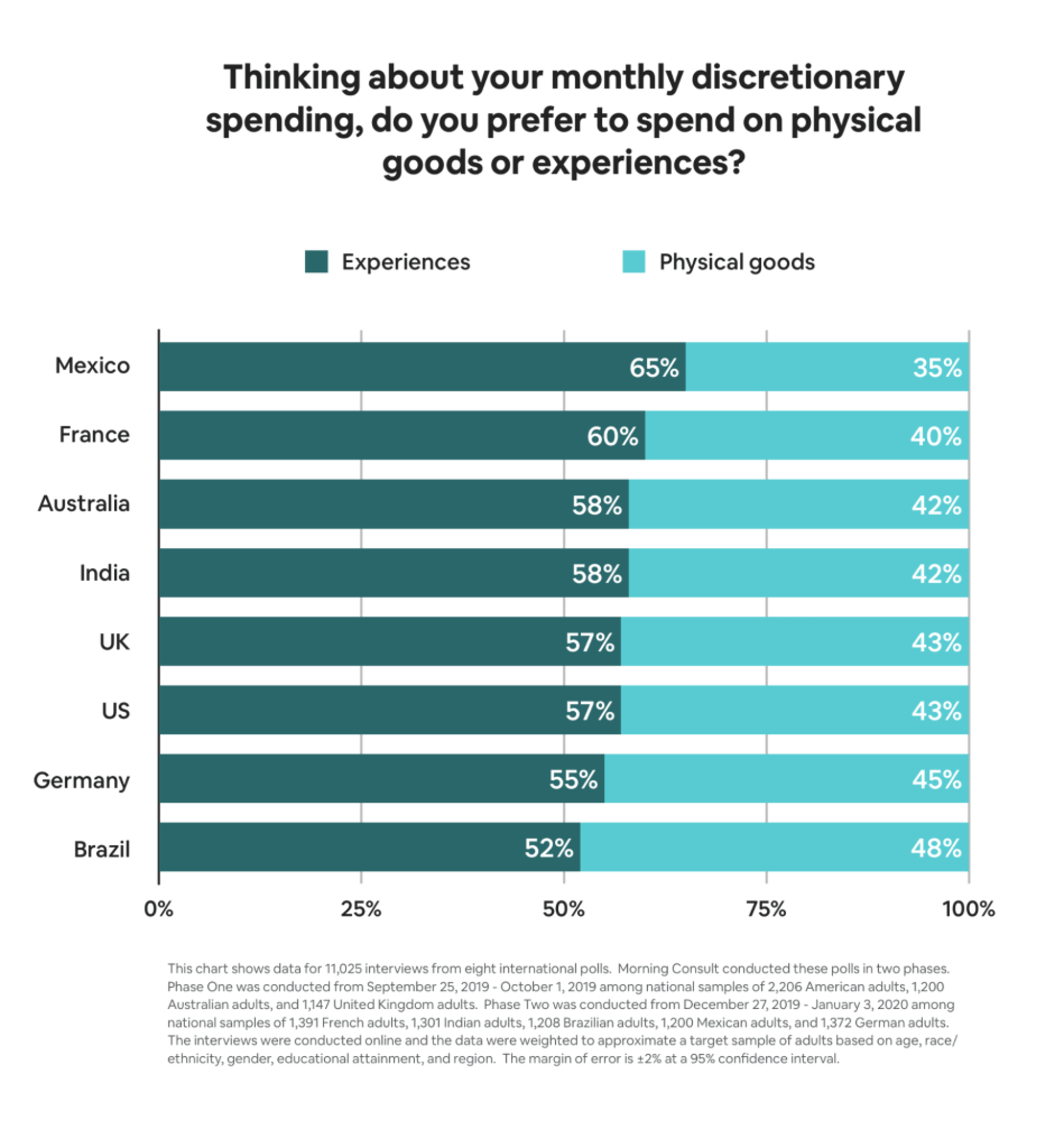 Data suggests this trend will continue, with a majority of consumers saying they will spend as much or more on experiences in 20202.
The desire to participate in meaningful experiences is particularly pronounced among Generation Z, people born after 1996. In a second survey conducted by Morning Consult, 46% of Gen Z adults in the US plan to increase their spending on experiences, with 35% looking towards food-related and 31% personal wellness activities such as yoga or spending time in nature as a means of "digitally detoxing" experiences topping the list of popular choices.
This same group is particularly likely to use Airbnb: 41 percent of Gen Z adults have a favorable view of Airbnb and 40 percent say they will definitely or probably use Airbnb in the next 12 months, the highest consideration of any generation.
"The team at Airbnb has a deep understanding of what consumers want when they visit a new city or when they are looking for something to do in the place they call home," added Powell. "I'm thrilled to be working with such a talented group."
As part of the Walt Disney Company, Powell has worked around the world over the last two decades to deliver amazing events and experiences to travelers. One of her favorite Airbnb Experiences is hiking in the Santa Monica mountains. Click here to read Powell's biography.
Powell will work in Los Angeles and San Francisco and start at Airbnb on January 29.
1. This report shows data for 11,025 interviews from eight international polls. Morning Consult conducted these polls in two phases. Phase One was conducted from September 25, 2019 – October 1, 2019 among national samples of 2,206 American adults, 1,200 Australian adults, and 1,147 United Kingdom adults. Phase Two was conducted from December 27, 2019 – January 3, 2020 among national samples of 1,391 French adults, 1,301 Indian adults, 1,208 Brazilian adults, 1,200 Mexican adults, and 1,372 German adults. The interviews were conducted online and the data were weighted to approximate a target sample of adults based on age, race/ethnicity, gender, educational attainment, and region. The margin of error is ±2% at a 95% confidence interval.
2. Note: For the US, UK and Australia, this question was phrased "in the future" as opposed to "in 2020."